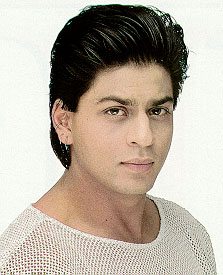 "I was exposed to the Ram Leela, I acted in it as a monkey"
The second born child (the first was a girl Shehnaz, fondly called Lala Rukh) of Mir Taj Mohammed and Fatima Begum, Shah Rukh Khan was born in New Delhi, in Rajinder Nagar, on November 2, 1965. He did his High school from St Columbia High School in New Delhi, winning a lot of awards for studies as well as games. He stood first in economics, played cricket at the zonal and national level, and football and hockey as well. He was an impishly mischievous, but lovable child. His dimpled smile ensured that his teachers never got angry with him.

In school, Shah Rukh won the Sword of Honour for the most outstanding student, the Ravi Subramaniam Award, the Sujit Memorial Award, captained the football, cricket as well as hockey teams. An ace in dramatics, electronics and biology, he was also a brilliant student. Due to the freedom he had as a child, he did not get into any bad habits. He was never a stubborn child. But if he wanted something badly enough, he would go out and get it. Shah Rukh laughs and says: "I was exposed to the Ram Leela, I acted in it as a monkey. I wrote short stories, shairis... my father made me recite them."

His parents, however, let him do his own thing most of the time, they only wanted that he also do well in academics, which he did. There were no restrictions. Shah Rukh learnt that parents weren't authority, but were friends.
Graduating from Hansraj College, Delhi University, he followed it up with a Masters Degree in Mass Communications (Film making) from Jamiya Miliya Islamiya, in Delhi, but quit it in a year. His sister became a psychiatrist, and he for a short spell, ran a restaurant in Darya Ganj. He also joined theatre with Barry John. He started out as an actor on the small screen, in Dil Dariya where he almost went unrecognised because he played a sardarji, and Doosra Kewal. The came his teleserial Fauji, and then, Circus.

In spite of hailing from a very well-to-do, in fact, affluent background, in 1991, he came to Bombay on Viveck Vaswani's invitation, to begin his acting career. By the time Fauji was on air, he had received some major films from big filmmakers. He was signed on by Hema Malini for her first directorial venture, by Rakesh Roshan for King Uncle, by GP Sippy for Raju Ban Gaya Gentleman, and Lalit Kapoor for Deewana.

His girlfriend, Gauri Chibber, a graduate from Modern School, New Delhi, hated the idea of him being in films just as much as her parents hated the idea of a son-in-law who was allied to films.

Shah Rukh didn't care, he married his teenage sweetheart anyway. They had their first kid, a bonny boy whom they named Aryaan, on November 13, 1997. Three years later, the couple had their second child, only this time it was a girl. Gauri gave birth to their daughter on May 22, 2000. Their little girl was named Suhana, a name Shah Rukh had been keen on since the beginning.

"Some people complain that I tire them. They don't need me, they need a doctor"

Shah Rukh's entry into filmdom created hysteria. His brashness, his in-your-face brand of truthfulness, his whacky sense of humour, his complete confidence in himself and his talent, his brand of intelligence, his boyish charm, his dimples and his limpid eyes, not to forget his intensity on screen, won him a million hearts from the word 'go'. His attitude read: "I lead life by my rules and I make them myself." He refused to conform and created Shah Rukhism.

That he is talented cannot be doubted. He has that intangible quality 'X', that indefinable something that makes up a large part of his mass appeal. That's talent + good looks + charisma + fire + confidence + a whole lot else. Even his arrogance is charming. He's child like, and can be childish at times too. But his equations with people are very straight. "If you like me, I like you." He's vulnerable constantly and he's transparent. He's adventurous and dares to take risks, he dares to be different, and he dares to break all rules. He may be insecure on the inside, but his ego will never let him admit it even to himself. So he's the big, bold, guy who thinks only positive. He would mimic people as a child. He laughingly says: "I'm doing the same even today. Only, I get paid handsomely for it as well."

His energy is awesome. As he says: "Some people complain that I tire them. They don't need me, they need a doctor. I am energetic but I enjoy the small things in life, like sitting and watching a squirrel climb a tree, or sleeping on the terrace in Delhi summers. These are the best things that could happen to me in the day."

Shah Rukh's father had taught him: "Whatever you do, do it to the best of your ability." That kind of concentration was also taught to him. Given ample freedom as a child, even today, he doesn't like being told what to do or not to. He says: "You have to understand your responsibilities. They cannot be taught. I think being taught responsibility is too formal, too mannered."

Never criticised for his mistakes, Shah Rukh has learnt to accept a lot of mistakes in other people without pointing them out. Shah Rukh also imbibed from his dad the policy of never hurting anyone intentionally or making fun of someone if it disturbed them.

As much as he has commercial mainstream appeal and does films that are out and out commercial, he likes over-the-top characters and loves to experiment with roles. He seeks to do something new with every character, and he looks for something new in every role he does. His tastes in films is different from that of the average filmgoer, so the films that he likes invariably do badly and the ones that he doesn't do very well. But as an actor, he is wise about his choices, and unapologetic. He knows where he's headed because he's generally in control.

(Source : www.indya.com)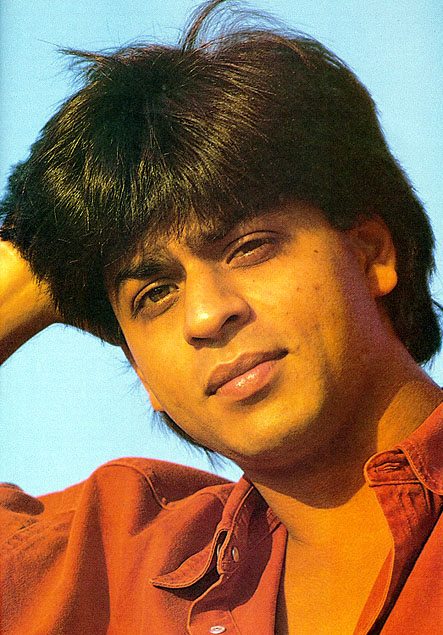 Profile

With his entry into films, Shah Rukh Khan dispelled the myth that television actors do not succrrd it in films. Proving his potential as an actor first with his outstanding performances in television serials like 'Fauji' and 'Circus', he catapulted to fame with his first film, 'Deewana', though he appeared onscreen only after the interval.

And within a short span of four years, with highly successful film, like 'Baazigar', where he played the revenge-obsessed man who thinks nothing of seducing and then killing an innocent young girl to achieve his ends, and 'Darr', where he played an obsessive youth, compulsively craving for another man's wife, Shah Rukh has proved his calibre and became the biggest male star of the 90s. But that hasn't changed him in any way. "The only change I see in myself is that there are few more gaddas (moles) on my cheeks due to make-up," he says. According to him everything has happened so fast in life that he hasn't had the time to digest it. "Inspite of being in the industry for so long, I dont feel a thing. Sometimes I think that I just havent been able to enjoy my stardom."


Despite being successful in commercial films, Shah Rukh continued acting in offbeat films like Kundan Shah's 'Kabhi Haan Kabhi Na' (his best performance to date, according to him) and 'O Darling, Yeh Hai India'. His performance in 'Dilwale Dulhaniya Le Jayenge' and 'Dil To Pagal Hain' have reinforced his status and lent credibility to his much-publicised claims of wanting to become the best actor in the world. "I am very insecure about my acting. And I feel that if I lose out on that insecurity, maybe I lose my spontaneity." Although his recent film like 'Duplicate' didn't hit the bull's eye, Shah Rukh remains our brightest hope for extending the end-of-the-century cinematic vocabulary into the next millennium.

(Source : www.cinestarz.com)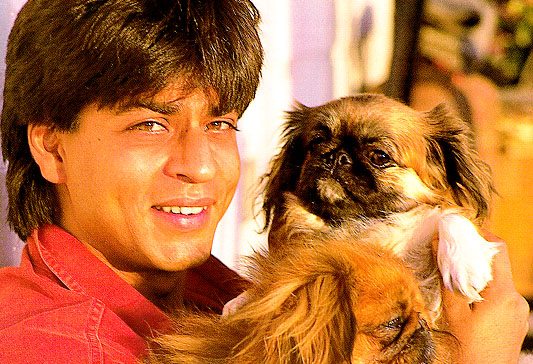 Name:
Shahrukh Khan

Date Of Birth:
2nd of November, 1965

Place of Birth: New Delhi, India

Religion: Islam (Muslim)

Marital Status: Married

Wife: Gauri Chibber/Khan who graduated from Modern school, Barakhamba Road, New Delhi.

Kids: Shahrukh loves kids. He always wanted a girl, but he is a proud father of a baby boy born on the 13th of november, 97 - named Aryan.

Father: Taj Khan-Died 1981 with cancer

Father's occupation: Lawyer and freedom fighter

Mother: Died 1991 while Shah Rukh had gone out to get her medicine.

Mother's occupation: Magistrate and social worker

Sister: Shehnaz Lalarukh

Pet : Chewbecca ( a dog)

Address: 603, Amrit Bandra(west), Mumbai 400050, INDIA.

Phone: 91 22 6486116 / 6281413

Email:
dreamzandfilms@hotmail.com
Hobbies & Interests: Playing computer games, acting.

Old Family Business: Dhaba (resturant) in New Delhi

Education: High School : From St. Columbia High School In New Delhi.
College : Graduated from Hansraj College, & then Masters in Mass Communication from Jamiya Miliya Islamiya, New Delhi

"*Graduated from Hansraj College, Delhi Univ. · Masters in Mass Communication from Jamiya Miliya Islamiya, New Delhi.

Qualifications and Achievements:

*High school
*Graduation
*Masters; A Brilliant Student
*Sword of Honour to the most outstanding student
*The Ravi Subramani award
*The Sujit Memorial award
*He captained all teams in football, hockey, and cricket
*He was also in dramatics
*Very good in hindi, Electronics, Biology
*He was a king in Electronics
*He still remembers the books he studied from.

Life in school: What he was like at school; Just like he is today, used to work very hard. He was a brilliant student. He was very naughty. The teachers always said that he was a devil with a devils smile. They used to call him an imp because he was very naughty. He used to take pangas with everyone. But he never became a gunda in school. He always had fun with his teachers.

Life after school: Shahrukh had a food restaurant in Darya Ganj, New Delhi. In 1989, he moved to bombay, and thats when his acting career began. His first TV serial was Fauji (produced by Colonel Kapoor), followed by Circus (produced by Aziz Mirza) and he also did a serial where he acted as a Sikh, with a turban. He likes to do his own stunts.



Turns ons
Rain, lips, bhuttas, video games, computers, books, panties.
Turns offs
Liars, early mornings and the heat.
Car in school
A Maruti van.
Car now
A bright red Pajero.
Favourite TV show
It used to be Krishi Darshan but now I love everything on the Discovery channel.
On what occasions do you lie
when I dont want to break someones heart
Memorable moments
The day I won my first Filmfare trophy.
Philosophy of life
Even if youre not hungry, just be greedy.
On a blind date youd go out with
Madeleine Stowe.
Secret ambition
To be like Don Juan de Marcos.
If you were a burglar youd steal
Id like to be Santa Claus and break into homes so I could leave something behind.
Youd like to be reborn as
Chewbecca. Eat, wag your tail, roam around, thats life. And, of course, Ill live in Shah Rukh Khans house.
Allergies
People who cramp my space.
Favourite night activity
Doing several things simultaneously - reading, playing with the computer, making love.
Favourite drink
Pepsi Cola
Terrified of
Somebody cutting off my arms. I use them so much.
Recurring dream
I never dream.
Favourite book
The Hitch-Hikers Guide To The Galaxy by Douglas Adams.
Vegetable you resemble most
Kaddu
One role youd give your eye and teeth for
James Bond or Batman.
- Filmfare


Favorite Movie: His favourite film in which he has acted is Kabhi haan kabhi naan. Where he portrayed a "Chaplinesque character".
Favourite Food: Tandoori Chicken
If not an Actor : In the arm force or a school teacher.
Most Embarassing Moment: Too conscious about myself
Most Happiest Moment: When he got married and when he got his first film fare award.
Most Saddest Moment: When his mother and father passed away-"I cant get that out of my system".
Pets: He had two dogs-Tobecca and Rebecca.. Rebecca died. :(
Loves: His wife, sister, (mother, father), dog, house and work.
Hates: Liars
Admires: Mother Teresa
Historical figure he identifies with: Gengis khan, Hitler and Napolean.
Favourite actors: Amitabh Bachan, Dilip Kumar, Rishi Kapoor, Amir Khan, Akshay Kumar
Favourite male co-stars: Sanjay Dutt, Anil Kapoor, Jackie Sheroff and Salman Khan.
Favourite female co-stars: Juhi Chawla, Madhuri Dixit, and Kajol.
His Greatest Achievement: His five awards.
One word/phrase he uses regularly: "Lets do it!"
Turns ons: Rain, lips, bhuttas, video games, computers, books, panties.
Turns offs : Liars, early mornings and the heat.
Car in school : A Maruti van.
Car now : A bright red Pajero.
Favourite TV show : It used to be Krishi Darshan but now I love everything on the Discovery channel.
On what occasions do you lie : when I dont want to break someones heart
Memorable moments : The day I won my first Filmfare trophy.
Philosophy of life : Even if youre not hungry, just be greedy.
On a blind date youd go out with : Madeleine Stowe.
Secret ambition : To be like Don Juan de Marcos.
If you were a burglar youd steal : Id like to be Santa Claus and break into homes so I could leave something behind.
Youd like to be reborn as : Chewbecca. Eat, wag your tail, roam around, thats life. And, of course, Ill live in Shah Rukh Khans house.
Allergies : People who cramp my space.
Favourite night activity : Doing several things simultaneously - reading, playing with the computer, making love.
Favourite drink : Pepsi Cola
Terrified of : Somebody cutting off my arms. I use them so much.
Recurring dream : I never dream.
Favourite book : The Hitch-Hikers Guide To The Galaxy by Douglas Adams.
Vegetable you resemble most : Kaddu (pumpkin)
One role youd give your eye and teeth for : James Bond or Batman.
(courtesy of filmfare)
If he was to die and were reborn, what or who would he like to come back as: As Gauri and have a husband like Shah Rukh!
One Talent, he would love to have most: Singing. He wishes he knew how to play a guitar. So whenever he went to a party, he would love to pick up a guitar and sing. He thinks its really cool.
If he were to be born again: he would love to be a singer-not a rock star, just a plain singer.
When and where is he the happiest: His computer room and bedroom. He cant decide. He feels happy in both places. He is at peace with himself when he is lying in bed with Gauri chatting.
School Life with Friends: There were four of them and called themselves the c gang. As they were from the c-section. They are still friends and are married friends. Like he married Gauri whos best friend is married to Vikas. He has never had more friends and close friends than these three-except perhaps, Chikki. Anyway, they were very cool, yanky gang, very American. They loved wearing Nike and theyd have a little spring in their walk, like the Americans and the blacks do. Like in Grease.
Fun with Teachers: Whenever they got a new teacher, hed pretend to have an epileptic fit. The students would pull off his shoes and would force him to walk bare feet. Everybody knew that Shah Rukh was probably taking his ass. He was really very wicked.
Relationship he shared with his teachers: One person who really shaped his life was Brother Eric DSouza. He was short and sweet. He taught him all the games and a lot about life. He used to smoke a lot and Shah Rukh used to tell him that only weak people smoked so much. Now he does it.
The Arrogance: Shah Rukh would return home at nine every night, after taking part in elocution, exhibitions, or rehearsing. Later at night he would play Cricket under the street lamp. He would study at the last minute as he had a good memory. At college he was quite lost as he came from a sophisticated school. But he wasnt a pseudo guy with an accent like most guys from St. Columbias get. He admits that he learnt to be arrogant because of the atmosphere in school. He had it for 13 years in school. That amount of arrogance he says is good. Then that attitude continued at Stephens College, which he left after a year. He then joined Hansraj College.
Any Girlfriends at College? He had very good friends but never affairs. He would sit with girls. Some would help him write his notes like Usha and Anju Shah. He never sat with a girl and chatted with her. He was always in a gang. Coming from a segregated school, his relationship with girls had always been from a distance. St. Columbia made him a sort of Dennis the Menace, where falling in love was stupid-macho men dont fall in love.

(Source : www.pyara.com)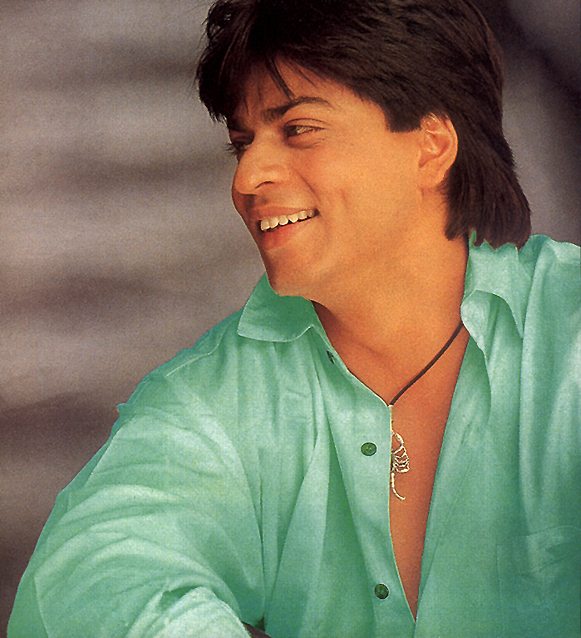 'The scary part is that the adulation will go away'

(Source : www.rediff.com)

Shah Rukh Khan's hair needs a perm

Hema Malini's hairstylist is certain. Ms Malini is shooting Dil Aashna Hai, her directorial debut. She has signed Shah Rukh Khan, a new kid with a disobedient mop. The director is at her wit's end. Try what she might; his hair is never going to sit neatly enough.

It is 1991. The perm never happens. Dil Aashna Hai bombs.

Yet, 1992 is another story. Deewana is a hit. Shah Rukh and his still unmanageable hair have gained a reputation: A reputation that multibillion-rupee projects are betting on.

And it is not just the hair The big bucks are essentially backing average height. Average looks. Fat nose. Tremendous nervous energy Bursts of staccato, rapid-fire speech. Worse flailing arms that are more interruptive than that wild mop of hair.

These are not what stars are made of. These are the shortcomings that a phenomenon transcends.

Year after year, through the nineties, Shah Rukh went on to grow from an actor into a star into a phenomenon: A phenomenon that made a virtue out of being plain.

As street-corner taporis will tell you, Shah Rukh is a zero-se-hero story.

The question is H-O-W?

Is it his acting? Or is it just his charm? Is it his personal equations within filmdom? Or is it his nose for business? Is it simply insights into the audience? Or is it all of the above? What!?

The answers to these questions will have to wait till the present becomes the past. Till the future takes us so far that the whole picture can be viewed with all its parts.

But one thing today is as certain as it has always been: Superstars are a product of their times...

Consider Amitabh Bachchan. His fans did not have the distractions of excessive television, music channels and Indypop icons. No pool tables. No bowling alleys. And no 56K modems. The Big B had the biggest advantage ever: In his time, entertainment equalled cinema.

He could afford the luxury of being a recluse. In fact, the off-screen enigma had become the real blockbuster.

Since then the landscape has changed dramatically. Today, Shah Rukh competes with not just non-film singing icons but with also those that sit on desktops. To be heard, he has to rise over the tweets of video games and the clatter of pool tables. In that sense it can be argued that, pound for pound, his stardom is far greater than that of all those before him.

The nameplate on his office door reads Superstar! Arrogant? No. Honest.

But even the severest honesty rests on context. The times are changing and Shah Rukh's stardom is besieged.

There is the threat of Hrithik Roshan. And that too in the disastrous aftermath of Shah Rukh's first production, Phir Bhi Dil Hai Hindustani. So paranoid and severe is the hype about the Shah Rukh-Hrithik battle, that advertisers are cashing in and have them endorsing rival brands in the on-going cola war.

Now Josh is expected to decide Shah Rukh's scores against Hrithik. It has had a spectacular opening, giving the star a second lease of life and much accolades. And there's Mohabbatein, Kabhi Khushi Kabhi Gham, Devdas, Boney Kapoor's next and his own production, Ashoka The Great.

But Shah Rukh is only buying time. The law of gravity is the strongest in Bollywood. His descent will begin, sooner or later.

And he has been preparing for it. Hence, Dreamz Unlimited. His production company in partnership with friend and costar Juhi Chawla and patron saint, director Aziz Mirza.

Will Shah Rukh reinvent himself to become an equally successful producer? Perhaps a director? One thing is evident; the man will continue to exert his influence in the world of cinema for a long time to come.

In this interview with rediff.com, Shah Rukh Khan speaks of the inevitable loss of stardom, like the inevitable loss of life. He talks of acceptance, but also of newer hopes...

What do you expect Josh? to do for you?

I don't expect any of my films to do anything for me. For me, the process of working is more important. The end result is not. I also realise I am a means to an end. I am not the end all of everything. My being in a film and working very hard is not going to make it a success or failure.

I have worked hard in certain films like Koyla, Duplicate, Dil Se... I put my life on line there. I have done some dangerous stunts myself -- like dousing myself with fire, jumping from 40 floors... I really don't know why I do it.

I read a statement made by Jackie Chan somewhere that he does it because his audience expects it of him. My audience doesn't even expect it of me. And I don't do it for them either. I just do it because, at the end of it, if the film works, then it gives me an immense amount of satisfaction that I worked hard and I have achieved something. In Islam, it is called halal.

If my film fails, I don't feel guilty that I haven't done my best. I think the worst kind of situation to be in is when the film fails and you wish you had done a little more... I wish I had put in that one little effort that was important... And that guilt can kill you. But, for me, if a film fails, then it fails. Then I know my best wasn't good enough.

I have never gauged my success with the commercial success of my films. I know I have done my best for a film. I love most of my films that have flopped. In fact, my producers tell me that, if I love their films, it is sure to be a flop. When they know that I don't like a film, they heave a sigh of relief saying that the film will run.

You had so many people working on your first production. Was it because you wanted them to or did they offer to help out?

Actually, to be very honest, Aziz, Juhi and myself are not business-savvy. So the business angle has been looked after by Yash Johar. He is a regular producer and he has been in the industry for the last 30 years. We never had to get into the nitty-gritty of the whole thing.

I was telling Azizji and Juhi that we must get down and start learning because we won't have Mr Johar doing this for us every time. Because this was our first film and he is a close friend, he decided to help us. Jay Mehta looked after the whole legal part of the paperwork and also banks and things like that.

The two of them put it across to us in such a way that we just had to sign the papers, we never really looked into it. My involvement in the film was only creative. And taking some decisions, which I do normally as a star too -- like should we do the scene here or wait for the next location... I normally do a lot of post-production for my other films also, so a lot of producers and directors ask me about these things like location, sets or time constraints. One just extended that.

Very honestly, I don't know the business aspect of film-making at all. Whenever I wanted something, I went and got the money sanctioned from Azizji and Juhi and Yash Johar. Whenever I was going over-budget, they told me not to do it. Beyond that, I also tried to keep myself in check about budgets.

But you must have realised that producing a film is risky. Why did you not decide to direct instead?

I think you need a lot more experience to become a director. And when we say we are producers, it just means we got together under a banner to make a film. I did not become a producer to fulfill a goal. We just wanted to make a film which was ours. And it was Yash Johar who really made it happen. We just have our names there.

Besides that, there is no reason why I opted for production instead of direction. Actually, when you ask me why production, I might ask why not? My logic is, why shouldn't I produce a film? Why should anybody ask me why I wear a white shirt? Production is film-related and we wanted to bring in new technology, new equipment...

I can't ask my producer to spend money on a camera when he signs me. I can't ask my producer to develop his film in London because I think it is better quality. There were certain aspects to film-making that I wanted to see though this film. Aziz and Juhi also believed in it. We did not do it with an outside producer because we were not sure of the budget or how saleable we were. We could not ask an outside producer to spend more than his budget because we could not guarantee that he would get his money back. Here, we knew everything and we went ahead and did it.

You have directed a lot of promos for films like Kuch Kuch Hota Hai and Duplicate. One also hears that you write very well.

Yeah, I do write. I have done a lot of promos for films -- Duplicate, Yes Boss... I have discussed some ideas like Dil To Pagal Hai and KKHH. I have only executed Duplicate and Yes Boss and, of course, my own film. Baadshah was a film that did not work out the way I had suggested. I should have done that promo as well.

Does this mean you will direct a film some day?

I was studying Masters to be a film-maker. I was doing my mass communication in film-making. But I don't think I'll do it right now. I would like to give it some more time, maybe five or six years more. I don't think I am a good scriptwriter. I just write for myself, that's all. I have ideas, but I can't pen them down. And I don't have an idea for a film. Maybe, sometime later, I will direct something.

One did notice you had most of the people you were closely associated with helping you with PBDHH.

Yash Johar is very close to Juhi and me. I have known him for a long time now. I have done two films -- Duplicate and Kuch Kuch Hota Hai -- with him. The Johars are like family. We have been friends for the last eight-nine years. And we meet everyday, in their homes or wherever, and if anybody has a problem, we all deal with it together.

Most of us who formed the core of this company are very close. Each one pooled in in some way. Karan (Johar) and Adi (Aditya Chopra) helped in their own ways. Jay Mehta did his bit for the company. Whoever knew us and was connected with the industry gave us the help of their expertise in whatever aspect of film-making they knew.

You must have a knack of making good friends then

I have some very close friends. Not too many though. Most of my relationships start with business, but I guess the atmosphere that I create on the sets and the way we work with each other and relate to each other after the film is complete makes us very close friends.

Films are a very insecure business. Sometimes they go right and sometimes they go wrong. I stand by my films. That is something that makes the producer feel very comfortable with me and, slowly, that comfort turns into friendship.

Aziz Mirza, Juhi and her family, Yash Johar and Yash Chopra, Venus, Abbas-Mustan, Rajiv Mehra, these are the people who are very close to me. We meet each other regularly. We know each other very well. We get along well. We don't bullshit each other.

When I first met Karan and Adi, they were not directors. My relationship has been more of an encouraging colleague because they were younger than I was. With the guys who were older than me, the relationship was that I always listened to them. So, in this way, relationships develop and friendships begins.

Is that why you only do films with a select few in the industry?

I do four films a year and I am trying to reduce that figure to three films a year now. I am going to cut down on film assignments. I sort of rotate the people I know in these two or three films I do. I know most of the people I do films with.

I am very happy with the scripts they write for me and the films they make. So it does begin to look like I am only working with these people. But, in between, other films happen as well. Like Devdas, which I am doing with Sanjay Leela Bansali or Dil Se.., which I did with Mani Rathnam. And somebody else might come along.

One has started out with four directors and one has been successful with them. The relationship has developed and turned into friendship. We have formed a good team -- Yash Chopra and myself, Abbas-Mustan and myself, Aziz Mirza and myself... When they think of starting a film, since they are doing well commercially and I am doing well too, it seems natural that we should do the film together.

Does this not make them professional friends instead of personal ones?

No, some of them are close personal friends too. Like Karan and Adi. Aziz Mirza is like a father.

You seem to be caught in a rut lately. You are doing the same kind of roles. Have you stopped experimenting?

I think it is the shortsightedness of the media. The lack of information and lack of knowledge of what film-making and acting is all about. Like, I find that, when you write, all your articles seem the same. Why is that? Because I believe that must be your style. So, when you see film-makers like Martin Scorcese, James Cameron, Woody Allen, Subhash Ghai, Yash Chopra, there is an inherent style because of which they have become what they are today. And the style is something that doesn't go.

Like writing. For instance, you don't write like Khalid Mohammed, you have your own way of writing. In the same way, everybody has a way of doing sequences... scenes... according to their styles. They also say that directors never change their films. They keep on making the same films again and again, which I think is not necessarily true in every case. So, when you subtly change a character, people who don't know much about acting wouldn't notice the difference.

In the last 10 years, I have done 27 films, which means three films a year. And, every time, given the set parameters of commercial cinema, my films, I feel, have been different. Yes, as an actor, I might seem repetitive, boring, absolutely crap. But the logic here is that I do my job with a lot of diligence and hard work and there is a lot of thought that has gone into it. Would you like to see it? Good. If not, then switch off the television.

How do you enact the same kind of characters in different ways?

I don't believe in method acting. I don't believe in research. I do a role the way I like it. I hear a story and I normally see myself in that story. I do four films a year, so, broadly put, one of them is a comedy, one might be dramatic, one is an action film and the fourth, a romantic one. Now, in those four roles, I try and be as different as possible in the set parameters of commercial cinema.

You expect me to do parallel cinema, but I don't do that. I don't think any cinema which is not watched by the masses is good. I like to be watched by as many people as possible. I don't want my film to be made for a kitty party gathering or for up-market people sitting and discussing the nuances of a character when they don't even understand the film.

I just read the script and role. And I normally have 20 different ways of doing a role. I show it and the director chooses the best one. I have never done a historical character or a round, well-etched, completely-based-on-reality kind of character. I have created characters or, to frame it better, can I say hero types? It could be a Raj, an Ajay or a Vijay, it could be Monty, Vicky or Raju. I have just created hero types and I would be lying if I said I really sit down and approach a character based on research. I don't do that.

So, if you don't believe in method acting or research, wouldn't it be difficult for you to get into the skin of the character?

When I act, I am at ease with what I am doing. Because my theatre upbringing is such that I was taught to be easy with the space provided, which actors seldom do. So I am comfortable with the space I have. Space also means your co-actors, props, where you are standing, location of the scene in the script... So once I am easy with that, then there is no problem. I just go ahead and do it.

What comes across as easy here is not all that easy actually. I am very nervous about doing a take, I think a lot before I do a take. So many thoughts come to my mind because I don't believe that there is isolation of emotion in acting. That would be childish acting then. There have to be other things that have to work with one major emotion. Like anger has to be reflected in eyes and in other bodily actions. But I have always been like this. These things are necessary where I come from.

Since that is your approach to acting, how did you get along with Kamal Haasan who is reputed to be a very difficult director?

I think Mr Kamal Haasan gave me an immense amount of respect by asking me to do this special appearance in his film. And I had no difficulty in doing a film with him. He has been very nice to me. And it has been nice to be with him, next to him...

I sort of hope some of his acting talent rub off on me. I really think he is one of most wonderful actors in the world. And he is a very easy-going person. In fact, we even became friends by the end of the film. Like I said earlier, I form relationships. One of my new ones is with Mr Kamal Haasan.

Why did you accept Hey! Ram? Was it because of the character or because of Kamal Hassan?

I have chosen roles based on the people I was going to work with. Because, right now, the process of making a film is what I enjoy the most. The end result is also important because it does hurt when a film doesn't do well. But, for the last couple of years, I have been choosing films on the basis of who is directing it.

Are these interesting people? Educated? Are they good film-makers? Do they believe in cinema? I think there is no one who believes in cinema more than Kamal Haasan. So I didn't even hear what I was going to do in the film. I just told them I will do it. And this film is bilingual. So he made me learn Tamil, which I wouldn't have done for anybody else.

Did you ever imagine you would get this kind of adulation?

I know the job I am doing. I know a bit of the craft of what I am doing. I have done theatre for some time. I have been an avid watcher of Hindi films. I am not a good dancer. I am not a good fighter, neither am I a good looker. But I always thought I would be able to act out scenes in a different way. At this point of time, I think, in the last five years at least, I have been able to achieve at least 10 to 15 per cent of what I thought I could do.

I was quite popular when I did Fauji and other television serials, but this kind of adulation, especially in the last couple of years, is much beyond what I ever imagined or what I think I deserve. I think it is the goodness of the audience or blessings of God or my mother looking after me. It cannot be talent because there are more talented and hardworking people. But the kind of so-called superstardom I have had for the past three years -- I have been successful since I entered this industry -- the love and the adulation that the audience gave me, is much more than what I deserve. And that's honest.

How do you deal with it?

That doesn't happen every time. But the scary part of the adulation is that it will go away. Not the fact that your shirt is torn off you. Getting pushed or having people running after you is not scary. That all this will go away is. Dealing with this is simple because I never looked at myself as a star. I never expected it and I still don't believe that I have it. It's one of the philosophies I have always followed.

Once you learn to accept a truth or a lie, it ceases to exist. So, if I accept that I have a fat nose, it will stop bothering me. If I accept the fact that I am a big star, it will vanish. So I have been working just like that since I entered the industry and I haven't thought of anything.

Things have been happening too fast. I have no time for retrospect or nostalgia. I don't have time for thinking of the past or planning for the future. In the scheme of things right now, I don't even know how far I have travelled as a star or how far I am willing to go or how far I will go. I just keep on doing my job, that's all.

What do you make of the comparison between you and Amitabh Bachchan?

That kind of comparison is wrong and I am not being humble about this. Because the fact remains that he is still as popular as a younger person. For me, this could be just a fad or a fashion or plain lucky or fantastic or whatever reasons are attributed to my success. But, with him, he has been here for 30 years and that speaks volumes for the kind of legendary fame and the immense amount of talent he has.

I am working with him now and one gets to learn a lot by hearing about what he has gone through and the focus that he has. I don't think I have even half the focus that he has. At this age, to be focussed like that and that too after being the legend he is...! I think he is arguably the only legendary star. He is definitely my star. I don't think any kind of comparison is possible till I last that long.

Does stardom make you feel insecure?

So far I haven't been given any reason to feel insecure. I have been fortunate enough to be doing well and still going up and up. But one knows realistically that one has to go down and one also knows philosophically that success never lasts. But one also knows that, when this happens, one is shattered and one would like to avoid it.

Everyone knows we are going die, but we don't spend our lives thinking that we are going to die. This must be God's way of making you feel secure. Some things that are going to hurt you are always at the back of your mind. They don't ever come up front at all. Yes, I would be scared if I sat down and thought about it.

Shah Rukh Khan spoke to Sharmila Taliculam.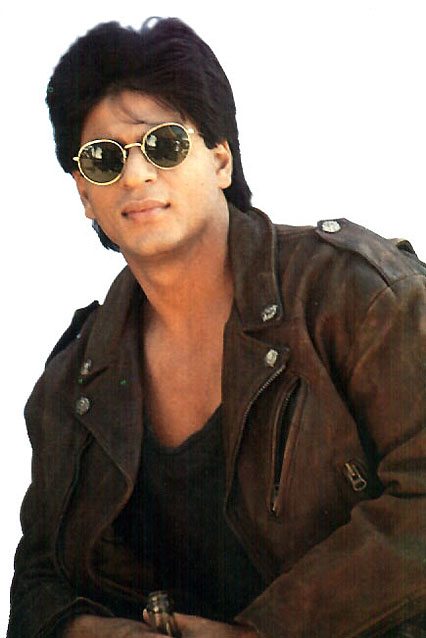 SHAH RUKH KHAN: I need to take risks...

(Source : www.screenindia.com)


Trooping along with the numero uno star all the way to Film City is something you would like to cherish what with his sense of humour keeping you entertained. But once on the sets, the actor gets somber coz it is work as usual. And Devdas is his pet project. The awesome set with its long curtains, huge chandeliers and carved pillars, Shah Rukh insists is his second home. So sitting comfortably in a home close to his heart, the killer Khan answers a few questions:

What did you expect from One 2 Ka 4?
I knew everyone would go to the theatre to see the film. Unlike Phir Bhi Dil Hai Hindustani, where people objected to the humour being a bit on the complex side or Yes Boss where they found the humour to be of a slapstick nature, One 2 Ka 4s simple yet funny treatment had everyone laughing through the film. It is a complete entertainer.

How did you work on the character of the cop?
I knew my character had to behave somewhat like a lunatic, much like Mel Gibsons in Lethal Weapon. This guys idea of eliminating crime was to bump off criminals. It was a wonderful experience doing the film as this was the first time I was playing a cop.

How is this role different from the ones you have played before?
As I said, this was the first time I was playing a cop and he was not the intense, larger than life police officer with a singular mission. Neither was he a Pandu havaldar or Inspector Bhinde kind of buffoon. He was a tough cop but funny in his own way. Just the other day a youngster walked upto me and told me how my character had inspired him to become a police officer. Its gestures like these that make me feel that the effort was worth it.

Wasnt the title of the film too unconventional?
I dont think so. It was a catchy title for a snappy, entertaining film. Interestingly, as the film got underway, the title took on some interesting connotations. Gauri and I became One 2 Ka 4 with the arrival of Aryan followed by Suhana. Juhi also gave birth to Janhavi recently. And even the producer of the film became a father during its making. So, two, three and four yes, four babies arrived during One 2 Ka 4. Strangely enough, the phrase breaking a leg also took on a different meaning with this movie. During its making, I broke my leg twice and while Juhi broke her leg once, so the title had a physical angle too.

How was the experience of working with so many kids?
Though the film had me portraying a character who hates kids. I have no such problem in real life. So I enjoyed working with the four children. The set was always alive with Juhi and the kids upto something. The only problem I had was because of my smoking. Everytime I lit a cigarette in front of the kids, one of them would snatch away the cigarette. I had to give in to their demands and not smoke because they were so affectionate, but I must confess that I had a tough time staying away from my cigarettes.

How different is it having two kids at home?
Its great! I am looking forward to spending time with them. My son, Aryan, has become quite a monster. While my daughter is too little to realize that her father is playing with her. Whereever I go, I buy lots of toys for them and when playing with them I turn into a kid myself.

Back to One 2 Ka 4, the long delay in making it bother you?
No one deliberately delays a film. Due to some unavoidable reasons the film was delayed but the gaps are not too evident. The film still looks fresh and the credit for that must go to the technicians and actors who have given the film a straight-off-the-tawa feel. Especially the southern team of director Shashilal Nair, cinematographer S Kumar and music director A R Rahman who have done a fabulous job. The technology used by these people and guys like KV Anand and Santosh Sivan makes their films look very advanced. But there were some natural factors that could not be overcome. The kids had shot up in height. But then the film is not to be taken so seriously.

Why do you think the media went against you after Phir Bhi Dil Hai Hindustani?
It is something I have never really tried to follow up on. I cant go and confront everyone. When I was new, I would take on people. Get angry, abuse them and even pick up a fight with them. Those days I was new and small. My parents taught me to always pick on people my own size. In the last nine years, I have become so big that I seldom find people my size. In my interviews, I try to provide a glimpse of myself. I hope the nicety comes across. Journalists write what they want and its upto the readers whether to believe it or not. I always say one thing, I am not as good or as bad as the media makes me out to be.

I have been working for nine-and-a-half years now. The next year will be my tenth. I have seen a lot of ups and downs. I have seen my growth as an actor, technical improvements in cinema, the rise of a number of my professional friends and the press that is a deep and an integral part of showbiz. I try to make my interviews funny, nice and sweet so people enjoy what they read.

What made you choose a period film like Asoka as your first production?
I need to take such risks if I want to evolve as an actor. Also, let me tell you that if I have Asoka and Devdas, I also have a Kabhi Khushi Kabhie Ghum. I have worked with directors who are taking risks all the time. I admire Adi (Aditya Chopra), Sanjay Leela Bhansali, Mansoor Khan and Karan Johar for their efforts. Josh had me not as the hero but the heroines brother. Everyone thought that the film would flop but they were wrong. If all these guys can take risks, why cant I?

Tell us more about Asoka?
Its different and hopefully still commercially viable. The film is more or less complete. Only 10 per cent of the film is left to be canned. Asoka is not about trying to promote Shah Rukh Khan, the star. It is a film made by Santosh Sivan, the maker of Terrorist. A man who filmed Chaiya chaiya... on top of the train. Kareena Kapoor is outstanding in the film. Asoka is a mix of love and war. The log line sent by Santosh is, Only the dead have seen the end of the war. Asoka is a historical film that will touch the hearts of people.

Today you are known as a romantic rather than a psyhotic or an action hero. Does that make you happy?
Oh, how I miss not doing action films! Im a child at heart and enjoy fight sequences. I make up for their absence by playing with my son. We play boxing, play with guns. I pretend to be injured and fall down... Its good fun! Initially, I couldnt do action films because I had no muscles to display. Still I struggled in Darr and Anjaam. Its funny but action is inherent, a very personal thing. You dont need to manifest it onto cars and stunts! You can physically show it. You can also keep it inside you. Karan Arjun, Ram Jane and Koyla showed that. My favourite, of course, are the over-the-top action films. I enjoyed doing them for the first 4-5 years, but since everyone else was doing the same, I shifted to love stories. Now, even if I want to do actiion films producers will not let me because of Mohabbatein, Dilwale Dulhaniya Le Jayenge, Kuch Kuch Hota Hai or Dil To Pagal Hai. I am still trying to mould myself into a perfect action hero. I dont have the looks but I have the inclination. And till these films came my way I will play a kiddie kind of action hero (laughs).

-Sabrina Menezes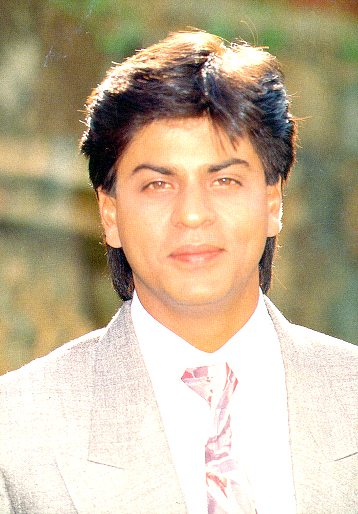 New Delhi: He is estimated to have earned over $ 5 million this year from his motley of film assignments, endorsements and private appearances, but superstar Shah Rukh Khan has had little time to enjoy his wealth or bask in his superstardom.

The 34-year-old actor, whose awesome energy levels are the talk of the Hindi film industry, admits he has worked so hard in the last four months that ``I'm quite numb at this time.''

It is his first production venture `Phir Bhi Dil Hai Hindustani' that has kept him so busy, working virtually round-the-clock shooting for the film, supervising its production and then marketing it to the public, Khan has left no stone unturned to ensure that the film he is producing with Juhi Chawla and Aziz Mirza, his partners in the production house Dreamz Unlimited, succeeds at the box office.

``My logic is that at the end of it people should realise that a lot of effort has gone into making the film. There has been no cheating with the fact that the market has put so much faith in our project. Hopefully people will also like it so that it becomes commercially successful,'' he said in an interview.

Khan is also acting in the film about two rival journalists, that co-stars Chawla and is directed by Mirza. The film's music was launched last week and now the three are readying for its January 2000 release.

Khan, who has had only one release this year, the comic thriller 'Baadshah' directed by Abbas-Mustan which was rated as a mediocre hit, has also been deeply involved of late with Kamal Haasan's period movie 'Hey! Ram' based on the days of the 1947 partition of the Indian subcontinent. Khan, who plays hero Saket Ram's Muslim friend in 'Hey! Ram', says acting in the Tamil version of the multilingual movie was ``difficult'' and gave him moments of ``nervousness'' for the first time in years.

``It's been a long time since I was nervous while acting. I remember the last time it was when I was doing theatre some 10/15 years ago. I suppose the fact that it was in a new language and that I was working with one of the finest actors in the country added up to the nervousness,'' discloses Khan, adding ``the film has a look that is very different, the subject is different and the treatment is different and very realistic.''

With 'Phir Bhi Dil Hai Hindustani' ready for release and 'Hey! Ram' also wrapped up, Khan is now making plans for his future production ventures, all of which he promises will adhere to the high quality standards Dreamz Unlimited has set for itself. He aims to work hard for the next year before taking time out for leisure and relaxing at home with wife Gauri and son Aryan.

``I've given myself till 35 to work like this and that's one year away. After that I'll think of relaxing,'' says the restless Khan.

Khan, who began his acting career in theatre in his hometown Delhi and went on to act in television serials before moving on to Mumbai and movies 10 years ago, has worked with the top filmmakers in Bollywood and has earned a reputation for being a director's actor because of his ability to mould himself to their individual requirements.

He has won prestigious Filmfare awards, the Indian equivalent of Hollywood's Oscars, for the last four consecutive years. He can list among his achievements the award for Best Sensational Debut for 'Deewana' (1992), Best actor for 'Baazigar' (1994) 'Kabhi Haan Kabhi Na' (1995), 'Dilwale Dulhaniya Le Jayenge' (1996), 'Dil To Pagal hai' (1997) and 'Kuch Kuch Hota Hai' (1998). He also won the Best Villain award for 'Daar' (1994) and 'Anjaam' (1995).

Commenting on his enviable status as the most saleable star of Bollywood, who features fourth in Outlook magazine's recent listing of the top earning Indian entertainers, Khan says ``I see myself as a retailer who is offering a certain service and is getting paid for that. I work very hard and like every hard working person I get the perks for that. Nothing else.''

(Source : www.indiainfo.com)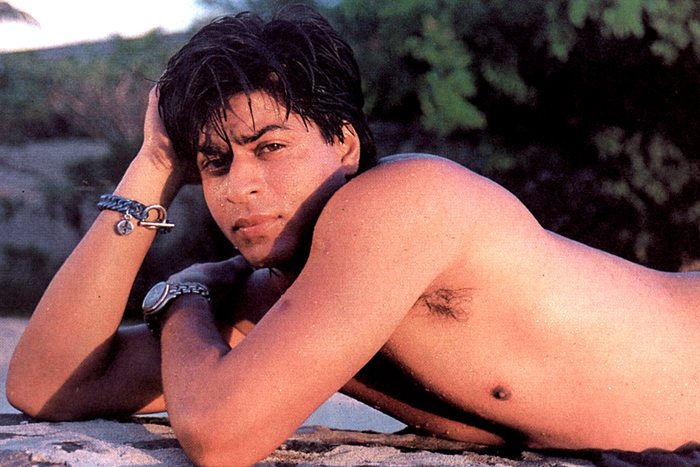 "You Can't Touch This...!"
Shah Rukh Khan - On Why He's The Best!

No one has to tell Shah Rukh Khan that he's the best, he knows that already. Though he doesn't mind if you tell him some more. As far as confidence goes, certainly. As far as his amazing interviews with the media go, sure. No one shoots from the lip - much to the delight of the pen-pushers - with as much gusto as the Scorpio lad from Delhi who's as much at home in the tinsel world of Mumbai city. It is a pleasure to interview a man who speaks so well and with so much elan. He believes in every word he says too and forces others to believe. All the qualities of a leader, a superstar. No one does it better. As Shah Rukh re-states again, in an interview
with OMAR QURESHI.



Filmfare Online: Now that your film is released and the stress that goes with pre-birth delivery is past, will you admit to your jitters on your first production 'PBDHH'?
Shah Rukh Khan: "Really, when any film of mine is ready, I finish the film with dubbing. The new thing that has happened with this one is the delivery. But frankly at the end of every movie I am so tired, I am quite numbed. And I don't ever speculate about what its fate is going to be. I get worried of course. I get a little nervous, but I don't kill myself over it. I just go on with life. And its the same this time. It's just that a lot of people in this unit have worked very hard for it and a lot of goodness has gone into it. And when I say that I talk of the whole unit, especially Aziz and Juhi who are very close to me. I hope for their sake - and mine too - that this film gives us a lot of respect."

Filmfare Online: Looks like you've played 'dad' twice already now. First your son Aryan and now your second baby, 'PBDHH'. Tell me the difference in the birth pangs.
SRK: "I can tell you the similarity. Whatever the case may be, whether it's a boy or a girl, whether it's good or bad, whether it's pretty or ugly, I'll still love it the same. And I hope the rest of the family that has produced this baby will think the same of the film. It really is a matter of being in love with your child. This will always be our first child. I don't know the future of this company but this will always be the most special film that Aziz, Juhi and myself have made in the whole of our careers."

Filmfare Online: Just curiosity, but why on earth did you choose a media story? Why not the regular 'feel-good' stuff you are so good at?
SRK: "See, Aziz comes from television, I also come from television. So all our ideas came from that medium. Also, we were trying to make something which was not just a general love story. We wanted to make a film that is a little relevant today. We could have picked on AIDS, or a heart-problem or the hijacking. But then while some topics were too complicated, others were too easy. We picked on the media because we do believe it's going to be the most important thing in the new millennium. We think communication, media, computers, internet, telephones, mobiles - these are all going to be taken for granted as everyday things. The world will really shrink. We just want everybody to be aware that with all this hype, with all this greatness that we are attached to, there should be a sense of responsibility too. And we, being media people ourselves, I don't think are not knowledgeable about this aspect so as not to be able to make a telling comment on it."

Filmfare Online: What influenced the choice of Juhi Chawla as heroine? The fact that all three of you are such good friends?
SRK: "Initially it was just a film that Aziz was to direct in which Juhi and I were supposed to act. But halfway through we decided to produce it also. And when we became producers, obviously we were not going to change the casting. It was already in process. Also, the three of us really enjoy working together, whatever the fate of our past films might have been. And I guess that is what is essential at a certain stage in everybody's career. I know it's that way for me. I'm ten-years-old in films now. For me what is important is the process of making the film. I've become too used to hits and flops, and so is Juhi. And Aziz is such a warm person that I believe he cannot make a movie without Shah Rukh and Juhi. So that was no criteria. Let me put it this way. We needed the best talent for this film so we decided to take Shah Rukh and Juhi."

Filmfare Online: Does that mean that Shah Rukh and Juhi will act in; and Aziz will direct every movie made by 'Dreamz Unlimited'?
SRK: "Will Aziz be directing every film? Or will only Shah Rukh and Juhi star in it, is a question we'll answer only after we decide what film we do next. That is, if we do one next, depending on the eventual fate of 'Phir Bhi Dil Hai Hindustani'. Then we will decide what story we are making. The three of us will always produce the films together. We may not be directing it or acting in it or singing a song for it, but we will certainly be an integral part of it. It will all depend on the kind of film we want to make. Our next film may even be directed by Juhi for all you know, with Aziz acting in it."

Filmfare Online: 1999 wasn't exactly one of your best years in terms of success. You had only one release in the form of 'Baadshah' and that too was an average hit. So...
SRK: "Firstly, let's not be so polite. You can call it average. You don't need to add the word 'hit' after it. It's one of my favourite films though -- 'Baadshah'. I really enjoyed doing it. I'll even do another 'Baadshah'. I'll do 'Baadshah - II' and make a James Bond film yet. I enjoy the process of making the film which I always say again and again. And it's true. Like people ask me what do you expect from this film. I expect shit-all from a film. It is the process of making the film that is enjoyable or not enjoyable. This year has been quite enjoyable because I did 'Josh', I did my own production 'Phir Bhi Dil Hai Hindustani', I've worked with Amitabh Bachchan, I've worked with Kamal Hassan. And all that in one year is enough for any actor to handle. Release-wise, that's really not important. I don't believe that if you have only one release now, your future dangles or you are not going to be a superstar. Next year I could have six releases, so does that make me a bigger star? Actually now I'll have six releases. 'Josh' is ready, Shashilal Nair's film is ready, my own film is coming, 'Hey Ram' is there. 'Mohabattein' is already filming. K.C.Bokadia's film is ready. And maybe I'll do a David Dhawan film in between and finish it before December. I normally try to ensure that three of my films release. But all said and done, it's been a good year."

Filmfare Online: You know Shah Rukh, whenever there is talk of 'performers' among the current crop, somehow your name and that of Aamir Khan seem to lead the discussion. Given the intense competition existing within the industry, is there as serious a rivalry between the two of you?
SRK: "I think Aamir is a wonderful actor. I think he's very educated, detailed -- like people call him a perfectionist kind of actor. I also think that he is wonderfully self-centered, focussed. I take it as a compliment for an actor to be self-centered. I wish he would let himself loose a little more. And I wish the same for me -- I wish I could contain myself a little. That's the way it works for me. As an actor I think he is quite enjoyable to watch. I don't know his technique. I wish we could work in a film together, so we could learn each other's techniques. I always tell him, be a little mad. And for myself, I think I should get a little more sane. Comparisons beyond that, I don't know. I'm taller for one (laughs). Look, there's no comparison. He's in a school all by himself. And when you say we've been consistent, I think we've been consistent as stars more than actors, because my performances range from the ugly to the brilliant -- at least I think so. There's nothing holding me back because I believe acting is not about right and wrong. Acting is about just doing it and hoping it works. Aamir thinks acting is about getting it right or wrong. Both of us have been working for the last ten years, as you said, consistently as stars, so both of us must be right in our way of technique or thinking. When I see it from my point of view solely, I think."

Filmfare Online: You know the way Govinda and you love to make these jibes at each other all the time, it always looked stage-managed. Is it?
SRK: "I know Govinda. I've met him about 12 times in my whole career in the nine years that I've worked here. The co-actresses that I've worked with talk very highly of him; that he's a fun guy and he's very sweet and down-to-earth. He met me very nicely and we've had long, long chats about acting. I always tell him to do memorable films because I think he's one of the greatest performers and actors in the country. He always tells me, 'Listen yaar, you do it. Somehow, I can't. Even if I want to do that style.' It all started off with a misunderstanding which was very strange. I don't like to talk about it because it triggers it off again. I'd said something in English which was misunderstood by a certain segment of people around him. I'd said something on a show to the effect that 'I can do what I do best. I cannot do what Govinda can do and perhaps Govinda can't do what I can'. It did not mean that I will not do what Govinda does. I wish I could do what Govinda does. I wish I could put my lungi over my head and dance but I can't do it. But it was quoted very differently. He told me also that his mother was very hurt because she felt I was saying that Govinda doesn't do good things. I felt very bad about that. I didn't know how to explain. I called him up and said, 'Listen, please explain to your mom that I didn't mean it this way.' I just said that in English it sounds very different. That I can't do what he does and maybe he can't do what I do. It wasn't meant to be that I will not do what he does. Or what he does is derogatory or bad. I guess that cleared it up. After that I've never had a misunderstanding with him. People ask me what do you think about this and this. Honest to God, I'm not demeaning them, but I don't even think about them. I don't have time to think about them. I've got so many other things to think about."

Filmfare Online: You and Amitabh Bachchan together in Yash Chopra's 'Mohabbatein'. The star of the millennium and the current superstar together. How do you feel?
SRK: "Amitabh Bachchan is my hero. There is no other hero I have. In my time, in the seventies, Amitabh Bachchan is what I was brought up on. I remember his dialogues in every film. Anyone my age -- I'm 34 -- does. And say twenty years ago when I started watching films Amitabh Bachchan was my hero. I liked him in 'Satte Pe Satta'. I even put powder in my hair to look like his character in the film. I've tried to walk like him, I've tried to talk like him. When I come out and start acting out my scenes in Hindi films it is very difficult for me to try and do a drunken scene because I can't see it any other way than the way it is done by Mr Bachchan. Like the other day I was doing a scene with him. It was an emotional scene. He started to say something and I suddenly realised that I was sounding like him. You know, in an individual film I can speak like him and get away with it. I do also believe that a lot of actors of my time still act like him. And I'm one of them. I've stopped doing drunk scenes because I want to do them differently. Like in Sanjay Leela Bhansali's film 'Devdas', if I have to be drunk I have to learn how to be drunk differently than Mr Bachchan. I really think he's brilliant, so it's difficult not to do it like him.We were doing a scene and he said in a deep baritone, 'Kya ho raha hai aaj,' and I was going to do the scene exactly like him. My voice is not like that, but the tone is exactly the same. And I realised that there were two people who sounded exactly the same. For me to work with him is really tremendous and only then do you realise how small and miniscule you are. And that happens to me when I stand in front of him. I'm not over-awed as an actor because I'm a very proud actor. And I know very well that a lot of my learning of acting is from Mr Bachchan. I'll have to change that, which again will be a wonderful experience. There is the sense of knowing how small you are when you act with Mr Bachchan. I think every actor who thinks of himself as an actor should act with some actors. One is Mr Bachchan, Naseeruddin Shah, Kamal Hassan, Paresh Rawal, Nana Patekar - these are some of the few others. Unfortunately I've never worked with Mr Om Puri. These are a few actors that I can remember just off the cuff. Among the actresses there's Sridevi, Madhuri Dixit, Juhi Chawla, Kajol -- I think these are people one should act with to be able to know where they stand. I've worked with Sridevi for ten days and I know how wonderful it was. I think more than directors, one should work with these actors to know how bad you are. And each one in some department, you know. Like you try dancing like Madhuri. I mean, poor girl has to do everything. In the song, you know, where I'm leading her? Actually she's leading me. You know all these things we do? She's doing it. You do comedy with Juhi, and you just can't match her. And I really mean it. Just as you can't match Johny Lever, try as you might. Juhi's got this sense which doesn't go over the top. She'll never ham a comic scene. That is so difficult to do as an actor. Kajol is so believing in her roles. The conviction with which she says it, you really think that this girl means it. And that is so difficult to do on the spur of the moment. Like she has to tell this guy he's bad and she says it so well that you really believe that he's bad. With Mr Bachchan it's like that, a constant learning experience."

Filmfare Online: And now with the comparisons bound to be made with the generation following you? Hrithik Roshan is already a hot new superstar. Abhishek Bachchan is next to enter the fray. There is bound to be a rivalry for top slot then?
SRK: "I think it is a little unfair when people compare and take the names of Dilip Kumar and Amitabh Bachchan in the same breath as my name, because their body of work is so much more. Until I've lasted 35 years and done that kind of work and am still going strong, one should not mention me in the same breath as them. As far as newcomers are concerned, I don't think about my contemporaries, so why should I think about newcomers? And most of these guys who are coming, I've played with them. I've played cricket with Abhishek and Hrithik. So it's wonderful that they're doing well. It's very nice. I can only be pleasant about them, I can't be any other way. Because in my stature as a star, anything else that I say is mistaken for either me being too arrogant, or being too patronizing. I don't think about them. I wish them all the best because I know them personally. I read some of their interview and what they say. Like Hrithik says he used to go home and redo scenes from 'Koyla' in front of the mirror like Shah Rukh had done to see if he could do it. So one finds that nice; but as my characteristic stands, you can't touch this. That's what I'll say to everyone -- you can't touch this."
- Omar Qureshi

(Source : http://filmfare.indiatimes.com)