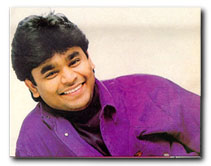 CLICK ON THE PICTURE TO GO TO RAHMANONLINE WEBSITE

A R Rahman

(Source : www.indya.com)
With his mop of curls, T-shirt and jeans, he looks like a teenage college student, but his first film score, Roja, fetched him the National Film Award, in 1992, and thrust him into the limelight.
In the five years since Roja, he has created music for blockbuster Indian films, including Pudhiya Mugam, Gentleman, Kizhaku Seemaiyilae, Duet, Kadalan, Bombay, May, Madham, Indian, Muthu, Kadhal Desam and Love Birds. His 1995 soundtrack for Bombay crossed 5 million units and Rahman arrived as the King of Indian Pop" with sales of more than 40 million albums over a period of 3 years.

Allah Rakha Rahman was born A.S. Dileep Kumar on January 6, 1966, in Madras, to a musically affluent family. Dileep started learning the piano at the tender age of four. But at the age of nine, his father passed away. The pressure of supporting his family fell on Dileep. At the age of 11, he joined Illaiyaraja's troupe as a keyboard player. All this had an adverse affect on his education, and finally he dropped out of school altogether.

Eventually, he played with various orchestras, and accompanied Zakir Hussain on world tours. All this experience enabled him to earn a scholarship to the famed Trinity College of Music at Oxford University from where he obtained a degree in Western Classical Music.

After he returned, he continued to be a part of various music troupes and local rock bands. Rahman branched out into advertising in 1987, when he was asked to compose a jingle to promote a range of watches. The ads were a success, and over the next five years, Rahman would compose more than 300 jingles. He also released his first album, of Muslim devotional songs, titled Deen Isai Malai and the English album, Set Me Free. Both went unnoticed in the market.

In 1989, he started a small studio of his own, called Panchathan Record Inn, attached to his house. This would later develop into one of India's most well equipped and advanced recording studios. In his established state of the art sound and recording studio he began experimenting in sound engineering, design and production.

He also began a collection of sound samples, creating one of the most comprehensive sonic libraries in Asia. The move to movies came during an advertising awards function, where he met Mani Ratnam. Mani requested for a sample of his wares. The composer readily complied and invited the director over to his studio. Mani was hooked, and signed on Rahman to score the music for his next film Roja. The rest is, as they say, history.

Rahman's blitzkreig continued, and his first break with Hindi films came with Ram Gopal Varma's Rangeela. Rahman unleashed his tunes and created mass frenzy. His Tanha tanha was seduction personified. Mani Ratnam picked him for his first Hindi film, Dil Se, and the rest, as they say, is history. His flirtation with Hindi films continued, and Subhash Ghai's Taal landed on his lap next. The composer displayed his versatility with the tunes he composed. Rahman also got an opportunity to work with Deepa Mehta, on the music of Fire and 1947 Earth

The maestro promises a splash in 2001 with One 2 Ka 4, Love You Hamesha and Aamir Khan's long-awaited Lagaan. The genius remains unstoppable!



CLICK ON THE PICTURE TO GO TO A SITE DEDICATED TO THE MUSIC LEGEND, www.arrahman.net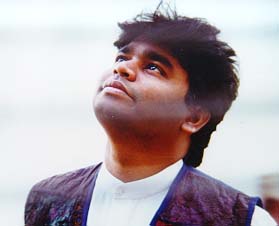 A R RAHMAN

(Source : http://in.nazaramusic.lycosasia.com)

Allah Rakha Rahman! A music director known to have brought a revolution in the Indian film music scenario, when it was needed the most. Born on January 6th, 1967 this whizkid is the son of a music arranger and conductor R.K. Shekhar. Rahman was nine years old, when his father passed away. By the age of eleven A. R. Rahman performed on television. After his personal tragedy he did some soul searching and decided to convert himself in Islam.

This genius is the most sought after music director of the generationext. In his career spanning eight years, Rahman has bagged as many as eleven filmfare awards and two national awards.

While working for a music band, Rahman also worked for ad-jingles. Mani Ratnam signed A. R. Rahman as his tunes sounded fresh and least influenced by the South India's music icon Illayaaraja. By 1992 Roja (Ye Haseen Wadiyan) was Rahman's first film. So enticing was the music that the numbers even defied the language barrier. The tunes were heard and loved by non-Tamilians. Soon Gentleman followed Roja, and 'Chiku Biiku Raile' became a chart-buster. Rahman was now the uncrowned Prince of music.

A. R. Rahman though a known name now in Bollywood, composed for his first Hindi film Rangeela (Hai Rama,Pyar Ye Jaane) for Ram Gopal Verma in 1995. The film went on to become Rahman's biggest hit and the most original score of that year. Then other films like Hum Se Hai Muqabala (Muqabala,Urvashi Urvashi), Hindustani (Telephone Dhun), Thiruda Thiruda (Chandralekha), Jeans (Ajooba Hai, Columbus) Kabhi Haan Kabhi Naa (Tu Hi Tu, Mere Dil Ka), etc followed. Rahman was being accused of being repetitive. But with films like Bombay (Tu Hi Re, Kehna Hi Kya), Vande Mataram (Maa Tujhe Salaam, Only you), Iruvar (Naramugaye), Dil se (Chhaiya Chhaiya, Jiya Jale, Dil se re) and Taal (Ishq Bina, Taal Se Taal, Ramta Jogi), 1947 Earth (Rut Aagyi Re,Ishwar Allah), Alaipauthey (Saki) Rahman silenced his critics and transmogrified them into his fans.

The reason for A. R. Rahman becoming so successful could be attributed to, his knack for creating foot-tapping music with a different sound, the melodious arias also were unique due the western orchestraisation with an ethnic touch. His songs also stood out due to his usage of fresh voice instead of the tried and tested singers.

Entrance of Rahman paved the way for new breed of singers like Hema Sardesai (Awara Bhanware), Minmini (Dil Hai Chotasa), Sukhvinder Singh (Dholna), Ronu Majumdar (Shabba Shabba), Shanker Mahadevan (Jumbalika), Sreeniwas (Oh La La La); etc. He also consolidated positions of established singers like Udit Narayan (E Ajnabi), Sonu Nigam (Satrangi Re), Kavita Krishnamurty (Kehta Hai), S. P. Balasubramanium (Anjali Anjali)and Hariharan (Thoda Thoda Pyar). He also has the privilege of working with living legends like Lata Mangeshkar (Jiya Jale, Ik Tu Hi Bharonsa) and Asha Bhosle (Rangeela Re, Tanha Tanha) he also worked with the late Pakistani Sufi Legend Nusrat Fateh Ali Khan (Chanda Suraj Lakhon Tare).

Other chief traits of Rahman that separates him from the rest is his habit of recording songs late at nights which leaves many egoistic producer directors grumbling. Rahman takes his own sweet time to compose songs, Rahman prefers recording in his Madras studio a hassle for Bollywood producer. Nevertheless the results are worth the trouble.

Currently the one to be fascinated with A. R. Rahman's music is none other than Andrew Lloyd Webber who is producing an English play 'Bombay Dreams' which will have music by A. R. Rahman. Michael Jackson also rendered his voice for a Rahman tune! With a resume so good even sky is not the limit for this small wonder.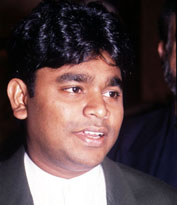 Profile and Interview

(Source : www.sonymusic.com)

AR Rahman is one of the foremost musical artists in India. In a music industry dominated by film scores, Rahman has churned out more than two dozen hit singles over a span of 8 films, all of which surpassed sales of 2.5 million units. With his mop of dusky curls, t-shirt and jeans, he looks like a teenage college student, but his first film score, Roja, fetched him the National Film Award in 1992 (similar to an Oscar), and thrust him into the limelight. In the five years since Roja, he has created music for blockbuster Indian films including Roja, Pudhiya Mugam, Gentleman, Kizhaku Seemaiyilae, Duet, Kadalan, Bombay, May, Madham, Indian, Muthu kadhal Dasam, Love Birds and others. His 1995 soundtrack for Bombay crossed 5 million units and Rahman had arrived as the "King of Indian Pop" with sales of more than 40 million albums over a period of 3 years.

AR Rahman is today the most sought after music director in the business. Roja proved that traditional tunes can also be blockbuster hits. Songs such as "Thiruda Thiruda", "Gentleman", "Rangeela", "Kadhal Desam" and "Minsara Kanavu" established him as a prodigy. Modest, religious and totally dedicated to his craft, Rahman has a great penchant for fusing music of different traditions. Bach, Beethoven, Mozart, reggae, rock and Carnatic music are his musical preferences.

His inspirational, infectious numbers have won him nationwide praise in India. The Tamil film Minsara Kanavu got Rahman the award for Best Music at the 44th National in May, '97. Rahman also been honored with a Rajat Kamal Award for Best Music Director, the Filmfare award, Cinema Express award, Telegu Academy Purashkar award for the year 1992-94, Bommai Nagi Reddy award, Sumu award, Rajiv Gandhi awards and others.

Renowned world artists including Nusrat Fateh Al Khan, with whom he performs a duet on Vande Mataram, have hailed Rahman as a musical genius. Rahman has in collaborations with artists such as L. Shankar, Zakir Hussain, David Byrne, Talvin Singh and Apache Indian - both recording and on tour. On a recent trip to India, David Byrne met Rahman and was so impressed that he went on to record some sessions with Rahman for a project he is currently completing (as yet unreleased).

Singing has always been Rahman's personal passion and very few of his fans are that he has sung on a number of his film tracks. Vande Mataram, his first pop album, will also be the first to showcase Rahman the singer, and his ambition is to put his unique Indian sound on the world music stage. Today, Rahman restricts his work to only 2 or 3 film tracks a year and has made only a few live stage in recent years. A sold out concert was held in Kuala Lampur (Malaysia) in October 1996, where he performed to an audience of 40,000 fans.

AR Rahman, 30 years old, was born into a musically affluent family. His father, K.A. Sekar, was a well known music director based in the Southern India. Growing up in a background filled with music, Rahman began playing music from his early childhood. After his father died when he was only 9, Rahman began performing on the keyboards, and later as an accompaniest for various music directors in the South Indian film industry including Ramesh Naidu, M S Viswanathan and Illaiyaraja. His work with these musicians placed him in good stead through some very difficult years. Finally, Rahman overcame these hardships and qualified for a scholarship to the Trinity College of Music (London).

Afterwards, Rahman returned to Madras with a dream to bring an international and contemporary world perspective to Indian music. He established a state of the art sound and recording studio and began experimenting in sound engineering, design and production. He also began a collection of sound samples, creating one of the most comprehensive sonic libraries in Asia.

Rahman started his commercial musical career in advertising, where he spent 6 years composing jingles. Some of his memorable ad campaigns were with leading Indian corporations such as Parry's, Tata, and Titan Watches. It was a chance meeting at a party with Trilok Sharadha, cousin of Mani Rathnam, brought him in contact with the renowned director and launched his stunning debut as the music director of Roja.

AR Rahman was born A.S. Duleep Kumar, but adopted the name AR Rahman when he coverted to Islam. Ar Rahman is the first of a thousand names of Allah, and Rahman is a profoundly religious person. As an individual, Rahman leads an extremely devout religious life and credits all his musical inspiration to Allah. He comes across as an extremely reticent and humble individual and says, 'Music speaks, statements don't. Nobody can be completely original because the notes are already there ... from the notes we form a raag and from the raag a tune ... it is a process. As far as possible, to my conscience, I try to be original. The rest is up to Allah.'

As Rahman considers taking his new project, Vande Mataram, to the world, he reflects on his immense popularity on the sub-continent and whether the rest of the globe will follow his musical lead, "music is international - only cultures are different".



Indian Music Background [ top ]
Indian music has been dominated by film music as a genre for years and had settled into a complacent rut towards the late eighties and the early nineties when along came a 25 year old who prefers untrained voices and breathing spaces between beats to the typically layered, cramped orchestration. Within the first couple of years of his Bollywood career AR Rahman established that he was here to stay, with his digitized sound based on pop-rock and reggae fused with traditional Indian - mainly Carnatic-folk idioms. Carnatic is a classical Indian music form whose leading international proponents include L Shankar (the violinist of Shakti fame), M S Subbalakshmi - the vocalist, Vikku Vinayakam (the percussionist from Shakti). To quote one of the leading South Indian music directors, 'Rahman's music is of the computer age. It is digital but intelligent, not just noise. He concentrates on his melody and has not deviated totally from his traditional sounds."



Questions & Answers [ top ]
Given below are a few excerpts from interviews he has given over the last few years. Sources - The Hindu - a leading daily.

Q. How did you come into films?
A. My father, R K Shekar was a music director in Malayalam films. He assisted Salil Chowdary, Devrajan and others. He died when I was nine. At eleven I came into the field, playing on the keyboards and later as an accompanist. I worked under various music directors in Tamil, Telegu and Malayalam- Ramesh Naidu, MS Vishwanathan and IllayarajA. It started becoming a bit monotonous. I thought advertising would be a good alternative. This went on for three years. I built my studio and took to different forms of music- pop, rock and so on. It was then that I met producer Tirlok Shardha, cousin of Mani Rathnam at a party. He (Mani) came to my studio and heard some of my tunes. We agreed to work together though we did not decide on which movie. Only later he told me it was to be Roja, which he directing for K Balachander.

Q. Despite your success you do not seem to be working on a lot of films?
A. Rather than making money I believe in making people happy, all other things are secondary. That is why I am not interested in al Lot of movies but only in one at a time. I like directors whom I can vibe with. Ten years of experience in this field has made me quite frustrated. I've evolved a technique, which requires a lot of time. Other music directors record a song in 7-8 hours. But I am different. We do a basic sitting and we record it. We record the voice and I add instrument by instrument to improve the quality.

Q. Do you use computers in your film tracks?
A. No, not computers. The technique is different. In fact they say the music in Roja was computerized. As I said earlier the recording takes time. You can hear the same flute in a different way. It is not computerized music. Nearly 40% "Veerapandi Kottayily" (a song from "Thiruda Thiruda") that does not sound like computer music and "Vellai Mazhai (from Roja) is synthesizer oriented. I do not restrict the musicians but ask them to play whatever they feel. Then I record what I want. I spend a lot of time on lyrics too. It takes around 4 days. We write something in the first instance and then improve. So it take about a week to complete a song.

Q. You say you are choosy in your projects, but you also go in for populist songs. Why so?
A. Different people need different songs. I want to go down to the people at various levels. When I toured Tamil Nadu, I found that people wanted songs that would make them happy. There is nothing vulgar in my songs. I want my music to reach everywhere. If I play rock, only youngsters will understand, while older people will say, "Why is he shouting like this?" Each category of music reaches only one circle; for the class audience "Thiruda Thiruda" and for the masses "Gentleman". I am learning Carnatic classical music from Dakshinamurthy and Hindustani from Krishnan Nayar. I like traditional music. I want my job to be interesting and fun. I just don't want to get stuck again in monotony.

Q. Are you being repetitive in your musical style?
A. In recent times I've done films with a similar outlook. These films are aimed at the young generation and therefore have to be beat oriented. Yet I've tried for a distinct sound every time. After Bombay I haven't got stuck in the hip-hop groove. What I did for Rangeela and Indian were zestful and fast paced but quite unlike Bombay. As for the gentler paced songs of 'Kadhal Desam' if you care to notice they are rooted in melody.

Q. What are your views on the Indian film music scene today?
A. Its going through a cyclical process. The techno stuff has reached a saturation point. Soon we'll be back to simple and soulful melodies. When you here the songs of 'Aanandam' you'll see I've used an acoustic rather than an electronic base on three of the songs.

Q. How does it feel to be on the top (of the film music industry)?
A. I don't really think I'm at the top. Basically I came into this field not intrude on anybody else's success.

Q. What music do you like?
A. Bach, Beethoven and Mozart and Carnatic music. I was into rock and fusion. I like to bring all these into my music.

Q. Your views on film music in India?
A. Film music in India is like pop music in the West. Movies are the channels for this music.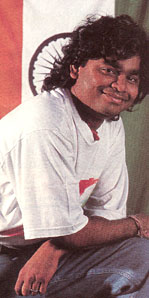 Interview : A.R. Rahman

(Source : www.pondicherry.com)

A man of few words, A R Rahman has always preferred his music to do the talking. And how! From being touted as the most exciting composer in India, he is now on the verge of receiving international acclaim, with no less than Sir Andrew Lloyd Webber rooting for him. We caught up with Rahman when he was in Bombay recently.

Question:
You have always come up with exceptional scores for Mani Rathnam. Do you personally think that you've given your best for him?

A.R.Rahman:

See, the main thing is the concept that the director has. He (Mani Rathnam) has always given me things which I have not done before. He has been quite an important person in my career, and he always wants me to excel, whether they are for his films or others' films. When challenging things are given to you, then you devote all your energy to it. He never tells you that 'I want a song like this or that,' but he always has a fresh idea. That's the reason why different scores come up for his films.

Andrew Lloyd Webber thinks that Chaiyya chaiyya is a great number, one of the greatest songs he has ever heard. What do you think about it?

Question:
He said it's one of the greatest numbers, yes. I think it's a very commercial song. He (Webber) finds the whole genre of music -- the production, picturisation of the song in "Dil Se" - very interesting. Hopefully, we'll do more exciting stuff now.

A.R.Rahman:
When we talk about film music, we talk chiefly about how the masses appreciate it. Now, do you think your music will be more critically examined, simply because it will be heard by a different strata of society?

See, I always live with a song, sometimes for a week, sometimes for six months, to try and fix whatever is wrong with it. Because, if I don't like something, people will not like it either. I've gone by that rule and so far, it's been working. God was kind. That's how I'm going to do this (Bombay Dreams) also. I'm not going to try something I don't know about. I assume they will like it.

Question:
Is there going to be something elitist about a musical?


A.R.Rahman:
The only difference is that it's going to be in English. I'm yet to know (laughs) -- about any other differences, because this is a completely new direction for me. But on the whole, I think -- hopefully, God-willing -- it will be successful.

Question:
Are you looking at Hollywood as well?

A.R.Rahman:
Not now. I don't have the energy to do too many things at the same time. I'll probably finish this first.

Question:
But you are taking a sabbatical from Hindi and regional films, aren't you?

A.R.Rahman:
I've done my homework on the films which are yet to be released. So there's not going to be a vacuum. It's not like you are not going to hear A R Rahman's music for one year. I've almost completed Lagaan, Zubeida, Kandu Konden..., Alai Payuthey, Rhythm. All these films will be coming now, filling up the gap.

Question:
And you are not accepting any other offers right now?

A.R.Rahman:
Not yet. I'm just holding them, so that I get some space

Question:
Taal was a very big hit. How come you aren't working with Subhash Ghai again for his new film, Yaadein?

A.R.Rahman:
I was supposed to, but then this project came up. So I told him about it and we agreed that we'll find time in future and work together.

Question:
There's this allegation that you are a composer who has mastered the gadgets -- how do you react to this?

A.R.Rahman:
I think it's just an extra attribute or whatever (laughs). But it's not the only thing. Because without tunes, without happening tunes, it will not work. Only if you have a happening tune, then everything else can support it. Knowing the computer actually helps to perfect things. If somebody has gone off-key but delivered a good line with the right feel, you don't have to sacrifice the take. You can just cut it at the pitch and use it. These are what I have learnt to make things easier, to get the best out of an artiste.

Question:
Some people have accused you of being repetitive.

A.R.Rahman:
I don't think they will say that now, because I have been into too many wild things. Hopefully, they won't say it again in future.

Question:
But was there a phase when you felt you were being repetitive?

A.R.Rahman:
Well, yes. Following the success of Kadalan (or Hum Se Muqabla in Hindi), a kind of dance culture developed. Suddenly, there were proposals with Prabhu Deva and me together, because that helped sell the films. I was forced to do only dance music. But then I got out of it and accepted films which demanded melody. You know sometimes, you kind of get into it... without realising

Question:
Do you have some idea about the kind of music you will be doing for "Bombay Dreams"?

A.R.Rahman:
Yes, we do have some scratches ready. If I tell you more about it, then there won't be any surprise left. But it is going to be Indian. It should be exciting, that's all I can say now.

Question:
Will there be Indian singers involved in the production?

A.R.Rahman:
There will be Asian singers, since part of the cast will be Asian.

Question:
A lot has been said about "Chaiyya chaiyya". People attribute the song to you, but it has been inspired by something else... what made you choose this song?

A.R.Rahman:
Yeah, it's a Sufi song. Any great love song, when attributed to a divine source, gets an extra dimension. People say any love which is immortal is divine love. Chaiyya chaiyya is something like that. The inspiration, therefore, is a divine one.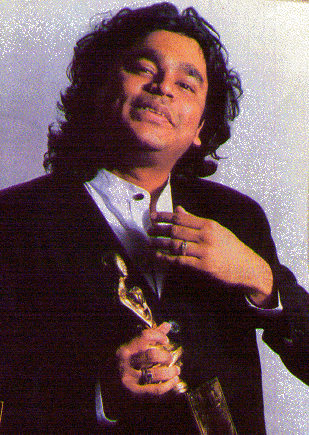 We ought to think bigger

(Source : www.the-week.com)

His music suggests a flamboy-ant and aggressive creator, but A.R. Rahman comes across as an extremely patient, polite-to-a-fault and completely untouched-by-fame individual. His dark locks frame his cherubic face and fall to his shoulders in total disarray. As he talks, he impatiently pushes back the strands. That apart, he doesn't fidget or shift, and appears at peace with himself and his world of music. Excerpts from an interview conducted at his office in Kodambakkam, Chennai:

Now that you will begin work with internationally acclaimed geniuses like Andrew Lloyd Webber and Shekher Kapur, how does it feel?
I think Indian music is spreading, and the world is accepting something from this country. Spanish music took over with Ricky Martin. It is a cycle. The world has been accepting something from India for the last couple of years.

It has also got to do with the growth of the South Asian community all over the world. Even film collections have gone up, beginning with Dil Se.

How did it feel receiving the Padma Shri?
I feel greatly honoured. Since I am going abroad, I feel really happy that I got it now. For the first time, a music director has been given this award, which makes it really good.

Are you satisfied with the way your career has shaped up?
The way it took off, it seems it was destined. Mani Ratnam, who had sworn he wouldn't sign a music director other than Ilayaraja, came to me. So my career started on a high. After that everything had to go beyond that; it pushed me to do something more. I am not a very ambitious person who says I want to do this, this and this. I think God has been very kind to me. He has given me the best.

But did you expect things to turn out the way they did?
It is very unusual. I started my career thinking that Roja would be my last film. I was not interested in doing films. I had been in it for almost 15 years with my father, playing for other people. I didn't want to go through that again. I wanted something different in my life.

Such as?
Maybe I would have got into experimental kind of music. But there is no market for those things. Then film music opened up. It was no longer the same clichd kind of thing. Different directors came who wanted something new; people also wanted something new and accepted whatever experiments we did. That changed my opinion. Films reach more people, there is more money involved.

How would you define your kind of music?
How can I define my music? It is a reflection of how I began my life, the good and bad things that happened. I can't say this is my life and this is how I intended it to be. It came naturally. I don't plan anything.

When we started Roja we wanted to create something people had never heard before, at the same time maintaining a standard in lyrics and melody. Something told me it would become a big success; I was travelling in the same boat as Mani Ratnam and the music would be noticed. That it was accepted was a blessing. Mani Ratnam opened up a big thing for me and I owe it to him. There is a lot of freedom when I work with Mani.

After Roja things only went uphill?
Well, almost. There was a lot of confusion. When I listened to criticism or suggestions from people, I had to learn what to take and what to reject. At times it was very hard. Whatever plus we had would be criticised. We had to decide that this is our plus and we should not leave it. We should continue with the style and the more we continue with it, the more it will register.

Have you become more confident of your music?
No, I am never confident. Sometimes it takes me two or three days, sometimes three months, to get the sound right. Sometimes things go wrong always. But once it is fixed then it's fine.

Your father must have been a major influence on you?
Yeah. He was the first one in India to buy a synthesiser. He bought it from Singapore in 1973, I think, and being the first buyer, he got a free ticket to Japan. So I had all this stuff to play with. He died in 1976.

After that you were pushed into music?
In a way. (Laughs.) Initially it was just work. At the age of 14 or 15, I would have preferred going somewhere else. But I had to work with people over the age of 40. In some ways I was the next generation and at the same time I was not. In a way I got the best of both worlds. (Laughs.)

What does music mean to you?
So far I have just been catering to film scripts. Sometimes I have given to films ideas which I had for an album. For some of Mani Ratnam's films I had certain ideas and it fitted into the script. For instance I wanted to do a theme like Bombay, which would be a reflection of the incident, to create a symphony kind of piece. In Roja the song Tamizha Tamizha though out of the script fitted into it.

What excites you about a project first?
With a good director, irrespective of the script, the rapport will be good. That makes it interesting, and the music will also be good. It is a problem if the person is somewhere else and I am here.

What triggers the creative process in you?
When I am mentally disturbed I pray. Before starting a session that gives me a vacuum to start with, rather than having something predetermined which might misguide me. It is almost like starting from square one. But it makes my job interesting and when I sit there something gets triggered off inside me.

I belive that every individual, even an atom, can move only with the will of God. I don't take credit for doing all this. If I did, then I would fall flat.

Don't external factors like family affect your concentration?
Yeah, they do. But when it comes to music you forget everything. The magic of music and prayer. You are almost on another trip. Only when you finish do you get back.

You seem to be very religious...
(Pauses.) I believe that every individual, even an atom, can move only with the will of God. I don't take any credit for doing all this.

You sound very level-headed for a man who has earned so much fame and money so quickly?
It is balance... well, it is almost contradictory. You want fame, but once you get it you lose your head. So just leave it to God and carry on with your work. It makes it all easy. If I put it in my head that I did it, then I fall flat because I can't take the next step.

Why did you convert?
(A long pause.) My dad went through a lot of problems. He was sick, my childhood was a disaster. I spent most of my childhood in hospitals. There came a stage when the family was almost down. We met a pir sahab at that time. It is inexplicable. It just happened. My idea of God coincided with all this. I thought, 'Okay, this was something that was bound to happen.'

You have never regretted it?
See, there are a lot of things involved. God and religion are very personal. Now it has become politics. I don't think I want to talk any more on it. (Laughs.)

But you agree that religion has become politicised?
I think religion should be left to a person. The mosque or temple should be within oneself. That is the best thing.

What about the controversy over Vande Mataram?
It depends on how you take it. Vande Mataram is about a mother and the message is peace be upon you. The mother is the country and when you say peace be upon you it goes beyond politics. That is the way I take it.

When one makes something there is always the good and the bad. You just take the good. In the album I have put not only this, but a nicer version of it in a more serene way. It is not as if it will replace anything. The main reasons for doing it were my friends Bharat Bala and Kanika. We wanted to give something to the youth. We felt there was nothing, no song that this MTV generation could relate to, something they could identify with.

Given the amount of work music composers do, is it inevitable that they repeat themselves?
You never know because you can't always be careful. You can't predict when something comes out of you. It is a feeling and I can't keep a constant check on and stop things coming and say let me not play now. Later somebody says this is similar to that, and then you change it. It happens sometimes. Mostly the director checks all that. I don't give the director just one choice. There are always lots of choices.

How important is the Tamil identity to you?
I hate the discrimination between south, north, Tamil, Hindi. If I represent India that is good enough for me. Of course, I have always been here. But we should cross all these barriers and think bigger. I get very irritated with this kind of thinking.

But has your Tamil identity given you anything special?
Definitely. But I see the entire world as a living place. Suddenly a category called world music has come and we are all able to relate to it. In all probability in a couple of years all the cultures will meet. There won't be any English or Tamil music. We will all be able to relate to 'music'. That is the ultimate thing.

So will you give up on film music?
God knows. (Laughs.)

How do you cope with your unorthodox working hours?
There is so much disturbance during the day. To create music you need peace and in my style of work if I turn my face away even once, I have to start from the beginning. So night time suits me. I finish off my other work by 10 p.m. and start with my sound engineer and maybe the director also.

The directors never crib?
(Laughs.) As long as the work is done they don't crib.

What about your family?
It has been like this for a long time. So they don't bother.

Tell us about your family and the kind of support they offer you.
I have two daughters. My wife doesn't work. My wife and mother listen to my music and give me feedback.

Do you get time to spend with them?
I work from my house. So it helps.

How do you relax?
It comes naturally. When you push yourself hard for 2 or 3 months, then you have to take a break. I go out with my family.

Don't you get recognised and mobbed when you go out?
But then I don't go to places where there are people. (Laughs.)"

Why is black your favourite colour? You also wear your hair long...
I thought both suit me. (Laughs heartily.)