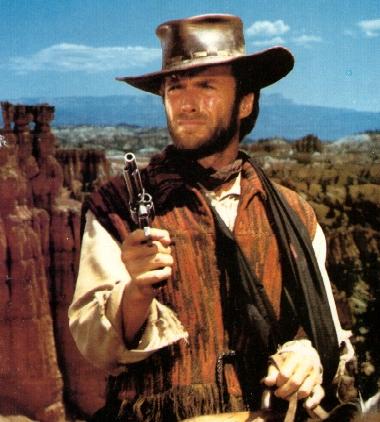 CLICK ON THE PICTURE TO GO TO www.clinteastwood.net


Clint Eastwood's Biography

[Occupation]: Actor, Director, Producer
[Birth Name]: Clinton Eastwood, Jr.
[Born]: May 31, 1930, San Francisco, CA
[Education]: Los Angeles City College (business)


Tall, soft-spoken, leathery leading man since the 1960s who diversified into directing and producing after achieving iconic status. Clint Eastwood arose from the world of TV Westerns to become the number one box-office star in the world, subsequently earning critical acclaim as a director. His production company, Malpaso, crafts moderate-budget features that range from the bluntly commercial to the impressively personal and ambitious. Eastwood is not entirely part of the Hollywood establishment; his business is run out of Carmel, California, on the Monterey Peninsula, where he has served as mayor and run a restaurant.

Eastwood grew up in Depression-era California, where his parents were itinerant workers. After high school, he worked as a lumberjack in Oregon, played honky-tonk piano and was a swimming instructor in the US Army. On the GI Bill, he studied at Los Angeles City College. Signed by Universal, he had his first experience with the indignities suffered by actors in a "Francis the Talking Mule" movie, FRANCIS IN THE NAVY (1955). Many B-movies later, he moved to New York and gained recognition as the trail boss Rowdy Yates in the successful TV series "Rawhide" (1959-66).

Tight TV schedules and good training helped him develop the minimalist acting style for which he is famous; it was first appreciated in Europe, where he starred in a trilogy of spaghetti westerns directed by Sergio Leone in Spain. Sinewy, laconic and lethal, he embodied to Europeans the maverick, unpredictably violent American, whose philosophy in A FISTFUL OF DOLLARS (1964) was "everybody gets rich or dead." FOR A FEW DOLLARS MORE (1966) and THE GOOD, THE BAD, AND THE UGLY (1966) became classic revisionist Westerns and made Eastwood an international star. He returned stateside and starred in COOGAN'S BLUFF (1968), a smart urban Western that marked the beginning of his long and successful collaboration with director Don Siegel.


Eastwood's second famed screen incarnation was "Dirty" Harry Callahan, the cop of Don Siegel's DIRTY HARRY (1971) who found it easier to shoot suspects than interrogate them. Hence Harry's immortal line in SUDDEN IMPACT (1983) when a crook threatens him: "Go ahead make my day," calmly intoned from the responsible end of a massive handgun. Nonetheless, these films were sufficiently ambiguous to defy easy ideological categorization. Eastwood has stated, "My characters are usually calloused men with a sensitive spot for right and wrong." He has also noted that "My movies add up to a morality, not a politics."

Eastwood became a fixture of masculine action fare but he also fared well in several popular comedies, such as EVERY WHICH WAY BUT LOOSE (1978) and ANY WHICH WAY YOU CAN (1980). Though he could have coasted on his established persona, Eastwood chose to take chances with his material and subjected his image to thoughtful and not always flattering scrutiny. His portraits of tormented men with intense inner lives and little ability to communicate with others found an apogee in BIRD (1988), his moody, acclaimed portrait of jazz musician Charlie Parker. Virtual "auteurist" control has enabled him to make unusual Westerns (HIGH PLAINS DRIFTER, 1973; PALE RIDER, 1985) and cop movies exploring feminist concerns (SUDDEN IMPACT, 1983; TIGHTROPE, 1984).

Eastwood's commercial viability seemed to be in marked decline by the late 80s. The fifth "Dirty Harry" movie, THE DEAD POOL (1988), was far less successful than its predecessors. 1990 saw the box-office failures of both THE ROOKIE, a formula cop outing, and WHITE HUNTER, BLACK HEART, an interesting, semi-fictional account of the making of THE AFRICAN QUEEN. Eastwood enjoyed a triumphant popular and critical rehabilitation, however, with UNFORGIVEN (1992), a Western that earned him Oscars for Best Picture and Best Director, as well as several other major awards. A spellbinding morality tale originally written by David Webb Peoples in 1976, UNFORGIVEN ironized, as well as paid homage to, several of Eastwood's earlier gunfighter incarnations. Dedicated to his directorial mentors, "Sergio" (Leone) and "Don" (Siegel), the film was a solid commercial hit, grossing over $100 million over the course of its long run.


Eastwood's next star vehicle, IN THE LINE OF FIRE (1993), was an immediate blockbuster. Making a popular comeback for German director Wolfgang Petersen, this satisfying political thriller, which pitted veteran Secret Service man Clint against a brilliant assassin played to the hilt by John Malkovich passed the $100 million mark in just a few months. Eastwood directed his subsequent feature, A PERFECT WORLD (1993), wherein he portrayed an experienced lawman tracking down a dangerous escaped convict (Kevin Costner) with a seven year-old hostage/companion.
Biography from Baseline's Encyclopedia of Film

(Source : The Clint Eastwood Page)


PROFILE

(Source : www.celebritywonder.com)

Name: Clint Eastwood
Birth Name: Cliton Eastwood Jr
Height: 6' 4''
Sex: M
Nationality: American
Date: May 31 1930
Birth Place: San Francisco California
Occupation: actor director producer composer writer
Education: Eight elementary schools
Oakland Technical High School Oakland California
Los Angeles City College Los Angeles California (majored in Business)
Husband/Wife: Dina Ruiz (TV news anchor; married on March 31 1996 in Las Vegas Nevada) Maggie Eastwood (aka Maggie Johnson; married in December 1953; divorced in 1980)
Relationship: Sondra Locke (actress; together from 1977 to 1989) Frances Fisher (actress; 1 son)
Father: Kimber Eastwood Sr (steelworker migratory worker)
Mother: Francesca Ruth Eastwood
Sister: Jean Eastwood (older)
Son: Kyle Eastwood (mother: Maggie Eastwood)
Daughter: Kimber Eastwood (actress; mother: Roxanne Tunis) Alison Eastwood (actress model; mother: Maggie Eastwood) Francesca Ruth Fisher Eastwood (mother: Frances Fisher) Morgan Eastwood (mother: Dina Ruiz) Jake Skylar
Grand son: Clinton Eastwood (mother: Kimber Eastwood) Graylen Eastwood (father: Kyle Eastwood)
Claim to fame: as Harry Callahan in Dirty Harry (1977)


FAN MAIL:
Box 4366
Carmel Ca 93921

William Morris Agency: Lennie Hirschan
151 El Camino Drive
Beverly Hills Ca 90212
USA


BIOGRAPHY

(Source : http://mrshowbiz.go.com)


IKE most superstars, Clint Eastwood's success can be attributed to equal parts good fortune, tenacity, and talent. On leave as a G.I., his plane crashed into the Pacific Ocean: he swam three miles to shore, was made boot camp swimming instructor, and missed out on action in Korea. Encouraged to try acting by two of his Army buddies, David Janssen and Martin Milner, he landed a contract at Universal Studios in 1954, earning 75 dollars a week playing bit parts in movies like Revenge of the Creature and Tarantula. He was dropped when some execs decided his Adam's apple was too big. He swallowed his pride and, over the next few years, he dug swimming pools between playing bit parts in movies and on TV.
While visiting a friend at CBS, Eastwood was spotted by a network exec who cast him as cattle driver Rowdy Yates in the long-running western series Rawhide. That, in turn, led to spaghetti stardom in a string of Sergio Leone westerns, beginning with A Fistful of Dollars. He made his directorial debut with Play Misty for Me in 1971, the same year he made his bow as Dirty Harry, the Magnum-toting cop who cemented his reputation as a superstar. Throughout the '70s, he was the world's biggest box-office draw, but his critical reputation didn't begin to turn until 1980, when New York's Museum of Modern Art honored him with a career retrospective. In 1985, he was decorated by the French, and, the year after that, he was elected mayor of a Northern California seaside community, Carmel.

In 1988, after a two-year hiatus, he returned to film: he starred in the fifth and seemingly final Dirty Harry adventure, The Dead Pool, and directed the critically acclaimed Charlie Parker biopic, Bird. In his sixties, Clint's chiseled cheeks and rugged, thin-lipped charm seemed as sexy as ever, and coupled with decades of professional efficiency, he was ripe for enshrinement. In 1992, he won Best Picture and Best Director Oscars for Unforgiven, an artful, existential Western in which he starred with Gene Hackman and Morgan Freeman. With In the Line of Fire, a 1993 thriller in which he plays an aging secret service agent, Eastwood proved that he was firmly on top of not over the hill. At 65, he earned the honorary Irving G. Thalberg Award from the Academy, and bit into the plum romantic role of photographer Robert Kincaid (opposite Meryl Streep) in The Bridges of Madison County.

While Eastwood has tried to keep his personal life largely private, choosing to live out of the Hollywood limelight, in Carmel, he has seen his fair share of scandal. Married in 1954 to Maggie Johnson, he fathered a daughter, Kimber, by actress Roxanne Tunis in 1964. He and Maggie later had two kids of their own, but the couple split in the late '70s, when Eastwood took up with sometime co-star Sondra Locke. His split from Locke was even more traumatic, leading to multimillion-dollar lawsuits against Eastwood and his studio, Warner Bros. Eastwood and Locke finally settled out of court for an undisclosed amount. On a much happier note, Eastwood married television news journalist Dina Ruiz, 35 years his junior, and the couple had a baby daughter in December 1996.

Now closing in on 70, Eastwood shows little signs of slowing down: he produced, directed, and starred in the 1997 political thriller Absolute Power, and produced and directed an ambitious adaptation of Midnight in the Garden of Good and Evil, John Berendt's best-selling non-fiction account of a murder trial in Savannah, Ga. 1999 witnessed the release of the suspenseful and satisfying thriller True Crime, which he produced, directed, and starred in. As for upcoming projects, Eastwood has been mentioned to star in Henry in Love, a drama about an older man who marries a young woman, fathers a child, and then discovers that he has a terminal illness; and to direct Golf in the Kingdom, the story of a man who finds enlightenment while playing golf in Scotland. Speaking of golf, Eastwood is moving forward, despite the objections of environmentalists, to develop a golf course, hotel, and several exclusive homes in Monterey County, south of San Francisco.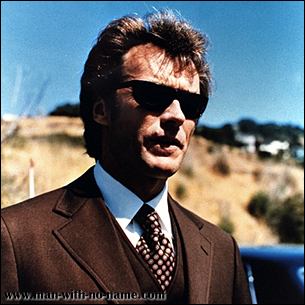 A glimpse of the inner Clint


(Source : www.mg.co.za)

Clint Eastwood talked to Derek Malcolm in London about a career which has taken him from toughie to softie with Oscars in between



ONCE, while travelling with me in the obligatory limo to a lecture at the Edinburgh Festival, Clint Eastwood rolled down the back window to talk to a Scottish girl who had recognised him at the traffic lights. "Go on, Clint," she said, "Make my day." "Come on in," he replied, "and I'll try." She was totally charmed that so famous a figure should bother to talk to her and he was obviously pleased that someone in the street should feel themselves free to be familiar with him.
To say Eastwood is laid back would be to mistake him. As a film-maker he has the reputation of being one of the best in America, and of knowing exactly what he wants and how to get it. He works fast and efficiently, inducing affection rather than fear in his actors, and using the art of gentle persuasion to perfection. Everyone likes Clint, and respects him, too. He is in every sense a superstar, but seems to regard himself as an ordinary mortal who has struck very lucky and is determined to justify it. He is proud of all the honours that have been heaped upon him, such as the Best Picture and Best Director Oscars for his western Unforgiven, and was particularly pleased to be made a Fellow of the British Film Institute a few years ago because he felt it meant he wasn't just a hunk of macho manhood to people all over the world.
It is difficult now to remember that it took him years to be recognised and that, when he was, it was on television rather than the big screen. He was the star of the Rawhide series and it was only after watching them that Sergio Leone, the Italian director, chose him to star in his famous spaghetti westerns.
Eastwood developed his film-making abilities by helping out with scripts, trailers and production chores on Rawhide, and by watching first Leone at work and then his great friend, Don Siegel, on the Dirty Harry films. The result, eventually, was his first film as director and star, Play Misty for Me, and a series of his own westerns, which were among the best of the genre since the great days of Hawks and Ford.
Now 65, Clint is entitled to call himself a pensioner now -- a grizzled icon whose face looks as if it's seen a thousand shoot-outs and somehow survived. That's part and parcel of his appeal, but he's still a very handsome man, capable of turning any woman's eye. On the other side of the coin, he says that he is no longer going to do anything ridiculous, like kissing young women on the screen. The truest measure of his success is that, though unjustly criticised by some for making violent movies, he has also starred in, or made, some of the most lyrical and anti-violent of films. His latest, The Bridges of Madison County, in which he stars with Meryl Streep, is the gentlest, most romantic movie of the year so far.
DM: If it had been suggested 10 years ago that you'd do a film like The Bridges of Madison County, people wouldn't have thought it was your image at all. Did you mind playing a character so different to the ones you've played before?
CE: Some of my past roles might lead a person to believe I wouldn't want to be in this kind of film -- [coyly] being a man of action and all that sort of thing -- but I felt I've been something of a character like this. In my early days of filming I used to travel around alone, go out in my pick-up truck and scout locations by myself -- though I didn't run into any longing housewives, unfortunately.
There seems to be a great deal more sex in the book than in the film. The film seems to be about love more than sex. Did you change it in that direction?
I liked the nucleus of the book, in that it was a simple love story of two outsiders adrift in mid-America, but I thought it should be a romance. The advantage of a middle-aged love story -- and you know I'm rapidly approaching middle age -- is that you can tell a story with friendship preceding romance as opposed to the youth-driven thing where it's sort of physical attraction, then romance, then friendship later.
What was it like working with Meryl Streep? I noticed you were very unselfish and gave her an awful lot more than you gave yourself.
Well, that comes from telling the story through her eyes. That's just the way I saw the balance in the film.
Do you prefer directing to acting now? You once said acting was the masochistic part of yourself.
Did I say that? Well, I guess it is. There is something about getting up and exposing yourself. A musician has the advantage of holding the trumpet or the saxophone and channelling into it; we just have to stand there and deliver whatever there is. I think being behind the camera certainly is a safer feeling.
How does acting in a picture that you're directing affect the practicalities of directing? Does it impinge on your acting?
It's not too bad. I always listen to what the director says. It takes a little doing. I started directing in 1970 because the only way I could get a film made was to be in it. And the only way I could get the director's job was to do it. And I did it for a very slim price. Then I kept swearing I'd only do one or the other. But you sort of develop a habit of switching your mind backwards and forwards. And you have to trust the people working with you. Once you're lined up and you've got things the way you want then you have to shut that all out of your mind and concentrate on the character.
You had a long time when it looked as if you weren't going to make it. What would have have done if you'd failed to break through?
I don't know what I'd have done. As a kid I was kind of at loose ends. I'm not an organised-religion-type person, but when I start thinking what happened to me, where I was lucky enough to end up, you know, it's all sort of fate-driven. I always tell people if you want to be an actor you should really want it more than anything on the planet because it's really hard going. It's not that it's hard to do. But it's so hard to get going.
Can you remember the first role you played when you thought, ah, now, maybe there's something I can do with this after all?
Yeah, in Rawhide. When I got that, it was the first regular job I'd had. To suddenly be going to go to work every week -- at least for the first 13 episodes before somebody pulled the plug -- that was a moment when I thought, maybe you could actually make a living doing this.
Did you learn the business of direction from the Rawhide episodes and Don Siegel?
The Rawhides were a big part of it because we did them week in, week out. It was like filling a column rather than writing a book. Sometimes we had some pretty good scripts, sometimes we had some really bad ones, but the column still had to be filled, so you learned how to make something out of nothing. Don Siegel was a great influence on my life later. He was another guy who made a lot out of a little. If you look at Invasion of the Bodysnatchers now, they've made a lot of imitations and none of them has ever come up to his.
What do you think about the state of the western now? I know that Unforgiven was very successful, but a few others after that certainly haven't been, such as Wyatt Earp. Do you think it's going to continue?
It's one of those genres that everyone likes to revisit every now and again, including me. I always thought Unforgiven was sort of a perfect last western: the nature of the story, the guy seeking redemption, getting it, then maybe not. But I'd do another if I could find the right one.
Do you think films are becoming too violent?
Perhaps. For every violent film where the violence seems to fit the situation there seem to be dozens which capitalise on violence; where the violence is what drives the film into a commercial status. When I approached Gene Hackman about doing Unforgiven he said: "No, I don't want to do any violent pictures." I called him and said I thought we could make a really interesting statement about gun play, about the romance of the gun play: that it ain't romantic.Then he bought into it afterwards.
What is it that keeps you motivated?
Interest in films. I like films. What keeps you motivated is when you finally get a story, and you try to bring it to life. Don Siegel used to say it's amazing a film ever gets made, much less that any of them are any good, there are so many problems. But when you do finish, if you're lucky the public looks at it and says, ''Oh, I'm enjoying this''. If they don't, then you go back to the drawing board. There's always that challenge. If you don't have that you should give up and not bore the audience hanging round for the pay check.
Is there a great dream you still want to accomplish?
I'm a day-to-day-type person. I have thoughts, but no specifics. Projects just pop up, and you have to ask yourself how can you do something you haven't really tackled before. Unforgiven's a good example. There was something about the searching for redemption -- the haunted soul part of it -- which appealed to me.
What are you planning to do next?
I'm going to take the rest of this year off and maybe address something early next year. I've got several scripts I'm analysing. One is pretty good, the other is a book I haven't yet conquered.
What about the golfing film we've heard about?
That's the one I haven't yet conquered. But you know, there's something about a golfing film, you need to scout the locations a lot. You have to go out and spend a lot of time there in order to create the magic. Maybe after another 150 more games ...

-- The Guardian

Clint.(actor Clint Eastwood)(Interview)
Author/s: Jack Mathews
Issue: June, 1999

(Source : www.findarticles.com)

Clint Eastwood is sometimes regarded as an American monolith, like one of those presidential faces carved into Mount Rushmore. The reality is not so granite-hard

To say Clint Eastwood, who turned sixty-nine on May 31, is still going strong is a massive understatement. True Crime, which marked the thirty-fourth time Eastwood had suited up for the leading role in a movie (in fifty-three starts) and the twenty-first time he'd directed one, opened in March. This summer he goes into production - once again as star and director - on Space Cowboys.

That's just the work lowdown. At home, things are hopping, too. Eastwood and his second wife, Dina Ruiz, a Monterey, Calif., TV reporter, recently celebrated the first birthday of their daughter, Morgan, and they cut the cake together with Eastwood's ex-girlfriend Frances Fisher and their five-year-old daughter, Francesca Fisher-Eastwood.

All this domestic conviviality is a refreshing change for Eastwood, who was sued twice - and excoriated in a book - by his former lover Sondra Locke. Despite the Locke imbroglios and rumors of philandering that date back to his earliest days as an actor, Eastwood has held steady as one of the most popular and enduring stars in film history. And he's doing it now playing men whose youth belies his own age.

In True Crime, Eastwood portrayed an Oakland reporter whose career and marriage are threatened by his unscrupulous womanizing. In one scene, as if to counter arguments that he's too old to play men who sleep with much younger women, Eastwood filmed himself standing half-naked in front of a mirror. The face, which he claims is unenhanced by either filters or a surgeon's scalpel, shows high mileage, but the body remains firm and lean - and looks good for liftoff in Space Cowboys.

JACK MATHEWS: Shooting True Crime In Oakland must have brought back a lot of memories for you, You lived near there as a teenager.

CLINT EASTWOOD: Yeah, it did. A lot of the neighborhoods are kind of the same. I felt pretty much at home there.

JM: You left the area a long time ago. Do you remember who that young guy was?

CE: I have a fairly good memory of who I was at that age: a kid at loose ends, not knowing what he wanted to do, what he wanted to study for. Even when I was in my twenties and had been through the military and everything else, I didn't know where I was headed. I still have a little of that spirit.

JM: Must be the dreamer In you. In characters like William Munny [in Unforgiven, 1992], there's always a spark of hope alive. CE' That's true. He's dreaming of redemption, even though he has never come to grips with it. Yeah, I think a little bit of Bronco Billy [the Wild West showman Eastwood played in the 1980 movie of that name] has been in all of my roles. Even if they're bitter, like Dirty Harry. He wants better things - for everybody, not just himself. JM: Are you conscious of this when selecting characters to play?

CE: No, but I probably epitomize the American dreamer. Everybody told me not to go into acting in the first place; I was just dreamer enough to do it.

JM: It's been almost forty-five years since you started acting, and exactly forty since you became famous as Rowdy Yates on TV [Rawhide, 1959-66]. Nobody rise has had a busier or finer career for so long. Still following dreams? CE: I think so. My father used to say, You either progress onward or you decay. I don't know if that's true. Maybe a person can retire and enjoy himself. Maybe improving your fly-fishing is progress. But I think you have to want to better yourself in some way, and in my case, it's as a family man.

JM: You're finally getting that part of your life right?

CE: Yeah. I've got a wonderful woman this time, and I've got to give her all the credit. She's been miraculous for me. I couldn't be happier. I still enjoy working, but work is not going to push me out of any relationship with family.

JM: What was It like filming True Crime, in which your wife, Dina, your ex-girlfriend Frances Fisher, and your daughter by Fisher all appeared?

CE: It was very comfortable. Again, I credit that to Dina. She's great at unifying other elements in my family. She embraces everybody.

JM: Regardless of past rumors about off-screen romances with costars and so on, It seems you've guarded your privacy more than most stars.

CE: I have. I can't claim complete innocence. I've had times in my life that I wouldn't want to live over.

JM: The Sondra Locke years, perhaps?

CE: That goes without saying. But some people take longer to grow up than others. I think I took a little long.

JM: Was it hard being married when your career was just taking off? [Eastwood married Maggie Johnson in 1953; they legally separated In 1979.]

CE: Yeah. With the acting profession you go from zero to 100 miles per hour: from unemployed to all of a sudden you're employed, and you're grabbing the brass ring and traveling all over the world, where people recognize you. The temptations are out there and if you're not strong as steel, or not sure your relationship at home is all you want in life . . . I don't know. I just wasn't very mature.

JM: In your early career, there was very little public speculation about your private life. Was that because you didn't do many interviews or because the press was different then?

CE: I think both. I didn't do many interviews. I was never a cover boy, a darling of the magazines. When I started out there were tons of young guys on TV. I was just another face.

JM: All that changed after the three Sergio Leone films [Fistful of Dollars, 1964; For a Few Dollars More, 1965; and The Good, the Bad, and the Ugly, 1966]. You came back from Europe a star, with the Image of this reserved macho figure who was equally appealing to men and women.

CE: I guess I was a fantasy figure for a lot of men who wanted to identify with some of the characters I played - very secure people who could stand on their own and get the job done. A lot of women were attracted to that, too.

JM: Despite that attraction, it's really only recently that you've begun playing overtly romantic, intimately sexual characters, as in In the Line of Fire [1993] and The Bridges of Madison County [1995].

CE: Yeah, that's true. Even in Unforgiven, though there was nothing romantic onscreen, Munny had a monogamous devotion to the wife he'd lost. I think women found it appealing that he had such great memories. JM: Do you remember your first big-screen kiss? CE: It might have been with Carol Channing in The First Traveling Saleslady [1956]. That was such a screwball comedy, I can't even remember what the plot was.

JM: Maybe a better question would be, What was your first love scene?

CE: Maybe in A Few Dollars More or one of those. Then I did Le Streghe [The Witches, 1966] with Silvana Mangano. There were some fantasy love scenes in that.

JM: Obviously they were not indelible Clint Eastwood moments. My guess Is that If we asked regular moviegoers to name your best love scene, they'd say it was with Meryl Streep in The Bridges of Madison County. CE: You may be fight. These were two mature people who did a lot of talking and flirting before they got in bed. My pet hate in movies is the grinding, perfunctory love scene. People yelling. It's almost a caricature of [Meg Ryan's faked orgasm in 1989's] When Harry Met Sally. JM: in True Crime, what we see between your character, Everett, and the boss's wife he's Just slept with is the playfulness of sex.

CE: I find the playfulness realistic, in terms of sex. It's not exactly an ordeal.

JM: Everett's a habitual skirt chaser. There's the early scene in a bar where he's mentoring this twenty-three-year-old reporter and hitting on her at the same time.

CE: He'll take a shot at anything. He may be talking about something else, but he's always thinking, This wouldn't be a bad interlude.

JM: But in the book Everett's in his late thirties, maybe early forties. Some people are going to talk about your age in relation to that of the women he pursues.

CE: I am what I am.

JM: I guess the question is, How long can you get away with this?

CE: The movie's not Lolita. He's a restless guy. The gift he's with at the beginning is young and impressionable, and she passes on him, and the one at the end passes on him, too. But he never stops working the thing. The only time it's really ridiculous is when you're playing something you're not, if all of a sudden I'm saying, "OK, Clint, you're this thirty-year-old guy with a thirty-year-old girlfriend." But if you're playing a guy who's sixty-five and nuts about a thirty-year-old girl and she's intrigued by him, for paternal reasons or whatever, that's a legitimate thing.

JM: So, if that girl in True Crime took the bait, it would have been legitimate.

CE: Sure. It could have been another of his affairs. [laughs] Whatever it is, it is. If I was a single guy right now... a guy my age could have affairs with gels of any age if they think you're interesting. A gel might just be interested in what you know about life.

JM: Like a certain president and a certain intern we could mention?

CE: Exactly. There's a gal who's interested in politics and power and here's the president of the United States. She's flattered by his attention and, yeah, he takes advantage because he's in that powerful position and she's a way-down underling, pardon the pun. But I don't think the age difference is a big deal. Society has deemed her an adult.

JM: But in the White House? The president reminds me of a character played by Marcello Mastroianni who couldn't have sex unless it was dangerous.

CE: It was Casanova '70 [1965]. Yeah, I think Clinton definitely has the Casanova '70 syndrome. I remember the last scene in that picture when the major finally marries this gel and she's in the other room getting spruced up. As the camera pulls back, she comes out of the bathroom saying "Where are you, dear?" and you see him outside the window thirty stories up. "I'll be right there, darling." He still needed danger. Same thing with Clinton. It's exciting to rip one off in the Oval Office while you're talking to some congressman you don't like anyway. Everett has a little bit of that in him, too, slipping out of the newsroom to screw his boss's wife. He's a guy who just hasn't grown up.

JM: You've had a long and unprecedented relationship with Warner Bros., where you've been able to do personal movies between commercial ones at your own pace. How does that relationship work?

CE: There's no real pattern to it. They've been supportive of whatever I've wanted to do, whether it was Bird [1988] or Unforgiven. They never said, "If you want to do that, go ahead, but you have to give us two action thrillers." Instead it's "What do you want to do next?" They were always aware I didn't want to be a shoot-'em-up guy all my life.

JM: In the past, you've hinted about giving up actIng to concentrate on directing.

CE: I can't say that anymore. I was playing golf with Jack Nicholson about three or four years ago, and we were both talking about quitting. He said he was going to do one more picture, and I was saying the same thing. But both of us are still at it. Things keep coming up that you want to do.

JM: What's next?

CE: I'm doing Space Cowboys this summer. It's a fun project. After that, I have a couple of other things in the works but nothing's locked in. I don't want to do films back-to-back like in the old days - preparing one as you're finishing another. That's insanity.

JM: Do you see yourself still acting in five or ten years?

CE: I can't say I won't. It depends on what comes along and how I feel.

JM: You look good in True Crime.

CE: I feel all right. We don't shoot with filters or anything. I figure that what they see is what they get.

JM: You haven't Ironed out any of those age lines?

CE: We haven't gone to the belt sanders yet. I figure when that time comes, it's retirement. If we get to the point where I look like a basset hound, I'll just play basset hounds.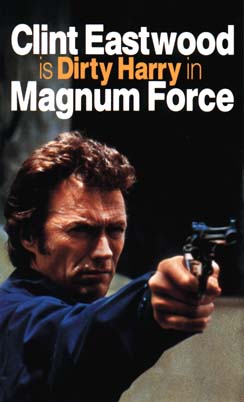 The Achievement of Clint Eastwood

(Source : www.afionline.org)

The American Film Institute is proud to honor Clint Eastwood with its twenty-fourth Life Achievement Award.

Eastwood's remarkable career has now spanned five decades. In that time he has reinvented himself constantly while never appearing, to the naked eye, to change at all. After roles in a handful of low-budget feature films during the 1950's, Eastwood sidled into unpretentious television stardom over seven years of Rawhide. He then went to Italy to act in a trilogy of stylish, revisionist westerns for Sergio Leone: A Fistful of Dollars (1964), For a Few Dollars More (1965), and The Good, the Bad, and the Ugly (1966). It didn't seem like a very smart move at the time, but when the dust had cleared, Clint Eastwood had become the world's most popular movie star, the heir apparent to laconic American icons like John Wayne, Henry Fonda, and Gary Cooper.

Eastwood, however, charted his own course. The screen characters of Wayne, Fonda, and Cooper, no matter how complex or shaded, were always defined by a code of behavior. They fought fairly and always gave the bad guy an even chance. Eastwood's Man With No Name in the Leone films had no such scruples. He was a loner with no past and no future; a man of few words who cared for no one, trusted no one, and was capable of as much violence as circumstances required.

Working with his mentor, Don Siegel, Eastwood sometimes played more conventional heroes, but he always imbued their personalities with darker, more complex shadings. He may be the "good guy" in films like Hang 'em High (1967) or Dirty Harry (1971) but only because the bad guys are much, much worse.

Just as he had seemingly achieved movie stardom when no one was looking, so did Eastwood quietly go about becoming one of American cinema's most interesting and challenging directors. Beginning with that superbly edgy suspense thriller Play Mist for Me (1971), Eastwood set about creating a uniquely personal vision made up of cinematic virtuosity (The Gauntlet; 1977), gentle humor (Bronco Billy; 1980); spiritual and psychological danger (Tightrope; 1984); allegory (Pale Rider; 1985), and themes of revenge and redemption (Unforgiven; 1992). It would have been easy for Eastwood the director to place Eastwood the actor in roles that would only enhance his considerable star image; instead he has continued to dig deeper, searching for larger truths no matter how unsettling. For an actor with such a stoic, sometimes impassive demeanor, Eastwood has consistently, often pitilessly, revealed himself through his work.

Not many filmmakers have equaled Eastwoods singular achievement: he has appealed powerfully and continuously to a wide and enthusiastic audience even while creating a body of work that is personal and idiosyncratic. Realizing one goal or the other is more than most artists can hope for. But Eastwood makes it seem as if there's nothing to it. As an actor he doesn't waste words; as a director he doesn't waste images. Cool, charismatic, wry, and deadly, he makes his point and moves on. Cinematically at least, Clint Eastwood is the Man With No Limits. For these reasons, the American Film Institute has selected Clint Eastwood to receive this prestigious award.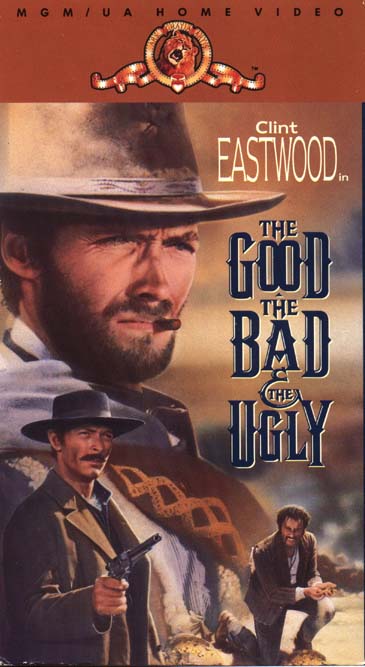 Interview

(Source : www.burningcircus.com)

BC: Welcome to Burning Circus, Mr. Eastwood, and thank you for agreeing to an interview.

Clint: Who are you?

BC: I'm from Burning Circus, an on-line humor magazine. We're here for the interview?

Clint: ...

BC: The interview that we set up about--

Clint: What line is this on?

BC: Line, Mr. Eastwood?

Clint: Will you be sending this through a tele-graph line?

BC: Haha, 'on-line'. I get it. Good one, Mr. Eastwood.

Clint: ...

BC: I mean, ah, no, it's on the internet.

Clint: ...

BC: You know, the Web? On a website? It's a humorous website.

Clint: Web-sight? Is that some kind of disorder? Like tunnel vision? I squinted into the sun too much and the docs give me robot eyes.

BC: Uh, that's...wow. Okay. Can we ask a few questions?

Clint: Course, they took away my guns then. I'm pretty sure I can tell a Magnum .44 carbide revolver from a wax copy. Not this here grenade though. I had it surgically attached to my sternum with wood screws.

BC: Oh, god, that's not...holy shit. I thought it was a tumor.

Clint: It's not a tumor.

BC: Heh. Good one.

Clint: What?

BC: Okay, so let's talk about your career. The persona you've nearly defined in the spaghetti western genre in Hollywood has evolved into a full-fledged--


Clint: One second. I need to drain the muzzle.

BC: Sure, the bathroom is down on your left just after the water cooler.

Clint: ...

BC: Mr. Eastwood? The bathroom is down--

Clint: Okay. Next question.

BC: Aw, c'mon. That's our new couch.

Clint: What am I, made of time? Next question, boy.

BC: Fine, well let's try this. Some say that your declining mental health has kept roles from you that--

Clint: Shh!

BC: Huh?

Clint: Quick, get down! (drops to a crouch, adjusts an invisible dial in his ear) Bzzbeep! Bzzbeep!

BC: I don't underst--

Clint: (Pulls a small caliber pistol from his boot and fires three rounds into the corner of the room. Something squeals from behind a desk)

BC: Jesus! What the hell was that?

Clint: Paparazzi. They use expert midgets to follow my every move. I hit two with my car last week and this morning I found one floating in the pool.

BC: No, wait, I see it. It was a rat. Oh gross.

Clint: They're just really small.

BC: See, look--it has a tail, and you just sort of shot off a leg. It's kinda moving in little circles. You see it? Right under the desk there?


Clint: A casualty of war. Sometimes you gotta shoot off a few legs when you're making a midget omelette.

BC: Actually, you pulled a gun on a rat. In my office. During an interview. I'm not editing this out, you know.

Clint: This ain't no gun. Not the way you people think, anyway. It's them. They made it. It's a specially designed early detection system for--but I can't tell you. The government even got files on it. On them. They are other (looks heavenward) worldly! Far away, they guard the truth.

BC: The truth?

Clint: (points heavenward) ...the truth is out there!

BC: Heh, got me again. That's clever.

Clint: (furious) Dare you doubt the Supreme Alliance?

BC: Ahh, no, I believe you. Look, this is getting way out of hand. Can we focus?

Clint: Yes, sorry. It's just that the radiation does things to me..I-I sometimes do irrational things.

BC: It's okay. Ahem, where were we? Alright, your career began in a surprising way, can you tell us--

Clint: For instance, your car.

BC: What about it?

Clint: Nothing. This heres an interview. Ask me a question.

BC: Okay, what the hell did you do to my car?

Clint: There's no way you gonna get it all out. You better burn it and collect the insurance.

BC: Get what out?

Clint: It's time for my pills. I'm leaving.


BC: Hey, what did you do? Come back here!

Clint: Your secretary is a piece of ass. Mind if I put my dirty hairy in her on the way out?

BC: ...

Clint: Come on. I'll pay for the car. Make my day?

BC: (sigh) Go ahead.

Clint: Do I feel lucky? I'm about to. Ha! (leaves)

BC: She's got the clap.