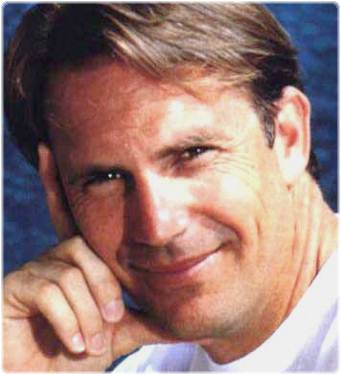 VITAL STATS

(Source : www.the-movie-times.com)

Real Name: Kevin Costner
D.O.B: January 18, 1955
Place of Birth: Lynwood, California, USA
Height: 6'-1"
Occupation: Actor, Director, Producer
Ex-wife: Cindy Silva (1978-1994)
Kids: Annie, Lily, Joe, Liam
Fan Mail:
PO Box 275
Montrose, CA, USA,
91021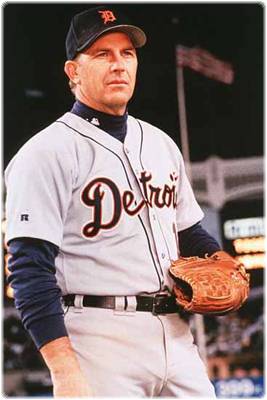 Kevin Costner

(Source : www.planethollywood.com)

Birth Name: Kevin Michael Costner
Birth Date: January 18, 1955
Birthplace: Lynnwood, California, USA
Star Sign: Sun in Capricorn, Moon in Sagittarius
Occupation: Actor, Director, Producer
Education: California State University at Fullerton
Ex-Wife: Cindy Silva
Children: Annie, Lily, and Joe (with Cindy); Liam (with Bridget Rooney)
Father: Bill Costner (Power Company Worker)
Mother: Sharon Costner (Welfare Worker)
Brother: Dan Costner

Awards
1993: People's Choice Award -- Favorite Actor and Dramatic Actor
1992: People's Choice Award -- Favorite Dramatic Motion Picture
1992: Robert Best Foreign Film Award (Dances with Wolves)
1991: Academy Award -- Best Director (Dances with Wolves)
1991: Academy Award -- Best Picture (Dances with Wolves)
1991: Silver Berlin Bear Outstanding Single Achievement (Dances with Wolves)
1991: Golden Globe -- Best Director (Dances with Wolves)
1991: Motion Picture Producer of the Year Award (Dances with Wolves)
1990: NBR Award -- Best Director (Dances with Wolves)
1990: Hasty Pudding Award -- Man of the Year
1990: DGA -- Outstanding Directorial Achievement (Dances with Wolves)

Biography
Kevin Costner was born in Lynwood, California on January 18, 1955, the third child of Bill Costner, a ditch digger and ultimately an electric line servicer for Southern California Edison, and Sharon, who worked in the welfare department. His older brother, Dan, was born in 1950. A middle brother died at birth in 1953. His dad's job required him to move regularly, which caused Kevin to feel like an Army kid, always the new kid in school, which led to him being a daydreamer. As a teen he sang in the Baptist church choir, wrote poetry, and took writing classes. At 18, he built his own canoe and paddled his way down the rivers that Lewis & Clark followed to the Pacific. Despite his present height, (he was only 5'2") when he graduated high school, he managed to be a basketball, football, and baseball star. In 1973, he enrolled at California State University at Fullerton, where he majored in business.
During that period, Kevin decided to take acting lessons five nights a week. He graduated with a business degree in 1978 and married his college sweetheart, Cindy Silva. He initially took a marketing job in Orange County. Everything changed when he accidentally met Richard Burton on a flight from Mexico. Burton advised him to go completely after acting if that is what he wanted. He quit his job and moved to Hollywood soon after. He drove a truck, worked on a deep sea fishing boat and gave bus tours to stars' homes before finally making his own way into the films. He didn't work for nearly six years, while he waited for a proper break. One that came with The Big Chill, even though most of his role ended up on the cutting room floor. Nonetheless, he was remembered by director Lawrence Kasdan when he made Silverado. And the rest is history...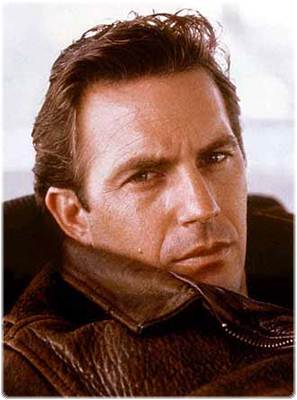 BIOGRAPHY

(Source : www.starpulse.com and www.biography.com)

Actor, producer, and director, born January 18, 1955, in Lynwood, California. An early encounter with John Fords How the West Was Won (1963) sparked a lifelong love affair between Kevin Costner and the movies. Any inclination the young Costner may have had to follow in the footsteps of that films great starsHenry Fonda, James Stewart, and John Waynewas discouraged early on, he has said, by the practical and inherently normal nature of his upbringing. His father, Bill, worked at Southern California Edison, while his mother, Sharon, had a job at the state welfare department.
In high school, Costner played basketball, football, and baseball; he hoped at one time to become a professional baseball player. During his senior year as a marketing and finance major at California State University at Fullerton, he auditionedunsuccessfullyfor a school production of Rumpelstiltskin. Displaying a resilience that would become a necessary characteristic later on in his career, Costner joined a community theater group and almost immediately he was hooked on acting. After graduation in 1978, and a breathlessly short stint at a marketing firm, Costner married Cindy Silva, his college sweetheart, and moved to Hollywood.

Costners first movie experience, a role in the smarmy, straight-to-video Sizzle Beach, U.S.A, was one he regretted immediatelydoubtless even more when it was released in theaters in 1986, after he had become famous. After a series of bit parts, Costner landed a role in The Big Chill, a film about college friends who reunite after one of their group commits suicide. The film, released in 1983, was a success, but there was one problem for Costner: in the editing process, director Lawrence Kasdan had cut a fifteen-minute flashback sequence featuring Costners character, the man who commits suicide. Costner appears in the film only onceas a corpse-during the opening credits.

After The Big Chill, as the film critic Peter Rainer pointed out, Costner became a kind of inside joke in Hollywood. He kept his head high, however, and in 1985 Kasdan made it up to the actor by tailoring a role just for him in the sprawling Western Silverado, also starring Kevin Kline and Danny Glover. The movie won fans for Costner, who at the time was the least-well-known actor of the three. Over the next two years, Costner rejected a number of roles, presumably searching for a character he could identify with. In 1987s The Untouchables, directed by Brian de Palma, Costner played Eliot Ness, the earnest young U.S. Treasury agent who seeks to destroy the Chicago gangster Al Capone, played in the film by Robert DeNiro. With the success of that film and of 1988s No Way Out, Costner had become an infinitely marketable box-office commoditya serious actor loaded with sex appeal.

In 1988, Costner turned in arguably his best performance to date as Crash Davis, the aging catcher of a minor league baseball team in Bull Durham. His steamy love scenes with Susan Sarandon exponentially increased Costners already formidable reputation as a sex symbol. More importantly, the movie marked the first time a connection was forged in the publics mind between this all-American actor and that most American of pastimes: baseball. The link grew considerably stronger one year later, with the release of Field of Dreams, the sentimental tale of a man who mows under a section of precious Iowa corn to build a baseball field.

After the 1990 Academy Awards, when Costners directorial debut, Dances with Wolves, earned both Best Picture and Best Director, it looked like the actor-turned-filmmaker could do no wrong in Hollywood. A mammoth film that Costner also produced and starred in, Dances with Wolves is the story of an injured Union Army officer who is adopted by a Native American tribe. Against all oddsthe film is over three hours long and half of its dialogue is in Lakota Sioux dialect, with subtitlesCostners very own epic Western had become a box-office hit, grossing more than $900 million.

Unfortunately, Costners film career after 1990 did not live up to the tremendous success he enjoyed before that time. While mediocre films such as Robin Hood: Prince of Thieves (in which Costner as Robin refused to adopt even the slightest trace of an English accent) and The Bodyguard, co-starring Whitney Houston, did well commercially, both of Costners big-budget directorial efforts-1995s Waterworld in particulartanked somewhat spectacularly. Another sprawling Western, Wyatt Earp(1994), was poorly received as well, despite a roster of big stars.

Through it all, Costner has defended himself against his numerous critics and remained supremely self-confident. In 1996, he brought a kind of Bull Durham-esque persona to the professional golf circuit in Tin Cup, a film which appeared to be a step in the road to the recovery of his once unassailable box office record. Message in a Bottle(1999), a romantic tear-jerker co-starring Robin Wright Penn and Paul Newman, had modest box office success as well. In 1999 he stepped back out on the baseball diamondthis time as a pitcherin For Love of the Game. His production company, Tig Pictures, has a number of projects in development, including a sequel to The Bodyguard. In 2000, he starred in Thirteen Days, a drama about the Cuban missile crisis of 1962.

Costner and his wife Cindy divorced in 1994. They have three children, Annie, Lily, and Joe. Costner has also acknowledged that he fathered a son, Liam, during a brief involvement with Bridget Rooney, a television reporter, in 1996.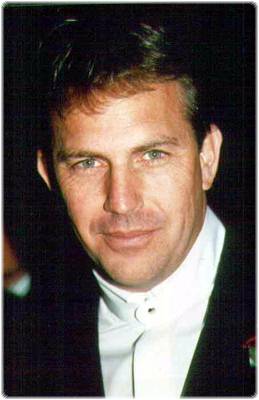 Kevin Costner

(Source : www.moviestarpages.com)

Kevin Costner was born January 18, 1955. It was while he was a marketing student at California State University in Fullerton, he became involved with community theatre. Upon graduation in 1978, Costner took a marketing job that lasted all of 30 days before he decided to take a crack at acting. At least that's the official story; though Costner would probably like to cremate the memory, the fact is that he made his film debut in 1974 in the ultra-cheapie Sizzle Beach USA. No matter. When Costner seriously decided to take up acting, he went the usual theatre-workshop, multiple-audition route. Casting directors saw potential, but weren't quite sure how to use Costner; besides, the novice actor had a bad habit of up if something bothered him on the set. That may be why his Big-Studio debut in Night Shift (1982) consisted of little more than background decoration and the subsequent Frances (1982) featured Costner as an offstage voice. Director Lawrence Kasdan liked Costner enough to cast him in the important role of the suicide victim who motivated the plot of The Big Chill (1983), but when the film was released, all we saw of Costner were his dress suit and necktie as the undertaker prepared him for burial during the opening credits.

Two years later, a guilt-ridden Lawrence Kasdan chose Costner for a major part as a hell-raising gunfighter in the "retro" Western Silverado (1985) - and this time he was on camera for virtually the entire film. Costner's big breakthrough came with a brace of baseball films, released within months of one another: in Bull Durham (1988), the actor was taciturn minor-league ballplayer Crash Davis, and in Field of Dreams he was Ray Kinsella, a farmer who constructed a baseball diamond in his Iowa cornfield when The Voice said "If you build it, he will come." His Hollywood clout amplified by the combined box-office success of these films enabled Costner to make his directing debut. With a minuscule budget of $18 million, Costner went off to the Black Hills of South Dakota to film the first Western Epic that Hollywood had seen in years, a revisionist look at Indian-White relationships titled Dances With Wolves (1990). Detractors had a field day with this supposedly foredoomed project, labeling the film "Costner's Folly" and "Kevin's Gate." But he who laughs last...Dances with Wolves was not only one of 1990's biggest moneymakers but also that year's Academy Award-winning film; additionally, Costner copped an Oscar as Best Director.

A curious costume epic Robin Hood: Prince of Thieves (1991) followed, with Costner as the world's first Oklahoma-accented Robin Hood; this, too, made money, though it seriously strained Costner's longtime friendship with the film's director, the notoriously erratic Kevin Reynolds. The Bodyguard (1992), an improbable concoction which teamed Costner with Whitney Houston, did so well at the box-office that it seemed the actor could do no wrong.

But A Perfect World (1993), directed by Clint Eastwood and casting Costner against type as a half-psycho, half-benign prison escapee, was a major disappointment, even though Costner came through with one of his best performances. Unfortunately, Costner followed Perfect World with another cast-against-type failure, the 1994 sagebrush dud Wyatt Earp, which proved that even director Lawrence Kasdan can have his off days. Costner's film Waterworld received an enormous amount of negative publicity prior to opening because it was way over budget and schedule, however, it opened to good critical reviews and enjoyed moderate success at the Box office. The Postman was another film that didn't do very well, but was a very good movie. In !999's, For Love of The Game, Costner plays a brilliant Pitcher at the end of his career. The movie drags a little at times, but in the end leaves you feeling glad that you watched it. Hopefully, Kevin is back on the road to superstardom.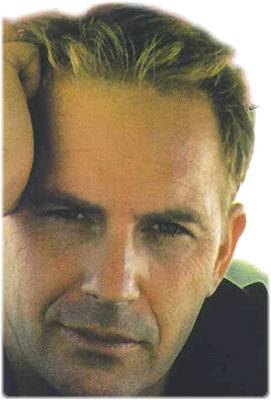 Missile Control
Kevin Costner puts on a brave face for Thirteen Days

(Source : www.infoplease.com)

THERE'S ONE thing that Kevin Costner isnt, well, afraid to tell you: Not much scares him.


First, lets start with his latest role in Thirteen Days, a dramatization of the Cuban Missile Crisis that he also produced. Costner plays Kenny O Donnell, the real-life special assistant and confidante of John F. Kennedy who was involved in saving our country from nuclear catastrophe in October of 1962. Its a part that finds the earnestly handsome actor surprisingly drabbed down, sharing a great deal of screen timeoften in the backgroundwith Bruce Greenwood and Steven Culp, who play John and Robert Kennedy, respectively.

Knowing the role


Now for an actor who established himself as a Hollywood golden boy in such films as The Untouchables, No Way Out, Bull Durham and Field of Dreams and who, in 1990 with Dances With Wolves, emerged as one of a handful of actors turned directors to win Oscars for both Best Director and Best Picture, this is clearly an ensemble effort.

Was it daunting for a star like Costner to cede the spotlight? "Im very aware of movies and what it takes to make them right, and I think you have to understand what your place is in the movie," he said. "What I kept thinking was Jack and Bobby were the stars and so I played it that way. This guy didnt inflate who he was and, by definition, I didnt need to inflate who I was in the movie."

No worse for the wear

In fact, some may eye this as a wise approach, considering the largely abysmal reviews of Costners more recent star turns: 1995s Waterworld, 1997 s The Postman and 1999s For Love of the Game. However, Costners not about to let a good drubbing get him down or frighten him away from creative experimentation. Case in point: He tries on a thick-as-chowda Boston accent in Thirteen Days.

Its a choice, Costner realizes, that will prompt flashbacks to his howlingly horrible attempt at being British in 1991s Robin Hood: Prince of Thieves.

"I took quite a beating over (Robin Hood) so when I approached this movie somebody said, Oh, remember what happened, but I dont have that kind of fear," he said. "I thought that it was proper and right that Ken ODonnell speak the way the Kennedys did; they were really out of their element when they were in Washington and I thought that it wouldnt be very brave to not try Whatever was at risk didnt bother me as much as going for what I thought was the right thing."

What's next to come


And if thats not enough to convince you of Costners fearlessness, consider his next project: 3,000 Miles to Graceland, a Natural Born Killers-typeflick. As the actor himself puts it, "I wear black leather pants and sideburns and Im real mean to women and I kill a lot of people."

To state the obvious, its an audacious choice for these post-Columbine times. "Im not afraid," said Costner. "Other people are. But I put it out there that maybe Im the right guy to say I dont make movies that are ultra-violent. I make Field of Dreams, but here Ive made one with some violence in it. But its a stylistic fun romp; thats what it is, and I resent anyone going after it and I resent that it might catch a little more heat or scrutiny from the MPAA just because theres some climate in Washington!"

His voice rises. He stops short of getting too worked up, though, by laughing. "You have to fight to protect things," he added. "With (Thirteen Days), it was, Oh, the movies over two hours long! and I was always saying, so what?

"I know, I know," he said. "Im a dying breed." And an intrepid one at that.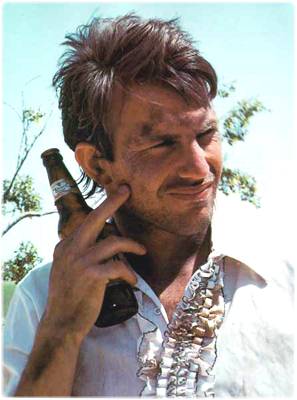 On going postal, soaking in Waterworld and keeping it all in the family

(Source : www.eonline.com)


In the science-fiction epic The Postman, Kevin Costner directs and stars as a mail-carrying con man who inadvertently restores hope to a devastated, near-future America.
Considering the state of Costner's career, themes of hope and restoration seem appropriate. Once one of Hollywood's most popular leading men, the 42-year-old California native has struggled of late after a remarkable string of blockbusters that included The Untouchables, No Way Out, Bull Durham, Field of Dreams, Dances with Wolves (for which he won Best Picture and Director Oscars), JFK and The Bodyguard.

Since 1993, however, Costner has only had two hits: the modest 1996 golf comedy Tin Cup and 1995's Waterworld. The latter will be remembered less for the small profit it made than for its trouble-plagued $170 million production, the costliest in history (until Titanic came along).

Costner wrested the postproduction process of that film from his former friend, director Kevin Reynolds, which did not endear him in certain Industry circles. Simultaneously, his 16-year marriage collapsed amid reports of hula girls and other unsavory innuendo.

His public-relations maelstrom continued, with controversies ranging from tribal complaints about his plans to build a resort in Dances with Wolves country to a paternity test that confirmed he fathered a child with socialite Bridget Rooney.

If any of this has Costner worried, he hides it extraordinarily well. Tan and talkative, funny and cordial, yet unafraid to be confrontational when something irks him, Costner maintains his average-guy accessibility. And why not? It's surely the key to his past and, he hopes, future success.
Dances with Wolves was such a huge hit. Why wait seven years to officially direct again?
Every movie I've acted in since that one, I've felt I probably could have directed. With The Postman, it had just gotten to the point where I had worked on developing the script to such a detailed degree that my producing partners said, "Kevin, why don't you direct it?"
At that point I started going, "I don't wanna do this! I don't wanna clean my room!" But I warmed to the idea. But I tell ya, the first week or two, I didn't think I was gonna make it.
I get the impression you don't like directing. Or is it just directors?
Sometimes I thought the directors on the movies I've been in could have done a better job. Where we generally get into disagreements is in postproduction, simply because the script I agreed to act in had been whittled down into this conventional kind of movie. Sometimes, maybe that's for the best, but I don't know.

This movie takes place after America has fallen apart. Waterworld was set in a flooded future. Dances with Wolves was about the twilight of the Indians. What attracts you to apocalyptic themes?
Well, somebody could say I made Bull Durham and Field of Dreams, so I'm attracted to baseball. It's not that. If you look at the body of my work, there are themes of Americana and community that pop up in Postman that really don't have anything to do with Waterworld.

I'm really not interested in apocalyptic notions. I don't read sci-fi. I just liked the words and the setups of both movies. The way Postman unfolds is really interesting to me, because he keeps being propelled by these people saying, "You're a good man; you're going to do what's right." He's trapped into becoming a leader. That wasn't apocalyptic at all to me.

Well, some women will equate it with the end of the world when they see that you keep your shirt on during The Postman's big sex scene.
Well, we've got opinions about this! [Laughs.] Do you know why I left my shirt on? Because the woman couldn't see this crucial brand that I had. But I knew I was gonna catch crap for that.

All three of your kids have roles in The Postman.
I thought it worked. They were all small parts, so I was comfortable with that. I like 'em close to me; they wanted to do it. Well, Joe didn't. He plays the little boy who holds up a letter while I ride past. He goes, "How long will it take?" I said, "One day, we'll be done by 4:30." And he finally said, "Oh, okay."

Listen, it's a great thing to experience. We have that now, locked away. Regardless of whatever happens, I have that moment, that joy of a father being able to integrate his children--I think, appropriately--into the movie.
Don't beat me up for saying this, but your oldest daughter Annie, who plays one of the pony express riders, is getting pretty cute.
[Laughs.] Yeah, she's reaching that age. But I'm obviously going to cast a pretty big shadow over whatever young man comes around. Number one, he thinks I'm 35 feet tall. And he doesn't know if I can get him by air or sea or whatever; I've done all those kinds of movies.
But she has been taught to know what's right and wrong. She also knows that she's not a perfect person, and this is not a perfect world. She's going to have to make choices, and if she has to make mistakes in life to get to where she needs to as a person, she will make them. But she has a foundation of knowing what she respects and admires, so she's in pretty good shape.

Any regrets that you might not have set the best example over the last couple of years?
Well, I'm in good shape with people who care about me. There are times when you think, Man, maybe I won't be able to make this--times I thought I was going to cave in. But I didn't. I kept going to work every day, kept doing it.

That's what I want my children to learn. They're going to face pressure in life. How are they going to deal with it? Hopefully, they won't feel certain pressures that I've felt, but nonetheless they're there. So who cares? That hill's gotta be taken.

Even with a divorce settlement reported at some $80 million, you and Cindy have kept things pretty amicable.
What no one ever talked about is how great a mother Cindy is and how good a friend she is to me. We have a love that does not translate in magazines and won't ever make sense to anybody else. When people mix it up, that hurts me.

You're not quite as big a star as you once were. Any feelings about that?
I've still got to deal with the same idiotic shit that comes with fame and celebrity. It's a great cultural achievement now, fame, and it doesn't stand for anything. You know what you want to stand for, and that's what I care about, not celebrity.

Speaking of celebrity, you'd talked to Princess Diana about appearing in a sequel to The Bodyguard, hadn't you?
Yeah. But out of fairness to everybody, it seems to be a fairly delicate subject, so I'm not going to continue it.

Okay.
Thanks.
Don't mention it. But say something about Waterworld.
It's flawed, but every movie I've been in has been flawed. It was a really good movie. The problems in it are obvious to me, but I was pleased that people around the world saw it, and I felt good that people who put up a lot of money got their money back.

Listen, if I would've been an active producer on Waterworld, it would've been much different. Number one, we would not have started the movie until the script was done.

It would not have cost that much. My producing partner, Jim Wilson, and I come out of the low-budget world; we know how to do it. We made Dances for $16 million. We made this movie, in a bloated studio system on budget for just under $80 million.

Did you ever have the urge to call Jim Cameron and commiserate about wildly overbudget ocean epics?
I did call him in September. I knew he was feeling a lot of pressure, and I empathized with him. But they seem to have come through their bad publicity on Titanic in a way that we were never able to on Waterworld. They have a good buzz, and that's great for Jim.

What's next for you?
Message in a Bottle. It's a romantic thing. Just, like, me and a girl. It's not set on an island.

What do you do for fun these days?
I love hunting and fishing.

You appeared to be having fun in Tin Cup. Golf much?
Not as much as I would like. The problem with that movie now is everybody thinks I came in second at, like, the U.S. Open! And I don't play a lot, so when I do those celebrity golf tournaments, and they realize I'm not as good as they thought I would be, it's kind of embarrassing.

If you don't have an apocalyptic bent, what's your view of the future?
I don't see things getting better, honestly. When I talk to people one on one, it's amazing how I find that we really think a lot the same, yet the world still operates in a way that I find despicable sometimes.

But I have hope, because that's how I choose to live my life. I reserve the right to reinvent my life. And because I've had some success, I only do things that interest me. I won't do anything for money; I do it because it excites me.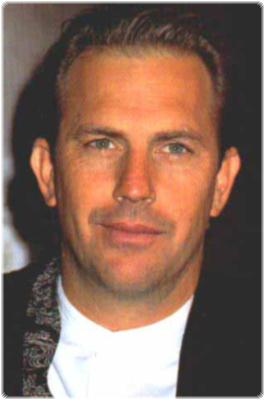 Excerpts from an interview with Kevin Costner...

(Source : www.whyy.org)

Patrick Stoner: There's a lot of talk about risk-taking in TIN CUP. You've certainly taken more than your share of risks in your career, not always with the best results -- but sometimes you hit on the happiest results of all.
Kevin Costner: I suppose it seems like risk-taking, but I don't see it that way. I don't think you're taking risks if you're doing something you believe in and know what you want to do with it. It may seem like risk-taking on the outside, but it doesn't seem that way to me inside.

Stoner: Well, now, come on. You threw yourself off of a financial cliff with DANCES and that paid off. You threw the dice again and got badly bruised by a lot of people for quite a while.

Costner: Well, I think I know what film you mean [laughs]. But what were my choices on that film [WATERWORLD]? I thought I knew what the problems were, but should I have just walked off and blamed someone else? I had to stay and take it -- just ride that tsunami out -- and if that meant getting beaten up by people who didn't really know what they're talking about, then it seemed to me that that's what I had to do. I could have pointed fingers and passed the buck, but it just didn't seem right.

Stoner: You seem a lot more at peace now than you have for the past few years.

Costner: Boy, is that true! Well, I rode the tsunami, and it took its toll, but you really come to terms with yourself after an experience like that. I mean, what is that any of us want, really? Just to be judged by who and what we are -- as individuals, not as stereotypes or false images. I mean, you don't want to be treated as just another interviewer. You're "Pat"; you're yourself, a person who is unique to yourself. That's all any of us want -- me included. Just to be judged as an individual, not the image people make up in their minds but the real one -- the one who makes mistakes, and succeeds, and has fears and courage -- just me. I think I may be back to getting that now, but whether I do or I don't, I'll be OK.