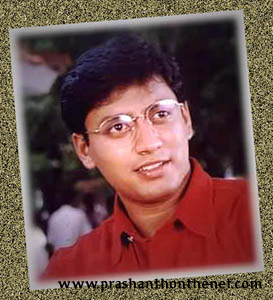 CLICK ON THE PICTURE TO GO TO PRASHANTH'S OFFICIAL HOMEPAGE

Name : Prashanth
Parents : Thiagarajan -
Shanthi Thiagarajan
Date of Birth : 06-04-1973
Star : Bharani
Sun sign : Aries
Education : Computer Multimedia Academy Graduate
Wished ( to be ) : Doctor , But he become an actor
First Film : Vaikasi Poranthachi
Released on : 16-09-1990
Films he acted so far : 54
Languages he acted : Tamil, Hindi, Telugu and Malayalam

(Source : Official Homepage of Prashanth)

Prashanth: a profile

(Source : www.go4i.com)

The most happening actor down south

He is the current hot flavour among teenagers. Call him lover Boy or call him chocolate hero, Prashanth has certainly floored teenagers in the South. Actor-producer-and director Thyagarajan's son certainly is a sensation: At 25years of age, he already has 43 successful films to his credit in Tamil, Telugu, Malayalam and Hindi.

Take a look at Prashanth's resum first. A Bharatanatyam exponent, he is trained in an array of martial art forms from Kung Fu to Karate (a Black Belt no less!), and from Silambam to Kalahari. Gymnast, roller-skater, and an expert in horseriding and rowing! And if all that does not impress you, here is some morePrashanth is also a high board driver and a long distance sea swimmer. He has a penchant for music and plays several instruments. In fact, he passed third grade in music (piano) from the Trinity College of Music, London.

Prashanth captured the popular attention with his very first film. Vaigasi Poranthachi was not only a silver jubilee hit, the film won him the best new face award for 1990. From there on, it was history. For Prashanth would set landmarks down the years over the past decade. Sample a few: His second film, Balu Mahendra's Vaana Vaana Pookal, won the National Award for 1991. The super success of his fourth film, Chembaruthi, established Prashanth as one of the top heroes in the industry. His winning spree continued with Sathya Movies Enga Thambi, Thirpur Mani's Unakkaga Piranthen, Manivannan's Rasamagan, Manoj Kumar's Senthamizh Selvan, R K Selvamani's Kanmani and Mani Rathnam's Thiruda Thiruda. All this, and he was only 22 years old!

Prashanth has made forays into Bollywood with I Love You, Anokha Premyudh and dubbed hits such as Chor Chor. His first Malayalam attempt, Perunthacham, won a National Award and Prashanth was overnight popular in Kerala as well.

The actor's god show is evident in his Telugu ventures too. Tholi Muddu (with Divya Bharthi), Prema Vijayam, Laathi, Prema Sikkaram, Prema Padam, Allari Prema and Mani Rathnam's Donga Donga have put Prashanth in the Telugu big league too.

Perhaps it has something to do with the judgment Prashanth shows in selecting his films. Till date, he is yet to do a role where he might have seemed miscast, or a film that did not befit his potential.

The best of Prashanth so far certainly must be Anazhagan, directed by his father Thyagarajan. The film presented Prashanth in a very different and unexpected dimension. Maanava saw another great performance. When ace tennis star-turned-Hollywood producer, Ashok Amritraj launched Jeans, one of the costliest films ever made and starring Aishwarya Rai, Prashanth was the obvious choice. The Shankar-directed film was made in three languages, Tamil, Telugu and Hindi. Jeans celebrated a silver jubilee run down south. By then, Prashanth had reached an unshakable position in the tinsel world.

The Tamil Nadu government conferred the prestigious Kalaimani Award on Prashanth. He is incidentally the youngest star to receive the honour.

Prashanth is a busy star today, booked as he is till 2001. But Prashanth takes time off his busy schedule, to reply to the fan mails he gets from all over the world. The savvy actor has set up a personal website, too.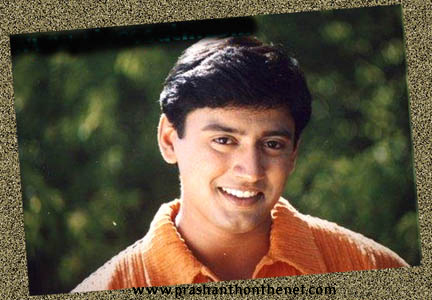 Prasanth's Profile

(Source : www.tamilstar.com)

Prasanth is known in Tamil filmdom and to his fans as "Kathal Ilavarasan" (the prince of love) for his success as an actor has come mostly through romantic subjects. His debut film was in 1990 when he starred in 'Vaigasi Poranthachu' and it went on to become a big hit and soon it was Prasanth in yet another hit 'Chembaruthi' directed by Selvamani. 'Vanna Pookal' by Balu Mahendra won the best regional film at the national level and gave Prasanth yet another hit.

The young actor was in demand. He signed many films which later on did not help him much in his career. Sathya movies 'Enga Thambi', Thirupur Mani's 'Unkahhe Piranthen', Manivannan's 'Raasa Maghan', Manoj Kumar's 'Senthamizh Selvan' and Selvamani's 'Kanmani'. All of these films proved to be duds at the box office. Many said that it was the end of the young actor mainly because of his bad choice. When a lot was expected of Manirathinam's 'Thiruda Thiruda' to push Prasanth's career it only pulled him down because it took one year to make and when it was released the film bombed.

And at the same time this young man was acting in an offbeat Malayalam film 'Perunthachan' which won the best film award in Kerala and he was also doing Telugu films like 'Tholi Muddu' (Divya Bharathi) 'Prema Vijayam', 'Prema Sikaram', 'Premapattam', 'Allariprema' as well in Hindi films like 'I Love You' and 'Anto Kapremyuth'. Prasanth accepting offers from other language films without even establishing himself in Tamil was considered a bad move and was a stumbling block initially.

Yet another bad move was that Prasanth had signed Shankar's 'Jeans' and for three years he was not doing any other films. This many felt was very unwise because he was putting all his eggs in one basket. The gambit paid off and the film 'Jeans' celebrated 100 days run in Singapore and Malayasia and silver jubilee runs in ten theatres in Chennai. Once again Prasanth was at the top. Today he has turned down directors like Rajiv Menon and Manirathnam because he does not like their stories. His 'Kathal Kavithai' has also become a hit. Currently he is working for Selva and has signed with Praveen Gandhi for his film 'Jodi'.

Prasanth led a sheltered life and was so innocent that he did not even know how to find his way around Chennai. His entire career was managed by his father Thiagarajan who is himself a producer-actor-director. Prasanth's father had him trained in martial arts and other forms of fighting like Silambu, Kalari and in gymnastics, roller skating, horse riding, swimming and yatching. When he entered films he was trained in all forms of sports and was also skilled in Bharatanatyam. All he needed was Lady dame Luck to smile on him and he would make it. Added to that, Prasanth had studied in Trinity College of Music, London.

'Kannithirey Thondrinal' produced by Sivasakthi Pandian is yet another film released recently and proved to be a big hit. Today he has regular producers who sign him and they are those who have the capacity to produce the film and take it to the theatres without distributors. Cheran has signed him for 'Iniya Kadhalarghal'. Now Prasanth has decided to undergo a change of image by trying out action films. He is on the lookout for subjects which are unique and offer him good scope to show his multifaceted talents. To those who are interested in talking to him on the net, access him at Tyson@md2.vpsnl.net.in. Prasanth now aged 24 has so far completed 39 films and is today all set to rise to new heights as a star under the guidance and shrewd tutelage of his father Thiagarajan.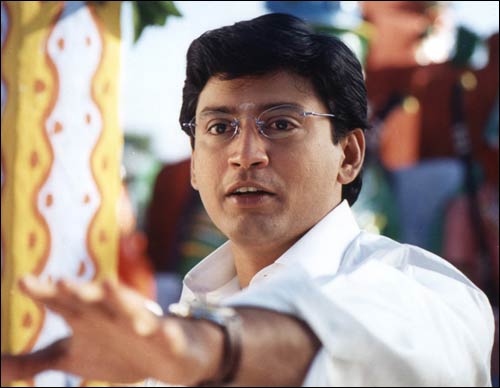 FACE TO FACE WITH PRASHANTH


(Source : www.chennaibest.com)

"Be cool", he says. "Stars are not that inaccessible".

Tamil filmstar Prashanth came across as one of those guys you could get informal with right away. The star of such hits as Vaikasi Porandatchu, Sembaruthi, Thiruda Thiruda, Jeans, Jodi and Parthen Rasithen spoke to Chennaibest.com about his work, with a disarming candour that was totally free of pretensions.

How different is the Prashanth of your debut film and the Prashanth of today?
Every step you have taken so far, is a step towards what you are today. And what you are today will not be what you become tomorrow. When I started off, I was just a schoolboy. Today, I 've travelled across nearly three-fourths the world. I've done quite a number of films. I'm now a guy who understands things a lot better. I'm not that 17-year-old at my debut.

Your first four films were all in different languages. But since then, you have stuck with Tamil. Was this intentional?
There were specific reasons why I ventured into other languages at that time. For example, I ventured into Malayalam because it was a script by M T Vasudeva Nair. There has to be something that draws me to commit myself to a film. As it happened, I got to work with the best filmmakers in Tamil since then - R K Selvamani, Mani Ratnam, Shankar...So thats why I've been doing Tamil since then.

Which has been your most satisfying performance this far?
I've now got a face that I must match with the characters I play. I can't possibly play a father of four or five kids. I need to play roles that match my visual age....romance, action...that sort of stuff. But in doing that, there are so many possibilities. For one statement; for example - 'I love you', there are a hundred million ways of saying the same thing. So each time, I try to make it different.

Right now, I consider what I'm working on my best. After five years, when I look back at this, I will feel I could have done better. So there's never a time when an artist can declare that he has delivered his best. If he does that, then I think its time for him to retire. That does not mean that I am not contented. I am. But I am definitely not fully satisfied with my work.

Who are the behind-the-camera professionals that you admire most?
See, making a movie is a colossal task. There are so many people involved. The spot boys, the crane guys, the light men, the Art Director, the Cinematographer, the Assistant Directors, the Director...so many different people. There can be no one guy who I admire the most. For most who are part of the crew, it is a thankless job. We might shoot in a remote location and the Director might suddenly decide to use smoke in the scene. So, where do you get smoke at a remote location? The crew just uses its creativity and unbelievably gives you what you want right out of the blue. We might shoot at locations that are inaccessible to human beings. And yet, our crane guys, reach the cranes to the shooting spot.

Take the Director, for instance. He starts off making the film with a particular vision. But the Producer's budget forces him to restrict his vision as the shoot progresses. He might want a particular camera angle. The cinematographer may have a different point of view. So he gets into a fight on that issue. The lighting conditions may not be suitable for the shoot, but the Director may not have other dates booked with the artist. So each member of the crew has problems.

I was recently shooting at Ennore. It was 12.30 pm and burning hot. I had to do a fight sequence and I had no choice. So each person has his share of difficulties.

Which films have made a lasting impact on you?
Of the recent films, I liked What A Woman Wants (thats something every guy wants to know), Crouching Tiger Hidden Dragon, for its technical excellence, Traffic, for its screenplay and direction, The Cell, for its visual splendour, Jerry Mcguire, Stanley Kubrick's Eyes Wide Shut... I watch all genre of films. Of the classics, there's Hello Dolly, Mary Poppins, Wizard of Oz, Great Escape, Guns of Navarone...so many of them come to mind. I don't think I can call them all out.

What would you consider the strengths of the Chennai film industry today?
We have the best talent in the country. The best Directors, Technicians, Music Directors, Artists. We also have a fresh crop of stars, which most other film industries cannot boast of.

What about weaknesses?
There aren't any weaknesses to talk of in the Chennai film industry. Not many films are being released. Every filmmaker is so scared of his film bombing. So all of them are putting in their 100%.

We sometimes work with second-hand lights, a 1954 camera, 1980 cars and still do a pretty good job of making a two and a half hour film. I am proud to say that I belong to this industry. Even the best of Hindi films are being made by talent from Chennai.

It is easy for the educated mass to demand classy movies and question the logic of running round trees and the hero fighting ten guys at a time. But the educated viewer makes up only 5% of the cinema-going public. So it makes sense for us to make movies for the 95% majority. Yes, we are trying to bridge that gap. That is why I make it a point that all my films are family entertainers which appeal to the 3-year-old right up to the 80-year-old.

Any threats to this industry?
At one time when Video cassettes came into the market, people felt the film industry would be killed by the reduced number of theatre-goers. But the public is coming back to the theatres. So what was once considered a threat is not there any more.

Is there any misconception that the public has of you, which you think needs to be corrected?
People think that filmstars are hardly accessible. Especially in the city, you find them recognising you, but putting on a mask of indifference, even if they actually want to come up to you. I would say - We're just as normal and regular as other guys. So be cool. If you want to say something, just say it. You don't have to be stuck up.

Your plans for the future?
Get married.(laughs)

And, yes, the future has great movies for me and for the audience.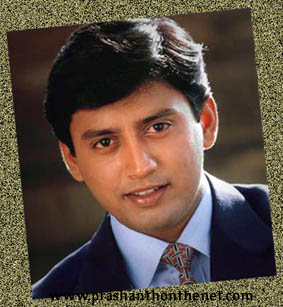 Interview with Prashanth

(Source : www.tamilstar.com)

"For my grandson"


Q: What are the films in which you are working now?
A: The film 'Virumbukiren', directed by Mani Ratnam's assistant Susi Ganesan. The photography of K. V. Anand is plus point for this film.

Q: You say that the director is Mani Ratnam's assistant. But the stills convey that the film might be a rural subject?
A: Appearances can be deceptive, right? Watch the film and you'll know! I saw the film's rushes, and am very pleased with the way it has come out.

My next film is CTV's 'Majnu', an entirely different love story, in which Jyothika is my pair. The story revolves round the problem between my parents, Jyothika and me. My another film 'Enna Vilai Azhage', a movie about a large family similar to that of the Hindi film 'Hum Aapke Hain Kaun'. The other film is 'Ullam Thulluthey'.

Q: You seem to conduct a number of star nites abroad. Is it for money or for fame?
A: It is certainly not for money. My fans living abroad shower me with lots of gifts. So I always wish to see them all. Since it is not possible to see them all in one single place at the same time, I opted for this method. After spending for the accommodation for the actresses, flight tickets and other expenses very little money or even nothing will be left. I do all these only for my satisfaction. In future, after about twenty years, if my grandson asks me about my achievements I should be in a position to tell at least something!

Q: You said that after about twenty years you would have a grandson. In that case you should have been married by now. What do you have to say about this?
A: Come on! That was just a casual remark! I owe everything that I have and the way I am now to my parents. So I feel that they alone should decide about my marriage.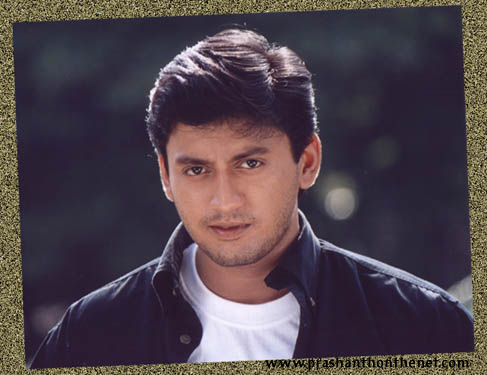 Real name: Prashanth Thiyakarajan
Date of birth: 06-04-1973
Father: T.Thiyakarajan (actor, producer)
Mother: Santhi
Sister: Preethi
Place of birth: Chennai
First film: Vaikasi Pranthachu
Know Language: Tamil, English, Hindi, Telugu & Malayalam
Favourite dress: Jeans & T-Shirt
Favourite color: White
Free Time Internet, (read fans e-mail), Read books, Watch tv (cartoon, and English action films)
Favourite dress: Jeans & T-Shirt
Favourite color: White
Favourite actor: Sivaje, Rajni, Jackie Chan, Tom Cruise, Keanu Reeves, Silverstar Stalone
Favourite actress: Saroja Devi, Sri Devi, Aishwarya Rai, Sandra Bullock
Favourite music director: A.R. Rahman
Favourite singers Hariharan, SP.Bhala, Unnikrishnan