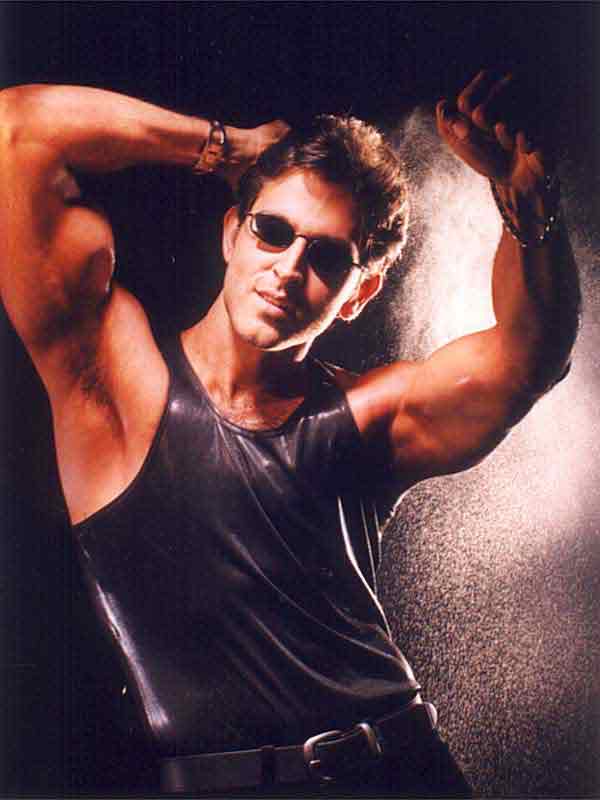 CLICK ON THE PICTURE TO GO TO
www.hritikroshan.com

Real Name: Hrithik Nagrath Roshan

Stage Name: Hrithik Roshan

Nationality: Indian

Address: c/o Filmkraft
Mayur, Tilak Road,
Santacruz (West),
Mumbai 400 054
INDIA
Hrithik Roshan Fanmail (home)
37, Kavita Building
11th Road, Juhu
Mumbai 400 049

Birthdate: January 10, 1974

Height: Approx. 6'0"

Weight: 155-165 lbs

Family: Father:...Rakesh Roshan (Director/Actor)
Mother:...Pinky Roshan
Sister:.. .Sunaina (she is older than Hrithik)


Marital Status: Married to Suzanne Khan (Daughter of Zarine & Actor Sanjay Khan)

(Source : www.hritikroshan.com)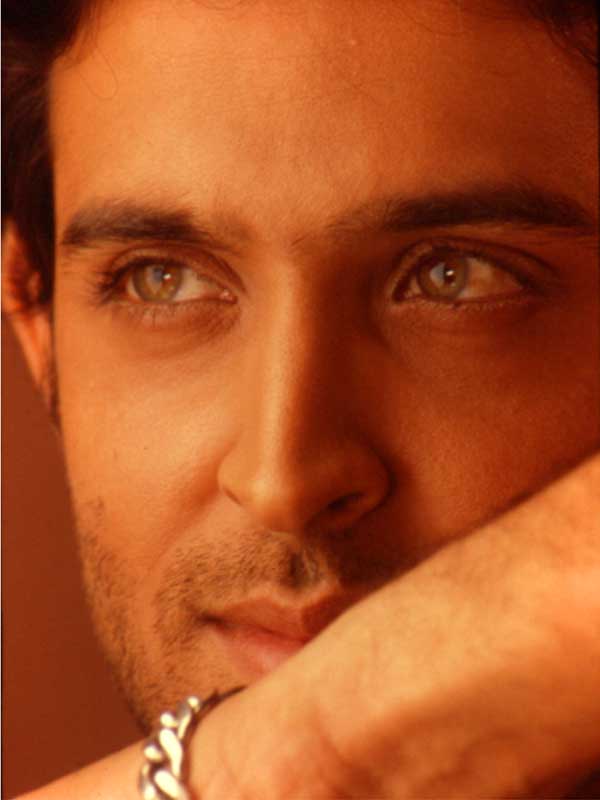 Hrithik's success hasn't changed him. Duggu (his pet name) would rather spend a quite evening at Sanjay Plaza, his girlfriend Suzanne's house or be with close friends. But sure he's a normal twenty-six-year-old with normal instincts. Although it was tough to get him to do so, I tried to pin Hrithik down to speak about women he's worked with and the woman he intends to share his life with, Suzanne. Was I successful? Check that out for yourself.
We start with Karisma Kapoor, who played his sister in Fiza. Hrithik does not agree that the audience might not like it if he's cast romantically opposite Karisma after Fiza. "I don't think so. It really depends on how convincing you can be as actors. If in the next film we are cast romantically opposite each other, and if we play it convincingly enough, then it should not be a problem." Although he's yet to sign another film with Karisma, he says he enjoyed working with her. "She is a thorough professional and she is a lot like me. Her instincts are a lot like mine. She always strives for perfection. And we work very well together, I'd love to do a film with her again."

About his co-star in Mission Kashmir, Preity Zinta, Hrithik feels she's someone he needs to learn a lot from. "Preity is so spontaneous, she leaves everything to her instincts. And that is something I've tried to learn from while shooting with her for Mission Kashmir. She is so instinctive and spontaneous that it comes out much more on screen. And she's great fun as a person too. She's a gregarious person. She keeps fooling around and keeps the atmosphere alive. We really had great fun during the outdoor shooting of Mission Kashmir. And her performance in Mission Kashmir is just amazing."

Amisha Patel was Hrithik's first co-star. She's part of a very significant event in his life. She will always occupy a special place. The kind of understanding he shares with her, insists Hrithik, he cannot share with any other co-star. "We made our debut together, and the kind of work she did in her first film is just amazing. You know, I used to be this dude on the sets trying to rehearse my scenes, and here comes this girl who is not from the industry, gives her shot and just walks away. Since, the two of us started off together, there's a certain bond, which will always be there. I just have to drop all my defenses in front of her and be myself."

Neha, his heroine in Fiza, and Hrithik were in acting classes together, in that sense he's known her much before he started working with her. Hrithik is quite amazed by Neha's ability to bring tears in her eyes without the help of glycerine. Says Hrithik,`She is such a sweet girl and that sweetness comes across even on the screen. There was scene in Fiza where she was required to cry and I had to give her the cue and we had a couple of takes but each time the director said action, she was ready with tears in her eyes, without any glycerine. I was stumped. How does she do it man? It is certainly not easy. But Neha makes it the easiest thing in the world. It's amazing."

Hrithik's latest co-star is Hema Malini's daughter, Esha Deol. Hrithik finds her very confident. He says: "She has really impressed me. A very confident actress, she knows how to play with her eyes and face and also knows the camera well. She has that something extra which separates you from others and sets you apart. Which even Hemaji had. Esha has big-star qualities."

Does he get attracted to his lovely female co-stars? Hrithik smiles: "Of course one gets attracted to women but not to co-stars. There is very little chance for that. Because, while I am on the sets I have a hundred things on my mind and I really need to be focused. So there is very little chance for any kind of distraction. I cannot be so casual about my work. I have no time or space to indulge in such things on the sets, besides I don't know if I would be able to do such things even if I had the time. I'll be lying if I say I never get attracted to women, every man gets attracted to other women, like every woman gets attracted to other men. You get attracted but you draw boundaries and stop yourself because you have your priorities laid out. I definitely have mine very clear in my mind. There's no confusion there. I value and cherish the bond I have with my woman too much to risk it for anything in the world, least of all momentary pleasures."

--Bharati Dubey
(Source : www.indya.com)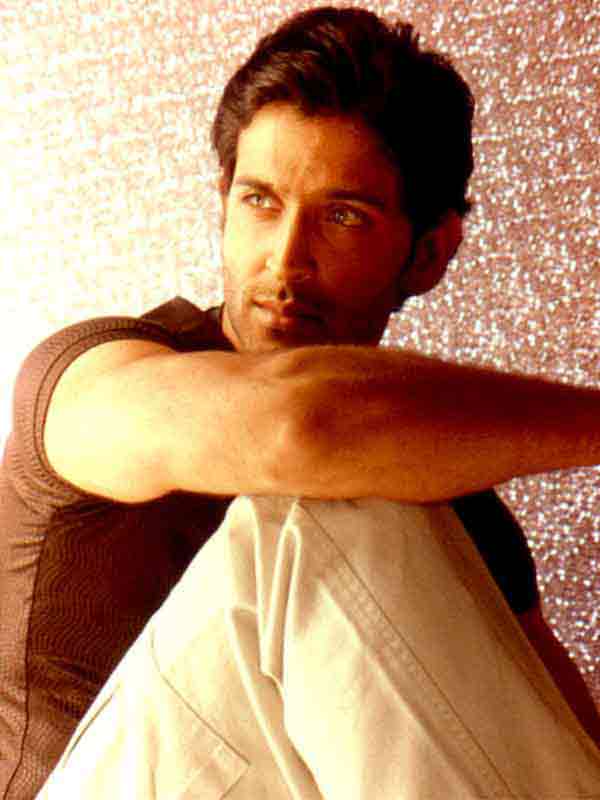 'We don't have time to perfect our work'

Hrithik Roshan is still as shy as he used to be in the days before he became a star. Says his fond papa, "He has not changed one bit." Rakesh Roshan's words ring true when one sees an embarrassed Hrithik dealing with the adulation and obliging his fans for autographs, whether at Santa Cruz airport in Bombay or Hotel Taj in Ahmedabad or City Pulse in Gandhinagar. A quick interview with the Roshans.

Has the father-son equation changed after Kaho Naa...Pyaar Hai?

Hrithik (smiling): Not at all. The equation was established when I assisted dad in production, direction and editing before he launched me in Kaho Naa...Pyaar Hai.

Did assisting your father help you in your performance?

Hrithik: Of course. The training period under my dad has been of immense help. You can know what is right only when you know what's wrong.When dad used to correct Salman or Shah Rukh on the sets of Karan Arjun, I used to ask him why he said what he said.

Besides, Dad and I used to discuss a great deal in the editing room, that's another way in which I learnt what was wrong and what was right. And wrong and right before the camera are quite different from what they may be in real life. For instance, if, in a scene, an actor is talking to someone and another person, who is not in the frame, passes by, the natural reaction would be for the actor to look at the person passing by. But dad once explained to me that if the camera caught the actor's eyes moving somewhere else, the director would also have to show to the audience that other person who was passing by.

I have been really very lucky to have undergone training in direction before becoming an actor because I find it easier to visualise what exactly a director wants of me.

What was Hrithik's contribution to Kaho Naa...Pyaar Hai?

Rakesh: I would say that at least 50 per cent of the credit for the success goes to Hrithik. We had constant discussions on the sets and in the editing room. Because he belongs to today's generation, he knew what the look of the film had to be. I used to readily accept his suggestions relating to the look of the film. His other suggestions were also good. But he did get a little worried when I did not keep a single dramatic scene for him in the film. He told his mother, 'Mama, please tell papa to include at least one dramatic scene for me.' But I never heeded this suggestion of his.

What is Hrithik's forte -- dance, action, emotions or comedy?

Rakesh: We need to see him in a couple of more films to really gauge his forte. An actor opens up with every film and I am confident that Hrithik will be able to handle all of them with elan.

Is Hrithik as comfortable on the sets of other directors as he is with his dad?

Hrithik: I understand that no other director can give me the space which dad gave me in my first film. But I am unhappy about how the industry functions. We all work like machines, we don't have the time to rehearse, to perfect our work. I guess it's the system, but I am very very sad about it. I find myself helpless because I can't change the system all by myself.

(Source : www.rediff.com)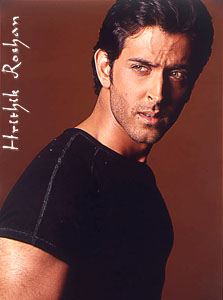 Hrithik Roshan
"I wanted to break the award on my head"



"It was about a week ago when I had to give one shot for the climax scene of Kabhi Khushi Kabhi Gham. It was a confrontation scene between Amitabh Bachchan and Shah Rukh Khan. When the conflict between them gets resolved, I enter the picture and hug them. Karan insisted that I see the confrontation shot to get into the mood. I did and it's never been the same for me.
Such great work. Pure talent. It was great watching them. I felt so small. How can an actor like me go and stand in the same frame as Amitabh Bachchan and Shah Rukh Khan and feel good about it? I told Karan that I could not do that shot. I even told Amitji about it. I started stammering and told him: "I saw what you all did yesterday. I simply have no words for it. It is the best piece of work I have ever seen. Both of you are amazing. I don't know how to do my shot. I simply cannot get myself to stand in the same frame as you both."

Amitji sat with me and patiently heard me out. He spoke to me and got me into a relaxed frame of mind. Imagine, all this while I was thinking about winning the best actor award. But, this was one instance when I wanted to break the award on my head.

I have such a long way to go. I might be the most popular actor, but I'll have to really earn myself the best actor award. I'll have to work hard for that. One day I will go on stage, win the best actor award and feel happy about it. But right now, I'm more embarrassed than happy about the awards."


Hrithik Roshan: "Whenever I see I have some free time I just run to the gym or do some stuff in the house"

(Source : www.indya.com)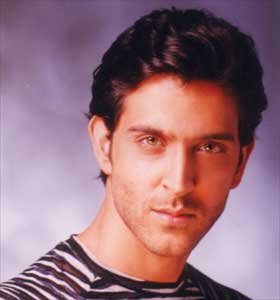 Hrithik Roshan: The New One-man Industry

** Beverages giant, Coca Cola India, found that the recall of its television commercial among TV viewers across the country scaled from 20 per cent to a high 31 per cent with the launch of its Hrithik Roshan campaign. Better still, the recall among the brand's target audience-teeny-boppers and the youth-was a staggering 40 per cent.
** Textiles major, S Kumar's, which has roped in Hrithik Roshan for its new menswear brand 'Tamarind', has calculated that it will need to spend at least 40 per cent to 50 per cent less on advertising because Hrithik makes a deeper impact on the consumers.

** Home Trade, a financial services portal, was pleasantly surprised to see that the number of hits on its portal has gone up 700,000 a day after the release of its ad campaign featuring Hrithik Roshan apart from Shah Rukh Khan and Sachin Tendulkar.

Hrithik is, undoubtedly, the hottest icon of the advertising industry in the year 2001. With companies lining up to sign him as their brand ambassador despite his ever-increasing price, advertising industry estimates that the Bollywood heartthrob has already rustled up
over Rs 200 million in endorsement contracts and events.

Besides signing up with Hero Honda, Coke, S Kumar's and Home Trade, negotiations are also on with the Sahara group as well as a well-known cellular services company.

Film industry sources say that the superstar has already made more money from advertising contracts than from films.

According to the industry, Hrithik is the highest paid advertising icon next only to the Big B, Amitabh Bachchan, who is believed to be charging more.

While companies are tightlipped about divulging figures on celebrity endorsements, industry sources say that Hrithik charges between Rs 20 million and Rs 30 million for a year compared to Rs 15 million charged by Shah Rukh Khan.

Amitabh Bachchan, however, is priced between Rs 30 million and Rs 35 million for a year, but does not take more than two to three ad campaigns a year. Says a senior advertising agency executive: "The demand for Hrithik is much more than any of his other competitors."

The price, of course, varies as the star uses three parameters to set his rate-the size of the campaign, the number of days of his involvement and the brand and the value of its image.

So what makes him the new sensation in the world of advertising? Shailendra Singh, managing director for Percept D'Mark which has struck deals with the superstar for its clients, says, "Hrithik is an unusual case of overnight success which neither he nor the industry expected."

Adds Nitin Kasliwal, managing director, S Kumar's Nationwide: "He has instant recall, so brand identification is also instant."

Talking about Tamarind, he says: "He is young and trendy which fits in with our brand image meant to provide the Indian male with a complete wardrobe solution-from casuals to formals. Hrithik fits the bill in these categories."

Kasliwal's endorsement of Hrithik is also based on the company's research which found that the ad recall for Tamarind was as high as 70 per cent among the target audience-a no mean achievement.

Kasliwal points out that the ad has also helped in getting the trade interested in the product and he is getting calls from dealers all across the country to stack the brand in their stores.

For instance, according to market sources, it takes at least 8 to 10 months for a new brand to find space in big chains like Shoppers' Stop-the popular chain store-but Tamarind has been accepted within 20 days of the launch.

Coke, for instance, found the brand identification of Hrithik with its brand growing in strength. Says Shripad Nadkarni, vice-president at Coca-Cola India: "Amitabh was the icon of a rebellious generation. This generation has changed and Hrithik is its icon. His values are the same that are associated with Coke -- warmth, and genuine."

For Home Trade, a financial services portal, the challenge of its ad campaign was to transform what is a considered a dull business to a product which could be exciting.

"We were looking at people who have had success in their field at a very young age and were constantly striving to achieve. They would also enjoy mass appeal among the Indian population cutting across all age groups. Hrithik fitted the bill," said the official spokesperson of Home Trade.

But not everyone agrees that companies are getting value for their money by using Hrithik to endorse their products. Says Preet Bedi, director of Lowe Lintas & Partners: "I think it is the beginning of the end for Hrithik. He is overexposed. He is on 200 hoardings in Bombay in various avatars and will increasingly lose impact. Yes, clients ask for him but if you ask me whether they are getting value, my answer is no."

Avers a multinational company which was confronted with a similar problem with cricket star Sachin Tendulkar endorsing a whole host of products: "Its a tricky situation. It all depends on how well you have been able to use the celebrity so that people can identify it with your product. A mismatch could prove disastrous."

But with reports that Hrithik has already increased his brand endorsement rates in the market and companies still scrambling to make him their brand ambassadors, the Roshans are undoubtedly laughing their way to the bank.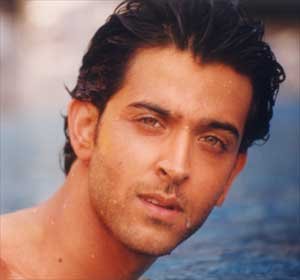 A star on the horizon

Hrithik Roshan is not just another newcomer or maybe not just another blue-eyed star son. Rakesh Roshan's boy is indeed a star on the horizon. Whether the film makes it at the turnstiles or no, Hrithik certainly will be noticed more than the others in 2000, despite the onslaught of the Smaller B, Abhishek. Remember, you read it here first. As 'Kaho Naa Pyaar Hai' storms the marquee, the frail teenager from Sydenham college turned robust hunk, is a bundle of excitement. Excerpts from an interview:


How was it working with your father?

It was a great experience. Since I had assisted dad before at work, I was comfortable. I had seen dad work earlier with various actors. I could see him view a scene from various angles. I have often watched and wondered how he goes about his work. I have also seen the preparation that goes into a shot from both the actor's and the director's perspective. Father dealt with me like any other new person in the movies. The father-son relationship never took over on the sets. At times, I had a feeling that Amisha Patel, the heroine was given better treatment than me (laughs). No offence meant.

And Amisha

She is a very nice person to work with. One has to understand that the lead pair - and basically everyone on the sets - have to be comfortable with each other if you have to come up with a good end product. The film wouldn't have been possible if we were not as comfortable with each other as we now are. We were told by everyone on the sets and we felt ourselves that we made quite a confident pair.

How's the film?

I guess Kaho Na Pyar Hai is dad's best film till date. This is the first time that he is directing a love story. The film is very fresh and looks as if it has been made by a person who is very young at heart.

How have you generally regarded your dad as?

My relationship with my father is quite austere. I would not call it a casual relationship at all. It was more of a serious one with relation to work. Even otherwise we don't behave like buddies, hugging and playing with each other. We don't sit and laugh about serious matters. I am generally in awe of him and his capacity to make films makes me wonder. I was working as his assistant and watching him work, I felt like an ant in front of him.

How conscious were you, when you were acting in front of your father?

Frankly, if I had tried and done several strange and weird things in an attempt to please my father, I would have gone wrong. It is quite important that I understand the character and get absorbed in it. Only that could help me free myself from the bond from my father, till the time I was giving my shot. That was the game plan and I guess I have been successful in that.

There are constant comparisons between you and the other star son launched this year, Abhishek Bachchan..

You cannot stop people from talking. They do have a lot of expectations. But I guess that shouldn't stop you from being what you are. Trying to prove yourself to the rest of the world is rubbish. You should be what you are and enjoy it too. But anyway, all of us have to go out of our way to prove ourselves because we are star sons. If a non star son has ten flops, not many people would notice, but we are under tremendous pressure to deliver. But then, having the previous experience of seeing how movies happen has made me better.

How happy are you with yourself as an actor? Do you think you have left some loopholes, which could have been better filled?

I never regret what I have done, though I feel everyone improves with time. But I am very happy with the way I have been presented. The film is more of a story about the girl, but I do not regret that. I know for a fact that my father makes good films and I am happy to be a part of it. I must however admit that I was shocked after my father narrated the script to me and told me that I was the hero of the film. I realised that I was not brandishing swords or anything like that. Anyway, I am more than happy that I have got Kaho Na Pyar Hai as my launch pad.

Did you ever want to be in films earlier?

Let me be honest. Watching dad work in the industry, I knew that I always wanted to be in the movies. Subconsciously, all through the entire five-year stretch when I was assisting my father, I knew that I would be an actor some day.

How long do you see yourself as an actor in Bollywood?

A long time, I guess. One tends to develop the determination and the attitude to be in films over a period of time. Once you get a feel of the industry, you know that this is the place you have always wanted to be in. Everyone who comes to the film industry comes with his bag of dreams. He would like to see all of them fulfilled. His talent and determination, coupled with luck, will take him across. I know that I will be here for a long time.

Do you see yourself as a director one day, since you have imbibed five years of film making knowledge from your father?

Let us look at it this way. If a man is a good actor, it does not necessarily imply that he can make good films too. As an actor, you put in certain things from your creative thoughts into the scene, if your director is good enough to give you leeway. If I am looking at the same shot from the director's point of view, I do not think I would be happy with it, because I would have to look at several things. I have to look at good music, dances, visualisation, art direction and all that. Unless you are a very balanced person, it will be difficult. As a director, I know that I would have to make people feel comfortable in working with each other. Looks like a huge task na? That's why I am just concentrating on my acting now. I have just begun my career as an actor and I would not like to even dream about direction at the moment. I know that an actor's job is restricted to acting. A director can make or mar a film.

What happened when you saw the first rushes of yourself acting?

I am an egoist or whatever. I guess when anyone looks at a group photograph carrying his own picture, he tends to search and watch out for himself first. I am no exception. I love to watch myself on the screen. It was only after I had watched the film over a dozen times that I started looking at others, including Amisha (laughs). At the same time, I would consciously think: what am I doing standing in the corner in that scene (laughs again).

What are the other projects you have in hand?

Vidhu Vinod Chopra's Mission Kashmir. Vikram Bhatt's film also starring Amisha and Rahul Rawail's next film are the ones that I have signed apart from a few other signed and unsigned projects.

(Source : www.bollyvista.com)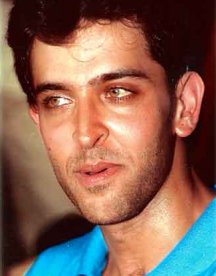 Hrithik Roshan

Hrithik means 'purity of the soul' and one thing is sure that his soul is yet to be corrupted by the glitter and the gloss of the Film industry. The current heartthrob is very un-starry and unassuming chap, lovingly known as 'Duggu'. A 'Human Star', who inspite of giving sleepless nights to current stars is scared of the expectations and the spotlights. The tragedy that struck him in the form of the attack on his father made him realise that success has a price and the fortitude and aplomb that he has shown in facing it has won him countless admirers . And ofcourse he is a stunner but the best thing is that he unaffected by it.

Well he was shooting at versova for 'Mission Kashmir', and believe me he didn't did make us wait for the interview in the normal starry fashion. So Duggu, here's wishing you whole lot of success.

So how does it feel to be a star?
I don't know, frankly I still don't feel like a star. Right now I am feeling awkward, I am feeling embarrassed. People are after me suddenly, they are screaming when they see me, it is very awkward for me because this was not what I expected, this was not what I thought would happen. I was expecting passing marks in my first film and I think, I got more than I deserved.

Dad's magic worked out and the film is a big hit. Basically for me it is like a dream come true but it is also co-existing with a nightmare because of the attack on my father and somehow, somewhere I know the film success has been an encouraging factor for the disaster to happen. Because had the film been a flop no one would have bothered and left him alone, some people got jealous because of his success. So it's very odd for me. I don't know what to feel. I am going through two extreme emotions at the same time, whether I should be enjoying myself or cursing my fate. Hence, this 'Star' thing hasn't affected me one bit.

How do you manage to keep a level head with people going crazy about you, how do you maintain your sanity?
I try not to get affected by it at all, I basically take it as a compliment that the whole crowd is shouting, screaming and screeching because I'm there. Even if one person out of that crowd were to meet me and say that ' I loved your work, you did an excellent job' that's what I would love, but when it gets in form of a crowd it becomes shreiks because they cannot reach out to you in words. I'm under no misconception that I have become a god or something, because I have been a part of that crowd at some point of my life. I have lived and seen stars in front and behind the camera. So that's a part of life and it doesn't affect me. I know it is nothing much but a compliment.

Did you at any time feel that 'Kaho Na Pyar Hai' will be such a massive hit..?
Not even in my wildest imagination. I didn't expect this at all, I thought I would reach here in about two- three years hopefully if I worked hard. But now it is scaring me because now people will be expecting a lot more from me. I hope I have taken the right steps but you never know.

As an artist were you satisfied with your performance in 'Kaho Na Pyar Hai' ?
I'll give myself Four out of Ten, i.e. passing marks. I look back and given a chance I'll do everything much better. But I console myself that at that moment at that particular time, I gave it my best shot. And that's what I did and that's what has worked.

Do you think that your looks are more hyped than your performance.?
That's something, which you look up to as a challenge. I can look forward to people telling me that you are a damn good actor in my forthcoming films. But that has not happened up-till now and people have been complimenting me on my histrionics.

You have a major fan following in the 'Opposite Sex'.
I was recently in Lucknow and Kanpur, the theaters were full of men and they were the one who were cheering me through out so I will disagree with you over there.. a little bit.

Farah Khan has said that you are a 'Dance Director's Dream'
No I'm not, I am just an average but a hardworking dancer. I'm not a great dancer at all. You leave me alone at a disc, I'll be very confused as to what step to do and when. It's just that I work very hard at my steps.

Is Acting inherent or can someone be trained in the art?
The talent is essential, the art can be learned. You need to have an Actors intelligence and then you can be trained. You can't teach acting but you can train Actors. You have to already be an actor to be trained and get better at the art. You have to have the actor's perspective and the consciousness of an actor, about the how the medium of the camera captures emotions. You have to have the sensibility of the actor, if you don't, then I don't think you can be taught.

What according to you is the most challenging aspect of Acting?
Looking Good, that's the most challenging task. The rest comes eventually. If you are honest, as a person and to the character you are playing. And if you are honest than you can't go wrong. What shakes me up, is when I have to just look good i.e. when there is a glamorous shot, the Hero turns or the Hero walks because there's nothing you can do, there is nothing to hold on to, no emotions, no dialogues. You just have to look good and believe me that's tough for me. And I get scared about that.

You have assisted your Father for five years, how was the experience behind and before the camera?
Well, those five years taught me a lot of things. I got used to the environment of the studios, the Camera's and the Light's. I have traveled by second class trains for five years, stayed in the cheapest and lousiest of places, slept on grass at times, eaten rotten food, bathed with ground water, I have been through hell but that has taught me a lot. Especially to respect each and every person behind the camera, and their efforts that go behind making a film. Right now, while I'm acting, I don't really need an A.C. room, I'm mostly on the sets even when my shot isn't there, seeing how the lighting is done for the next shot or maybe the Director needs me for some discussion on the script. I just keep rehearsing on and on, there's no need for me to relax in the van. And secondly it has taught me to understand the medium better, watching the actors perform in front of the camera and then seeing his performance on screen, one learns a lot as to what's good and what's looks bad. The best part was that I got to observe the best of the actors up close, in personal. I got to watch actors like Anil Kapoor, Shahrukh Khan, Salman Khan, Rekha performing, so I have learnt by watching the best, hence I better had been good at what I did.

How does it feel to work with outside directors vis a vis your father?
Its great as I am working with honest people, and that is what matters and as Dad is an honest film maker, there's not much of a difference. So the basic point is to work with honest filmmakers and that's what I am doing.

How much Music is your veins, since your grandfather Roshan and uncle Rajesh Roshan are eminent Music Directors.?
Music is life to me, I have grown up on music. It has the power to move. I don't know what is more important to me music or acting. My soul thrives for music all the time. I don't know what gives me more satisfaction.

Do you plan to sing for movies at some point of time.?
I have tried singing, I can't be a professional singer but I enjoy singing. It is way for me to let my hair down and chill or relax. But I don't know, maybe if it is needed by the script but I wont push it.

Do you feel burdened by the amount of expectations from you?
Oof! Right now it is very scary, as everybody will be expecting more than what I did in Kaho Na Pyar Hai and I have quite unconventional roles in my forth coming films like in Fiza, I'm playing a fourteen year old kid, I'm not the hero. In fact I'm Karishma's brother in the film. It will be big change but I am not sure if the audience will approve of it.

How about 'Mission Kashmir'?
'Mission Kashmir' is something I'm looking forward to. It's gonna be a great film, I think it is going to be Mr. Chopra's best film. He is back to his forte, making what he is best at, that is thrillers. The film will blow people's mind. It will be unparalleled, the kind of work that is going on is unbelievable. And I think it is going to be my second release.

Are you overworked right now, considering the amount of projects you have?
No way, I'm not going to get overworked. There is lot of work but I am not overdoing it. I am supposed to do a lot more work than I'm doing right now. But I am not doing it because I need time for me to focus and rehearse and to concentrate a lot more on my characters.

How much importance do you give to characterizations of the roles.
There is no end to the importance of characterizations, that is what is acting is all about. Who ever is an honest actor will always work hard on his characters. It all depends on how honest and dedicated you are.

And your forth coming projects?
I am working with Subhash Ghai in 'Yaadein', there's a film with Karan Johar with Amitabh and Shahrukh, there's 'Mission Kashmir' and of course 'Fiza'. There's also a film with Arjun Sablok starring Esha Deol.

(Source : www.nazara.com)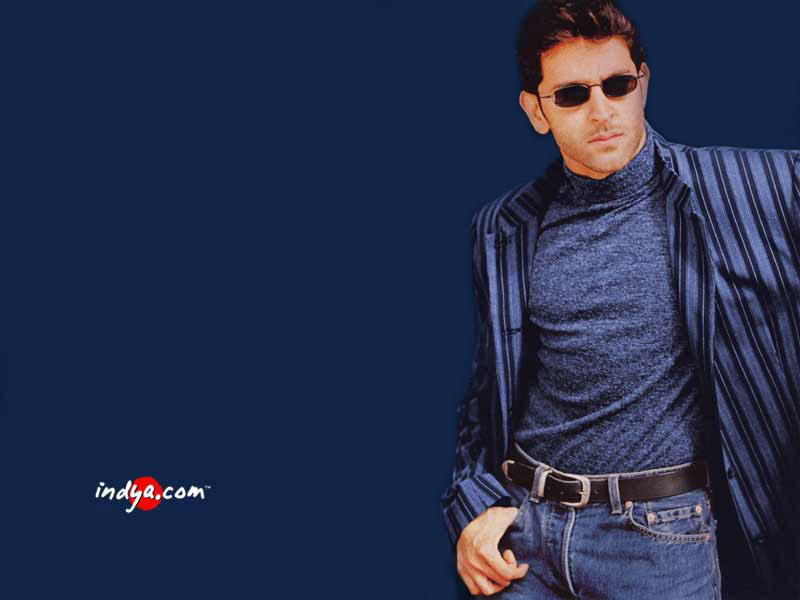 Hrithik-Suzanne wedding: the knot comes true

SUBHASH K. JHA
MUMBAI, DECEMBER 26, 2000, 1330 HRS IST: The dream wedding of the year 2,000 is over. But the heady aroma of champagne and holy incense lingered as the bone-weary baraatis returned home to Mumbai after three days of festivities and celebrations in the Garden City of Bangalore.
News about an impending wedding of Indias heart-throb and his girlfriend began to filter into the media in November last. Hrithik himself had shared with this correspondent that the wedding would be in January. As soon as I can find the three days needed to go through my wedding, he had said. A fortnight later his father Rakesh Roshan declared that the wedding would be in December or Januaryan evident ploy to avoid the press.

However, by the second week of December the wedding date was a common knowledge among the film folks. Even at the Akshay Kumar-Twinkle Khanna engagement ceremony the topic of discussion was the Hrithik-Suzanne wedding on December 20. And the commonly asked question was: Hey, are you invited?

The film industry was ignored as far as the guest list of Hrithiks wedding goes. Except for close buddies like Rishi Kapoor, Jeetendra, Prem Chopra, Sujit Kumar and their families and Zarines friend Dimple, no one from the film industry was invited.

Parents ecstatic
Papa Roshan, who returned to Mumbai from Bangalore a day before his son and daughter-in-law, said: If I had invited people from the industry the guest list would have run into at least 4,000. So we just stuck to close relatives and friends. An ecstatic Roshan said the wedding went off very well. It was a perfect wedding. It was Duggus love for Suzanne that made it so perfect, says Roshan.

The baraati landed in Bangalore on December 18. The firstget-together was at the bride-to-bes uncle Feroz Khans farm house,a 10 minutes drive from the Sanjay Khans new holiday resort Golden Palm where the wedding guests were lodged. Over a 100 hand-picked guests showed up for the bash at Feroz Khans place.

On the 19th morning Roshans relatives and close friends fromMumbai began to arrive at the Golden Palm. The guests from Mumbai included 15 of Hrithiks friends, mostly from outside the film industry. Director Yash Chopras son Uday, whos Hrithiks best friend, also arrived on 19th December.

Suzanne and Hrithik were engaged at the Golden Palm resort on the evening of 19th December. Earlier in the day the Mehndi ceremony was organised by the women-folks in one of the banquet halls at the Resort. The men huddled together at the exquisitely designed Nostalgia Bar (constructed like an elaborate film set with pictures of cinematiclegends adorning the walls) for drinks. The post-engagement party went on until the morning.

And guess which couple danced the hardest? Of course Hrithik and Suzanne, says Rakesh Roshan. The wedding festivities started early on the D-day on December 20. It started with a pooja for Hrithik at 9 am followed by a Haldi ceremony. The baraat procession began at 6.30 pm with the bridegroom riding a horse and 70 baraatis on toe, dancing joyfully in the sprawling acres of Sanjay Khans Spa.

The resort, constructed like a miniature township with every inbuilt facilities, was lit up for the wedding like Diwali. The elaborate security, organised by the Roshans themselves, was tight. As the bridegroom and his baraatis approached the venue of the event, the band played songs from Hrithiks films. Hrithik proceeded to cross a bridge taking him to a dream dais in the middle of the swimming pool.

The dais was beautifully and intricately decorated. Once on the dais, the couple signed the marriage register amid chanting of best wishes and wedding songs. Hrithik made a short speech declaring Suzanne to be his lawfully wedded wife. Suzanne too announced, in whispers, that she accepted Hrithik as her husband.

Soon the sky lit up with fireworks and the grand marriage was over. The guests dispersed to party all night as the local band played on. Hrithik and Suzanne danced to a song composed specially for them while the guests watched them like excited spectators at a film shooting.

The Bhangra-pop singer Sukhbir had been especially flown in to Bangalore from Dubai to perform on the 19th and 20th December. A belly dancer was also called from Israel. The post-wedding party went on until 4 in the morning. The bidaai followed, after which Hrithik and Suzanne proceeded to the wedding suite.

It went off fantastically well. As you know, all of us are a very close-knit unit of family and friends. All the guests knew each other well and everyone from the age of 7 to 70 had a great time, says Rakesh Roshan.

Q: What is you attitude towards money?
A: Money is very important. Everything revolves around it whether you like it or not. For most people money becomes the end in itself. People want money for the sake of having money. For me its a means to an end. I want to work hard and make a lot of money.
What happens is that when you start working and making money, slowly and steadily money becomes an end in itself because you tend to want more and more. There should be a point where you draw a line. There has to be a demarcation where your family life gets the importance it deserves, apart from your career and professional life. People get so involved making money, that they forget what they are making them for. I just hope and pray that I should not fall in that kind of trap because it is very easy to do that.

Q: What do you spend on?
A:I spend on food a lot. I love eating. A lot of money also goes to people who come to the gate of my house. Somebody wants to go to his village, somebody somewhere... I know they are making me a fool, but I give them the benefit of doubt. I want to stop doing that because you never know who is honest and who is not. Most of them would be going to some aunty's place and having liquor I see it as if God has given me so much, why shouldnt they also get some.

Q: Do you believe in charity?
A: You know its a very weird thought. I dont think it is charity. I think money is meant for them and not for me.

Q: Is this attitude to do with your upbringing?
A: Dad has come from a modest family. He has travelled when he didnt have money for rickshaws or bus to go to work; he used to hitchhike. He has seen the hard side of life. When I heard his stories, we as children have imbibed the sense of empathy and compassion for people who have less. That's where it comes from. Dad has seen the worst of times.

Q: Any investments?
A: It is very important to invest. But right now I havent looked at any possibilities. I would not like to invest in shares; I dont believe in making big money from them. Investments are very important because you need to set aside some, because tomorrow is uncertain. You may not have what you have today. If you spend all that you earn, then there is a possibility that there will be trouble in the future. Of course there are health factors that we have to prepare for. There might be unforeseen circumstances that might arise in the next five-minute or five years-- so it is very important to invest now.

Q: If you were suddenly given Rs 2 lakh what would you do?
A: I'll give it away. Its too easy money-- I dont need it now. So I will give it to someone who needs it more than me.

Do you like films?
A: I love films. I love the movie business, and every aspect of it. It is very inspiring. You are expressing feelings and dreams. It is so much than just a nine to five job. Of course it has a flip side-- its the toughest life. The kind of work we do here is unbelievable. I have seen dad work in freezing temperatures. Once, we were in Tolong where it was minus 3 degree centigrade and he was suffering from 104 degree centigrade fever.
He was working from 5 a.m. to 2 am the next day, every single night. He went without food and water, working like a dog. I could do lot of things like Dad. I could challenge myself but I would never be able to work like him.
So the flip side of the movie business is that if you flop as an actor, you lose all your sense of individuality People dont reject a product; they are rejecting you. That kind of rejection is very hard to get up from. You really feel rejected. But what I enjoy is that it is the survival of the fittest. I enjoy the fact that nothing is for certain. That if you deserve it you will get it. If you work 200 hundred per cent and still haven't got it, maybe it required 300 per cent! You just didnt give enough. Thats my motto that I kept with me since I joined the industry.
Q: Will that you make you happy?
A: Yeah, its a selfish thought in a way. I believe anything that a man does is selfish in a very absurd and abstract way. Giving money away makes me feel good; so I am actually doing it for selfish reason. But its not bad selfishness; it's going to help someone else. It makes me feel good. You have to be a good person to fell good about it.

Q: Any favourite directors?
A: I dont have any favourites, naming a few would be totally unfair.

Actresses?
A: I can think of only my contemporaries like Aishwarya, Kareena, Karishma, Kajol, and Manisha. I am looking forward to working with all of them. Currently I am working with Preity Zinta. She is great person to work with. She has this bubbly persona that lightens up the whole working atmosphere.

Q: How was it working with Amisha Patel?
A: It was great. She comes completely from outside the industry and yet has managed brilliantly. She is definitely born to act. We were very comfortable with each other and ended up being good friends. She adjusted to certain things I wanted to do and vice versa. She never has any airs of coming from a very rich family; she is very down to earth. She has done a good job in Kaho Na Pyar Hai and she is very talented.

Q: Any musical genes?
A: Yes, music plays a big part in my life. I like all kind of music--classical, pop, trance, disco, whatever. I am a big fan of my grand dad's music and his films like Taj Mahal. I am also a big fan of my uncle Rajesh Roshan. Every year on my birthday, he would gift me a musical instrument. Even now if you give me an instrument whether it is a harmonium or guitar, all I need to know is the seven surs-- sa, re, ga, ma-- the moment I know them, I sit down for fifteen minutes, and I can play any tune you want.

Q: Why havent you had formal training in music?
A: I never had the time. I had taken music classes from my grandmother. For acting you need to have very good control over your voice, the way you modulate your voice. I took the classes from the perspective of an actor. Playing music was never a passion; but I have played almost all the instruments.

Q: What makes you happy?
A: Tough question. What would make me happy is to reach a point in life where I can look back with a smile and say its all worth it.

Q: What makes you unhappy?
A: Oh, my god, I could go on and on! I am happy which means a lot.

Q: What motivates you?
A: I dont know where it comes from. I think its growing up with Dad and seeing the kind of person he is and how motivated he is and how hard he works-- I think that sub-consciously motivates me.

Q: Have you changed over the years because of the kind of adulation you have?
A: Nobody has told me that I have become different. I am not that kind of a person-- I am very transparent. Not the type as made out by the media. Its sad people believe the written word. I have been appreciated to a great degree, sometimes unprecedently. I realize, but I attribute this to my timing, good luck, and my hard work. There is nothing more to it. There is nothing special about me. Anybody could have been in my place and worked as hard and have got the same kind of breaks and would have been as popular.

Q: But isnt what is written about you based on the fact that it's the kind of person you are?
A: But you see again everybody right now is good to me so I become this perfect personality. Only the good points are out-- all my good shots are in my first film. The bad side is not yet exposed so thats why I look unreal. But soon I'll have my other films in which they will see me as something they might not like.

(Source : www.india-today.com)