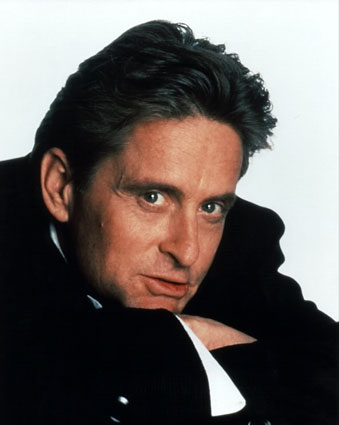 CLICK ON THE PICTURE TO GO TO MICHAEL DOUGLAS HOMEPAGE

PROFILE

(Source : www.celebritywonder.com)

Name: Michael Douglas
Birth Name: Michael Kirk Douglas
Height: 5' 9''
Sex: M
Nationality: American
Date: September 25 1944
Birth Place: New Brunswick New Jersey
Occupation: actor producer director
Education: Choate School
University of California at Santa Barbara (gradueated in 1968; BA)
American Place Theatre
Husband/Wife: Catherine Zeta Jones (actress; married November 18 2000) Diandra Douglas (producer; 1977-1998; divorced)
Relationship: Brenda Vaccaro (actress; 1970-1976) Elizabeth Vargas (TV newscaster)
Father: Kirk Douglas (actor; producer; married in November 2 1943; divorced in February 1950)
Mother: Diana Douglas (aka Diana Dill; actress)
Brother: Joel Douglas (producer; born in January 23 1947) Eric Douglas
Half Brother: Peter Vincent (mother: Anne Buydens; producer) Eric Anthony(mother: Anne Buydens; actor)
Step Mother: Anne Buydens
Son: Cameron (mother: Diandra Douglas; born 1979) Dylan Michael Douglas (mother: Catherine Zeta Jones; born in August 82000 at 5:52 pm)
Claim to fame: as Jack Colton in Romancing the Stone (1984)


FAN MAIL:
C/O Creative Artists Agency
9830 Wilshire Blvd
Beverly Hills Ca 90212
USA

C/O Creative Artists Agency
1888 Century Park East
Los Angeles Ca 90067
USA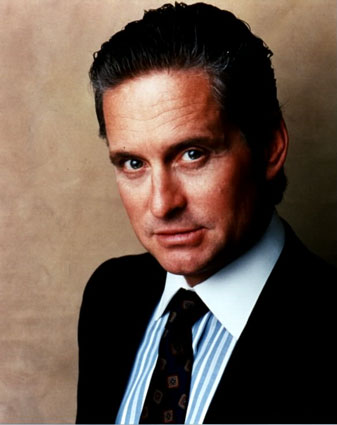 BIOGRAPHY

(Source : http://mrshowbiz.go.com)


IKE some, but by no means all, of the more mature "Movie Star" movie stars, Michael Douglas is an impressively cool character. Maybe his composure comes from being the son of cleft-chinned screen legend Kirk Douglas (whom he favors in looks, incidentally). Or maybe his easygoing frankness is merely the result of having come of age in the '60s, when people were encouraged to "let it all hang out." In any case, Douglas, as one of the high-profile elder statesmen of Hollywood, now has the luxury of looking back on an illustrious and varied career.
Certainly growing up in the shadow of Tinseltown mammoth Kirk Douglas cannot have been easy. Kirk and his British actress wife, Diana Dill, divorced when Michael was just 5, and the boy and his younger brother Joel subsequently went to live with Mom in Connecticut; she eventually remarried. Douglas remembers watching his famous dad's chiseled features on TV, where the elder Douglas starred in 20,000 Leagues Under the Sea, and in movie classics like Lust for Life (1956), in which he memorably played the emotionally disturbed painter Vincent Van Gogh. Probably the most important lesson young Michael learned from Dad was how to be a gracious celebrity. "The biggest advantage was that I got to see my father handle himself in public situations as a movie star. And I saw him with his fellow movie stars, acting like real people. That was a useful lesson," he says.

After graduating from the exclusive Choate Rosemary Hall boys school in Connecticut, Douglas enrolled at U.C., Santa Barbara, and majored in drama. He later came back to the East coast to continue his drama education at New York's American Place Theater, where he studied under acting coach Wynn Handman.

Although he managed to score roles in a handful of small features, the handsome young actor first gained wide and appreciative notice when he starred on the small screen as Inspector Steve Keller alongside veteran actor Karl Malden in the '70s police show The Streets of San Francisco. Douglas stuck with the series from 1972 to 1976, and his hip charm and good looks were in large part responsible for the show's success, a fact proved by the quick foundering of the series after he was replaced by pretty-boy cipher Richard Hatch.

While starring on Streets, Douglas made a foray into what would prove his consuming love for many years: producing. At 31, he pulled off a major coup, when he co-produced the madcap 1975 film adaptation of author Ken Kesey's lunatic-ward nightmare One Flew Over the Cuckoo's Nest, which grabbed the five top Oscars, including one he accepted for Best Picture. He also upstaged Dad, who had held the film rights for years but couldn't get the project off the ground?not to mention ever manage to win a Best Actor statue. (Michael would get his acting statuette in 1987, for Wall Street.)

In addition to an unforgettable, Oscar-winning turn by Jack Nicholson in the lead role of cagy antihero Randle Patrick McMurphy, Cuckoo also featured a little-known actor named Danny DeVito, who had been a close friend of Douglas' for some years. In fact, the two men had been roommates in New York when Douglas was studying drama and DeVito was getting a little work here and there as an actor and otherwise making films on the side. When asked what kind of a roommate he was for Danny, Douglas replies, "Sick. Messy. Perverted." The friendship stuck, and blossomed into a many-years-long collaboration that yielded such movies as the wildly popular Indiana Jonesy adventure/comedy Romancing the Stone (1984); its sequel, Jewel of the Nile (1985); and the fabulously unpleasant black comedy The War of the Roses (1989), all of which paired Douglas to good effect with the sultry Kathleen Turner.

Smart, smooth, well-connected, and driven (often to excess), Douglas has produced many notable films, including the nuclear meltdown nail-biter The China Syndrome (1979), which he also co-wrote and starred in (incidentally, the film was released the very same week as the Three Mile Island accident?that kind of made people wonder); both Romancing the Stone movies; the Kiefer Sutherland-Julia Roberts thriller Flatliners (1990); The Ghost and the Darkness (1996), in which he and Val Kilmer battle man-eating lions; filmmaker John Woo's spectacularly action-packed Face/Off (1997); and Francis Ford Coppola's courtroom drama The Rainmaker (also 1997).

While he has exerted considerable influence behind the scenes as exec producer, it is in his acting roles as the frustrated victims of modern times that Douglas has made his most memorable marks upon the popular consciousness. He's played a kind of Everyman-at-the-mercy-of-the-world in borderline reactionary pics like 1987's Fatal Attraction (in which he's the victim of a man-eating Glenn Close), Basic Instinct (victim of a man-eating, bisexual Sharon Stone), Falling Down (victim of liberal government programs and social diversity), and Disclosure (victim of a sexually voracious and opportunistic Demi Moore). In the 1997 thriller The Game, Douglas shows us what straight-white male corporate America looks like when it's running for its life.

A resolute Democrat himself, Douglas took on a distinctly nonvictimized role when he played President Andrew Shepard in Rob Reiner's charming romantic comedy The American President (1995). In 1998's A Perfect Murder, a loose remake of Alfred Hitchcock's 1954 suspense classic Dial M for Murder, his powerful middle-aged-man persona takes on a sleazy sheen when he plots to murder his rich, young wife. Interestingly, Douglas has known Gwyneth Paltrow, who plays his hapless bride in the film, since she was a little girl, as he has long been a friend of her parents, Bruce Paltrow and Blythe Danner. Also interesting was his life-imitates-art courtship of Welsh import Catherine Zeta-Jones, who is 25 years his junior the couple welcomed a son, Dylan Michael, in August 2000, and married several months later in a lavish $2 million ceremony at New York City's famous Plaza Hotel.

Douglas' own family has weathered some difficult storms in recent years. Son Cameron (with former wife Diandra Luker) entered a clinic for substance abuse, and his half brother experienced some problems with the law. Perhaps hardest of all to take, Douglas' granite-visaged dad suffered a severe stroke in early 1996. Though the octogenarian recovered well from the attack, witnessing the old actor so masterfully tackle the challenge of aging has inspired some serious reflections on mortality in his eldest son: "This has taught me that there are innumerable ways of having a life rather than retiring," he says. "He's a tough old guy."

As actors go, Douglas is relatively low-key and modest, preferring to look at his career in terms of striving to make quality films rather than as collecting a series of star-making roles. "Some actors really just look for their part, and turn the pages [of the script] and see how their part is," he has said. "I like movies. I want to be in a good movie. I try to see what my responsibility is to the movie, because if the movie works, then we all benefit."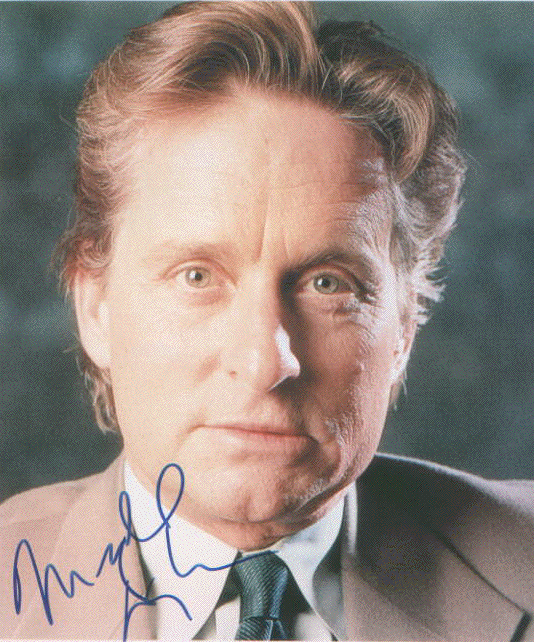 BIOGRAPHY

(Source : www.starpulse.com and www.biography.com)


Actor, producer, director. Born Michael Kirk Douglas, on September 25, 1944, to actor Kirk Douglas and mother Diana Dill. He is the brother of Joel, Peter, and Eric.
Douglas studied drama at the University of California, Santa Barbara, and in New York at the Neighborhood Playhouse and the American Place Theatre. He began his Hollywood career as an assistant director on some of father Kirk Douglas 1960s films. After roles in several TV dramas, he gained notoriety by costarring with Karl Malden in the 1970s television series The Streets of San Francisco (ABC, 1972-77). He also directed two episodes of the show. In 1975, Douglas was executive producer for Milos Formans One Flew Over the Cuckoos Nest, which won five Academy Awards including Best Picture. In 1979 he coproduced and starred with Jane Fonda and Jack Lemmon in The China Syndrome.

Douglas landed his first leading man role in Romancing the Stone (1984), portraying Jack Colton, an Indiana Jones-type adventurer. This successful teaming of Douglas with Danny DeVito and Kathleen Turner led to a sequel, The Jewel of the Nile (1985). The three worked again in The War of the Roses (1989), a black comedy about an ugly divorce.

He made two films in 1987 which reflected a much darker side: Fatal Attraction, in which he played an adulterer stalked by an ex-lover (played by Glenn Close); and costarred in Oliver Stones Wall Street as the corporate raider Gordon Gekko, whose trademark slogan is Greed is good. Douglas won a Best Actor Academy Award for this role. In 1992 he continued exploring his dark side by costarring with Sharon Stone in the thriller Basic Instinct.

In 1988, Douglas formed a production company, Stonebridge Entertainment, Inc., which produced Joel Schumachers Flatliners (1990) and Richard Donners Radio Flyer (1992). In 1993 he produced Made in America, then starred as a sexually harassed man in Michael Crichtons Disclosure (1994), and as the titular Chief Executive Officer in Rob Reiners The American President (1995), costarring Annette Bening.

He signed a development deal at Paramount in 1994, which included The Ghost and the Darkness (1996), The Game (1997) and A Perfect Murder (1998). He executive-produced The Rainmaker (1997) starring Matt Damon, and John Woos action film Face/Off (1997). Douglas earned critical acclaim for his starring role as a rumpled novelist and English professor in Wonder Boys (2000).

Douglas married Diandra Luker in 1977. They had one son, Cameron, but were separated in 1995 and later divorced. Douglas married the Welsh actress Catherine Zeta Jones on November 18, 2000; the couple have a son, Dylan Michael Douglas, born in August of 2000. In late 2000, they costarred (without sharing a scene) in the Oscar nominated film Traffic.

Douglas is active in promoting human rights and serves as a United Nations Messenger of Peace.

Interview

(Source : www.whyy.org)

Interview Excerpts:
Stoner: You and I have been conducting interviews through several films where you've been battered by weird circumstances (FATAL ATTRACTION, BASIC INSTINCT, FALLING DOWN, DISCLOSURE, WAR OF THE ROSES, etc.). Now, here we are again. THE GAME continues.

Douglas: The game continues, Patrick. I keep getting myself into these things, don't I?

Stoner: You do, indeed. Does the constant immersion in paranoid fantasies tend to color your view of life?

Douglas: You know, I think it does, sometimes. You begin to see powerful forces everywhere, beyond your control. [laughs] You begin to wonder about your sense of paranoia after a while.

Stoner: Yet, you do it over and over again.

Douglas: Well, yes, I did do it again, but this was such a good script and so unique. You're never sure what is really happening, and just about the time you think you've got it figured out, it skips off in a different direction. I don't know about you, Patrick, but I don't see many interesting scripts these days. Most of what comes across my desk -- well, it's like I've seen it all before, some of it from one film, some of it from another film. You know?

Stoner: I do, but speaking of your desk: You've been a producer as well as an actor for a long time [he won an Oscar as the producer of the Best Picture in 1975 for ONE FLEW OVER THE CUCKOO'S NEST], but you're just a hired gun in THE GAME.

Douglas: Just a hired gun, right. I need that from time to time. It's good to be able to concentrate JUST on your acting. In this case, we shot for 103 days, and I was there every one of those days. That's plenty. You can work on your character and enjoy working with the other actors -- like Sean [Penn, his brother in THE GAME]. He was so good -- so giving. It was a pleasure to work with him.

Stoner: I didn't know Sean very well, except by reputation. Then I interviewed him and was surprised to find a serious, sensitive guy who really cared about his work.

Douglas: And that's what I found him to be, in any case. I mean, he likes a good time, but he takes his work seriously. And, as my brother -- you know, I'm looking at him, that cleft in his chin, just like mine, and I'm thinking, "Boy, Dad really DID get around, didn't he?"

Stoner: [laughs] I've never thought about that! That was bad, Michael!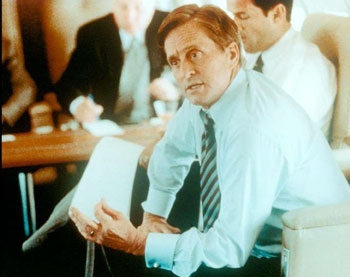 An Interview with Michael Douglas

(Source : www.playcenter.com)

If you think of Michael Douglas, what probably comes to mind first are those alpha-male roles that helped make him a big star in the '80s and '90s: the adventurer of Romancing the Stone, the straying husband of Fatal Attraction, the successful businessman (and almost straying husband) of Disclosure, and of course his Oscar-winning role as ruthless tycoon Gordon "Greed is good" Gekko in Wall Street. But Douglas has been quietly shedding his big-time-man roles for those with more complexity, humor, and--dare we say it?--fallibility. In The Game, he was a man haunted by mortality and tortured by an all-too-real and deadly interactive game, and as The American President, he was the most friendly, down-to-earth, and romantic leader of the free world you'd ever hope to meet. And in 2000, he changed his onscreen persona radically, as the pothead professor of Wonder Boys and, in Steven Soderbergh's Traffic, as the conflicted drug czar who finds out that his teenage daughter is herself a drug addict. It's the most recent in a line of performances that have cemented Douglas as both a box-office movie star and an actor capable of multifaceted performances. Amazon.com's Jenny Brown talked with Douglas about the challenges of making Traffic, working with Catherine Zeta-Jones (whom he married in November), and playing two wildly disparate characters in the same year.

Amazon.com: One of the really interesting things about your character is that, as drug czar, you're the only person to actually step into every single location, giving you a unique perspective on the situation. How did that affect you?

Douglas: My character, Judge Wakefield, was a little bit of a device, you know, for the film, in that entering this new job as drug czar, I had to be probably a little more innocent and unknowing than somebody normally going into that job, so that people could explain to me what was going on, and thus the audience could understand. So in part of my indoctrination as the new drug czar, I was brought down to the San Ysidro border, which is between San Diego and Tijuana, in which an actual federal agent was an actor... pretending to be an actor, giving me the tour. And my questions [to him] are hopefully some of the questions an audience member would want to ask. I was so impressed at what good actors they were until I realized that most of them had been working undercover at different periods in their lives, and if that's not the best acting in the world, I don't know what is.

Amazon.com: So then a lot of those scenes must have had a fair amount of improvisation.

Douglas: They were improvised scenes, which is always fun for an actor, and was a sign of Steven Soderbergh, our director, of the kind of confidence that he had in his actors. I have a cocktail scene in Georgetown in Washington, D.C., where we had actually many real senators, congressmen, opinion makers come in and give me their advice as to how I should behave in my new role.

Amazon.com: Did you learn anything new from all of them?

Douglas: Well, I learned that with the billions of dollars that our government is spending to fight this war, that the enemy, the drug cartels, actually have even more financial resources. I learned that as much as we're talking about corruption on the south of our borders, that corruption now is a big issue within our borders, within our agencies. It's something that is of deep concern because of the money involved. I learned that as much of the super new technical equipment that we have, that the cartels even have more and better equipment.

Amazon.com: I heard that this role was originally intended for Harrison Ford. What is it like to step into a role that was crafted for someone else?

Douglas: Actually that wasn't the case. I was offered the role first, and reluctantly I passed. I was the first one who Steven came to for a part in this. And I thought that as much as I loved the script, I just didn't think the Judge Wakefield role was really developed enough, and it was sort of passive. And I guess because I think of Steven as such an auteur, I didn't even consider talking about rewrites. So after I passed, Steven went to Harrison, and Harrison with his people worked on the script with Steven and actually developed it. So later on when he had offered the script to Catherine, my bride, I saw it again and I said, boy did I make a mistake! It really had turned into a great part. And then at that time Harrison for whatever reason decided not to do it, and then I came back onboard.

Amazon.com: Speaking of Catherine, was there any apprehension about working with your spouse-to-be?

Douglas: Well, we had no scenes together. So my only slight apprehension was that she was six months pregnant when she was doing this role, and so I hung out with her as a concerned future father-slash-husband. But she was fine and had no problems. But we shot her scenes first so that she would be safe and sound.

Amazon.com: I think it's very interesting that your other film this year, you spent a lot of time in Wonder Boys in a bathrobe getting high.

Douglas: Right!

Amazon.com: And in this one you're very clean-cut, antidrugs.

Douglas: I think probably both pictures, if you looked at them, somewhat have a sense of antidrugs as far as abuse. My character in Wonder Boys finally throws his pot away in the end to try to clean up this rambling life he's got. And I think, you know, Traffic... You know we just had a screening of Traffic for U.S. Customs and the DEA, and they liked it a lot.

Amazon.com: I've heard that the film shoot was very fast. How was it different from working on other films?

Douglas: Well, the speed. By shooting hand-held. By the director also being the cameraman, and in most cases just using available light--very seldom did he actually pull out lights--it eliminated a whole bunch of crew members around you, and just allows the actors much more freedom in acting. They don't have to worry about their concentration. For instance, I'm talking to you right now and over your right shoulder is a big black box camera, which forces me to have to concentrate more closely on you, not to be distracted by a camera. With Steven, because he uses longer lenses, it allows the camera to get back much further and it creates a safe environment for the actors to work in. And then the fact that he only does, at the most, three takes makes you rise to the occasion and know that you're going to get it right.

Amazon.com: I'd love to talk for just a moment about Wonder Boys. Did you help develop that film?

Douglas: I was just an actor for hire. Scott Rudin, one of the two producers, optioned the book, and Steve Kloves, a wonderful screenwriter, who did The Fabulous Baker Boys, wrote it. And then they came to me and I looked at it and thought, you know, this is great! I love it. And then found out that Curtis Hanson was free, and then we got together.

Amazon.com: It's interesting you had another year when you had two major films come out, in 1987 with Wall Street and Fatal Attraction. Does that put more pressure on you, having two well-received films out at the same time?

Douglas: No, it's... for me it's a kind of a reaffirmation about your choices. I mean, mind you, these both were pictures that I had to take a dramatic cut in salary in an effort to get these pictures made. And it just gives me the confidence again about making the right choices; going with the material with talented directors; and proud of the fact that the two pictures I've chosen to do are being received as well as they are.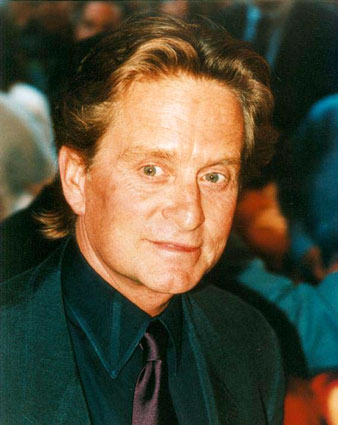 IT'S A WONDERFUL LIFE FOR MICHAEL


(Source : www.lineone.net)

Michael Douglas is making the most of his 50s. Not only has he reinvigorated his acting credentials with his first comedy in 15 years with Wonder Boys, but he's due to marry Catherine Zeta Jones next month.

At 56, Douglas seems to be putting both his dark screen roles and somewhat rocky private life behind him. He also has another chance to be a caring father to his baby son by the Welsh actress, Dylan.

The actor and producer already has a 21-year-old son, Cameron, from his marriage to first wife Diandra, but he admits the pressures of his film career interfered with fatherhood the first time around.

"I wasn't really there for Cameron. I was trying to forge a career and my parenting suffered. This time I can focus much more on my child," says Douglas.

Much has been written about the 25-year age gap between Douglas and Zeta Jones, but he insists that it is not an issue between them.

"The age difference disappeared very fast in our relationship. Catherine and I don't even think about it any more," he declares.

Anyway such gaps are not new in Hollywood, he adds. "Mike Todd was 25 years older than Elizabeth Taylor when they married in 1957."

Douglas - whose first marriage was plagued by reports of his cheating - says that taking the plunge again is a sign that he's serious about his commitment to Zeta Jones.

"I have to be respectful to someone who has not been married before. To the various families it's a sign that someone is serious." From his first meeting with Zeta Jones at the Deauville film festival in September 1998, he seems to have had a strong feeling that she might be a successor to Diandra, from whom he split in the early 90s and divorced last year.

His famous chat-up line to her when they went out for the first time, was "I want to be the father of your children".

They're due to tie the knot in New York on November 18 and it's rumoured that they've already drawn up an agreement where she'll get a five million dollar settlement if he's caught being unfaithful.

Exclusive pictures of the wedding would sell for a fortune. Photos of the couple's new-born son were sold for one million dollars, yet Douglas accepts the fishbowl intrusion. "Everybody's private life has been exposed ever since tabloid journalism began. I've never had a problem with it. But paying people to spy, that's really tasteless."

A calmer and happier Douglas is reflected in his latest screen role. After building a career playing dark, flawed men in box office hits like Fatal Attraction, Wall Street and Falling Down, he has taken a gentler role in Wonder Boys which is his first comedy for 15 years.

It's a mellow comedy-drama about a creative writing teacher, Grady Tripp, played by Douglas who is struggling to complete his follow-up to his successful novel. Tobey Maguire plays a talented student poised to overtake Tripp while Katie Holmes is an infatuated student.

Just to complicate matters, his mistress, who also happens to be the wife of a colleague, announces she's expecting his child.

The film is based on Michael Chabon's novel and is set in and around a university English department. It's directed by Curtis Hanson of LA Confidential fame.

"To play Grady Tripp I asked Michael to gain a lot of weight and generally look dissipated. This shows he's one of the least vain people in the business," says Hanson.

The film looks at the paralysing fear that often accompanies early success - of being a wonder boy. In this case the success is a hit novel written seven years before. The film is set over one crazy weekend when his character is forced to turn his life around.

Douglas, the son of screen legend Kirk Douglas, remembers the time when he was a wonder boy after the winning critical acclaim for producing One Flew Over the Cuckoo's Nest in 1975. "I remember all of us saying, 'Well, it's all downhill from here'," he laughs.

What he liked about Wonder Boys was it was a distinct change of pace. "It was a chance to do comedy again and stop playing all those nasty old guys. I really feel blessed that there are people who give me these chances."

It's certainly different from playing the victim of a predatory woman in films like Disclosure, as this time round he's a pot smoking intellectual. "I loved the whole degenerate part of the character. It has this early 60s Five Easy Pieces feel.

"One nice thing I started thinking about with this role was liberal arts colleges. They haven't really changed very much. They have this sort of isolated, sanctuary feel and you have this unique relationship between faculty members."

As an actor he's not in the Tom Cruise and Bruce Willis league, and to some extent Douglas regrets that. "I'd like to have made more films. There's no better gig than being a major star."

But he has always been busy as a producer. Recently he bought the rights to Art Con Of The Century, a film based on a major art-forgery scandal. His production company Further Films will also release the comedy One Night At McCool's soon.

But his next appearance on screen is certain to have a certain frisson about it - he'll appear alongside Zeta Jones in the drugs drama Traffic.