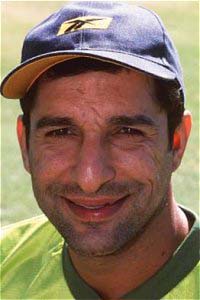 CLICK ON THE PICTURE TO GO TO WASIM AKRAM FAN SITE

Wasim Akram

Born: 3 June 1966, Lahore

Major Teams: Pakistan Automobiles Corporation, Lahore Cricket Association, Lancashire, Pakistan International Airlines, Pakistan.

Known As: Wasim Akram

Pronounced: Wasim Akram

Batting Style: Left Hand Bat

Bowling Style: Left Arm Fast

Test Debut: Pakistan v New Zealand at Auckland, 2nd Test, 1984/85
ODI Debut: Pakistan v New Zealand at Faisalabad, 2nd ODI, 1984/85

Wisden Cricketer of the Year 1993

Profile:
The all-time great


Yet another in the long line of Pakistan's precocious cricketers, Wasim Akram was being compared to legendary Australian left-handed quickie, Allan Davidson, even before he had played his first Test. By the time he played his 100th Test, he had established himself not only as the greatest southpaw ever, but also as one of all-time greats of the game.

Brought out of the wilderness by that astute spotter of new talent, Javed Miandad, he took to the big league as easily as a fish to water. In only his second Test against New Zealand at Dunedin, the prodigy had a haul of 10 wickets, becoming the youngest bowler to achieve the signal honour.

He was lightning fast then, revelling in his youth and was also quick to learn all the tricks of the trade from his mentor, Imran Khan, who was generous in imparting his knowledge to the young protege. Under the master's benign gaze, he quickly fashioned his lethal swinging yorker, deceptive variation of pace, the one moving sharply into the right-handed batsman as well as his natural away-swinger slanting across the right-hander, and employed this formidable array to telling effect. He was soon being singled out as being among the all-time greats of bowling.

After 15 years of intense international cricket, both for his country and in county cricket in England, his pace may have slowed down a fraction but his penetration and ability to beat the bat almost at will remains unrivalled. And he has a glorious record to show for his efforts. Wasim Akram is the only bowler to have captured more than 400 wickets both in Test and one-day cricket. The only one to have passed 400 in the limited-overs cricket, he also has a brace of hat-tricks in both forms of the game.

As captain, his greatest disappointment was in not being able to emulate the feat of Imran Khan and winning the 1999 World Cup, bowing out to Australia in the final: a case of so near, yet so far. Yet another major reverse also fell in late 1999, when with him leading the side Down Under, Pakistan was blanked out by the Aussies in the short rubber.

To this greatest of left-handed bowlers the game has known, another letdown must be his inability to establish himself as a genuine all-rounder in the class of Imran. Despite flashes of brilliance, as in the '92 World Cup and in the Sheikhupura Test against Zimbabwe, when he made 257, he has not fulfilled his tremendous potential - and cricket is the loser for it.

The match-fixing scandal that has haunted him for nearly half a decade is also a blot on an otherwise brilliant career.

Despite these, Akram holds his own in the pantheon of all-time greats by the sheer dint of his performances, his unmatched versatility and guile. - Agha Akbar

(Source : www.cricket.org)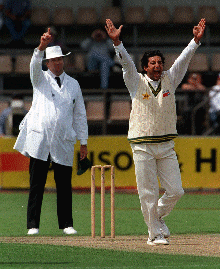 Wasim Akram--- The Sultan Of Swing

(Source : www.indiatimes.com)

"He is the greatest left arm fast bowler the game has ever seen," said Don Bradman the legend himself about Wasim Akram. And how true the legend was as there has been no other bowler with such an unusual and quick arm action who has terrorized batsmen all around the world for over 15 years. Wasim Akram, by becoming only the 4th bowler in test history to take 400 wickets and the only one to have taken 400 wickets in both forms of the game undoubtedly is one of those phenomenons, a freaked genius, that cricket fans and spectators the world over have been fortunate to witness for well over a decade.

Wasim Akram is one of the many talented cricketers, Pakistan has thrown up on the World Stage inspite of it not having an organized cricketing structure. And the circumstances in which he made his debut against New Zealand quite explains this fact.

In 1984 before his rather unexpected debut in New Zealand, an 18 year old Wasim took part in a training camp in Pakistan under the tutelage of former test bowler Khan Muhammad.

His amazing bowling talent was recognized when he was selected to play against the touring New Zealand side in Rawalpindi. The match was a huge success for Wasim as he picked up seven wickets in that contest. That performance earned him the Pakistani cap as he was selected to play against New Zealand in the One day series at home.

One day debut: Pakistan vs New Zealand, Faisalabad 1984
To many people's surprise Wasim made his one day debut before his test debut which in those days was considered unusual. But he did nothing of note in that match as his 4 overs cost him quite a bit and earned him no wicket. Pakistan also ended up on the wrong side as they lost the game.

Test Debut: Pakistan vs New Zealand, Auckland, 1985
Like all aspiring youngsters, Wasim was keen to play test cricket for Pakistan and his desire finally bore fruit when he was selected in the Pakistani squad to tour New Zealand in 1985. He wasn't selected for the first test but he got his opportunity in the second test at Eden Park in Auckland.

His performance was nothing to write home about as he bagged a pair with the bat and in the only inns that he got to bowl he was carted all over the ground and returned rather unimpressive figures of 2/105 in 34.4 overs. His first wicket was of consistent opener John Wright whom he had caught by Saleem Malik for 66. Wasim had to also go through the humiliation of being in a losing side in his debut test. Pakistan were soundly thrashed by the Kiwis by an innings and 99 runs.

3rd Test: Pakistan vs New Zealand, Dunedin, 1985, Wasim makes headlines with match figures of 10/128

It was in the third test at Dunedin that Wasim showed his stuff as he grabbed 10 wickets in that test match albeit in a losing cause. Wasim returned figures of 5/56 and 5/72 in the two inns respectively. The Carisbook test also ranks as one of the best games of cricket ever played between Pakistan and New Zealand.

Wasim bowled with great pace and hostility in both the inns. Pakistan were in sight of a famous win when the Kiwis chasing 278 to win received a major set back as the big hitting Lance Cairns retired hurt and was taken to hospital with a suspected Skull fracture. When off spinner John Bracewell was caught by Tahir Naqqash off the bowling of Akram to give the rookie seamer his 10th wicket in the match the Kiwis were 228/8 and they were down to their last man Even Chatfield who had Jeremy Coney at the other end.

The Kiwis were still 50 runs shy of their victory target of 278. But Captain Jeremy Coney's unbeaten 111 along with stoic resistance from Even Chatfield who scored his highest first class score of 21 not out won the test match in dramatic style for the Kiwis.

It was a heartbreaking loss for the Pakistanis and especially for young Wasim Akram who's efforts of 10/128 went in vain. Apart from Wasim Akram that test match also will be fondly remembered by Javed Miandad who completed 5000 runs and Richard Hadlee as he got his 250th test wicket.

First notable one day performance: Australia vs Pakistan Melbourne 1985

His performances in New Zealand were already being talked about when Pakistan arrived in Australia to participate in the World Championship of Cricket. After being beaten by arch rivals India in the opening match, at the MCG, Pakistan went on to defeat Australia at the same ground courtesy some fantastic bowling by Akram.

On a bouncy wicket Pakistan did well to bat first and score 262. Chasing a formidable victory target the Aussies found the tear away Akram impossible to negotiate and were bundled out for 200. Akram snapped up 5 Australian wickets conceeding just 21 runs, a performance which earned him his first man of the match award in ODI's.

Pakistan's first series win against arch rivals India at Bangalore and against England in England: 1987

Wasim Akram played a key role in thar dramatic test match victory by Pakistan over India at Bangalore's Chinnaswamy stadium. The win also gave the Pakistanis their first series triumph over their arch rivals on away soil. In a low scoring game Wasim Akram went wicket less in the first inns but in the second inns Pakistan Captain Imran Khan was looking for early breakthroughs with the new ball as India were chasing 221 to win with well over 2 days remaining.

On a spinner's paradise , Wasim chipped in with two crucial wickets that of the explosive Srikkanth and the dependable Mohinder Amarnath. Then Tauseef Ahmed and Iqbal Qasim took over and bowled India for 204 thereby giving the Pakistanis a dramatic 17 run win.

The match will also be remembered for Sunil Gavaskar's last test inns. Gavaskar made 96 runs and looked certain to take India to victory but Iqbal Qasim had him caught at first slip by Rizwan Uz Zaman with a snorter of a delivery that kicked and bounced.

Wasim also performed brilliantly against England in England as Pakistan won the 5 test series 1-0. Both those series wins were under the Captaincy of Imran Khan and people were already talking about Wasim as the successor to Imran.

Signs up a 4 yr contract with English county Lancashire in 1987:

Wasim Akram signed a four year contract with English County Lancashire . In 1988 he played his first season for the Lancs and he also took a hattrick and scored a century.

First One day hat trick: Pakistan vs West Indies Sharjah

In 1989, Wasim Akram got his first hat trick (something that he got used to in his later years) in international cricket. In a Champions Trophy match against the Windies at Sharjah, Wasim hit the stumps of Jeff Dujon, Malcolm Marshall and Curtly Ambrose to give Pakistan a thrilling 11 run win and win the man of the match award. On a flat Sharjah wicket his figures of 5/38 in 9.4 overs were nothing short of extraordinary.

Smashes a six of the Penultimate ball against WI at Calcutta in 1989 to help Pakistan win the MRF World Series:

Although Wasim was a brilliant bowler he also possesed quite a bit of talent with the bat. He showed his batting talent as he helped Pakistan to a victory in the finals of the MRF World Series Cup when he smashed Viv Richards over the mid wicket fence to give Pakistan a dramatic win with just one ball remaining.

His 100th wicket: Pakistan vs Australia at Melbourne 1989

Wasim Akram got his 100th test wicket when he got the wicket of Terry Alderman for a duck on his first full tour to Australia. Alderman was caught by Aamer Malik to give the left arm quickie the coveted landmark. His figures of 6/62 and 5/98 in the first and second inns respectively were enough to win him the man of the match. But that was little consolation for Wasim as Pakistan lost the match by 92 runs due to a spineless first inns batting display where they were bundled out for just 107 in reply to Australia's first inns total of 223.

His first test hundred: Pakistan vs Australia at Adelaide 1990

Wasim scored his first hundred against Australia at Adelaide on the same tour in the second test. In fact that match was all Wasim Akram as he scored a fifty in the first inns and also took 5 wickets in Australia's first inns. After conceding a first inns lead of 84 runs to Australia Pakistan were struggling at 90/5 in their second dig and were looking at another defeat.

But Wasim Akram along with Imran Khan launched a massive counter attack and in the process added 191 runs for the fifth wicket and both ended up with fantastic hundreds. Wasim's 123 and Imran's 136 gave Pakistan a semblance of a hope to win that test match as they set the Aussies a target of 304 runs to win.

The Aussies managed to save the test match as they ended up scoring 233/6. Like in the first test Akram won a man of the match award for the second one too for his brilliant all round show.

His second hat trick in One day cricket: Pakistan vs Australia at Sharjah 1990

Wasim Akram became the only bowler to take two one day hat tricks when he took a hat trick in the final of the Australasia Cup against Australia in Sharjah. After going wicket less in his first 8 overs Akram cleaned up Merv Hughes, Carl Rackemann and Terry Alderman to give Pakistan a 37 run win. During Pakistan's inns he had also batted brilliantly scoring a rapid fire 49 to help them score 267.

World Cup Final 1992 Pakistan vs England at Melbourne,

By the time Pakistan went to the World Cup in 1992 in Australia, Wasim Akram was already a leading name in World Cricket and he was just about beginning to emerge from his mentor Imran Khan's Shadows. And when Pakistan entered the finals of the World Cup they were playing some high quality cricket. They had peaked at the right time and were pumped up on the day of the final.

Wasim Akram's 18 ball 33 along with a breezy 42 from Inzamam Ul Haq went a long way in stretching Pakistan's total to 249/6 from their 50 overs after Imran Khan and Javed Miandad had scored solid half centuries. But it was his bowling that knocked the stuffing out of the poms. He first had Ian Botham caught behind rather cheaply. But Allan Lamb and Neil Fairbrother were taking England to a good position after they had put on 72 runs for the 5th wicket.

With the score reading 141/4, Imran Khan the Pakistan Captain was looking for a wicket and he turned to his strike bowler Wasim Akram and told him to bowl as quick as he can without worrying about wides and no balls. It was then that Akram produced two deliveries that will be talked about for a long long time to come.

Bowling from round the wicket with a quick arm action he first cleaned up Allan Lamb when it looked that the experienced batsman was taking England to a win. And there was not much wrong that Lamb did as he was beaten playing a defensive stroke. The delivery which got Lamb first came in with the angle of delivery and just after pitching it straightened to beat the forward defensive stroke by Lamb.

The in form Chris Lewis was given a promotion because of his hitting abilities but he had very little idea about Wasim's next delivery, an inswinger that crashed into the off stump after brushing the pads of Lewis. With those two deliveries Wasim Akram left an indelible mark on the 1992 World Cup Finals which Pakistan won by 22 runs.

1993: Wasim is Trusted with the mantle of Captaincy but has an inauspicious start:

In 1993 Wasim Akram was given the reigns of Captaincy. But after moderate success in South Africa where Pakistan entered the finals of the triangular tournament which also featured South Africa, things took a turn for the worse. Pakistan were soundly beaten 2-0 in the 3 match test series in the West Indies. He was also one of the four players arrested for possessing marijuana in Grenada.

Players revolt against his Captaincy in 1994 but his performance with bat and ball is unmatched and he wins 2 man of the match awards:

Prior to the series against New Zealand in New Zealand, Wasim Akram was thrown out of Captaincy as nine of his team members revolted against his captaincy style. However he hardly allowed it to get to him as he claimed his 200th test wicket on that tour. He also put in a superb performance with both bat and ball in the first test as he grabbed 3/50 in New Zealand's first inns and also scored a valuable 35 in Pakistan's first inns.

Pakistan had batted poorly in the first inns to concede a 27 run lead to the Kiwis and Captain Salim Malik was looking for someone to put an inspired performance with the ball. Wasim Akram it was who put his hand up and responded in brilliant fashion. Wasim bowled aggressively to rattle the Kiwi batsmen and his 6/43 went a long way in helping Pakistan bundle out the Kiwis for 110 thereby setting a victory target of just 138 runs which the Pakistanis got with 5 wickets to spare.

Wasim kept up his brilliant performance in the second test at the Basin Reserve at Wellington as well as Pakistan won the second test by an inns and 12 runs. Wasim Akram once again was the star performer picking up 4/60 in New Zealand's first inns and his best test match figures of 7/119 in the second inns. It was also a memorable test match for Pakistani opening batsman Saeed Anwar as he cracked his maiden test hundred.

1995 and Akram is reinstated as the Pakistan Captain after 7 Captains are changed in a period of 18 months:

Wasim Akram was handed over the Captaincy of Pakistan once again in 1995 after the Pakistani Cricket board changed 7 Captains in a span of 18 months. Captaining Pakistan was the toughest assignment in international cricket. However his second stint didn't begin too well either as Pakistan lost 2-1 to Australia in Australia.

Retained as Captain for the 1996 World Cup in which Pakistan were the defending champions:

The Wills World Cup 1996 which was jointly hosted by India, Pakistan and Sri Lanka was a great opportunity for the three sub continental giants to taste victory in front of their home crowd. Wasim was appointed as the Captain for the World Cup but he got injured in Pakistan's last league match of the tournament against the Kiwis at Lahore. He wasn't able to gain fitness in time and opted out of the crunch quarterfinal encounter against India at Bangalore and Pakistan lost that match. Fanatical Pakistani supporters still believe that Akram faked an injury and recd a large sum of money in return.

1996: Leads Pakistan to a series triumph over England in England and also took his 300th wicket:

After dropping out of the one day tournaments in Singapore and Sharjah, Wasim led Pakistan to a series win over England in England. Pakistan won the three test series 2-0. The final test match at the Oval was extra special for Wasim as Pakistan won that test match handsomely and Wasim also picked up his 300th wicket when he disturbed the furniture of England tail-ender Allan Mullaly to finish off England's second inns. Pakistan were set a victory target of just 48 runs and they achieved that with 9 wkts to spare.

1996: Pakistan Vs Zimbabwe, Sheikhpura, 1996: Wasim scores his highest test score of 257*

Wasim Akram got his highest test score of 257 against Zimbabwe at Sheikhpura. Pakistan were in trouble at 237/7 chasing a good first inns total by Zimbabwe of 375. When Wasim Akram and Saqlain Mushtaq came together Pakistan were still trailing by 138 runs and a few quick wickets then would have opened the test match up for Zimbabwe.

But Wasim Akram smashed the Zimbabwean bowling all around and scored a fantastic double century. His unbeaten 257 included 22 fours and a record number of 12 sixes. Akram and Saqlain added a record partnership for the 8th wicket worth 313 runs and they beat the previous record for the 8th wicket which was 241 runs. During the one day series against Zimbabwe Akram became the first bowler in international cricket to take 300 ODI wickets. When he got the wicket of David Houghton.

1997: Wasim leads Pakistan to a win in the Carlton and United World Series in Australia:

In January 97, Pakistan traveled down under to Australia to participate in the Carlton and United Tri Series in Australia which also featured Australia and West Indies. Pakistan knocked hosts Australia out of the tournament and it was the first time that Australia were not part of the best of three finals. Pakistan entered the finals and beat the West Indies in the best of three finals 2-0 to win the triangular series for the first time.

1997: The beginning of the turbulent times for Wasim gets injured and loses captaincy and he is also diagnosed of being a diabetic.


The year 1997 began well but on the whole it was a bad year for Wasim as he got injured again in April and was accused of match fixing. He was also diagnosed of being a diabetic when he had a surgery on his shoulder. He didn't turn up to play for his county Lancashire for the first time in ten years on account of his injury and illness.


Saeed Anwar was given the reigns of Captaincy but Pakistan lost to South Africa at home.


October 1997: Wasim is reinstated as the Captain for the fourth time and Pakistan whitewashes the Windies 3-0:


Wasim was made the Captain of Pakistan again in October 97 for the Independence Cup Quadrangular Tournament in Pakistan. Pakistan did not qualify for the finals but they performed brilliantly in the test series against the West Indies as they blanked them 3-0.

Defeat in the Akai Singer Champions Trophy and Akram is perceived as the villain again and he resigns from Captaincy:

Just when people were beginning to feel that Wasim Akram was taking Pakistan Cricket places, defeat to England in the Akai Singer Champions Trophy sent tongues wagging all over again. Pakistan seemingly lost from a winning position and Akram was the man believed to have master minded the defeat. Fed up of all the allegations, Wasim Akram resigned from the Captaincy and told the press that he would retire.


1998: Akram is dropped from the Independence Cup in Dhaka and from Pakistan's first full test tour to South Africa:

As if all these allegations weren't enough, Wasim had to face the ignominy of being dropped from the squad for the independence cup in Dhaka and from Pakistan's tour to South Africa. On fitness grounds. He was however called back in the squad for the third test match and the one day triangular series. Pakistan were beaten fair and square in the triangular series finals by South Africa.

1998: Publishes his autobiography: Wasim

In the summer of 1998, Wasim Akram published his autobiography titled 'Wasim The Autobiography' and he stunned the Cricketing fraternity with some of the revelations he made about himself, Pakistan cricket and some of his team mates.


Continues to play under different captains:


Wasim continued to perform under Captains like Aamir Sohail, Rashid Latif, Saeed Anwar and Moin Khan till the end of 1998, but disastrous results including a test series loss at home to Zimbabwe meant that the Pakistan Cricket Board were looking for a new leader yet again.

January 1999: Wasim appointed Captain again for the tour of India and success in India and Sharjah helps him stay as Captain for the World Cup:

In January 1999, Pakistan were set to tour India for a test series for the first time in 12 years and the establishment in Pakistan handed over the reigns of Captaincy to Akram for the fourth time in 6 years. The Pakistanis responded brilliantly as they drew the test series 1-1. Pakistan also won the inaugural Asian Test Championship and went on to win the triangular series in India and Sharjah.

First bowler to take two hatttricks in consecutive tests and the only bowler to take two hat tricks in one dayers and tests:

Wasim Akram took two hat tricks during the Asian Test Championships. Both the hat tricks were against Sri Lanka. In his first hat trick at Lahore Wasim got rid of Romesh Kaluwitharana, Niroshan Bandaratilake and Pramodya Wickeramasinghe. In his second hat trick in the finals of the Asian Test Championship at Dhaka, he got rid of Avishka Gunawardene, Mahela Jaywardene and Chaminda Vaas. Thus he became the only bowler to take consecutive hat tricks in test matches and also the only bowler to take two hat tricks in both Test and one day cricket.

The selectors felt that the team was responding brilliantly under Wasim Akram and they let him remain as Captain for the World Cup in England. Pakistan played some great cricket in the tournament but in the finals they were outclassed by a brilliant all round show by Australia.

Pakistan's defeat at the hands of Australia in the final makes Akram the villain again and his house is stoned in Lahore:

The fanatical supporters of Pakistan could not accept the tame display by their team in the final and they thought that the match was fixed. Wasim Akram was branded as the villain of the piece again. Wasim and all the other Pakistani cricketer had to return home under a huge security cover. An inquiry commission was set up and Akram was sacked as Captain and was also dropped from the team along with other cricketer, only to be brought back to lead the Pakistani team once again.

Wasim leads the team to successes in Toronto and Sharjah:

Pakistan played very well towards the end of 1999 as they won trophies in Toronto and Sharjah. They blanked out the West Indies 3-0 in Toronto and they won all but one of their games in Sharjah. The only game they did not win was against SL in Sharjah, where Pakistan who looked certain to lose the game pulled of a dramatic tie against SL. Abdur Razzaq was the star of that game taking five wickets for 31. Chasing 197 to win the SL were coasting home at 157/1 but in a shocking collapse they lost their last 9 wkts for just 39 runs.

1999-2000: Pakistan's disastrous Australian tour and Akram vows never to lead Pakistan again:

Pakistan embarked on a tough tour to Australia with a lot of confidence having beaten some good teams by convincing margins. But the Aussies proved too good for them and inspite of playing some good cricket Pakistan were white washed 3-0 in the test matches and were outplayed in the Carlton and United Finals by Australia. Wasim Akram resigned from the Captaincy of Pakistan and asked the PCB not to consider him for the job again.

He got injured in the home series against Sri Lanka but he battled a groin injury to score 79 runs and gave good support to Younis Khan who scored a century on debut in the first test match at Rawalpindi. That partnership of 145 runs for the ninth wicket took the Pakistanis to a fighting score and the SL barely got home by 2 wickets thanks to Arjuna Ranatunga who saw the Lankans through despite having a fractured thumb.

The Carribean Tour:

Wasim Akram bowled brilliantly in Pakistan's tour to the Carribean. After bowling his heart out without having the rub of the green on his side in the first two test matches at Guyana and Barbados, Akram came into his own in the third test at Antigua. Using his immense experience he bowled with great pace and hostility with the new ball and as usual he made the old ball talk with a fantastic exhibition of reverse swing bowling. Wasim picked up 6/61 and 5/49 in the two inns respectively and it was a pity to see him in the losing side as West Indians won a thrilling encounter by just one wicket. But Wasim and the Pakistanis would perhaps feel that they were done in by a couple of harsh umpiring decisions.

Performs outstandingly with both bat and ball in Sri Lanka and helps Pakistan win the series in convincing fashion:

By the time Pakistan toured Sri Lanka in June 2000, many people thought that Wasim was past his prime and he should not be a part of the Pakistan squad. This inspite of the fact that he had performed brilliantly in the Carribean. However like a true champion Wasim just remained silent and allowed his cricketing feats do the talking. And he did do some serious talking with both bat and ball and he performed when Pakistan desperately needed it. A good example of this was provided in the first test at the SSC ground in Colombo. Sri Lanka batting first made 273 in the first inns and Pakistan were rocked by Murali who claimed 5 wickets and reduced Pakistan to 176/9. A handy lead for Sri Lanka looked a certainty but Wasim Akram had a different script in mind. He took charge and with the help of Arshad Khan who gave him great support helped Pakistan reach a total of 266. Wasim top scored with a fighting 78.

When it was the Sri Lankan's turn to bat in the second innings, Wasim put on a sensational display of swing bowling and with figures of 5/45 from 15.3 overs bundled the Lankans out for 123. He also got to the milestone of 400 test wickets when he had the wicket of Russel Arnold caught by Mohammad Wasim in the slips. Pakistan were set a modest victory target of 131 and Murali once again assured that it was a dog fight. Pakistan were reduced to 89/5 and fittingly Wasim walked in and with amazing non chalance took control of the situation and guided the Pakistanis to a 5 wicket win. He was quite rightly named as the man of the match for his outstanding efforts with both bat and ball.

Akram strutted his stuff in the second test as well slamming a rapid fire century off just 89 deliveries. In the process he hit a small matter of 8 boundaries and 6 sixes. His innings provided the impetus to the Pakistani inns as they were looking for quick runs to put the Sri Lankans into bat. Sri Lanka could manage just 181 runs in the first innings and Pakistan courtesy of hundreds from Anwar, Inzamam, Younis Khan and Wasim amassed 600 runs before they declared after Akram was the 8th wicket to fall. He bowled well in the second inns and although he got only 2 wickets he got the vital one of Arjuna Ranatunga after the former Captain had played a dogged innings of 65. However there was little to debate about the choice for the man of the match and Wasim once again was the proud recipient of the award. Pakistan had thus won the test and with it the series and it was sweet revenge for Moin Khan and his team who had been trounced by the Lankans in Pakistan when the Sri Lankans had toured there in February.



The final years:

Now he is in the twilight of an illustrious career. One just wonders how many more wickets he is going to take. If he is free from injuries and manages to keep his diabetes in control who knows he might just end up getting very close to Courtney Walsh's incredible tally of 519 wickets. He has given some great entertainment to cricket fans the world over with his bowling particularly the way he uses reverse swing to torment the batsmen with the old ball. He has also been a part of a very successful partnership with another swing bowling great Waqar Younis who also got his 300th wicket in the same match that Akram got his 400th one. He has not been shy of passing the tricks of his trade to his juniors in the team and the success of bowlers like Shoaib Akhtar, Abdur Razzaq and Azhar Mahmood just illustrates this point.


Whether he gets to break Courtney Walsh's record or not, people will always remember Wasim Akram as a fair cricketer, a superb captain and motivator and the best left arm seam bowler that cricket has ever seen. It's a pity that he could not quite realize his potential with the bat otherwise he would have been another addition to the list of the famous four all rounders Kapil Dev, Ian Botham, Imran Khan and Richard Hadlee.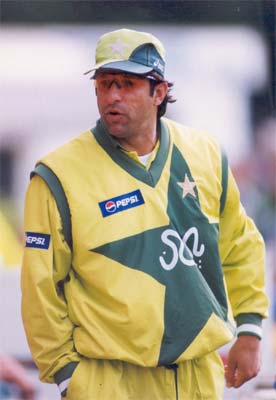 Wasim Akram: a legend in his lifetime

Dr. Baptist Croos F.S.C - 29 June 2000

The Pakistanis should be legitimately proud of their flamboyant cricket-warrior Wasim Akram who has become a legend in his lifetime. His incredible haul of more than 400 wickets, both in the Tests and One Day Internationals, in unparalleled in the annals of cricket. It was his diamond quality called determination that spurred him on to reach these remarkable milestones. Vibrant, vivacious, very often volatile, nonetheless spiritedly versatile, Wasim Akram is the cynosure of all eyes when he is on the field. In fact, he is the livewire of the team.

Wasim the bowler:

Wasim is a brilliant bowler: there is no gainsaying that statement. Teams that were heading for sure victory have had their backbone broken when Wasim Akram bowled the last few overs with his fast, deadly and straight pitching, especially his awesome yorker that had caused the middle-stump to go cartwheeling on many an occasion. He bowls with such dynamism and authority that super-class batsmen are often non-plussed. He also has the singular honour of taking a double hat-trick against Sri Lanka.

Wasim the batsman

He is a belligerent batsman feared by most of the bowlers because he can clobber any one of them over the fence for an almighty six. He has a couple of centuries to his credit including a classic double-century to boot. He can cut loose, smash and wallop the ball for towering sixes and delightful fours. He is an exciting and exhilarating batsman when in the right mood.

Wasim the fielder

An efficient and excellent fielder, Wasim Akram has very safe hands and rarely misses a catch. His throws are quick and accurate. Very agile and alert in the field, it is a pleasing sight to watch him run, field or hold on to a difficult catch. Over the years he has matured and is very dependable.

A colourful career

Well-built, tall, athletic and handsome, WAsim Akram, the cavalier and carefree cricketer has brought lasting name and fame to his country in the cricketing arena. So much to the great nation of Pakistan rightly honoured him some months ago with one of its highest awards. All the same, he has been the centre of ugly controversies, accusations and the interminable match-fixing allegations. He was removed from captaincy; re-appointed as captain and again demoted. We could sense these "ups and downs" in his eventful career. He accepted his crowns and crosses manfully and courageously evincing much poise and dignity. Whatever the situation is and in whatever capacity he plays, his profound and ardent love both for his country and for cricket has not diminished a wee bit. He is a great patriot always giving of his best. He glows with enthusiasm and his ferocity reaches a crescendo when he plays against his arch rivals the Indians. He makes sure that he well and truly demolishes them, whether it be a Test series or One Day Internationals.

He may get angry very quickly; his facial expressions betray his emotions and bad temper, but they are short-lived. His utterances on the field and curt remarks portraying his unpredictable and melancholic character, add colour to his striking personality. His indomitable courage in the face of awkward situations, is self-evident. After all, he is a gentleman at large.

A great inspiration

Man of the match umpteen times, because of his scintillating bowling or swashbuckling knock of some sizeable runs, it has been a real pleasure watching him in action, in Pakistan, over many years. It is now a pure delight to see him play in our motherland, where his invaluable contribution to cricket may inspire our own budding cricketers, with his calibre, quality and tenacious dedication to the game.

Apart from him brief outburst of temper in the field, which is part and parcel of his personality, Wasim the wonder boy of Cricket, is a lovable character, jovial, fun-loving and a charming person, whom one would like to be associated with. His immense contribution to cricket cannot be measured or described in words. He is a priceless jewel embellishing the cricket-crown.

Wasim Akram Zindabad!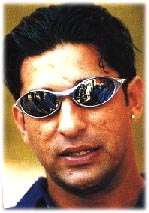 I attack with bouncers, verbally... whatever it takes: Akram
Wasim Akram has been the most lethal bowler in the world for over a decade now. He may be shrouded by controversies of late, but his stature can be matched only by a few other cricketers. Akram tells Kunal Pradhan what has kept him and the Pakistan team going for so long

Q: You are a cricketer with the biggest stature in the world today - with Steve Waugh and perhaps Sachin Tendulkar. How does that tag come to you?
A: It has just become a part of life. As long as you work hard, perform well, it will happen. And when people say this or you read about it, I think that's what you work for. In the end you think, 'As a cricketer, as a sportsman, if people are praising you so much then it's worth it.' That's what gives you the extra edge to work even harder.

But has this success come naturally to you? Do you feel any extra pressure because of it?
Not at all, I enjoy it. I enjoy it because I want to finish my cricket when I'm still at the top and I think right now I'm working very hard. My bowling has got back together a bit, so I enjoy it. I think all great cricketers and great sportsmen enjoy their success.

Lot of people are saying that you're playing extra hard because of the Qayyum report, just to prove that you're still good enough and you don't need to do resort to anything outside of the cricket field?
Absolutely. I never did anything and I don't need to do anything. I'm working hard because I want to, I'm working hard because I still have some cricket in me and I'm working hard because I want to satisfy myself. I just want to leave - whenever I do - like I said when I'm at the top and that's very important for me. That's the goal for me.

You have seen the Pakistani side change over the last 10-15 years. Have things really changed in terms of attitude?
Yeah, the attitude has changed a lot. In the last five-six years, the attitude of the team has become more aggressive. Obviously it picked up from Imran (Khan) and I think he's passed it on to the youngsters. We became more positive, more aggressive and moreover really wanting to win over every side. So that's the big change in our side. There were some key players who are not there now, but the confidence is there.

Does having someone like Javed Miandad as coach help? Does it make things easier?
Yeah, especially for the youngsters, it definitely does make things easier. Obviously, a coach can do certain things to some extent, but then, whatever happens it is the job of the captain. Mainly the captain Moin Khan is having fun. I think right now he's doing a great job, leading from the front, motivating the team and the team likes him. I think that's really important for a captain, to be liked by his team.

What do you tell yourself when you are bowling to someone like Sachin Tendulkar or Brian Lara? What's the duel like?
I just think I have to try to get them out, knowing that any bad balls will be punished. But that's a risk I'd like to take. They can hit me for five fours but if they give me their wicket, I'll be much happier. Attack them, hurl bouncers at them, maybe have a go at them verbally whatever, but try to upset them.

Pakistan has this breed of fast bowlers coming up now? Of them, what do you think of Shoaib Akhtar as he's making quite an impact in the international scene? The way he's shaping up so far?
I think his future is that he has to play. That's where your future lies - it just cannot be based on your reputation. You have to play and you have to perform. Perform means getting wickets and Shoaib should get more wickets. He hasn't got any wickets yet. He's got the potential, he just has to play and work hard on his bowling action. He needs to train twice as much as any average bowler.

Do you think he's (Akhtar) falling prey to the hype that came his way?
Everybody, I think, goes through that phase. Hopefully, he'll come over it, hopefully he'll learn from his mistakes. I think right now he's going through a phase and he'll be over it.

Is it more fun hunting alone as a fast bowler, or hunting in pairs like you did with Waqar Younis for so long?
Bowling in pairs is always fun and more competitive. Your bowling improve, you attack to get more wickets. With Waqar -- I think I had a great time bowling with him and I think we'll all cherish for all our lives the partnership that we had.

There was a rumour lately that you and Waqar had some sort of a problem. Is it true?
Problems are there. I mean if you stay with your wife on a tour for three months, you have a fight with her every second day. So, on a tour you have arguments with each other but after we go home you forget all about it and carry on with our life.

When you spoke to Pakistani players 8-10 years ago (people like you), you always said your mentor was Imran Khan. Now all the youngsters say their mentor is you. Have you consciously slipped into this role or has it just happened?
It just happened. Maybe, I picked up from Imran to help the youngsters because it's fun. I mean, playing at the National level in any sport is all about winning, and while passing your experience to youngsters and wanting them to do well -- instead of really feeling bad and jealous about them - I want them to do well for their own good and tell them how to work hard, when to enjoy and when not to enjoy. And I do it naturally. I may have picked it up from Imran or Javed, or may have been a part of my nature.

Do you enjoy captaincy?
I had a great time. It was an honour for me to captain the Pakistan team, my country's side. But that was great fun, yes. No regrets at all.

And why exactly did you give it up?
I was not enjoying my cricket and I though there is always a time for something. You don't have to linger on for the sake of being there. And right now you can see for yourself, I'm enjoying my cricket. I have more time to myself, to my family. I train a bit extra. I do weights, I have been doing regular weights for two months. And I think we have the right captain now, so everything is in the right place.

Do you think after you left captaincy, Moin could have been the best captain for you personally since you're so close to him?
I've been grooming him for the last couple of years and he is a good learner. He's learnt a lot and that's the sign you see in as leader. He wants to win and wants to do well. And Moin does want to work hard and he's very popular with the side.

There are so many youngsters in the team now. Would it be fair to say that they're slowly forming the nucleus of the Pakistan side?
Absolutely, I think youngsters are the main force. We have Imran Nazir, Shoiab Malik, Abdur Razzaq, Azhar Mahmood and Yousuf Youhana - they are all coming up. So, these are the cricketers who are going to take the Pakistan team ahead in world cricket.

Performance-wise, you are still as lethal as you used to be. But have you ever personally felt, 'Maybe my bowling is slipping - I'm not able to do things which I were able to do'?
Not yet, not right now. But, I've been through it last year when I was in Australia. I could not train at all, I had been suspended for six months and my life had not been easy.

As a batsman, in which innings would you have not liked to face Wasim Akram?
I think it all depends. I mean, I've bowled in spells - I think the best time of my bowling was from 1989 till 1996, I reckon. But I think this season I came back a bit. I worked hard, did a lot of weight training, a lot of running. My pace has got back a bit (laughs); hopefully it will stay for sometime.

From your whole career, if somebody asked you to pick one dismissal, which would you pick?
I think there are a lot of wickets, but one dismissal, which I still remember is Alan Lamb's in the (1992) World Cup final. That was the wicket to remember for me. At that time we played the match of our life.

Where do you see yourself going from here?
I don't know.

You've never thought about it?
Not planned. But I'd like to play cricket for another two years. I just want to hang on, but if I'm performing well I'll stay. And then, what happens I haven't planned anything yet.

No chance of seeing Wasim Akram, the cricket administrator?
I don't think so. Not on straight away. I'll take some time off, spend some time with my family, try to think, try to tell myself, 'It's finished, it's gone.' It's not easy (retirement) so I have to prepare myself for that.

How about the politician, like Imran Khan?
No idea. I don't think that I'm that sort but anything can happen. If Imran is very much there then I might get in there, but you never know. But right now I've no plans to get into politics.

For the last 10 years, your female following has been increasing tremendously. How does your wife deal with it?
She's quite normal. I mean, she's a very caring partner. She knows what profession I'm in and knowing that they are cricket fans and I have a lot of female fans, yes I do and I respect them all. Now this has passed on to people like (Shahid) Afridi and Shoaib Akhtar, so it's easier now. They're bachelors and they're good looking people - bold and doing well (smiles) so I think they do deserve all the success.

But how much harder do you have to work on your fitness now?
Lot harder than I had to six-seven years ago. There are some sort of pains in my body (laughs), I've never felt them before. But now, there is lot more training than before.


So, do we see Wasim Akram going to the next World Cup?
Ah, let's see. That's in three years time or two years. I'll see how I go for two years and then if I see I'm not being hammered around and I'm still fit, then I might play the next World Cup. You never know.

(Source : go4cricket)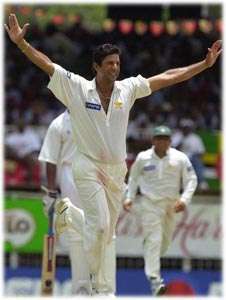 Interview to Faisal Shariff (Rediff.com)

Wasim Akram has passed the acid test. He picked a beaten, dispirited team plagued by allegations that threatened the careers of many of its members and brought off a string of victories -- in Tests and one-dayers -- against Indians on Indian soil.

Akram transformed an ordinary-looking side, riven by infighting and nursing injured egos, into a match-winning outfit, now even sporting a touch of arrogance.

It has been a triumph of the spirit. And those allegations hanging over the team seems to have all but disappeared.

A veteran of three World Cups, Akram now prepares to take the field in the last World Cup of the millennium. Dismissing opinions that his team may have peaked too soon, he believes that winning is a good habit for any team and that his team is not going to get complacent.

In an exhaustive and exclusive interview to Rediff On The NeT's Faisal Shariff in Vishakapatnam, Akram speaks about the last two World Cups and the need for Pakistan to have a national cricket academy.

How important has the tour to India been for you, personally?

I think this has been a very important tour for me personally, in the sense that it pushed me to set a goal for myself, a target that I could aim for. I have been playing for the past 15 years and it was getting to me that my days were numbered. But this Test series in India has definitely prolonged my career; now I feel I can go on for another two years and win for Pakistan.

As a captain what do you think you have achieved, given that the team was in disarray when you took over from Aamir Sohail.

Well, it's too early to say that I have achieved much because this is just the beginning. But one thing people have told me is that I have learnt how to handle the team on the field. That was very important for me. I think I have learnt a little bit of that.

You know, in pressure games everyone tests your skills on and off the field. I think in crucial games, especially against India, it is very important to be sure of the changes you are making. Happily, everything went well, so I'm happy with the performance. Agar nahi jeettey to problem hoti, magar aisa nahi hua [If we would have lost there would have been a problem but nothing of that sort happened].

The 1992 World Cup in Australia was one of the greatest moments of Pakistan cricket. Tell us how did the team pull through after that a disastrous start? What was the mood in the dressing room?

To be honest, yes, the team's mood was pretty low. But you know, for some odd reason we just knew we were going to win the World Cup. We were down and almost out but we knew we were going to win. We had faced a situation like this in 1989, during the MRF Cup in India, and we had won against all odds.

Imran was the major guiding force there. He kept convincing us that we could win. He kept reiterating this and suddenly we were playing well -- we clicked. I think it was a case of peaking at the right time.

Tell us about that all-important game against New Zealand, the last of the league matches -- the game Pakistan had to win to reach the semi-final.

We had a team meeting and Imran told us this was a do-or-die situation. We would have to go out and give it our 100 per cent. He said this match would change everything for us if we won it. He told us to fight it out and play with the all the passion we had.

Believe me, the moment we walked out that day onto the field we felt we were going to win. Also New Zealand had won all their matches till then; so we knew they were relaxed. We knew we would need just one moment to seize the initiative and there would be no looking back after that. That is exactly how it happened...

And about the final, those two wickets of Allan Lamb and Chris Lewis of successive deliveries. How did it feel to be on a hat-trick in a World Cup final?

It was one of the brightest moments of my cricketing career. I was over the moon after bowling Chris Lewis and I was a little nervous about the hat-trick. You know it is a dream come true for any player to perform in the finals of a world cup.

You think those wickets decided the fate of the match? Or you think that the match had been won long before that spell, with England reeling at 69/4?

Cricket is a team effort. I think that was not the deciding factor though those two wickets at that stage of the match were crucial. And, yeah, we were pretty sure we were going to win. You know that feeling when that desire to win overtakes every other thought and emotion. But we didn't get complacent and we kept the pressure on them. You never know in a one-day game, but, yeah, the early dismissal of their top order did make a difference.

How would you rate the 1996 squad and what do you think were the factors that brought about the downfall in that tournament?

We were overconfident. I think we had a great side but I think we were too confident and that was one reason we lost. We were a great side but I think we had one bad game and that cost us the title of world champs.

You know, we won all our games in the league except that game against South Africa. We were pretty confident before the quarter-final against India. Unfortunately I got injured before that game. I think we also played better than India. We were coasting along at 110 for one after 15 overs.

But suddenly there was no planning visible and the batsmen did not consider the importance of going at 4 or 5 an over. All of them went for big shots and gifted the match away to the Indians. I think, for a change, the pressure got to the batsmen -- they played some rash strokes.

Tell us about the experience after you returned home after that defeat. Your wife told us about the problems you faced on returning home. How much did it affect you, being treated by your own countrymen in that manner?

It was a horrifying experience, probably the worst phase of my life. We had problems at the airport and at home. You know, those threatening phone calls, those humiliating accusations were too much to handle. It became impossible for me to handle all that. The whole team for that matter had a tough time.

But that's the way it is back home in Pakistan. If you win you are up there and the moment you don't you go the other way. But I think it is time people realise it is only a game and that it is a profession for us. We go out there and we try hard. Sometimes we win, sometimes we have to lose.

Where does one draw the line?

Hamare culture mein aisa kuch hota hi nahi hai (There is nothing like drawing the line in our culture).

But I think it's time people educate themselves to the fact that this is a game.

Har ladka koshish kar raha hai. Jaan maar raha hai, akhir insaan hai, thak bhi jaate hain [One must realise that every boy is trying hard, playing his heart out. But after all he is also only human, even he gets tired]. They are bound to have a bad day.

You were picked up from the nets without any formal coaching. Waqar and some other bowlers were also picked from the nets. Why is it that Pakistan, despite having abundant talent, does not have a national cricket academy or any defined structure to tap talent early?

I think it is time Pakistan has a cricket academy. In fact, they are thinking of having one; the sooner they have one the better it will be for Pakistan cricket. If we had had an academy we'd have groomed our youngsters much better and would have been a better side. Also, we'd not have to worry about our back-ups.

But our chairman, Mr Khalid Mahmood, is very interested in having an academy and in the next 4, 5 months that idea will be given concrete shape. I think that would be the best thing to happen to Pakistan cricket.

Pakistan has abundant talent: you have fast bowlers who arrive out of nowhere and create an impression on the international arena. The same goes for the batsmen: they have the temperament as well as talent but seem to burn out too soon. What would you attribute that too?

Again, I'd say that's because there's no structure. If these guys are picked up from their academies they will learn to cope with pressure. Some are really talented but don't know how to cope with the pressure and how to take care of their bodies.

Some of the guys get injured and then don't have a clue how to get back into the team. They are unable to recuperate. Also, kuch ladkon se zyadatiyan bhi hoti hai (Some players are also given a raw deal). It is a very sad state of affairs, but I think it's a matter educating the players about pressure and coping with injuries.

How do you see your side's chances in the World Cup this May? Are there any worrying factors for you so far, any aspect of your game that you think you, need to work upon?

I think our middle order is worrisome. In the Test matches in India, our middle order collapsed. I think we need to strengthen our middle order. That's why we have recalled Salim Malik. He will add solidity to the middle order. He is very experienced and has played a lot in England.

Also Waqar, because he has ample experience. His contribution to the side in early May will be invaluable. The ball swings a lot and Waqar will be able to exploit the conditions. The side that will win the World Cup will have to bat the 50 overs. There's no doubt about that.

The ball swings a lot -- there will be a lot of lateral movement. We have decided that the team has to bat the 50 overs to win the Cup. We aren't looking at the first 15 overs at all. We don't have to throw our wickets but play like a Test match and keep wickets for the end. That will be the key. This is what we are putting in the minds of the youngsters.

After 39 years Australia finally won a Test match in Pakistan. Zimbabwe added insult to the injury with a series win. Now in India the side has transformed itself into a confident unit, ready to take on the best. What according to you were the reasons for the slump, and what brought about the renaissance?

I think that the boys were not enjoying their cricket. The guy who was in charge was not able to keep the boys happy. He was unable to pull the guys together. If you are not happy with your captain, how can you perform? You can play, but you cannot give your 100 per cent, mentally. The players were divided; they were encountering problems within the team itself. It gets difficult for any team if they have problems in getting along amongst themselves. How do you expect to defeat the opposition if you can't defeat your own differences within the team? Problem thi kuch inki captain se '(They had a problem with the captain). They wanted me as captain. So when I came back, I asked the guys to give a hundred per cent, try our best. Puri jaan marenge, and then if we lose it doesn't matter to me. The guys wanted to win, they were very as eager to win as I was, so that was a plus for me.

Honestly speaking, don't you think you are going to miss the services of Aamir Sohail? In England your only weak link seems to be the opening pair. Also in Sohail you have a wily spinner who can bowl miserly spells, besides giving you solidity at the top of the order alongside Saeed Anwar...

Agar koi team game mein ek bande se saari team ki ladaai hai, then there is something wrong with the guy. (In a team game if the whole team has a problem with one guy then there is a problem with the guy). Team spirit is more important than any individual.

When we spoke to Aamir Sohail he said that differences don't matter once the side is on the field. And he said that he would not be playing for Wasim Akram but for Pakistan. What do you think matters more, your personal differences or the team's strategy?

Of course team spirit and team's strategy matters more than anything else as far as the team is concerned. As far as I am concerned, if the presence of one player is affecting the morale or the spirit of the team, then we might as well rest that player for a while. Let the boys settle in and play their natural game. And we are confident that team spirit will lift the side's performance.

Are you planning to open your batting with Shahid Afridi and Saeed Anwar?

I think its too early to decide what Shahid Afridi's role will be in the team composition. He might have to miss a couple of games. If the wickets are dry we might play him

So then who will open along with Anwar?

Wajahatullah Wasti. The guy is good, and has a cool head. I think he along with Saeed Anwar will be a good opening pair.

So you have not chalked out a strategy as yet for your World Cup campaign?

Not yet. When we get there on the third of May, my mind will start thinking about our strategy and along with Javedbhai we will plan things accordingly.

There were reports that Sir Geoffrey Boycott was to be appointed as consultant to the team alongside Javed Miandad. Are you comfortable with the idea of having two coaches, two power centres? Shaharyar Khan said that he was opposed to the idea of having someone alongside Javed...

Yes, Geoffrey was asked, but what transpired between the board and Geoffrey is something I don't know about. But if he is to be appointed only for the World Cup, why not? I think his advice and experience will be of immense help to the side. Geoffrey is a seasoned cricketer and has played most of his cricket in England; he will definitely be beneficial for our campaign.

Supposedly Javed had his reservations about Boycott's appointment...

Javedbhai is the boss. He is the coach of the team and he will be eventually in charge of the team. Boycott is going to be the consultant, not the coach. As far as Javedbhai and I are concerned, Boycott is welcome.

How do you assess your team at the moment? What do you think are the worrying factors?

The confidence is there, I am only worried about the middle order. But even that will be strengthened with the inclusion of Salim Malik. It's a good thing that we lost the match against Sri Lanka in Vizag. Normally what happens is that the team plays well, wins all its league matches and flops in the finals. You know all teams have that odd bad day. I think the team is ready for sterner tests and it is a matter of time before they achieve their goals.

What changes do you see in the side now, things that were missing earlier?

You know, we had a meeting last night after dinner, after the loss to Sri Lanka. The reasons for the defeat were discussed and the players were told about the mistakes that they had committed. Earlier, when these things happened, the guys used to defend their mistakes, seek justifications, try to come up with explanations. But yesterday the guys owned up, and admitted their mistakes. They decided to play out the fifty overs in the next two matches and win the Cup. You know, this kind of a thing is very encouraging for the captain. He knows that the players are behind him and he enjoys the confidence and respect of the players.

When you landed in India, a newsmagazine here had leaked the contents of the inquiry report into match-fixing and betting. How did this impact on the team, and on you personally?

The boys were told about this. They were told that something like this was bound to happen. We knew that if we were doing well, there would be something like this from the press. We were unaffected by it, we ignored it. Kisi ko pata bhi nahi tha siway do ladko ke (Besides two guys no one even knew about it).

Did it hurt the fact that just an issue before, the same publication had you and Waqar on the cover with handicapped children?

It does hurt a lot. I was hurt in a way, because the guy who did it was a close friend of mine. Jaannewala tha. But again that's their profession, kya kar sakte hai. Yahan koi feelings thodi na hoti hai ke agla kaise feel karta hai (there are no feelings in this profession, no thought of how the other person will feel about it). They only think of how they benefit from it, it's sad, but true.

Do you think you have done justice to your batting talent?

Not really. Depends. Actually you know, if I was an all-rounder who could bat a bit and bowl a bit then I would have been much better, but I am a bowler who has to bowl a lot of overs every day. To come back after bowling so much and concentrate on batting is a bit too much. But I believe I can bat much better if I put mind to it.

Given the fact that you have a 200 in Test cricket against your name...

I go through phases as a batsman. The confidence is not there, the kind of confidence a natural batsman would have. But I have been trying, and now my confidence is back after the knock against Sri Lanka.

Tell me, what was going through your mind when Sachin was at the crease snatching the match away from you guys in Chennai?

Nothing much really, just that if we get Sachin out we would have the match in our pocket. I knew that if we get him, we win the match, simple as that. The way he was batting it looked like that was the only way to win. When 15 runs were required I told my team, 'Guys, go for it, get him out and we win the match. Even if we lose we would have tried'. Har jayenge magar harenge nahi (We might lose the match but we wont lose).

I told the guys to keep trying and told them that our people back in Pakistan will know that we went down fighting. We kept the pressure up, and we won the match.

Why was Salim Malik out of the team? Was it due to fitness or some other reason?

Salim had a fitness problem; his hamstring was worrying him. He was complaining about it during one of the games and also, the PCB wanted to see how Imran Nazir was shaping. Salim wasn't dropped, just rested so we could try some of the other guys.

To get back to the big one, how do you plan to save your name in this match-fixing scandal? It's been going on for a while, hasn't it?

I have to go back and sort it out. I will ask the Judge-sahib to carry on with his work and give his verdict. Kyoonki jisne bhi kaha hai sirf baatein ki hai, koi proof nahi hai (Whoever has said anything has only made baseless statements without proof). They have just made these statements out of jealousy. The guys who are against me are out to malign me. You know these things happen in our country -- if someone is going up, you try to pull him down. I am prepared for anything. Sari tayyari hai, kuch galat nahi kiya hai (I am prepared for anything, I have done no wrong). So everything will be okay for me, Inshallah.

Wasim, have you ever been approached by a bookmaker, ever? Are you aware of any player who you have come across in your career, who you thought was indulging in such activities?

No, never. I have played so many matches in my life and have never been a part of any match-fixing agreement. Mere saamne na to kabhi kisi ne baat ki hai na aise hua hai (I have never heard nor seen it happening).

To ask a personal question, your wife told us you take insulin injections every day. Don't you think doing this kind of thing to keep playing will harm you in the long run?

But what can one do? Is there another way out? I can't stop playing.

Pakistan bowlers have been accused of ball tampering for quite a while now, what is that all about?

Kuch nahi hai. Goro ko jab nahi tha pata kya karte hai hum tab tak ball-tampering thi, ab Reverse Swing kehte hai usey (Till the whites didn't know about it, it was ball-tampering -- as soon as they learnt about it they termed it as reverse-swing).

You know, all these guys from England and Australia kept calling it ball tampering, but now that their bowlers can do it they call it reverse swing. It is all a matter of how you look after the ball, how you throw the ball on the surface at times to rough it up on one side. It's an art, and I think the Pakistanis have not only invented it, but also mastered the art.

Who are your favorites for the World Cup?

South Africa, Australia, we ourselves, and England since they will be playing at home. Favorites World Cup kabhi jittey nahi waisey (Favourites never win the World Cup). *laughing*

How do you rate India's chances at the World Cup?

India's fortunes depend on how their bowling performs there. Wahan ball swing bahut hota hai (The ball swings a lot there). India ki batting to tagdi hai (India's batting is strong) but it depends what team they play. They will have to play with five bowlers. They can't win with six batsmen and four bowlers.

But they can play four bowlers and use the services of Ganguly and maybe Sachin there?

Ganguly might be able to get success but you don't go into a match with such planning. Also, Sachin's form will be crucial, the real key I suppose.

Do you believe, like most others, that India depends too much on Sachin?

Yes they do, in a way. But I think it is very good that he is not playing. They can win some games and get their confidence back, learn that they can do without him.

What is lacking in the Indian team, that it folds against Pakistan every time?

Aisa hai ke aap log bade mellow se log ho (Indian players are too mellow). Koshish puri karte hai (They try whole heartedly), but if they lose they say never mind, we will try again tomorrow. 'Chalo yaar koi baat nahi' (No problem). Lekin hamare yahan 'chalo yaar nahin hota hai' (But we can't take it easy). Hame to jeeetna hota hai (We have to win), victory is important.

(Source : www.rediff.com)
Interview with Wasim Akram by Vijay Lokapally

Q: How do you feel playing with mates who had revolted against you?

A: I feel sad obviously because I had never harmed anyone. I enjoyed my stint as captain in the West Indies. We levelled the one day series which is a great achievement if you look at the West Indies record at home.

Q: But your captaincy came under fire?

A: Nobody backed me. Neither the players nor the Board. Nobody. Some said the captaincy came to me too early. Nobody said or realised that I would have learnt from experience. Imran Khan was a great captain because he led the side for a decade. You have to watch and decide about Salim Malik. For me, it was a great honour to lead Pakistan. Honestly I had never even dreamt of playing for my country, let alone begin the captain. Once I got the job I wanted to be a good captain. It's all over now. I am happy as a player. In any case, I had never wanted captaincy. There's no point in becoming a captain if you don't have the backing of the players and the Board.

Q: But the revolt must have been a big shock?

A: It was, but I am used to challenges in life. The fact that I have survived so long proves that I have guts. I don't want to talk about what happened. It's all forgotten as far as I am concerned.

Q: What about your relationship with some of your mates?

A: Obviously it won't be same as before. I just concentrate on my job and try to do my best. When I was leading the side, perhaps my emphasis on discipline and punctuality did not suit some of the players.

Q: Then why did you accompany the side despite Imran Khan asking you not to?

A: You can't hang on to your personal grudges when the team needs you. My aim is to serve Pakistan cricket and that's why I went to New Zealand. I am still available as a player. The entire episode was a difficult phase for me but a small matter. I don't bother much about it anymore. I can't ruin my career for such a stupid thing as being removed from captaincy. By going to New Zealand I proved that I was not a selfish cricketer. I am only interested in playing for Pakistan. Doesn't really matter whether I am the captain or not. I am more concerned about the country's pride than petty politics. That's why on that tour I gave more than 100 per cent. I didn't want people to think otherwise. I couldn't have seen Pakistan losing just because I was removed from captaincy.

Q: Do you realise that you have given a new dimension to fast bowling?

A: New dimension... Well, I didn't really realise. The only thing I aimed at was to be consistent. To be different from the others. To maintain my place in the side. Getting into the team is easier than keeping your place. I have realised it over the years that it is very difficult to stay in the team.

Q: How could you manage it?

A: I worked hard. I always took my net practice seriously. You saw yesterday. Coming to the nets was optional and we had hardly six players there. I was one of them. Thats what I mean when I say I take my cricket seriously.

Q: What was your aim when you started?

A: To tell you the truth, it was just to be in the team. It is a great honour playing for your country. I didn't want to be known as a one series player. There are several of them in Pakistan. I wanted to be the best in my department.

Q: Where did the help come from?

A: Playing county cricket helped me a lot. Imran and Miandad helped me a lot. Like I said I always took my cricket seriously, I learnt from every match.

Q: How come you perform so well under pressure?

A: I take pride in the fact that I have rarely failed under pressue. I am mentally very strong. In a pressure situation I feel more responsible. I always felt that I could perform better under pressure. My team expects me to do well under pressure and I am always aware of the fact that it is me alone who is capable of delivering. I perform better under pressure than under normal cricumstances. Could be God's gift to me. I have got used to it over the years.

Q: Recently you said that you have this confidence that no batsman can hit you. Could you elaborate?

A: I don't bother about being hit. I am never down because the batsman has hit me for a four or a six. After all, he is there to whack you and you are there to get him. You win sometimes and you lose sometimes. When hit, I never express my feelings. I may be feeling bad, but there is no point letting the batsman know it. He would gain for it. The other day Sachin hit me. It was stunning batting from him. I tried to console myself he is the best batsman in the world. That's it. There is no point bothering yourself because the batsman has hit you. Just keep your nerves and bowl with some improvement in your line and length.

Q: Where do you derive this strength from, to keep cool?

A: From my mind. I talk to myself. I tell myself "you are the best bowler in the world." That is during the overs in a match. Off the field before I hit the bed, I keep telling myself "you are the best and you are going to perform tomorrow." I say this at least ten times before I sleep and I keep recalling my best moments on the field.

Q: Where did you learn to be so crafty?

A: I learnt it myself. I spoke to hundreds of bowlers all over. I changed my grip. I learnt to swin the ball both ways at my normal speed. I learnt the use of the wrist in foxing the batsman. The use of pace, swing. It is very technical and I cannot explain it easily.

Q: Did anyone in particular inspire you to become what you are?

A: Yes. Imran Khan. He was my idol before I started playing for Pakistan. Once I got into the team he was like my elder brother. I learnt so much from Imran on and off the field. His attitude towards cricket and life. The best thing about Imran was that he never imposed himself. He would give me tips very often and took pride in my progress. He would be happier than me in my moments of glory.

Q: Do you believe that fast bowlers hunt in pairs?

A: I agree. It makes the task easier for both. It makes the task easier for both. A batsman has to watch both ends and not just mine or Imran's. Bowling with Imran was great. You learnt so much watching him from so close. I feel sad that I never really bowled with Imran while I was at my peak.

Q: How is it bowling with Waqar Younis?

A: It's great fun.

Q: How do you cope with the pressures of mdoern day cricket?

A: Cricket is basically great fun but this one day cricket is killing. You have so much to do in such a short time. Bowl your ten overs, field well and bat if the team needs. It is very taxing. As a fast bowler you can play it well till you are 32. Depends on how strong and fit you are mentally and physically. I enjoy it because the team relies so much on me.

Q: How do you look at the batsman? Is he an enemy to you?

A: I have always loved to bowl. Given my hundred per cent. So must be the batsman in front of me. I respect him for his effort. He is not an enemy to me. I take every batsman seriously whether he is #1 or #11. I wouldn't like to hit a batsman or swear at him. I hate sledging. It takes so much away from the charm and traditions of the game. Once in a while I may explode but that is within myself. I welcome the idea of a Match Referee. No one is above the game.

Q: How do you look at International cricket today?

A: It has improved but we don't have many great players today. Cricket has become so hectic. But one good thing about test cricket today is that you don't get to see many dull and dreary draws. It has become very positive and that is good for the game.

Q: How would you classify an all-rounder?

A: There are too many all rounders nowadays. But not many are genuine. You have to be a specialist in one department and do well in the other to be called an all rounder. You can't be an all rounder by batting a bit and bowling a bit. Sir Gary Sobers was a genuine all rounder. He could do both the jobs equally well. Not the others. Botham was a better batsman. Imran was a better bowler. Kapil was a better bowler. Hadlee was a better bowler.

Q: What about yourself?

A: I am more of a bowler. I think I must concentrate more on my batting now to be called an all rounder.

Q: How much does cricket mean to you?

A: Everything. My life revolves on cricket. Nothing else interests me (except my wife). I can't live without cricket. Maybe once I retire I may have nothing to do with cricket. Maybe I would just prefer to watch. No caoching or becoming a selector or a manager. But I am still playing active cricket, and at the moment only cricket is on my mind.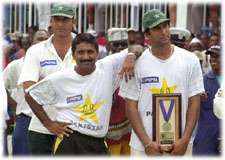 Pakistan`s ace bowler and captain, Wasim Akram has been the stalwart of Pakistan`s much feared bowling line-up ever since his international debut in January 1985 at the age of 18. Referred to as the "Prince of Pakistan" during Imran Khan`s era, Wasim has matured and grown under the Imran`s guidance to become one of the most feared bowlers in the world today. Wasim`s speed of delivery is even more amazing considering he has one of the shortest run-ups for a genuine left-arm fast bowler in recent history. Along with the devastating pace and breathtaking accuracy, his ability to move the ball in the air and off the seam, make him the most lethal bowler in the Pakistan team. All this coupled with the consistency of performance earned him the praise "the best fast bowler in the world today" at the end of the 1995-96 Pakistan tour of Australia and New Zealand. Holding the world record for the highest number of One-Day International wickets, Wasim looks set to have a shot at the world Test wicket record too. Although bowling is his top priority, Wasim has frustrated and destroyed bowling attacks with his occasionally sensational batting. Wasim is from Lahore, and plays domestic cricket for Pakistan International Airlines.