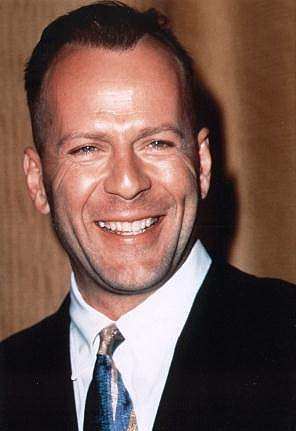 BIOGRAPHY

(Source : www.askmen.com)

Walter Bruce Willis was born on a military base in Idar-Oberstein (former West Germany), on March 19, 1955. His father David was a welder and factory worker who took the Willis family back to New Jersey after being discharged from the military in 1957.

Settling down in New Jersey, young Bruce, who was the eldest of four children, led an active childhood. Although he was always an outgoing youngster, Willis grew up with a stutter and found it easier to express himself while onstage, performing in front of an audience. This is why his high school days were marked with a drama club membership, as well as the student council presidency.

Rather than go to college after graduation, Willis took the route of his father as a blue-collar worker, transporting work crews at the Du Pont factory. He decided to quit after a colleague was killed on the job, and thereafter became a regular at several bars. Willis also discovered an innate knack for playing the harmonica, and did so for an R&B group, Loose Goose.

After a stint as a bodyguard (which he actually plays in his recent movie, Unbreakable), Willis returned to his original passion: acting. He enrolled in the drama program at Montclair State College, where he was cast in the class production of Cat on a Hot Tin Roof. The ambitious junior finally decided to leave school in pursuit of more lucrative movie roles by heading for the Big Apple.

Willis returned to the bar scene, only this time for a part-time job and as a way to schmooze with New York celebrities. After countless auditions, Willis finally made his theater debut in the off-Broadway production of Heaven and Earth. He gained more experience and exposure in Fool for Love, a stint on television's Miami Vice, and a Levi's campaign.

But Willis got his big break when he was cast as smart-talking David Addison, in ABC's Moonlighting, despite network executives who wanted to hand the role to a more experienced thespian. Willis and Cybill Shepherd's chemistry made Moonlighting a sensation, and after 4 years of sexual tension and high ratings, Moonlighting's days were over.

After a bombing in the slapstick comedy Blind Date, Willis found what became his trademark role in 1988; detective John McClane in the actioner, Die Hard. He then lent his voice to the sleeper comedy Look Who's Talking a year later, and reprised his Die Hard role in the 1990 sequel.

Unfortunately, Willis' career was on its way to dying hard. He starred in consecutive bombs, such as The Bonfire of the Vanities, Hudson Hawk, Death Becomes Her, and Striking Distance (co-starring the lovely Sarah Jessica Parker), and was becoming more famous as the husband of "it" girl, Demi Moore.

Thankfully, his role in 1991's The Last Boy Scout featured Willis in the type of action role that gave him star power to begin with, which helped keep the actor's head above water. But it was his role as Butch Coolidge in the cult classic film, Pulp Fiction, that gave Willis the knockout punch that salvaged his career.

He followed up his 1994 Pulp role with an excellent performance in Nobody's Fool, and went back to basics with the blockbuster, Die Hard: With a Vengeance, the third installment of the successful franchise. It was uphill from thereon in, with hit movies Twelve Monkeys, co-starring Brad Pitt, 1997's Fifth Element, opposite the perfect Milla Jovovich, and the blockbuster Armageddon, which was more moneymaker than quality. The Jackal and Mercury Rising were neither.

In 1999, Willis starred in the film adaptation of the novel by the same name, Breakfast of Champions, and was welcomed into the $20 million club with his chilling role in The Sixth Sense. The record-breaking, critically acclaimed movie that featured Willis as child psychiatrist Dr. Malcolm Crowe can be considered one of his best roles to date. That same year, Willis co-starred with Michelle Pfeiffer in The Story of Us, and starred as hit man Jimmy "The Tulip" in the disappointing, The Whole Nine Yards.

It was on the set of the latter that Willis became chummy with Friends star Matthew Perry, which led to Willis' Emmy-winning recurring role in the hit NBC sitcom. Willis can add his Emmy to his mantle, where his 1987 Emmy for his role in Moonlighting, as well as his Golden Globe for Best Actor in a television series for the same role stand .

Willis was last seen in the summer Disney film, The Kid, and as invincible David Dunn in M. Night Shyamalan's Unbreakable.

A tabloid favorite since his Moonlighting days, Willis made headlines in 1998 when his 13-year marriage to Demi Moore, came to an end. The former couple have three daughters together, Rumer Glenn, Scout LaRue and Tallulah Belle. Willis was last romantically linked with Spanish model/businesswoman, Mario Bravo Rosado.

One of the stars to hold a stake in the dying Planet Hollywood restaurant chain and considered one of today's most powerful actors, Willis will next be seen in the films Hart's War and Bandits.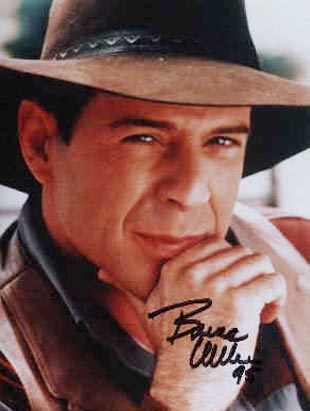 PROFILE


(Source : www.the-movie-times.com)

Real Name: Bruce Willis
D.O.B: March 19, 1955
Place of Birth: Idar-Oberstein,West Germany
Spouse:
Demi Moore (1987-present, separated)
Children:Rumer,Scout,Tallulah
Fan Mail:
C/O William Morris Agency
151 El Camino Drive
Beverly Hills, CA 90212
USA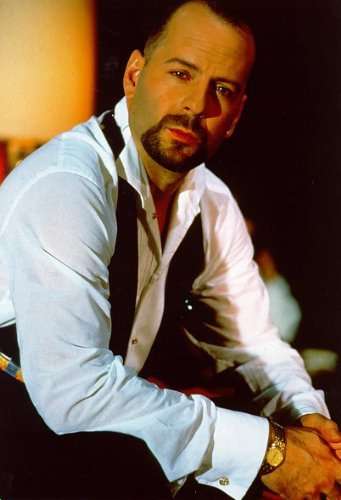 BIOGRAPHY

(Source : www.celebritycd.com)

Bruce Willis is really called Walter Willis. He has three children they are called Rumer, Scout and Tallulah. Willis was a wild child, always fighting and cracking jokes. He was born on March 19, 1955 in Germany. After this he grew up in New Jersey from the age of two. Then started to work as an entertainer. He was in a band (Loose Goose) and played the harmonica while he was in collage. He worked as a security guard. Then he began acting and working in a bar.

Soon after of Broadway productions and TV advertisements Bruce got a part in Moonlighting co-staring Cybill Sheperd. Bruce Willis' Addison on Moonlighting set the tone for the more high-profile action roles of his film career. After this he got a part in Blind Date which then lead to his big hit Die Hard his third film made him known in Hollywood and since 1988 total worldwide box office takings have made more than $1.3 billion. Where Stallone and Schwarzenegger seemed like muscle guys trying to be funny, Willis always seemed like a funny guy trying to be tough.

Willis pays the bills with action roles, but he likes to take risks, some of which pay off, some of which are called Hudson Hawk. Willis' range, both good and bad is epitomized by his work between 1994 and 1995. He starred in Color of Night, a laughably bad psychological thriller (worth renting on a bad movie night). The convoluted plot doesn't bear scrutiny and seems to serve mostly as a bridge for sex scenes with beautiful and often nude actress Jane March. The unintentional humor of the movie is strengthened by the soundtrack, which includes some of the most overbearing saxophone play this side of Kenny G.

Right after that debacle Willis took a supporting role in Pulp Fiction. Willis' best acting is usually done in supporting roles in less commercial products. The respect he won from his role as Butch was furthered by his turn with Paul Newman in Nobody's Fool.

Willis starred in 2 films in 1995. He cashed in again with Die Hard With a Vengeance, a box office success but probably the least exciting of the Die Hard series. As the hero of Twelve Monkeys, Willis did some of his finest acting. He played a hero not out of the action mold, a befuddled man from the future sent through time to change the past. Gone was the wise-cracking cockiness; in its place was a very human uncertainty and frailty.

Since then, Willis has starred in 2 films that were moderately successful but critically lambasted. On the horizon he will be seen in a remake of Day of the Jackal, and further ahead there is already some talk of a fourth Die Hard. While his wife Demi Moore's fortunes have fallen slightly over the past year, Bruce Willis still appears to be going strong.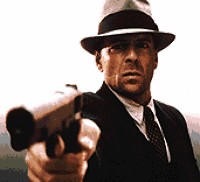 Bruce Willis
The Well Rounded Interview

(Source : www.well-rounded.com)


JULY, 1997 - "Was he an asshole?"
That was the immediate response from more than half of the people I told about getting the opportunity to interview Bruce Willis when he recently visited Atlanta's Planet Hollywood, to promote the new video game he stars in, Apocalypse.

The visit didn't go particularly well. The exclusive VIP lounge was crammed with an uncomfortable combination of technogeeks and entertainment reporters, and Willis wasn't there to stroke the latter (i.e., me) but spin for the former. Questions got increasingly combative, and the headlines weren't pretty. "Crabby Willis Drops in on Atlanta," claimed the Atlanta Journal-Constitution, whose film critic Eleanor Ringel tagged Willis "a macho fraud."

Personally, I enjoyed the way Willis didn't kiss everybody's ass. He exuded a sardonic confidence that seemed as much an act as an attitude, was genuinely funny, and turned out to be better looking in real life than he is on the screen. Plus, get a load of some of these questions from the so-called professionals:


"Will this video game character have more depth than the characters you usually play in your movies?"

"What do you say to people who'd rather let your character [in the game] die?"

"What's your E-mail address at home?"
I've been to many celebrity interviews, but I've never seen one so combative as that night. Willis doesn't seem to get much respect, and I can't exactly put my finger on why. Sure he's made some bad some terrible movies, but most big stars from DeNiro to Hoffman have made bad movies for big paychecks. But Willis has also been in a couple of the best films of the 1990s (Pulp Fiction, 12 Monkeys), and taken some strong smaller roles (Nobody's Fool, Mortal Thoughts) when many stars always need to see their name above the title.

He's also brought irony, humanity, and genuine acting to the action film genre, and it's short-sighted and uninformed to lump him in with Sly and Arnie. Willis worked his way up as an actor, not a macho icon; his first rave notices came from starring off-Broadway in Sam Shepard's "Fool For Love." His premiere major TV appearance, as a girlfriend-beating cocaine dealer on "Miami Vice," garnered him his first Emmy. His performance as the fast-talking, gregarious, mediocre detective David Addison on "Moonlighting" won him his second Emmy, and made him a cultural phenomenon for a short time before the series crashed and burned.

Then he broke into movies and was one of those few stars who actually made it. The problem is that he made it more visibly as a commodity than an actor, becoming a movie star and less of a thespian. It's a rough line to cross if you want to have it both ways, and that seems to be Willis's central, paradoxical problem. He wants to be taken seriously, and has the talent to do so, but is increasingly making popcorn movies for huge paychecks. He's bald (and looks good bald), is secure enough to shun a rug or hair implants, but not so self-assured that he doesn't insist on wearing that stupid baseball cap for all photo opportunities. Like the one at the following interview:

Why in the world did you choose to star in a video game?

I'm a game freak. I love playing video games. And I love anything that involves death, destruction, maiming and killing. All in the name of fun, of course.

Really? What about the money? What's your stake in this enterprise?

Are you asking me what I'm going to make if this game does well?

Yes.

Ha! That is none of your goddamn business. You're with the media, right?

Uh-huh.

Okay. Next question.

How about all the violence in this game: Do you feel all the violence in video games affects children adversely?

The only violence I worry about is the violence that's real, that takes place on TV every night from 6 to 7:30. People watch it with their dinner, they get a little dose of poison with their meal, until eventually violence won't bother them at all.

So you don't think the creed of the 21st Century will be "Thou Shalt Kill" [the promotional catch-phrase for Apocalypse]?

It's just a joke, man! It's just a game!

Is acting for a video game any easier than acting for film?

Acting in general really isn't that difficult. It's just lying and getting paid for it and I've been doing that all my life.

Do you think new technology makes acting more fun, then?

I think in the future, computer generated actors will replace real actors. They're going to have the technology to capture all the young actors at about the age 25, and then when that actor turns 80 years old he can still be playing somebody 25 years old.

Really? Premiere magazine recently ran an article on the aging of action heroes. What do you think you'll do when you get too old for action movies?

Look, anybody who writes for these magazines, who takes a number 2 pencil and writes things down for a living is going to run out of things to write about, so they have to take cheap shots at people in the entertainment business. Look, we're all going to get old. We're all going to die. We're dying right now.

What are you working on now?

The title for the film I'm shooting in Chicago right now is Mercury Falling. It's about this autistic kid and the military and the troubles that occur. I play the good guy.

What about the rumors of Die Hard 4?

It's a good rumor. I've heard that rumor as well. We're still working on it. But it wouldn't surprise me.

Do you plan on playing any music here tonight?

Actually, no, I've got to get out of here and kill 30 or 40 more people tonight.

Does your video game character have more depth than the characters you usually play in your movies?

I don't understand that question. You know, journalists are so much smarter than actors. We just don't understand. Maybe you could hold up a sign or something.

You've been focused so much on action recently. Are you ever going to do any more comedy?

After tonight, you mean?

What about Independent films as opposed to big budget ones? Pulp Fiction and Nobody's Fool really turned your career around. Do you see yourself doing any smaller films?

I don't have anything planned right now. I'm just taking pictures one at a time.

I'm sure all your friends in Hollywood.

My what?

All your colleagues in Hollywood

All that whole colleague thing, that actors are all friends, that's all a myth. We all wait for each other to fail. We're competing.

What do you say to people who'd rather let your character [in the game] die?

They can do whatever they want. He'll come back. Maybe they can freeze dry him or something.

At this point, the video game PR types clue in to the fact that things aren't going quite so smoothly and get Willis out of there. Shortly, he returns.

Hey, look, some of this is just tongue-in-cheek, and I don't want any of you to take it the wrong way. I've been on the movie set all day and I've been up since about 4 o'clock this morning. Are there any more questions about the game?

That's all that follows and we're sure you care even less about the game than we do. Apocalypse is your typical violent orgy of escape and destruction, set in the future, where the game player is partnered with Willis's computer generated character in an attempt to escape a subterranean prison and oh, who cares. The only inventive twist is that you're expected to cover Willis's back while he watches yours. If you don't help him out, he abandons you.

Much like his computerized clone, Willis is looking out primarily for himself. I don't think he's an asshole; he's an actor who's become intoxicated by being a movie star, and is becoming increasingly trapped (again) by needing to make "big" movies to sustain his star status. His next three projects are reportedly the above mentioned Mercury Falling, action hack Jerry (The Rock, Con Air) Bruckheimer's sci-fi extravaganza Armageddon, and Die Hard 4.

That's sad. Anybody who saw Willis's recent guest shot on "Mad About You" could see that he still can be a very funny guy, overplaying like Sid Cesear with wild gesticulations and exaggerated facial contortions. He was fast and loose, and it was a joy to watch. I don't think we can expect much joy from any of the above listed pictures. They're business decisions. Made by a guy who's left his art behind.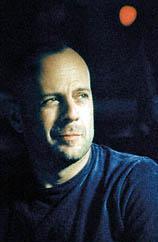 One of Hollywood's biggest stars backs away from the action
by Jeanne Wolf

(Source : www.eonline.com)

It's not every star that can steal his own thunder, but then, not every star shines quite as bright as Bruce Willis.

Just prior to the opening of potentially his biggest film yet, Willis made headlines of a different sort with the announcement that he and Demi Moore were ending their 10-year marriage.

In an interview shortly before that news, Willis maintained his longstanding ban against discussing marital matters with the media. But he did talk about daughters Rumer, Scout and Tallulah, the state of the real world and how it feels to headline the year's second major asteroid movie.

In Armageddon, the 43-year-old Willis plays a smart-ass oil rigger who becomes Earth's last hope for survival. As a giant comet hurtles toward the planet, Willis and "it" boy Ben Affleck, along with Billy Bob Thornton and Liv Tyler, do their best to save the world.

As an action star, Willis has been making the big save since he shot to big-screen stardom with Die Hard. His wisecracking heroes have reached a wide audience and made him one of Hollywood's highest paid actors.

But the New Jersey native isn't above working for change if the part is right. He delivered memorable performances in the wrenching In Country and the darkly comic Pulp Fiction. And he recently took an extra-big pay cut to star in the just-completed Breakfast of Champions, based on the Kurt Vonnegut novel.

Why? Because in his heart, it seems, Willis prefers acting to action.

Do you still get a kick out of doing big action thrillers?
I didn't really think of Armageddon as an action movie when I made it. I'm sick of doing action movies. I watched the screening of Mercury Rising with my younger brother, and he turned to me and said, "Every action sequence in this film is derivative of at least three other movies you've already done." I went, "Ahhh, that's exactly right!"

It's really difficult to break new ground in true action movies, with guns and good guys and bad guys . I'm bored with it, so I'm gonna take a break. I'm not making light of any of the other films that I've done. It's just that, as an actor, I'm afraid I don't really break any new ground when I do action movies now.
This film has a lot of action, though--and the story is scary.
There's no way anything we did in this film is anywhere near as scary as the things that are going on in the world. You pay attention to the news, and there are a lot more terrible things happening right now than an asteroid hitting Earth.

Maybe it's time to try a new planet. Would you ever want to go into space?
Making Armageddon, we got to hang out with real astronauts. What they're doing is not like making movies--they're under incredible pressure. We worked with the guys who went up in the shuttle and caught that satellite.


I'd just like to drive a nice sightseeing mission, but I don't think I'd like to go out and have to catch a satellite. I would go--but I don't think they'd take me.

Right before the big mission in the movie, each of the guys is given a day to do whatever they want. If you were given a day, what would it be?
Hanging out with my kids. It's such a far-fetched notion--what would you do if you were told you were going to die tomorrow. How can you answer that? It would take a lot of thought. And the easiest answer is just to spend time with my girls.
Do you feel like you have to be a role model?
I feel a responsibility to be entertaining, a responsibility to be interesting as an actor, but I don't necessarily think actors are good role models.

Audiences are far more intelligent than to think anything they see in a film is real life. All you've got to do is turn on the news to see what real life's all about. I am scared to death to...see that chalk outline and know that somebody's really dead there. That's far more heinous than anything I've ever seen in any film.

You've been rough in your criticism of the media coverage of you and your family.
The media is completely out of control. There are no restrictions on what you can say. You can make up something and say it on TV or write it in a magazine, and people seem to believe it. So, I just accept it as one of the uncomfortable things of life, like mosquitoes and bad weather and the thought of nuclear holocaust.

Talking to a group in Cannes, you said, "People don't understand fame--it's like you're walking around in you're underwear."
Other than ignoring it, there's no figuring out fame. Sure, you lose your privacy. But more important, I have to worry about my kids. I actually think about somebody coming after my girls because they report how much money I make. But in general, I have been blessed by God. I have been handed an incredibly fortunate life.

I know you felt fortunate to work on your latest film, even though it's a much smaller movie than you're used to.
I shot Breakfast of Champions, based on the Kurt Vonnegut novel, which is about as far from Armageddon as you can get. The picture was made for just around $10 million. I got to work with a great cast: Albert Finney, Nick Nolte, Barbara Hershey, Glenn Headley, Owen Wilson. It's outside the commercial realm, but it satisfied me--and I think all of the other actors--because we got to play characters you just normally don't get to play in Hollywood.
It happens to be really funny, but it deals with big issues about how messed up we are as a country. I'm proud of what I've seen so far.

It seems you look for roles audiences would never expect.
Yeah, I actually seek them out. It would be boring if I did things I knew were safe. I need to challenge myself

I don't always succeed. But I just try to push myself as an actor and continue to learn more about how to do it. Die Hard 3 was hard for me, because I felt like we'd already done it two times. The film made a ton of money. But there's a little thrill of fear of not knowing whether you're going to succeed.

Did you feel the pressure of competition because of that other "asteroid" movie?
I haven't seen the other film, but I'm told ours is very different. From time to time, this happens. It happened with two volcano movies, and four or five years ago, there were a couple of Robin Hood movies. Nobody wants--or tries--to come out with the same kind of movies at the same time, but it happens.