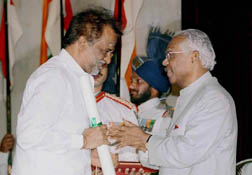 Superstar Rajinikanth received the prestigious Padma Bhushan award from the President of India Shri K.R.Narayanan in New Delhi on March 30, 2000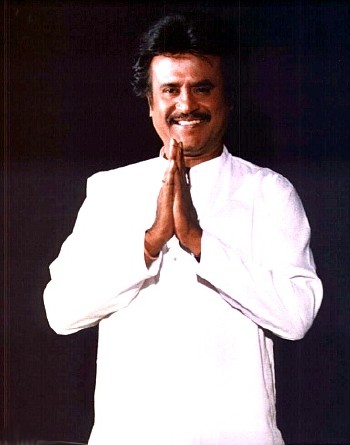 CLICK ON THE SUPERSTAR'S PICTURE TO GO TO THE
'OFFICIAL SUPERSTAR RAJINIKANTH PAGE'

BIOGRAPHY

Rajnikanth was born Shivaji Rao Gaekwad on December 12, 1949 in Karnataka. He grew up to become a bus conductor during which time he reportedly caught the fancy of the bus travellers with his mannerisms and style of issuing tickets and blowing the whistle and so on. Looking to become an actor, he moved to Madras and joined the film institute. It was here that he caught the eye of K.Balachander, a director known for introducing talented, new faces into the tamil film industry. K.Balachander gave him a small role - as the no-good husband of Srividya - in Aboorva Raagangal and the rest, as they say, is history. Rajnikanth soon graduated to playing villains and his style, swagger and casually unique brand of villainy vowed the movie-going public. Be it the sadistic husband of Sujatha in Avargal or the wolf in sheep's clothing in Moondru Mudichu or the lust-filled village rowdy in Bharathiraja's 16 Vayadhinile, Rajnikanth was the villain the people loved to hate. From here, it was a small step for Rajni, playing the anti-hero and finally, the hero in Bhairavi.

Rajnikanth firmly captured the vacant, action-hero slot in tamil movies with a series of movies where he routinely bashed up the bad guys who had done him injustice in one way or the other. Once in a while he did movies like Aarulirundhu Arubadhu Varai or Johny which gave us glimpses of his acting potential. But action was what the fans expected from a Rajni movie and action was what he gave them. The credit goes to director Rajasekhar for tapping the comedy potential in Rajnikanth. He gave us the breezy Thambikku Endha Ooru which saw Rajni balance the action and the comedy sequences with equal ease. The scene where he reads a soft-porn book while a snake enters his room is one for the comedy history books! The film went on to become a huge blockbuster and the path of Rajni's future movies was set. Rajnikanth honed his action-comedy hero skills with a series of movies like Nallavanukku Nallavan, Pokkiri Raja, Murattu Kaalai with S.P.Muthuraman. All these were mega-hits and firmed his status as the number one crowd puller in tamil movies. There was a brief lull when the much-hyped Maaveeran, his own production, flopped at the box-office. But then came Padikkadhaavan, one of his biggest hits and there was no looking back after that. For his next production Valli, he gave all major responsibilities, including direction, to newcomers while playing a cameo role himself. The movie was received well both critically and commercially.

Annamalai's dialogues were seen by many as Rajnikanth's direct warning to then Chief Minister J.Jayalalitha about his possible entry into politics. Rajnikanth frequently denied any such intentions but the political overtones in his dialogues in movies like Uzhaippaali and Yejamaan did nothing to quell the rumours. As the elections neared, he directly came out against the CM, thundering that his only goal was to see her removed from office. He played a major part in putting together an alliance between the DMK and TMC, leading to, in no small part, their landslide victory in the polls. He preferred to be king-maker rather than king! Later that year, he received the State award for Best actor for his great performance as father and son in Muthu, arguably, his biggest hit to date. His last movie was Arunachalam released on Tamil New Year's Day 1997. For this movie, he hand-picked 8 people from the tamil film industry who had fallen on bad times financially and made them the producers of the movie. He proved all over again that he was not just a great actor but a great human being. Here's to a lot more years of entertainment...

(Source : the Official Superstar Rajinikanth Website)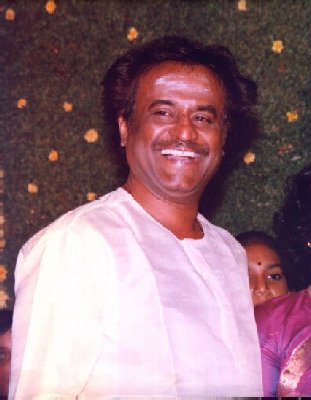 CLICK ON THE PICTURE TO GO A FAN SITE DEDICATED TO THE SUPERSTAR


Showman
supreme
Cinema: Rajinikanth, who has completed
25 years in films, is one of the most
powerful men in Tamil Nadu

E. Vijayalakshmi



In 1975, when Rajinikanth was becoming popular, Berkley cigarette wanted to make a commercial with him. The first question Rajinikanth asked after meeting them was, 'Why should they pay me? I am getting so much of publicity. What do they get?' "He was quite naive", says filmmaker S.V. Ramanan, recounting this incident about his close associate.

He always says he is indebted to the people of Tamil Nadu. He will take the plunge when the time is ripe. It won't be in the near future.

Today, Rajinikanth is anything but naive. The films he has produced, the property he owns and the trusts and charities he runs are numerous: nobody really knows what he is actually worth. Giving his persona another fillip is 'Rajini 25', a 14-day extravaganza in Chennai to celebrate his 25 years in the film industry from December 12, his birthday.

"Rajini 25 is our tribute to Rajinikanth", says Latha, his wife. The highlight is a theme exhibition on Rajinikanth's life and career at the Dr MGR Film City, besides souvenirs like gold coins and watches with 'Rajini 25' engraved on them apart from a designer cafeteria serving the star's favourite dishes. The icing on the cake will be an entertainment show on December 23 in which Amitabh Bachchan is scheduled to participate. The show will also have Latha crooning live for the first time in Chennai.

While some tend to dismiss the show as over-publicity, it is true that Rajinikanth is one of the most powerful men in Tamil Nadu today. Billed as the state's future chief minister, Rajinikanth has kept the public guessing about his political plans. His recent films have been full of political messages, but the star himself has refused to take the plunge. "He always says that he is indebted to the people of Tamil Nadu. He will take the plunge when the time is ripe, and it won't be in the immediate future," says Ramanan.

Whenever he does, it will be another milestone in the life of Shivaji Rao, the youngest in a lower middle class Maharashtrian family of six in Bangalore. He had worked as a clerk and a coolie before landing the job of a bus conductor with the Karnataka transport corporation. Impressed by his performance as Duryodhana in an annual play of the transport union, his friends insisted that he take up acting as a career. At the same time the film institute in Chennai had advertised for an acting course and Shivaji Rao enrolled for it with the money given by his friends. The rest is history.

When he was in his final year, K. Balachander cast him in Apoorva Ragangal and gave him the name Rajinikanth. His entry in the climax scene of that 1975 film, in a sense, signified the entry of a new star in the Tamil film industry. His first film as hero was Bhairavi in 1978. Rajinikanth's transformation from the mean-looking, pan-chewing villain in Padhinaru Vaidhinile, Gayathri, Moondru Mudichu and Avargal to the swashbuckling do-gooder was remarkable. His 'Rajini style' mannerisms caught the fancy of the masses.

The man whose ambition at one stage had been to possess 'a Vespa scooter, a one-room flat and all the cigarettes money can buy', suddenly found himself being paid Rs 5 lakh a film. The wealth and fame went to his head. "That was a wild Rajini who valued wine, drugs and women more than anything else," says a veteran film critic. But in 1982, marriage changed his life. The soft-spoken Latha, who had met Rajinikanth to interview him for her college magazine, was a calming influence.

Rajinikanth also discovered spirituality. In rapid succession, he discovered Ramakrishna Paramahamsa, Ramana Maharshi and Swami Raghavendra. It was in a way, a reiteration of his devotion when he played Raghavendra in the runaway hit Sri Raghavendra in 1985. He also named the kalyana mandapam he built in Chennai after the saint.

The Raghavendra trust he set up supports the education of about 100 students in each district of Tamil Nadu every year, while he performs 25 free marriages in a year at the hall. His contribution to the film industry has been in terms of the lumpsum money he gave to veteran artistes like V.K. Ramaswamy from the proceeds of the two films he produced, Arunachalam and Padayappa, his 150th film. He has acted in 96 Tamil films and 24 Hindi, apart from a few in Telugu, Kannada, Malayalam, Bengali and English.

In the time-honoured tradition of Tamil Nadu, it was inevitable that Rajinikanth would become politically active. And he did, in 1995. At a function organised to celebrate the silver jubilee of his film Baasha, Rajinikanth criticised the 'bomb culture' prevailing in the state. A furious Jayalalitha, then the chief minister, sacked her cabinet minister R.M. Veerappan who was present at the function as the producer of Baasha.

Though his support helped the DMK-TMC alliance win the 1996 elections, in 1998 the alliance lost many constituencies. In 1999 Rajinikanth played it safe by asking his supporters not to vote for corruption (read Jayalalitha). His last political statement was in Padayappa in which he declares 'yen vazhi tani vazhi' (My path is a unique path).

For all his gregariousness on screen, Rajinikanth is a recluse in real life. "He goes to Rishikesh and the Dayananda Saraswati ashram in Anaikatti near Coimbatore every year. He is a highly religious person," says Ramanan. But his associates admit that he is shrewd and intelligent. "He knows the power of mass media and how to exploit it," says the film critic.

And it is only a matter of time before Rajinikanth takes the plunge into politics.

(Source : www.the-week.com)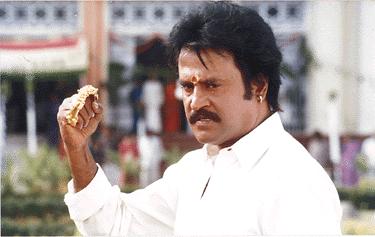 'Rajini acts in front of the camera, never behind it'

S P Muthuraman

(Source : www.rediff.com)

If the last year of the '90s is special to Rajinikanth, marking as it does his completion of 25 years in the film industry, then I must say it is special to me as well. I too have a cause for celebration: Rajinikanth has done 25 films under my direction, which is more than any other director can claim. It is a matter of pride to me.

These days much is being made of the hero who plays a 'negative' role. It is seen as a big career risk, and the actor is applauded for his courage in taking on such roles. The same goes for what they call 'performance oriented' roles or roles that go against the star's accepted public image.

But it is nothing new really. When Rajini was doing action films and building a loyal fan base, I cast him in Bhuvana Oru Kelvi Kuri. The role demanded that he underplay his star image, cut out his mannerisms and play a 'soft' character. Shivakumar, then a romantic hero, was cast in a 'negative' role in that film.

This was the first film the two of us did together. It proved a huge hit. What made the film work was the performances of all the lead stars. By then, Rajini had also played a few villain-ish roles -- you have to remember that his first few roles, in Moondru Mudichu and Avargal for example, had negative connotations. Then he began doing action roles.

Once Panchu Arunachalam, who went on to produce a lot of the films that Rajini and I worked on together, and I had called Rajini over while casting for a film called Avalukku Oru Aasai. We were considering him for a small role. But after meeting him we found a certain incandescence, a 'brightness', about him. We decided we didn't need him to do that small role. We preferred to cast him in something bigger, better.

Thus, when Bhuvana Oru Kelvikuri was conceptualised, we cast Rajinikanth in the role of the man who takes care of the heroine, Sumitra, after Shivakumar makes her pregnant and ditches her. If you remember the film, Rajini plays a 'soft' role. He lives with Sumitra as her protector in an entirely platonic relationship.

We went on to do other films that had Rajini playing roles alien to the action image he had built for himself. Like Aarilirunthu Arupathu Varai and Engeyo Ketta Kural. In the former, which examines the life of a man from the age of six to 60, Rajini had to go through the gamut, from young to old. He did it with aplomb, without bothering about his image.

Another milestone was Murrattu Kaalai, a film shot in a village setting. Jaishankar, who generally plays hero, turned villain, while Rajini, shedding the flamboyant clothes that were by then becoming his trademark, played the hero in a very folksy, village-style get-up. This was an entertainer out-and-out. The stunt sequences were a hallmark. There is one atop a moving train choreographed by Judo Rathnam that is still talked about when landmark stunts are described.

If Rajini was all involvement when doing the earlier performance oriented roles, he was equally involved in this film. He worked hard, participating in the stunt sequences without a double, striving for excellence. This was also the film where for the first time -- of course, now this has become a trend in all Rajini films - a song, 'Podhuvaga en manasu thangam, oru pottiyinu vanthuvitta singam', was written specifically with his image in mind.

That film was the finishing touch to Rajinikanth the actor, star and now the superstar.

From that point on, Rajini acquired a larger than life image that was difficult to break. However, it is a mark of the man that he then did Shri Raghavendra, a saintly role completely at variance to his usual flamboyance. And the idea came from Rajini himself. He is a devotee of the saint. He took the idea to K Balachander (KB, as he is known) who produced the film. I directed it.

His performance, his involvement in the film, was unforgettable. During the 90-day schedule, the entire unit was on a kind of vrat, abstaining from cigarettes and non-vegetarian food. We took the script first to Mantralayam, the abode of the saint, and got it blessed. We did the same thing again with the first copy.

Among the commercial films we did Nettri Kann was a big hit. It had Rajini playing the roles of father and son. Usually in such films, the father turns out to be the good guy and the son is a bit of a wastrel. Here it is the father who is lecherous. The son is the good guy. Balachander said that the film had a lot of scope for Rajini, that we should extract his best. Thankfully, we did.

If Rajini is a diamond, then KB and I worked together to perfect him. KB discovered him. I helped to polish him.

Rajini is the kind of person who is involved in every aspect of the film he is working on, right from the scripting stage. Even when doing an out-and-out commercial film, he has to sit with his script, get a feel of the character he is playing... You can't separate the actor from the star, because he is very involved with whatever role he plays. He is very demanding of himself, has to be one hundred per cent satisfied with every take he gives. He drives himself very hard.

I mentioned his commercial hits such as Murattu Kaalai and Paayum Puli. Then of course there is Aarulirunthu Arupathuvarai, Bhuvana Oru Kelvikuri and Engeyo Ketta Kural for sensitive performances.

He has a flair for comedy too. We did Velaikaran and Guru Sishyan. In the former, he plays a simpleton whose attempts to talk English brought the house down. In the latter, he and Prabhu were brilliant at comedy -- by the way was this was Gauthami's debut film.

Rajni is very popular with kids. You will see many of them imitating that famous flick of the hair or some other mannerism. It is a reflection of what a good role model he is that parents actually encourage their kids in this.

Now, how do I describe the Rajinikanth I know? I would say he is, at the bottom of it all, human. That is the best adjective I have. It is this quality of humanness that stands out. He acts in front of the camera... never behind it. In the sense, he is a natural, unaffected person in real life. He is open, frank, very forthright, very loyal to his friends and family. A great human being.

Twenty-five years in the industry for him, 25 films with him for me... It gives me great pleasure to realise that I too have had some small role to play in his success.

Director S P Muthuraman spoke to Rajitha


'He wants to do less work, to gradually retire, fade away from public eye'

(Source : www.rediff.com)

Madras autorickshaw-drivers are notorious for never taking you where you want to go. And if they do deign to drive you to your preferred destination, demanding double the going rate.

When I tell the driver that my destination is the Rajinikanth home on Poes Garden Road, I have, for the first time, the experience of being driven by a more-than-willing driver. And when we get there, he uses my presence as an excuse to hang around, hoping for a glimpse of the thalaivar, as Rajinikanth is known to millions of his fans.

I am ushered into the office of Lata Rajinikanth. All is bustle here as the superstar's better half, and a large staff assembled for the occasion, busy themselves with preparations for the bash -- on December 23 -- that will commemorate his 25 years in the film industry.

Lata is tired. Apparently, she has been working overnight, recording an album that is due for release on the big day. She's willing to spend time talking to us about her husband -- who for his part has made it clear he will give no interviews for the occasion -- but it takes an hour of waiting, while various factotums pop in to apologise for the continued delay.

Finally, she arrives -- and, in her soft-spoken manner, tells Rajitha about the man in her life.

How did the two of you meet? I recall reading that you had gone to interview him...

I was in Ethiraj College at the time and wanted an article for the college magazine. The first time I went to meet him was to get an appointment for the actual interview.

When was this? Do you remember which film he was doing at the time?

This was in 1980, he was shooting then for Thillu Mullu (The Tamil version of the Amol Palekar-starrer, Golmaal). We got married a year later.

And what was your first impression of the man you went on to marry?

I somehow felt very comfortable with him, it didn't feel like I was meeting a filmstar. It was as if I had known him for a long time.

Didn't you once tell someone that you felt a need to mother him?

No, it wasn't like I felt the 'need' to mother him. It was that I knew he had had a different sort of childhood. He lost his mother when he was very small. I was fond of children, I still am. And somehow, when I look at people, I look at the child in each person. I firmly believe childhood shapes adulthood. As he had been through a very difficult childhood, I felt strongly that he needed motherly affection, that he had probably missed out on it. Also, as a child he lacked the basic comforts, his family has struggled a lot. He never had a mother to comfort him, and that was what I perceived.

So at that point, he found an anchor in you?

Yes. At least, I hope so (smiles) Wasn't this the time when he was going through a disturbed, difficult phase?

Yes. He had just had a serious nervous breakdown, he had some health problems. When I met him, he was just coming out of it. He went on to totally overcome those problems, of course.

What is your take on Rajinikanth the person, as opposed to the star?

I would call him a hard-working simpleton. His basic needs are very few. He has this thing, this insistence that his life should be useful. He believes every life has a purpose and he is always looking to find and fulfill the purpose of his own life. He has a strong spiritual inclination, which, in fact, began very early in his life. So he is always looking at everything he does, even his acting, in terms of how useful it is for the masses.

And yet, the public image is of a flamboyant superstar. How does he strike a balance between his spiritual side, and this popular image?

That public image doesn't affect him as a person. In fact, the more his fans laud him to the skies the more he becomes to become more and more humble. He keeps saying it is all God's grace. He accepts the adulation, he is touched by the love, and he keeps saying that there is some purpose behind it, that there is something beyond all this. So he is constantly looking for that something, within him, and without.

This spirituality, you said, he has had from an early age. But is it constant, or do you see this side of him growing with the years?

It's growing, very much so, it is a steady kind of growth. Everyone wants to better himself, but when you go beyond that, when you actually try to mould yourself, to make something constructive out of your life, the process of bettering yourself begins, you begin to grow within. That is what he is going through, experiencing, trying to do. He has had a difficult past, experienced different things in his youth, now he seems to want to get better and better as a human being.

Would you call him reclusive?

Not reclusive, no. I would call him contemplative, analytical, always trying to understand himself, understand life. He is surrounded by people all the time, he rarely gets time to himself, to think and introspect. So he likes, when he has the chance, to get away, to be where he can be by himself. He prefers to have time and space in which to think and to introspect -- but that doesn't mean he is reclusive.

How then does he keep his fans happy with that completely different image?

He understands it is a role he has to play, and he tries to play that role, which is what his fans expect of him, as best he can.

And what of Rajini the actor?

I would use the word dedicated. When it comes to a role, he doesn't compromise, he pushes himself to do it as well as he possibly can, no matter what it takes.

Earlier, he used to do performance-oriented roles, like Bhuvana Oru Kelvikuri, Aarilirunthu Arupathuvarai... he hasn't done much of those lately, has he?

At that time, he had a choice. He was new to the industry and growing, so he had more variety, more characters, more shades to express himself in. And he used to try doing different things. For instance, he played an old man almost 20 years ago, when he was young and just becoming successful. But in time, his image took on a form of its own, made him a mass hero and from that point on, he had to work within that framework, he had to keep his eye on the business side of his profession too. He has to keep an eye on the requirements of his fans, so some of those options are no longer available to him.

How involved are you in his work?

He is a professional, he insists on thinking his work through himself. Till I came along, he was on his own; now he has me. We discuss roles, the various aspects of the business -- it is like any other couple, we are partners in life. But he is the man who has done it all, I respect his judgment. I might have opinions, which I share with him, but he makes the decisions, he knows exactly what he wants to do.

Which of his roles is your personal favourite?

Oh, I enjoyed every role he has ever done, each of them is unique in its way. There is something in each, to look forward to and like. And also, since I am seeing it from this side of the fence, I know what he has gone through, what he has put into every role, so that is another reason for me to like them all.

What is Rajini all about? The spinning cigarettes, the Rajini-style that has the fans whistling, or is there more?

There is more. I think he is a very natural actor, I enjoy his style, but he also has obvious acting abilities.

What has his success done to the family, in terms of privacy lost? How do you cope?

Now that is something every celebrity family has to face, actors especially, so it is nothing unique to us. We obviously cannot enjoy the normalcy of ordinary people, we can't move around much. But like I said, it goes with the territory, we have to understand it. And we also think, God has been kind to us, He has given my husband the love and devotion of so many fans, and that makes up for what we lose.

Sure, there is a loss of privacy. We can go on very few private outings. More so now, since his films are distributed all over the world, he is recognised even abroad, so that is another area of privacy we have lost...

Yeah, we read about his success in Japan -- what was that all about?

Frankly, we are amazed by it, we are pleasantly surprised by it all, but we don't have a clue how or why it happened. Out there they call him the Dancing Maharajah, they seem to be taken up by his acting and style and dancing and all the rest of it, and his movies are proving to be huge hits. Nowadays, Japanese tourists come here and take pictures of our house... it is all quite sudden, and surprising.

You talked of your interaction in his work, how about vice versa? Does he involve himself in your activities?

Yes, we have a close interaction in all that we do. After we got married, we talked a lot. I used to talk about children, child psychology. I am convinced that adulthood is based on childhood. I used to keep telling him how childhood affects adulthood. In fact, I studied him as one of my main examples.

Our house used to be full of kids -- infants and little ones, kids of all ages. This was the way it was even before we started the school. Now it is more so, because kids from our Gurukula are here all the time, this is an open house for children. Our house is called Brindavan -- we named it so after marriage, and now there is Krishna, and the children, in it...

You mentioned your school -- tell us how and why that came about?

I have been running that now for about nine years. I started it because I thought there should be a different approach to the way we teach, the way we prepare our teaching material. We are launching a new board, we have already begun innovative teaching practices at the college level.

We put together a professional team, and our focus is on individual moulding, not collective teaching. The idea is to create personalities, not just graduates or whatever. We are now going in for a junior college without group selection, which means everyone will study all subjects, preparing them for college. We also have counselling, in-house.

We are starting something called TASC school -- The Ashram Specialised Curriculum school. We think it is the right educative pattern for the millennium. It is the teaching system, the way children are handled, prepared, that will be different.

There is also a lot of extra curricular activity, I was told?

Yes, of course. Cultural activities like traditional Indian art forms are taught here. They are also taught about our various festivals, traditions, these are all integrated into the system. We organise melas periodically and the kids enjoy those. I handle this part of the teaching myself. We stress on values, on mutual respect. We have Christian students chanting the slokas, our Hindu kids right now are busy rehearsing Christmas carols...

To get back to Rajini, which is his favourite role?

(Laughing) That's easy, the role he is doing now is his favourite role. If he is doing Baasha, he says it is Baasha, if he is doing Padayappa, then his favourite is Padayappa. He is so involved in the role of the moment, that it looms above everything else.

Do you see him coming up with the kind of performance-oriented role he used to do when he was much younger?

That, you see, can't be an individual decision. He can't, on his own, decide what he is going to do. Rajinikanth today is more than an actor, he is an industry in himself, there are a lot of people who depend on him and his success. This aspect, of commercial viability, is something that he has to keep an eye on at all times.

Is there a role or roles that he tells you he dreams of doing?

Actually, what he tells me is that he wants to do less and less work, to gradually retire, fade away from the public eye, get to spend more and more time with himself.

Talking of retiring, when Padayappa was being made there was some talk that this would be his last film as a hero. Is that true?

Well, we hope not, but it is true that he wants to pave the way for his retirement, go more and more inward-looking... I don't know, time will tell, I guess.

Is he into reading?

Yeah, quite a lot, from Amarchitra Katha to philosophy, bestsellers, non-fiction on various subjects...

And music?

That is an absolute necessity for him, he needs music to relax, he needs it when he is by himself. When he is around, there is always music playing in the house, that is one way you know he is at home.

Now tell us about this celebration on the 23rd (December 23) -- what is it all about?

I have been thinking of the way he's come up, the hard work he has put in, his career, his sense of purpose -- and I thought I wanted to commemorate both the person and the actor. He has done a lot of things that no one knows about, and I want the spotlight to fall on that aspect of him.

If his parents were around now, they would have been proud of him, so in a way it is like I am doing this on their behalf. Actually, it started off as a very private appreciation of all the good work he has put in, but to do it right takes a team, which I put together, then the plan just snowballed.

We wanted to have a film festival, a theme exhibition, theme pavilion, live stunt shows, then there are the memorabilia sales, like pendants, watches...

He is a private person, doesn't want honours and so on, he tends to shy away from all this. He finally agreed only because of the spirit of the show and because it is dedicated to a good cause. We are engaged in a lot of social activities, like arranging marriages for poor people, old people's homes, foundations where we help economically weak students. Through our schools, we are putting together a campus that will really foster children, help them grow as individuals.

And the money we raise from these celebrations will go to fund all these activities...

I remember at the Padayappa silver jubilee week celebrations, he announced that he was giving something to the public, what was that?

We have personal property. One of those -- the Raghavendra Kalyana Mantapam -- he has given away in his will, to the public. After his time, the income earned from it will not come to the family, it will go to a public trust, to be used for charitable causes.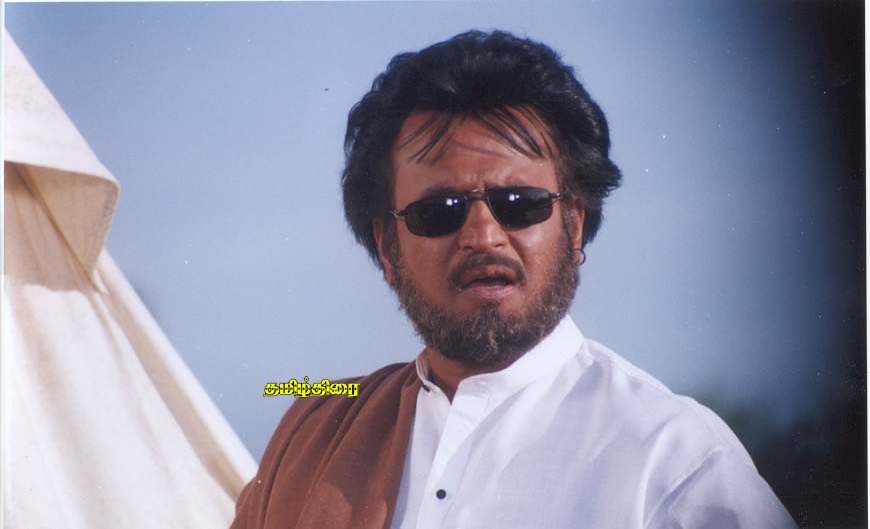 Rajinikanth
18, Ragava Veera Avenue,
Poes Garden,
Chennai-600 086
Tel: 4990278/8274612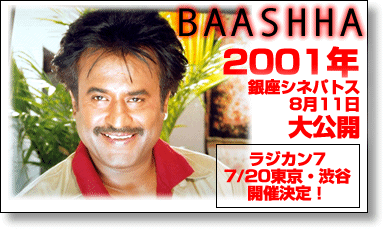 Click on the picture to go to The Japanese Rajnikanth fan club Home Page.(Japanese site)