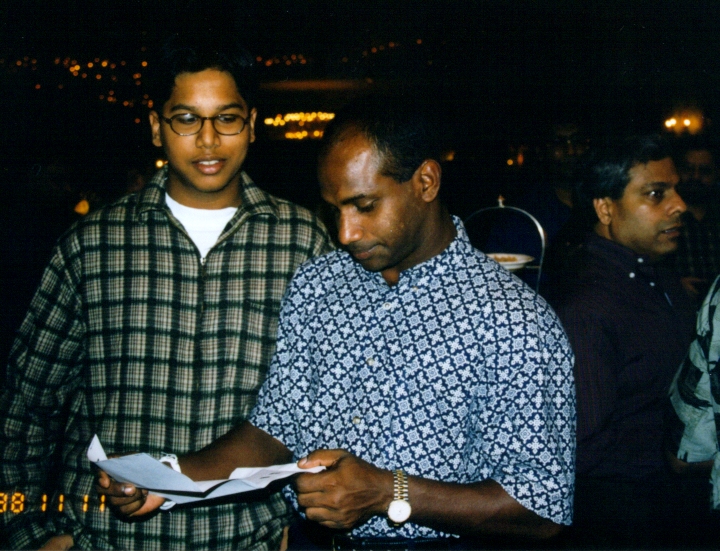 Sanath Jayasuriya: "It's always emotional to lead Arjuna, Aravinda"

(Source : www.cricketnext.com)

The 1999 World Cup saw the fall of Sri Lanka from the high pedestal of world cricket. What followed was the restructuring of the Asian Caribbeans under the leadership of the 'Master Blaster'. A win against the world champions Australia and a strong Indian team at home set the ball rolling and Sanath Jayasurya's Sri Lanka has not looked back since.

Victory followed abroad -- in Zimbabwe and Pakistan - and regained the former world champions the honour it had been familiar with. Jayasuriya took time off to speak to Partha Rudra during the CricketNext.Com Cup in Dhaka.

Q: What really has been the secret of Sri Lanka's turnaround?
A: You see we were doing some basic mistakes. As we were on a roll for sometime, we really didn' t have the opportunity of looking back. Small technical mistakes started to creep into our game. Once we got the jolt, we really had to look behind. That worked and we were back to where we should have been. We started to perform as a team, the players got supportive and thus results followed.

Q: The new players have responded briliantly, have they not?
A: That's true. Actually, you see they have been brought up through a process which has really helped them to get a feel of international cricket before they actually got into it . The 'A' team tours and the opportunity to play against any touring side really prepared the likes of Indika (Galagoda), Dilshan, Russel (Arnold). They had talent and these games prepared them mentally. Dave Whatmore's presence was an additional benefit for them, when they burst on the scene.

Q: How does it feel to lead Arjuna Ranatunga? After all, you started playing for Sri Lanka under him.
A: It is always very emotional to lead people like Arjuna and Aravinda (de Silva). There is no doubt that they have helped me a lot during my days as a member of the team. They are still helping me flourish as a captain. In Pakistan, Arjuna went out to bat with two injections to numb the pain from his thumb injury. I told him not to bat since he was in much pain but Arjuna told me 'I must go out and win it for you'. It was very emotional, indeed.

Q: What do you think drives the likes of Ranatunga, de Silva and Azharudding in international cricket? What is it that makes them hungry for more?
A: I believe their pride in performance for so many years has kept them going in the circuit for sometime more.

Q: As captain, which has been the most satisfying victory?
A: The win in Pakistan because no one expected that. That victory will do a world of good for the future of Sri Lankan cricket. Winning in Zimbabwe was also satisfying because we hadn't won there in 1994.

Q: We have not seen you in a blasting mood for long time. Does captaincy has to do anything with that?
A: Not at all. I am a natural stroke-maker. To survive, I'll have to play the way I've been known to play. I believe it's just a matter of time when I'll get going again.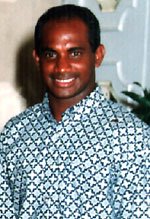 2001 Campaign

Leading cricketer and Captain of Sri Lankan Cricket team, Mr. Sanath Jayasuriya has set an example for the entire cricketing community to be proud of. This master blaster, who has raised the game of cricket to new levels of aggression, has committed himself to the fight against HIV/AIDS. The first ever cricketer in South Asia to endorse the region's fight against the fast-spreading epidemic.
Mr.Jayasuriya leads from the front - in his capacity as an individual and also as a Goodwill Ambassador for UNAIDS. "My message is simple: always act with responsibility when you are in a situation that could make you vulnerable to HIV/AIDS," he says.
Despite his busy schedule, Mr. Jayasuriya spares no effort in participating HIV/AIDS related activities whether it is a campus programme or a cricket match to spread awareness. "I hope my commitment would catalyse the efforts of others to prevent the spread of this disease in Sri Lanka and in the region."



Interview with Mr. Sanath Jayasuriya, Ambassador of Goodwill for Joint United Nations Programme on HIV/AIDS (UNAIDS)

(Mr. Sanath Jayasuriya, Captain of the Sri Lankan Cricket Team was recently appointed as the UNAIDS Goodwill Ambassador in Sri Lanka by Dr. Peter Hybsier, Chairperson, UNAIDS.)

1. Why did you wish to assume the role of Ambassador of Goodwill for UNAIDS?

When UNAIDS approached me in April 2000, asking whether I could accept the appointment of Goodwill Ambassador, I did not hesitate in saying yes. This is because the health of our nation is a subject that is very close to my heart. It is the duty of every citizen in this country to ensure that all people are healthy. I will do whatever I can to accomplish this goal. UNAIDS works for the prevention and control of HIV/AIDS in Sri Lanka. HIV/AIDS affects especially the young people of Sri Lanka. Most of the young people in Sri Lanka happen to be cricket fans. Therefore I think I can play the role of Ambassador of Goodwill.

2. How do you think you would be able to contribute towards the prevention and control of HIV/AIDS?

My team and myself are committed to play the game in a responsible manner. If we act with responsibility, it is very difficult for another team to beat us. Winning and acting with responsibility have a close connection. In a similar manner, preventing sexually transmitted diseases and responsible behaviour of men and women have a very close relationship. This is the approach of the message I want to convey to all young people in Sri Lanka. I believe I can contribute to the prevention and control of HIV/AIDS by spreading this message not only in Sri Lanka, but in other cricketing nations as well.

3. Which segment of society do you think you would be able to influence most?

I think I can influence all segments of society. When, we as Sri Lankans go into the playing field, we don't think of different segments of society. Everyone supports us in one voice. However, the segment I wish to influence most are young boys and girls, my fellow brothers and sisters in Sri Lanka. This is because the youth are the most vulnerable segment to contract HIV.

4. What is your message on prevention/control of HIV/AIDS to the men of Sri Lanka?

My message is simple: always act with responsibility when your are in a situation that could make you vulnerable to HIV/AIDS. I will elaborate in what I mean in the coming two years when I will be continuing as the Ambassador of Goodwill for UNAIDS.

5. What do you feel about people being discriminated against because they have been infected with the AIDS virus?

Discriminating against persons with HIV has no basis whatsoever. People act irrationally sometimes when they are scared. This is why people marginalise those who have deadly illnesses. There is no reason to marginalise HIV positive people. They are just like us. You couldn't contract the virus just because they sit next to you. It is inhuman to discriminate against any group. If we do, the virus will go underground and public health officials will not be able to control HIV/AIDS. We have to protect the rights of the people living with HIV / AIDS.

6. In your opinion, what could the government do to prevent the spread of HIV /AIDS ?

Unlike other diseases, there is very little the government could do to prevent HIV /AIDS. Individuals must take the responsibility for their own health and should not engage in unsafe sex. Government institutions such as the Ministry of Education could strengthen their education programmes so that people know about the condition. Other non-governmental organisations should also play an active role in prevention by educating other vulnerable populations such as out of school youth, university students, the migrant worker community and the fishing community. Donor agencies should support our projects on prevention of HIV / AIDS. They should not relax simply because we have only 7,600 estimated HIV positive cases in Sri Lanka.

7. How do you propose to spread this message?

I think I will have some influence on young people of all cricketing nations. I will be associating myself with HIV/AIDS prevention programmes that are organised in Sri Lanka to the best of my ability. Although I will not be able to be physically present for all of them, I am willing to give them my goodwill messages etc. I will also get the opportunity to make pronouncements on health promotion when I am covered by the national and international media. I hope my commitment would catalyse the efforts of others to prevent the spread of this disease in Sri Lanka and in the region.


(Source : www.unaids.org)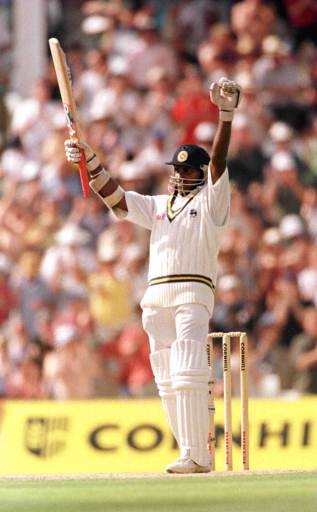 'Dont expect miracles overnight', Sanath

(Source : www.lacnet.org)

Arjuna, Aravinda assure full support to new captain
By Marlon Fernandopulle

Whenever Sanath Jayasuriya walks out to bat the level of expectation is high.It will be no different when he walks out leading the Sri Lanka team.The opener who brought about a new dimension to the oneday game and turned it on his head, will now have to perform a similar role as captain to resurrect the fortunes of the game of his country.

However Sri Lanka new captain warned saying "Dont expect miracles overnight.I have been entrusted with the job and I will strive to do my best and also get the best from my teammates to put Sri Lanka Cricket back on the correct track".

In an interview with the Sunday Times Jayasuriya dispelled doubts and rumours about the role of former captain Arjuna Ranatunga and vice captain Aravinda De Silva in the team. "I had a long conversation with Arjuna and Aravinda at practices and both players have promised their fullest support to me and the team.Infact I will be counting on their wealth of experience to steer Sri Lanka cricket to greater heights".

Jayasuriya who celebrated his 30th birthday recently admitted that the captaincy came to him as a surprise."I never expected to be named as captain although I knew a change was on the horizon.It's true that I have captained Sri Lanka on previous occasions but I never expected an official appointment of this nature even in my wildest dreams".

Jayasuriya is fortunate to have the services of Sri Lanka's World Cup winning coach Dav Whatmore right from the beginning."Dav is aware of the individual needs of our players and is the best person for the job considering Sri Lanka's current position in the game.I am confident that Dav will be able to sort out the problems we have especially in the batting department soon" he said.

When asked whether he intends to make any changes in the training Jayasuriya replied saying,"Yes I will have to speak to Dav first and maybe think of having shorter and intense sessions as compared to the long sessions". And what about the fitness? "That is an area where we do not have problems.Alex Kontouri is doing a wonderful job and he is certain to continue in the same vein".Kontouri who was recruited following Dav Whatmore's recommendations had his contract extended with the Cricket Board last week.

The following that Sanath Jayasuriya has in this country is enormous.He is easily the most loved and sought after cricketer not only by the general public but also by the media. His simple, unassuming and smiling ways has earned him that tag.But today, he will have to transform those qualities to the tough,gutsy,fighting characteristics of a country's cricket captain and put back Sri Lanka cricket to where it belongs.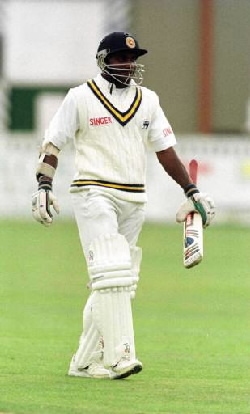 The Matara Marauder
Jatila Karawita

Sri Lanka's 'Matara Mauauder' dashing opening batsmen left hander, Sanath Jayasuriya was felicited last Saturday by R. P. G. Enterprises for having won the maestro trophy for the Ceat International 'Cricketer of the Year' at Hotel Taj Samudra amidst a distinguished gathering of present and past cricketers and leading businessmen. Jayasuriya who enjoyed a purple patch with the willow in both versions of the game aggregating well over a thousand runs, warded off a stiff-fight mounted by Indian master bat Sachin Tendulkar to take home the coveted award. Thus truly living upto his nich name "Master Blaster".

The Sri Lankan batting sensation addressing the gathering in his inimitable way, mentioned that it was an honour for himself and to the rest of the members of the national team to pocket the prestigious 'Ceat Internationa Cricketer of the Year' award. He said "This award, in my view is a just reward all round to the Sri Lanka cricket team as a whole in appreciation of our performances in one-day Internaional cricket during the year 1997." Drawing his attention to the latest Ceat International Cricketer of the Year ratings even ahead of champion Indian batsmen Tendulkar.

The explosive Sri Lankan opener rounded off describing the CEAT cricket rating system that duly recognises a player and a team's efforts by awarding them a glittering trophy. He wished the organisers of the Ceat International Cricket rating Arards R. P. G. Enterprises all the success in the future and expressed his feverent hope that more players from Sri Lanka will follow in his footsteps and vie for the Ceat Trophy in the years to come. The Ceat International 'Cricketer of the Year' and team awards which is chosen by an adjudicating panel of three legendary former cricketers namely Ian Chappell of Australia, Clive Lloyd of West Indies and the little master of India, Sunil Gavaskar, also came in for high praise from the President of the Board of Control for Cricket in Sri Lanka, Thilanga Sumanthipala. The Cricket Board Chief speaking on the occasaion, said, "It was a rare honor brought to Sri Lanka by Jayasuriya as his deeds went to the extent of winning this award which in itself was a first in the country's cricketing history. Since winning the Wills World Cup in 1996 in Pakistan our cricketing stock has gone from strenght to strength and though for the time they have been brought down to earth from their high-riding days, Sri Lanka will once more bounce back with a vengence under the shrewd leadership of Captain Arjuna Ranatunga in the upcomming tour of Australia," emphasised Sumathipala.

He finally thanked the organisers for instituting an award of this nature which gives an equal opportunity to each and every cricketer to stake a claim for it through their prowess in the three departments of the game - batting, bowling, and fielding. He sincerely hoped more Sri Lankan cricketers will win this Ceat award in the seasons ahead. Harsha Goenka Chairman of g. P. G. Enterprises, speaking on behalf of the organisers said "cricket around the world has reached a new high. One of the reasons for the inauguration of the Ceat awards was that we felt there should be a balanced impartial system which should acknowledge the best on the international cricket arena and also to encourage young talent to set new standards for the game.

The maestro trophy, in appreciation of outstanding performances is awarded every year to the best cricketer and the team. These beutifully sculpted trophies are symbolic of every cricketer and and the team's goal to be the best in the game. They are a display of unbashed exultation, experienced after reaching the Zenith of success" elaborated Goenka. Continuing he said, "winning the title of Ceat International Cricketer of the Year proves consistency in the game and the right spirit in which it is played. The '97 season saw a tough fight between two great players in their own right Sanath Jayasuriya and Sachin Tendulkar. But when the dust cleared, Jayasuriya took home the award, thus living upto his status as one of the world's best one-day batsmen." He assured the audience that R. P. G. Enterprises would continue to give away Ceat awards on a yearly basis. thus underlining their commitment to reward deserving intertnational cricketers and teams in the years to come.

Ranjith Fernando, manager of the Sri Lanka team made the occasion the stage to dwell on Sanath Jayasuriya winning the 'Ceat International Cricketer of the year' award. His efforts had brought laurels to the motherland which no other player had acheived before. He said, "when the national, team won the World Cup '96 the entire nation erupted in unbridled joy and united behind the cricketers as one happy family. Since that heady day in March that year, the boys have bought many a victory to the country in both forms of the game which has been duly acknowledged and rewarded by fans and officials alike. And it is with that in mind that I call apon everyone interested in Sri Lanka cricket to support the boys in their hour of need. And I am sure Sri Lanka, after the setbacks in Bangladesh and Sharjah, will rise from the ashes and with a positive outlook. Captain Ranatunga and his band of champion cricketers will strive hard to restore the lost glory in the Kangaroo land".

The Sri Lankan team Manager was also of the view with the recognition accorded to the international cricketers from the nine test playing nations would go a long way in appreciating their performances by an eminant panel of judges and added that more Sri Lankan players should compete for these honours alongside their foreign counterparts in the seasons to come. Begun in '95, Ceat International cricket rating awards hall of fame has been graced by luminaries such as Brian Lara, Venkat Prasad and Wasin Akram in the past. Another highlight of the proceedings besides the handing over of the trophy to Jayasuriya by Harha Goenka was the three large giant screens erected at the Golden Pond which displayed the one-day exploits and heroics of the sensational Lankan opener in his hey-days hitting the cover cut of bowlers, and the proud occasions when the local wonder boys took the cricketing world by storm winning the prestigious Wills World Cup in Lahore in what turned out to be the country's finest hour in sports history.

The Island
Sunday, 20th December 1998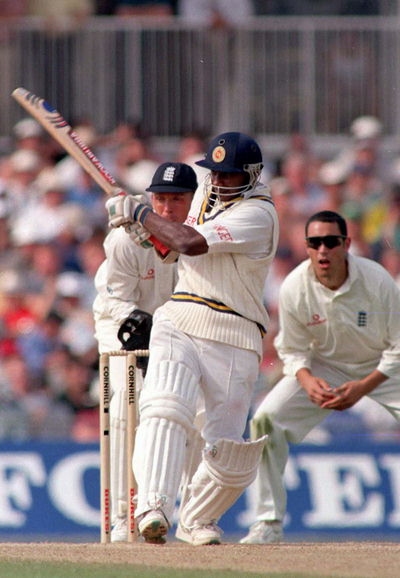 A Brilliant Entertainer

(Source : www.yehhaicricket.com)

He is a dynamite it himself. Probably one of the strongest cricketers in the game he is also a thinking captain. Under his captaincy Sri-Lanka has found their winning mantra and they have combined well. On their trip to Australia in 1995 he found his real form and did not look back after that. One of the biggest reasons for Sri-Lanka lifting the 96 World Cup, Jayasuriya has broken records after records and has risen to the top. He is a good bowler as well and the best man to lead the team as he always sets an example for others. He has made runs in both versions of the game and he is the highest wicket taker for Sri-Lanka. A few months ago he went through a lean patch but he is back in form at the right time and this is bad news for other teams because once he gets going than there is no stopping. He just goes on and on hitting every bowler to the fence with such power that fielders seldom try putting their hand in between. Totally non-controversial he Sanath is a well-respected cricketer and he is a sight to watch when in full flow. .

He is a very important part of World Cricket as it was his performance in the World Cup, which brought so much excitement to this game and the game has never been the same again

Here is what these big names in cricket said about this hero

His Captain Arjuna Ranathunga- When he won the world cup Most valuable player award

"He has batted well, fielded brilliantly, and when given the ball, has come up with crucial wickets. What else can I ask of a player?``

England captain Mike Atherton about Jayasuriya and Kaluwitharana:-After his 82 off 44 balls in the world cup quarter finals

"They play the first 15 overs as if they were the last 15. I think Sri Lanka have taken the game to new levels. It`s so difficult to bowl at them.``

Former Australian Captain Chappell

"Sanath Jayasuriya has been an important player in the Sri Lankan rise to the top. He is very exciting. I had the good fortune to see his two good innings in Singapore and, I haven't seen anything that is more exciting than that on the cricket field,''

Hindustan times editorial

The laws of gravitation took a holiday when Sanath Jayasuriya was at the crease

CricInfo in their top ten cricket stories of 1996

For years considered a run-of-the-mill batsman who could bowl some useful left-arm spin in one-dayers, Jayasuriya was promoted to the top of the batting order during the 1995-96 tour of Australia and, with Kaluwitharana, gave birth to an aggressive batting approach to the first fifteen overs. In the World Cup he clubbed the ball to all parts of the ground (and the grandstands) as he contributed to his country's finest sporting achievement. And in Singapore he brutalised the Pakistani attack to smash an array of one-day international batting records. A new startegy was born, but few were as capable as Jaya of carrying it through.

The Bible of Cricket, Wisden, when he reached the Number one Position in the ranking

''It was a phenomenal performance, Jayasuriya banished any notion that he is just a one-day player, batting for over 13 hours without giving a chance. He certainly deserves his high position.''

The Indian Captain Tendulkar After His 340 against India

''I have not seen Don Bradman bat, but I have seen Sanath Jayasuriya. I have not seen a better batsman in my cricketing career, as a player for India and much before that, than Jayasuriya. He is exceptional...has the skill to play shots on both sides of the wicket. He plays out of the book shots and it becomes difficult to set a field for him. Sometimes he has the luck, but a batsman of his skill, ability and capacity and option to play tremendous shots allround the wicket does not need luck. He was simply brilliant. Indeed, I have not seen any one superior to Jayasuriya,''

(Source : www.yeahsports.com)


Jayasuriya always likes to remain involved

(Source : www.lanka.net)

UPALI RUPASINGHE in New Delhi


Master blaster, Sanath Jayasuriya, in an exclusive interview with a national daily, ``The Telegraph'', at the team hotel in Gwalior, replying to a question ``whether he had aspirations to lead the national team'' has said ``I have never thought about it. At the moment I am content to do my bit with the bat and the ball and at the same time improve my game''.

Asked on how he sees his role in this Lankan line-up, Jayasuriya had said: ``As a full fledged allrounder, of course, batting is my top priority, but I also enjoy bowling and fielding. Basically I like to remain involved.

``Like most of the Sri Lankan teammates, he is a staunch Buddhist. He says his prayers twice a day and generally believes in non-violence (Ahimsa) as Lord Buddha had professed. But, give him a willow and see his eyes light up. And he will seldom rest before savaging the opposition attack. Lanka's `Most Valuable Player' of the Wills World Cup, Sanath Jayasuriya has come a long way since becoming the national hero last year'', the daily said.

`On life as national hero!, Jayasuriya has said: ``The euphoria of having won the World Cup did not quite sink in till we reached home. Celebrations were on, much before we reached Colombo and continued endlessly thereafter. It was heady feeling. My home was besieged by fans. I could hardly sleep with so much excitement around''.

Answering another question `on that fateful evening when he choked India's chase at Eden' Jayasuriya said ``Undoubtedly one of my finest moments in the game. I had failed with the bat and India were cruising when I came on to bowl. Of the three wickets I got, Sachin's was easily the most crucial, for, it opened up the road for the victory. It all happened so fast, I could hardly believe it''.

Sanath Jayasuriya also made some comments on rewriting the grammar of one-day cricket, the tour of down under in 1995-96, that record shattering 48-ball century in Singapore, on being at the receiving end of the Shahid Afridi onslaught in Kenya, his mental state as a bowler during the Afridi Blitzkrieg, his subsequent low-key performances and whether it will be a new Jayasuriya on view.


Records never bother me: Jayasuriya

DASHING SRI LANKAN batsman Sanath Jayasuriya in a freewheeling chat on the cricket site go4cricket.com.

Moderator: Congrats, Sanath on your innings and Sri Lankan victory.

Jayasuriya: Thank you.

Guest 99: How do you fancy Sri Lankas chances in the Asia Cup?

Jayasuriya: I think we have a good chance. But I never like to take things for granted. We have won against India but we still have the match against Pakistan. Then again there would be the final.

Girish: How does it feel to get a 100 hundred after 1997?

Jayasuriya: My last hundred came in end 1998. Of course, it is a great feeling to get back with some big scores?

Guest 56: Was it fun to be a judge for the Miss World Contest?

Jayasuriya: (laughs) No it was very serious work. There were so many different aspects that had to be judged. Frankly speaking, it was much tougher than facing Shoaib Akhtar.

Prathima: Would you marry Lara Dutta if you got a proposal?

Jayasuriya: Who?

Prathima: The current Miss World?

Jayasuriya: No thank you.

Samir: Who do you find tougher to face, India or Pakistan?

Jayasuriya: Both sides are formidable. The Indians are very strong in batting. Pakistan has an edge in bowling. But they are not poor in batting either.

De Silva: Who do you rate as a better batsman, Lara or Sachin?

Jayasuriya: Today, I would rate Sachin higher. He is much more consistent.

Anu: What would you give to get your hair back?

Jayasuriya: Nothing, because I am very happy the way I am. Thank you.

Prathima: Best wishes in advance for your birthday on 30 June. Where can I call you?

Jayasuriya: Many thanks for your wishes. You can reach me at go4cricket.com on my home site.

Roshan: Has Trevor sir been a help in improving the fielding of the Sri Lankan team?

Jayasuriya: He has helped all of us to improve our fielding as individuals.

Guest: Which is your most memorable performance?

Jayasuriya: 340 against India. It was a very satisfying knock, though it left me completely dehydrated and drained.

Vishal: Did you regret not getting past Laras world record?

Jayasuriya: Laras record didnt cross my mind even once. Frankly speaking, records never bother me.

Anushree: Will you be around to play the World Cup in 2006?

Jayasuriya: In 2006. Before that is the 2003 World Cup. And even before that are several tournaments. Right now I am in the middle of the Asia Cup. I like to only think about the job at hand and not fantasise about the future.

Supriya: Which is your favourite actress?

Jayasuriya: Irangani, Sri Lankan actress. Among Indian actresses my favourite is Kajol.

Fastbowl: Which other sport do you play?

Jayasuriya: I am an avid football fan and my all time favourite player is Maradona.

Fastbowl: If you got a chance to play for Manchester United would you play?

Jayasuriya: This is a fancy thought. I dont think I can ever get a chance but if I did it would be a dream.

Sanjiv: Are you distressed with the problems in Sri Lanka?

Jayasuriya: Yes, it is a very unhappy situation. I feel sad.

Akram: If you had not been a cricketer then what would you have been?

Jayasuriya: Very difficult to answer, I have been so busy playing cricket that I have never had a chance to think about it.

Bharat: What is your message for aspiring cricketers?

Jayasuriya: Please dont get carried away by the glamour. It is a very hard game which demands a lot of discipline and hard work. Do not take it easy.

(Source : www.hindustantimes.com)