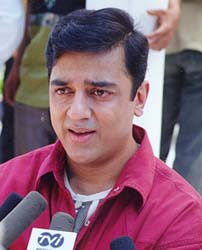 Biography
Kamal Hasans name symbolizes experiments. A versatile actor par excellence, who refuses to be typecast, Kamal has been experimenting for more than three decades and it is his penchant for experiments that kept him going great guns.

He came to the film world at the age of four. His first film Kalathur Kannama won him Presidents Gold Medal. As a child and as a young artiste Bharatanatyam was his forte. He did choreography and small roles in a few movies in the 70s before K Balachander discovered him. K Balachander, who has discovered many talented new faces, gave him a big break in his offbeat movie Apoorva Ragangal and Kamal never looked back after that. Incidentally, Apoorva Ragangal was also a break for the other legendary hero of Tamil films, Rajnikant.

Apoorva Ragangal came at a time when Tamil filmdom was somehow feeling the void created by the non-appearance of veterans like Shivaji Ganeshan, M G Ramachandran, Gemini Ganeshan etc. who were wanting to acquire new realms in the political arena. Kamal, along with Ranjnikanth, aptly filled the gap.

It is difficult to chronicle the career path of a great actor who has spent more than 35 years in the industry. From rebellious hero (Apoorva Ragangal) to aging mafia don (Nayakan), from a desperate lover (Moondram Pirai) to grand old lady (Avvai Shanmukhi) Kamal has delineated varying roles with envying perfection that other actors can only dream. Amazing is his acting range. His skills in classical dance Bharatanatyam further honed his acting skills. Apart from the flexibility of body movements, he ability to bring about varying facial expressions coupled with perfect timing of dialogue delivery in a style of his own makes him an unique actor.

Always with an in-born inclination to explore newer vistas, Kamal couldnt have confined himself to Tamil films. He forayed into Telugu, Kannada, Malayalam and Hindi movies to satiate his urge for newness. But it cannot be said that he savored his experience with Bollywood, though starred in super hits like Sadma, Sannam teri Kasam, Giraftaar, Saagar, Raj Tilak, Chachi 420, and he took a break from Bollywood. But after a long gap he reappeared in Bollywood in Chachi 420 a couple of years back and later in Hey Ram last year.

A number of times awards and recognition came to him. Kamal Hasan won National Award for best acting three times, Tamil Nadu and Andhra Pradesh Sate awards twice each and innumerable Filmfare awards .

He was conferred the title Padmashree by the Government of India in the year 1990 and Kalaimamani by the Government of Tamil Nadu.

(Source : www.apunkachoice.com)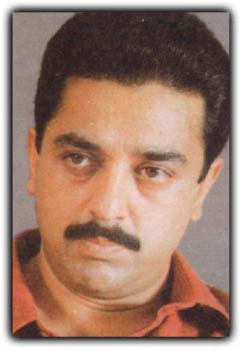 Interview/Kamal Hasan


The all-in-one film man talks about his new venture Abhay, in which he plays a split personality
By B. Krishnakumar/Chennai


Clad in a transparent T-Shirt, workman's jeans and a hat, Kamal Hasan could easily be mistaken for a unit hand as he sits outside the make-up rooms of Prasad Studios. He looks more like a body-builder with his biceps, rather than the creative heavyweight that he really is.

The actor-director-producer-scriptwriter is reading a novel even as the next shot is being readied for his latest film Abhay, in which he plays a split personality—a genius, a psychopath and an evil person, all rolled into one.

Excerpts from an interview:
What is Abhay about?
This was a novel I wrote about 17 years ago. At that time it was bizarre and offbeat.

Ahead of its time?
I won't say that. It's twenty years later than Psycho. It was not ahead of its time, but it was in Tamil.

Was it your first novel?
It was my first big novel. I had written short stories and screenplays, but never attempted a novel. One of my friends pushed me to do it. It was for a weekly magazine and I wrote for about 36 weeks.

What is the title of the novel?
Dayam. It's about an intellectual caught within the confines of paranoid schizophrenia, who is also a psychopath, and is left in an asylum. Luckily for me, it was published. Otherwise they would say that I picked up directly from Hannibal Lectre by Thomas Harris. It came at least seven years before Hannibal.

You didn't think of making it into a movie?
We tried. In fact, I wanted it to become a vehicle for me after Ek Duje Ke Liye. But my mentor, Balachander, found it sort of an action-violence and a mindscape kind of film. He was more into romance and social statements. I was a bit dejected and packed it away. Since it was written as a novel, it made good reading, but did not necessarily make a great screenplay.

I then wrote the screenplay for Abhay and added more cinematic stuff because the novel explains schizophrenic demons, the ingenuity of the man, the psychopath, the modus operandi of the criminal and a parallel tracking with a detective story going on the side.

Is it a thriller?
Yes, but there is also a tragic story of child abuse. All that is interwoven. Similar to Ann Frank's Diary, in the film it is the brother who finds the diary and through it discovers the human being in the man he considered an animal. He slowly accepts his schizophrenic brother for who he is. Many symbols like a double-headed snake with a single body, the flip of a coin are used in the film... portraying the typical, revolutionary double image.

Who took the decision to make the film, you or the director?
Actually, it was the director [Suresh Krissna]. I casually mentioned to him that I had once written a novel, and felt it was outdated. Then he said, 'can I read it?' I sent it to him.

Abhay is based on a novel I wrote 17 years ago. It is about an intellectual caught within the confines of paranoid schizophrenia, who is also a psychopath, and is left in an asylum.

It was a tedious process because I had it translated to English; the director cannot read Tamil fluently. Then I realised that somebody else translating it would not do. So I wrote the synopsis for him. It was a good exercise. I realised its potential, and the director felt the same.

You would be doing what the director tells you-playing a character you conceived?
We have a strange working relationship. He started his career as assistant director in Ek Duje Ke Liye, my 101st film. Now this is my 201st film; he is directing it. Our company, Rajkamal Films, introduced him as a director with his debut film Satya.

We work together, not as separate individuals. So it was all the time discussing, throwing back and forth ideas. As for developing the character, he leaves it to me because he thinks I am a better actor. We always discuss the technicalities and we have brilliant technicians working for us. That is what makes it exciting.

Are all of them from Chennai?
Sameer Chanda, the art director, is from Bengal-Mumbai. He is a discovery for us, and has an extraordinary talent for art direction. It is a very demanding film as there are a lot of mindscapes. Within realistic situations, he slips into schizophrenic alleys and pseudo-realism.

Thiru, who proved himself in Hey Ram!, is the cinematographer. Stunt coordinator Vikram Dharmaseelan, who initially came to assist, is now doing it on his own. He is among the best in the Indian film industry. It is a very demanding action film. There is a lot of American football-like violence, without pads.

You shot it entirely in Chennai?
We wanted to do it in various locales like Delhi, Kashmir and Ooty, and we did but couldn't entirely capture the Delhi winters. I had a small accident, so we had to come back.

We then created the winter of Delhi in certain places astoundingly; we now wish that we had done five-six days of shooting in Delhi instead of 30 days. That is thanks to Chanda and the cinematographer.

What is the cost of the film?
It is something like death itself. We don't talk about it, it is an enormous budget. We didn't anticipate this much. It's costlier than Hey Ram! Without my remuneration, that film cost me Rs 11.5 crore.

Are the distributors interested?
Yes, in [Chennai] they buy it on my name. We don't show the rushes, they trust us. When they see and hear about the kind of interest I show in a film, they feel something good might happen.

Finally, we don't know, it depends on the audience.

It is said you talk, eat and sleep films.
It's what even a coolie does. Every job should be like that. I am quite surprised at people being surprised at that attitude because there is no other attitude to take.

Are you working on any other film?
I have just completed a script and it is a comedy with Crazy Mohan, Mouli and myself. It is a good working trio. The film is called Pammal K. Samandam— Pammal is the name of the place and K. Samandam is his name, Kalyana Samandam actually. A chronic bachelor who doesn't want to get married but suddenly late in life he decides to do so.

Any Hindi film?
K.S. Ravikumar and I are planning a double version [in Tamil and in Hindi] again. It will be a costly film, so I told him to hold on, think about it.

You will be acting in it?
Yes, Ravikumar, director of Tenali, is directing for one of my producers. Mani Ratnam and I are discussing something for Hindi and Tamil, but nothing concrete has come up.



(Source : www.the-week.com)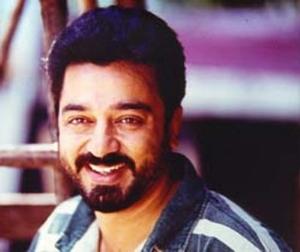 Kamal Hasan - one needs no introduction, though. Kamal is one actor the whole India is proud of. The debut, the personality, the versatility of skills, his films, the roles he played, performed and excelled, his achievements in every field he gets in are worth of appreciation, praise and are worth given an illustration. One has to consider Kamal as an actor, not an image because he just outclasses this so-called stardom and he feels and treats his profession as one of the fine arts. Kamal Hasan ia an actor of class, versatility and perfection who truly justified all the roles he did - from hero to villain, man to woman and a dwarf. Today, he is at a point where no one could reach him at all.

Kamal Hasan is a bridge between a lot of things. He doesn't fit in one box or a category or a classification. He belongs to no group in the Indian Film Industry because he has got his own style which is unique. All the roles in his films are either based on real life stories or from his own personal experiences and that make him live in whatever the characterisation he did and he lived in all the roles thus building a niche for himself as an alround personality in the field.

The greatest thing about Kamal Hasan is - he reached a point where one just can't emulate or imitate his dance, his delivery of words, his expressions, the way he presents and projects himself and above all, his acting capabilities and his skill which are a trademark.

After walking on Vani Ganapathi, he got married to actress Sarika who works as a costume designer for him in his films . In his films, the costumes designed from Sarika's galore are of such an importance that he looks just fit for the roles he plays in films keeping other actors out of his reach.

Kamal Hasan has not just acted in commercial films but in art films too - in fact, the number of art films are more than the commercial films that he acted in and all the glory he won is due in art films. Kamal works for no awards but for the cause of giving sort of an entertainment, joy and realisation to the indian population.

As a matter of fact, though he is there since his childhood, Kamal Hasan entered the industry as a classical dance director, then had his debut as a low-profiled hero maturing into an actor and finally turned out to be the producer-director-actor of historic movies, with the latest being "MurudaNayagam" which is believed to be in the final stages of making and released at the earlest. Kamal Hasan, thus in the long run, still remains and stands there.

(Source : http://celebs.ceeby.com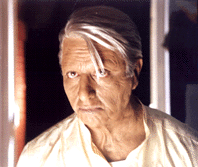 Kamal Hasan returns to Bollywood

(Source : www.rediff.com)

Suparn Vermain Bombay

K amal Hasan is back in Bollywood as shooting began on Monday on the remake of his Tamil blockbuster, Avvai Shanmughi, which itself is "inspired, not remade," as Kamal tells you, from the Hollywood hit,Mrs Doubtfire. Dubbed Chikni Chachi, Kamal decided it better be remade, not just dubbed, in Hindi. "I think the quality suffers heavily when you dub. In fact, the quality doesnt remain the same even when you dub in the same language."

Chikni Chachi is being directed by Shantanu Sheorey, whose background is essentially as an advertising film-maker, and produced by Saab John, a long-time associate of Kamal Hasan.

Sheorey was to work with Kamal earlier too but the project got delayed. "We met again and Kamal was very happy with the success of Avvai Shanmughi and wanted to make the film in Hindi. I saw it and thought it had a great potential" though he felt the Tamil version lacked humour.

Sheorey has a daunting task ahead, making his debut directing Kamal Hasan, that too as a woman. He laughs, "One doesnt direct Kamal, though I was told by a lot of friends that it would be better to make my debut in a run-of-the-mill film."

Michael Westmore, a renowned make-up man who figured in films that relied heavily on makeup like Star Trek and Mrs Doubtfire, will be flying down too. Kamal Hasan has learnt much from him.

"I call him my guru though he does not like me calling him that. He has 35 people working with him and he still is learning from them," says Kamal, adding that, basically, "Im my own make-up man".

All that padding and foundation tends to give an allergic Kamal Hasan wrinkles beneath his eyes. There is a solution, says Saab John. "We will be shooting the portions of the younger Kamal first and then proceed from June 1 with him as a woman." So any wrinkles that remain will only reduce the amount make-up needed. As the shooting progresses, Kamal may need just wig, spectacles and a womans clothes.

"The make-up takes five hours to put on and lasts for only five hours," says John, adding that the make-up sessions will also be captured in photographs and on videotape. Presumably, the idea is to make the best of it as Kamal did when he got the make-up sessions of Hindustani videotaped. He tried to sell it, but just didnt get the right price then.

"More audience, more money, says Kamal, but Chikna Chachi, to be shot in 65 days, costs Rs 90 million. Making that kind of money and thereafter calls for a huge audience indeed.

Someone pointed out there were complaints that the heavy make-up Kamal used in Hindustani and Avvai Shanmughi was clearly visible on screen. Kamal smiles and says magnanimously, "It is not the fault of the make-up artist, it is the actor's fault. If I am not able to involve the audiences in the scene and if I give them time to notice the make-up, it is my fault." He should have tried convincing people he was a woman wearing a false moustache and beard. Kamal is convinced though. "The make-up we used was the best there is in the world and we tried to better it."

Kamal has another movie on the anvil -- Ladies Only, inspired from the Hollywood blockbuster 9 to 5. No, he is not playing a lady there though it must have been tempting, starring as it does Sarika, Seema Biswas and Shilpa Shirodkar. Kamal contends to play a corpse in the movie, leaving it to Randhir Kapoor, who plays the boss, to lech at the womenfolk.

"We are marketing the film as Kamal Hasans deadliest role," says Kamal, "and we are not going to talk about it There is a lot of hype and curiosity around the film and we do not wish to add to it."

With so many disguises, how does Kamal Hasan hope to surprise the audiences next " I think Ill play a role with no make-up. Im sure no one will recognise me" he laughs.

Kamal reasons that his need to participate in all aspects of film-making arises from his early years in production. "I started as an assistant choreographer and wrote my first script when I was 19 and co-directed my first film at 20. But no one would listen to me since I was too young. K Balachander pushed me into acting and I worked towards it over the years. I always feel neglected as an technician."

He has been making a lot of films in the recent past inspired by Hollywood blockbusters and converting them into money-spinning yarns. He has his bad days too. "I had to swallow my pride many times. I loved Sanjeev Kumars Angoor and tried to remake it Im sure Sanjeev Kumar must have gone laughing to his grave after watching my performance"

Veteran actor Johnny Walker also stars in the film, coming back to the screen after 15 years. He last appeared in G P Sippys Shaan. "Gulzarsahab had many years ago written a very small but very interesting role for me in Anand, and he called me up saying that he would like me to play a part he has written especially for me. So here I am."

Sheoreys wife, Kimi Katkar, who gave the clap for the muhurat shot, says she does miss films, which she left some years ago. "But I have a full time job taking care of my four-year-old son Siddharth."

Almost on cue, the boy sprang up on stage and began trying to pull down one of the pillars of the set. "You brat, come here," his mother hollers, adding for the onlookers, "Hell ruin his father's film even before it starts."

Kamal Hassans next project is Marad Nayyakam, set in the 18th century.

"It is the most expensive film I have ever made. It will be more expensive than Indian," he says, adding the film was too costly to make when first conceived but now he could afford it. And going by his dictum, "more audience, more money," you can guess the size of the audience he has in mind.

Kamal thinks film-makers tend to blame audiences for the failures of their films. "How can you blame the audiences? It is they who made Mughal-e-Azam happen, it is they who made Sholay happen. How can you say their tastes have changed? If anyone is to be blamed its the film-maker."

He himself has played a psychopathic killer in Chivappu Rojakal, a physically deformed village idiot in Pathinaru Vayathinile, an underworld don in Nayakan,, a dwarf in Appu Raja, a mentally-unhinged tantric in Guna, a wrinkled freedom fighter in Hindustani, a sari-clad woman in Avvai Shanmughi. So what role does he think is missing in his resume?

"I think Ill try to act the perfect actor," he returns.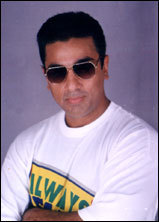 Regarded by most, as one of India's finest actors today, Kamal Hasan began his love affair with cinema when he was hardly nine. This was as child artist in Kalathoor Kannamma (1960).

In a career, spanning four decades and over 200 films, Kamal Hasan's passion for the medium has made his work, a near unattainable benchmark, for the rest in the business.

He has given viewers unforgettable performances - as a village idiot in Padhinaaru Vayadhinile, a love-struck youth in Ek duje ke liye (Hindi), a Robin Hood styled mafia boss in Naayagan, a midget in Apoorva Sahodarargal, an obsessed lover in Guna, a cross-dressed nanny in Avvai Shanmughi and an old patriot in Indian. And his versatility has necessitated path-breaking make-up.

His directorial work Hey Ram (centered round Mahatma Gandhi's assassination) cost Rs 16 crore to make. But his proposed magnum opus (launched by Queen Elizabeth on her visit to Chennai in 1999) is the period film titled Marudanaayagam.

Kamal Hasan has won the National Award thrice (for performances in Moondraam Pirai, Naayagan and Indian). He has also been honoured with the Padmashri.


(Source : www.chennaibest.com)
|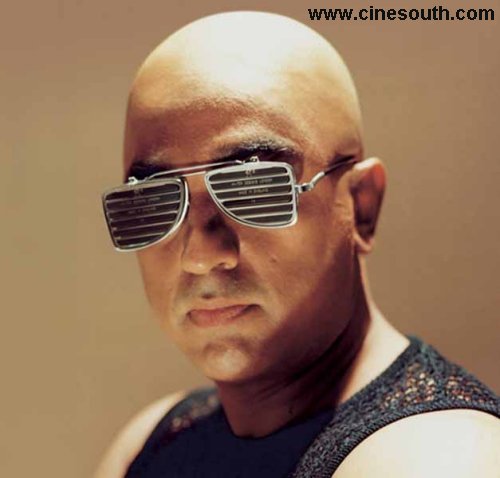 Everyone is a ruler-to-be.


It is not Ajithkumar or Vijay who are featuring in most of the films in the making. Kamal outnumbers any of the present day heroes. ' Thenali' is followed by S. Thanu's 'Alavandhaan'. 'Anniyan'. Another film by Thenappan. And, Kamal's passion - 'Marudhanayagam'. 'Thenali' is nearing completion. Dubbing is almost over. ' Alavandhaan' has started rolling into the camera. Kamal plays the role of a mentally deranged person in 'Thenali'. He plays a coward in the film. 'Alavandhaan' casts Kamal in a dual role. A handsome hero and another one almost an anti-role. The ads carry photographs of Kamal clamping hands against Kamal, focussing on his rippling biceps and triceps. "Where are those hands Kamal?" we ask him. "Hidden under my shirt," he laughs.

What follows is an excerpt from his press meet on the sets of 'Alavandhaan'.

Q: This was a story - Dhaayam - that you wrote in Idhayam Pesugiradhu about 17 years ago. What was the reason for the delay in shooting the story?

I wanted this story to be filmed by my Guru, Balachander. But, the story was ahead of its time then. Therefore, we had postponed its filming. The time is right now. Suresh Krishna - disciple of Balachander - directs the movie. He has worked with Balachander from his 'Ek Dhuje Ke Liye' days. Ananth has an indirect role in the screenplay of this movie. I made 'Apoorva Sagodharargal' for Balachander. I am making this movie in order to thank my master. I named the other movie 'Avvai Shanmugi' in memory of my other Guru, Avvai T. K. Shanmugam. It is my way of thanks giving.

Q: To what extent has the story undergone changes?

Those who have read the serial in the magazine would be surprised to see the movie. There were many aspects in the story which were new to the readers 20 years ago. The movie will convey several ideas that are new to the present day film fans. I pen the story and dialogue. This is directed by a seasoned Director, Suresh Krishna who has been mentored by Balachander in thirty and more movies. We have a good producer in S. Thanu. I have full faith that my story will be a success with the assistance of the technicians I have and with the co-operation of the producer, Thanu.

Q: Are you introducing new technicians in this movie?

Shankar Mahadevan enters the arena as Music Director. He has two popular albums to his credit. Even as I speak to you today (17.10.2000), another of his album is being released in Mumbai and is setting new records. Two songs - no super hit songs - have been recorded for us so far. Esan and Lai have joined hands with Shankar and look after the music department. Vairamuthu pens the lyrics after a long time, for my movie. Mahalakshmi and I have sung a duet in this film. Grand Page, who was introduced for' Marudhanayagam' is in charge of the fight-scenes in 'Alavandhaan'. He was the guy who designed the fight-scenes in the movie, 'Mission Impossible'. Thiru, who was responsible for the camera in 'Hey Ram', is doing this movie too. This is shot both in Hindi and Tamil simultaneously. We are going to do the voice recording on the sets. Editing is by Ramesh Maidhoor and Art is by Sameer. Manisha Koirala, Raveena Tandon, Sarath Babu, Fathima act with me. Cinema, today, demands your blood to be sweated out in large quantities. We know that 'Alavandhaan' will demand more of it. And we are prepared for it.

Q: What is the significance of the name 'Alavandhaan'?

It is the name of a character in the movie. "You will be a king one day," parents tell their children. Alavandhaan (Ruler-to-be) is such a name. As far as I am concerned everyone is a ruler-to-be. Only one in 40 million sperms reach the egg and impregnate it. The triumph of living beings begins then. Whether the child becomes a king or a beggar is in the parentage and in the attitude of society.

Q: Was the suggestion to film the story, Dhaayam, from you or from Suresh Krishna?

It was decided that a movie has to be made for Thanu, after 'Thenali'. We then gave the assignment to direct the movie to Suresh Krishna. He was excited when I told him the outline of the story Dhaayam in the sets of Thenali. He then read the story and said that we can give an excellent movie.

Q: It seems you are tonsuring your head for this movie.

When I did the old man in 'Indian', I could perform many a trick with my fingers. This is an action-oriented movie. You have to show something more different. People have seen the ad and have started questioning the other person who is engaged in a test of strength with Kamal. Here begins my success.

Q: Have you planned to shoot in foreign countries too?

We have to shoot several sequences in the foggy streets of Delhi and in the snow-capped mountains. We have not yet decided about shooting the movie in other countries. I can say one thing for sure, as for now. We won't be shooting in the deserts.

(Source : www.chennaionline.com)