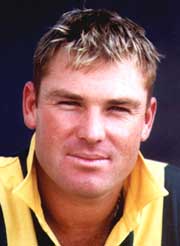 I don't have to prove anything: Shane Warne

(Source : www.cricketnext.com)

Mumbai, February 20, 2001


Shane Warne

Shane Warne is the real superstar of cricketing world. Blessed with immense ability with the ball, the leggie makes news off-the-field as well. The colourful cricketer has the knack of attracting controversies, be it admitting to have taken money from bookmaker or indulging in phone sex.

Warne, known as 'Hollywood' because of his movie star-like lifestyle, has gone through much turmoil during his eventful decade in international cricket. He is a prodigious bowler and has among his admirers the likes of Sir Donald Bradman and Richie Benaud, and at the same time, he is a darling of tabloid reporters looking for juicy stories.

Warne with 366 Test wickets in 84 Test matches is the highest wicket-taker among the Australians and Ian Chappell believes he can take his tally up to 600. He is a genius, but a flawed one. He was tipped to take over the Australian captaincy from Steve Waugh, but was stripped of vice-captaincy after the phone sex incident.

He wanted to play football for his country but ended up bowling leg-spinners and baffle the batsmen with his skills. Warne has no regrets in life and is looking forward to India and the challenges that lie ahead. And no, he is not looking at the India tour as a chance to settle scores with Sachin Tendulkar. For him, it's just another important series. Excerpts from an interview:

Q: How much will the experience of the 1998 tour to India help this time round?
A: Yeah, we lost the series, so obviously it was not a very good tour. However, we learnt a lot out from that series and we are looking forward to this one. The wickets especially are a lot different from back home so one has to adapt.

Q: You were carrying an injury on that tour as well...
A: I needed a major surgery immediately after that tour which put me out of the game for more than a year. So yeah, I was not fully at my best physically.

Q: Who were the leg-spinners you saw as a kid?
A: I saw Richie Benaud and Abdul Qadir and was fascinated by them. Obviously I have seen highlights of Bill O'Reilly and Clarrie Grimmett and of course Terry Jenner. But I always wanted to represented Australia in football but got into cricket.

Q: Are you happy that time round there is not much hype about your confrontations on the field with Sachin Tendulkar?
A: For me, it's always been Australia vs. India and not Warne vs. Tendulkar. I think Sachin also says that.

Q: Would you be doing something different in India this time round?
A: No, basically it's going to be the same stuff. But yeah, I have got a few things up my sleeve, have added a bit of variety in my bowling.

Q: How do you analyse your bowling in sense that how has it evolved?
A: Well, I have got a lot of stick at times against a lot of countries and not just against India. And I have bowled some good deliveries along the way as well. Over all I have enjoyed my bowling.

Q: You are known as an attacking bowler but have you considered the defensive aspect of your bowling?
A: Oh yeah definitely. When the batters are on top you got to bowl defensively. It is a very important aspect of the game.

Q: In the recent times, quite a bit has been written about your competition with fellow leggie Stuart MacGill. Does that put any pressure on you?
A: No, no pressure at all. I have been in the game long enough to know what I can do and what I cannot do. There is always another guy to take your place. We saw Steve Waugh miss a Test in Adelaide and Damien Martyn coming in and doing very well for himself. So, there will always be someone to take your place.

Q: Who, according to you, is the toughest batsman to bowl at?
A: Sachin Tendulkar is right up there. I think he is pretty tough to bowl to.

Q: Do you think because of your bowling abilities, you batting has not been highlighed? You have four half-centuries in Test cricket..
A: Oh, I enjoy my batting. Last year in Australia, I got a couple of 80s, one against Pakistan and an 86 against India. During the last 12 months, coach John Buchanan has worked really hard on my batting. It is very crucial for the team with Adam Gilchrist at number seven and myself at eight we can contribute a lot to the team. If the team is down, we can chip in and pull the blokes out of the woods.

Q: How challenging is this tour for Shane Warne the bowler?
A: It's as crucial and as challenging as any other tour. I dont think I have to prove anything to anyone. This tour is very important for Australian cricket and it is very important we win here and that's it.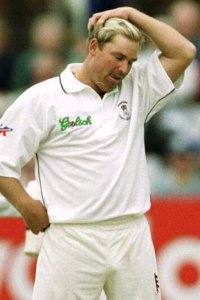 Shane Keith Warne

(Source : www.cricket.org)

Born: 13 September 1969, Ferntree Gully, Victoria
Major Teams: Hampshire, Victoria, Australia.
Known As: Shane Warne
Pronounced: shayn worn
Batting Style: Right Hand Bat
Bowling Style: Leg Break Googly


Test Debut: Australia v India at Sydney, 3rd Test, 1991/92

ODI Debut: Australia v New Zealand at Wellington, 3rd ODI, 1992/93

First-class Debut: Victoria v Western Australia at Melbourne, 1990/91

Australian Cricket Academy 1990
Wisden Cricketer of the Year 1994
Hampshire 2000
Selected as one of five Wisden cricketers of the century, 2000

Profile:

Purchase Shane Warne's Autobiography
Shane Warne is an ebullient leg-spinner who has rewritten the record books and, according to some, almost singlehandedly revitalised the art of leg spin. In short, he is a sensational player. From a run-up which only encompasses a few paces, Warne combines a complete armoury of leg breaks, top spinners, googlies and flippers with enormous spin and considerable accuracy. He also varies his pace and flight deceptively; in many ways, he is in fact the complete leg spin bowler. It should be said that he is additionally a very useful lower order batsman who is able to hit hard and occasionally serves a role as a pinch hitter in one-day games.
Although he started his international career in disappointing style (taking 1/150 against India in 1991-92 in his first Test), struggled in the wake of shoulder surgery in 1998 and was dropped from the eleven in the Caribbean shortly afterwards, Warne has occupied a central place in Australian teams for the majority of the last decade. Moreover, he has terrorised batsmen across the globe and has spearheaded many Australian victories. To complement his natural skills, his bleached blond hair and larger than life personality on the field have earned him the nickname of "Hollywood" and a love-hate relationship with crowds that ensures that he draws spectators through the turnstiles almost wherever he plays.

As is often the case with the greatest cricketing stars, Warne has been no stranger to controversy over his career and his exploits off the field have consistently made headlines. The most infamous instance of this occurred in December 1998 when he was forced to acknowledge revelations that he and Australian teammate Mark Waugh had accepted money from an Indian bookmaker while on tour in Sri Lanka in 1994. Around all such exploits, though, he has continued to maintain a status as one of the world's most fearsome bowlers, a notion underlined most clearly of all in the closing stages of the 1999 World Cup when his brilliance earned him dual Man of the Match awards and underpinned Australia's memorable performances in both the Semi-Final against South Africa and the Final against Pakistan. More recently, he has become Australia's highest ever wicket taker in Tests (eclipsing Dennis Lillee's milestone of 355 while on tour in New Zealand in 2000) and has been afforded the glittering accolade of being anointed as one of Wisden's Five Cricketers of the Century. (John Polack & David Liverman, April 2000)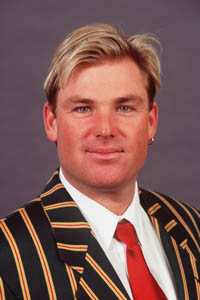 PICTURE : ALLSPORT AUSTRALIA
Maverick who plays to the galleries

It is difficult to imagine as to what makes the mercurial Shane Warne tick. The flamboyant leggie from Downunder demands attention not only for his amazing exploits on the field with ball but also because of his almost maverick existence outside. Having a screen presence that would turn most Hollywood heavyweights green with envy, it is his persona that really grips the public, though. His bleached blond hair, outgoing personality and fondness for fast food and beer have earned him the nickname of Hollywood and Australian fans worship him.

A man always hogging headlines for one reason or another, Warne has undoubtedly contributed a lot to the game. Whether it was by bowling that Ball Of The Century when he bowled Mike Gatting by pitching the ball where a leg slip would be and uprooting Gatting's off stump or by his unsavory association with match-fixing and the fairer sex. Incidentally the former England captain had to have his jaw closed for him after Warne's debut ball, at Old Trafford in 1993, pitched way outside leg but still came back far enough to dislodge Gatt's off stump.

Cricket pundits have suggested that Shane Warne has revitalised the art of leg spin. In the last decade where tearaway bowlers have dominated the cricket scene, no one has been able to hold the leg spin flag flying high, except him. He was recently included in the all-time Australian XI, which was hardly surprising, considering the record books. He recorded his 200th Test wicket in only his 42nd match and looks set to reach Kapil Dev's 434 wicket haul.

Described by Richie Benaud as, "the best leg-spinner I've ever seen", he has a lovely flowing action, which when combined with his varied pace, excellent flight and accuracy, is a delight to watch. His array of deliveries includes the top spinner, the googly and his favourite, the flipper. In addition, he is a useful lower order batsman, and is known to be able to give the ball a hard whack. His safe pair of hands and quick reflexes makes him a natural choice for the slip cordon.


Floats like a butterfly and stings like a bee
Warne bowls from a few paces, varies his pace and flight well, and was the scourge of batsmen world-wide until being laid low by an injury to his bowling shoulder in 1998. Since his return, Warne may have had his critics at Test level - and his involvement in a betting scandal can't have helped concentration - but he has been vital in One Day Internationals. As captain of Australia in the Carlton and United series, it was his flipper, with the fifth ball of the 32nd over, that trapped Alan Mullally lbw and embarrassed England in a 2-0 final series whitewash. He then had a somewhat innocuous return and although he started the World Cup tournament slowly, he quelled all doubts about his form in the double header with South Africa. He eventually finished that tournament with 20 wickets.

No beer please!
He had played only five first-class matches and taken only 15 wickets when the Australian selectors picked him to play against India in the Sydney Test of January, 1992. Warne, after chastening figures of one for 150 against India, was given a second chance at the Academy by Rod Marsh, gave up the beer, started early morning running, swimming, gym-work and boxing and lost those two stones. He also spent the winter practising his bowling art with another ex leg- spinner, Terry Jenner. Picked to go to Sri Lanka last August, Warne took three for nought with his last 11 balls to win a match Australia had looked certain to lose.

Saving his best for England
Like most Australians, Warne saved his best for England, the old enemy. In the Ashes series of 1993, he took 34 wickets in six Tests at an average of 25.79; in the 1994-95 return series he took 27 wickets at 20.33, including a match-winning 8 for 71 in the second innings of the first Test and a hat trick in the second Test. During 1995, Warne confirmed himself as a bowler of guile, accuracy, and devastating spin, defying critics who feared he might be more of a passing comet than a permanent star in cricket's firmament. On December 11 he claimed his 200th Test wicket in only 42 Test matches, the fourth quickest to reach that achievement. By the end of that series, just three and a half years after his Test debut in the third Test against India at Sydney in 1991-92, Warne had taken 176 Test wickets at an average of 24.08. He had played just seven matches in the Sheffield Shield before being selected for Australia, and after he had three Tests with figures of one wicket for 300 runs to his name, there were plenty of critics who said he had been blooded too early. But match figures of 7 for 86 in an innings victory over New Zealand early in 1993 were proof that Australia had unearthed an exceptional talent from the most unlikely background.

Top performer under pressure
Another great moment in Warne's tremendously successful career has been the hat-trick that he took in 1994-95 against England at the MCG. With Australia only needing another four wickets to win the match, and England needing over 200 to win, the match was almost over and England didn't really have a chance of winning it. Shane Warne was bowling well, but hadn't picked up a wicket in the innings until he bowled a leg break to Phil de Freitas, who played back at a ball on the stumps which skidded on and hit him on the pads. The umpire gave him out without hesitation. In came England's big hitter, Darren Gough, who went back to another leg break, which was a bit shorter and turned a fair bit more than the last. He only succeeded in getting a faint edge to keeper Ian Healy and once again Steve Rixon stuck up his finger and gave Gough out. England's number 10 batsman, Devon Malcolm, who was known as a bit of a slogger, came in. He didn't really know any textbook cricket shots, just the slog or the block. Warne bowled an over spinner, which went straight on and bounced a little. It hit Malcolm's glove and sped to the right of David Boon, who was fielding at short leg. He jumped to his right and stuck out his hand and the ball just stuck there. It was an amazing catch.

Calypso campaign and World Cup magic
The ball he bowled to dismiss West Indies number 11 batsman, Kenny Benjamin, in the 1995 West Indies tour which won Australia the fourth test and the series is also another great moment in Warne's career. Australia and the West Indies had been rivals for over 20 years, two of the best teams in International cricket, and both had played many great games, but the West Indies usually finished on top. The Australians hadn't won a Sir Frank Worrell trophy for over 10 years, and when Warne had put the icing on the cake by getting that last wicket, it was one of the most joyous moments in the history of Australian cricket. Along with that win must rank, Warne's last three matches of the '99 World Cup, which was played in England. Warne had struggled for wickets for most of the tournament, but in the last three matches Australia played, Warne was inspirational. Taking 2 for 33 against South Africa in their last Super Six match then 4 for 29 against South Africa in the semi final, Warne single-handedly won Australia the match. He then starred in the World Cup final against Pakistan at Lords, where he took another 4 for 33 off 9 overs, and became the highest wicket taker in the entire tournament and also helped Australia bundle Pakistan out for 133 and win the game.


Creating history
And finally, Warne's most recent great career moment came when he took his 356th test wicket and overtook Dennis Lillie as the highest wicket taking Australian bowler in the history of test cricket. Lillie, who had held the record of 355 test wickets since the late 1970's is now sitting second on the list after Warne took the last Kiwi wicket of Paul Wiseman. Wiseman tried to sweep a ball outside leg stump, but could only get a top edge off the glove to give Adam Gilchrist an easy catch. Warne won Australia the game and also created history.



(Source : www.indiatimes.com)






Shane Warne Autobiography

Shane Warne is arguably the greatest spinner of all time. In this book he talks about his early ambitions, and offers a colourful narrative of the various Ashes series in which he has been involved.

Publication date: 16 August 01

18.99

CLICK ON THE PICTURE TO ORDER A COPY ONLINE



Indian batsmen have always challenged me

So says Australian leg spinner
Shane Warne in an interview to The Week
during the first test at Chennai

(Source : www.the-week.com)

If the Australian spin machine won round one when he got Sachin Tendulkar out cheaply, the Indian batting maestro tore apart Shane Warne in the second essay. But the battle of wits is far from over with two more Tests remaining. Though not at his best, Warne bagged four wickets in his first Test on Indian soil. One of the most popular Australian players, Warne proved a point, he is a fighter to the core. Excerpts from an exclusive interview:

How does it feel to have bagged four wickets in your first Test in India?
It was nice to get a couple of wickets. Though we lost the match it was a good fightback from us. After India was 122 for no loss, we restricted them to 257 in the first innings. India bowled very well. It was really a good contest though we lost.

What will be your strategy against Sachin Tendulkar?
We had a good look at him in the first game in Mumbai where he made a double century. We always felt he is one of the best players in the world. He is a great player but still we got him out cheaply in the first innings. In the second innings he got over us. So it is always a see-saw battle between him and us. As far as strategy is concerned there is nothing different. A test match is a completely different ball game. In the practice games before the Test matches on every single tour, I have been always whacked to all parts of the ground. So it is always premature to say that. You always hold a few things back for a Test match.

We always felt he (Sachin) is one of the best players in the world. He is a great player but still we got him out cheaply in the first innings. In the second innings he got over us. So it is always a see-saw battle between him and us.

How was the Chennai wicket?
The wicket took a lot of turn during the later stages of the game. Anil Kumble bowled very well and got a lot of bounce. Chauhan and Raju too bowled well. It was a good wicket to bowl though it was slow. This is the first Test I am playing here. Generally the Indian wickets are slow unlike those in Australia which have good turn and bounce. So it takes time to adjust to a slower pitch. But this one (Chennai) is a pretty good wicket.

Why did the Indian batsmen always attack you?
I think Indians are the best players of spin. But people talk of Pakistanis being the better players of spin. My record against Pakistan is very good. In India I have always been challenged by the Indian batsmen. When I go around the wicket, I am in an attacking mood. I don't attack on the leg side and bowl defensive. If you encourage the batsman to play through the air and have all your fielders on the boundary, then it is a defensive strategy. There was no need to do that because things went pretty well for me.

How does it feel to be in the '300' club?
Not many have got past the 300 mark in Tests. So it feels great to be there. But I like to take a few more wickets. And I think I have got a lot more cricket left in me. Till recently there was only one Australian (Dennis Lillee) who had done it. I consider it to be a pretty big achievement. I am proud that I have got so many Test wickets.Kapil Dev's record is miles away. I will just keep playing. I have never bowled for statistics or records. Once they (record) come along you just give yourself a pat on your back and say 'Well done'. But you shouldn't sit and say that I am going to set this record or that. I play because I enjoy it. And I love playing in the winning team.

Was the Chennai Test a big occasion for you?
I don't think this was a big Test. It was a big challenge for me. But the greatest challenge for me was when I was making a comeback after my finger operation. That was when people straightaway expected me to bowl the way I used to do earlier. It doesn't happen that way when you have undergone a major finger operation. In the last six to eight months I have bowled pretty good. But there is a long way to go.

Does the absence of Glenn McGrath and Jason Gillespie put additional pressure on you?
Obviously McGrath is a good bowler. But there is no added pressure on me. It doesn't make any difference to me. From the team point of view, it is a huge loss. But Paul Reiffel has been there for a long time, he has got more than 100 Test wickets. Kasprowicz too is bowling well. But he has got to develop that 'nasty spell' wherein he has to bang the ball at the wicket. Adam Dale is also a good fast bowler. Stuart McGill is a good leg spinner as well. So, I think we got the right lineup here.

Are you aspiring to be an attacking batsman?
I like to hit hard, so when I bat I like to attack. Most of the time I get out. But from now on I will try to stay at the wicket and put pressure on the Indian bowlers.

Do you come under pressure because of people's high expectations?
I never come under pressure because people expect a lot from me. I go out and enjoy myself and do the best I can. There is enough pressure when you are representing your country and playing Test cricket. You don't have to build up pressure by saying that I have to get runs or wickets today. It will only bring failure. I just love competing and love a challenge.

Have you got a specific gameplan for the Indian batsmen?
No. When you play against a guy enough, you work it out. I haven't played against some Indian batsmen. It was good to have a couple of warm up games and have a look at how they play. I haven't bowled to Ganguly earlier. I haven't seen him play in Australia.

What made you open the All-star Cafe?
You should be doing something other than cricket too. When my friend Tom Moody and Australian footballer Rene Ostenberg approached me with the idea I felt it was a good investment.

Could you be counted as the future Australian captain?
I believe in destiny. If it has to come to me it will.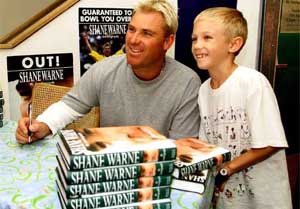 'I don't know how long I will continue'

(Source : www.rediff.com)

Rare accuracy and an ability to spin the ball prodigiously have made Shane Warne one of the greatest bowlers of his time. The broad-shouldered, flashy Victorian, with blond-tipped hair and a liking for custom-made jewellery made time for Anant Gaundalkar during the Sharjah contest this week.

You were not scheduled to play in Sharjah. How come you are here?

I don't know much about all this talk about me skipping the Sharjah tournament. Although my shoulder is badly bruised I never said I was not coming to Sharjah. I love to play cricket as long as I am fit and my services are needed for my country. I will never miss a series for small and lame excuses. That's is paramount in my mind and I'm clear about it.

How do you rate your performance during the tour of India?

When you have my reputation it's hard to live up to it every time you bowl. All the talk about Indian wickets being spinner-friendly is just not true. I found the tracks in India slow and dry -- something I am not very used to. Having said that, you cannot deny that the Indian batsmen are great players of spin. They use their feet beautifully and deal with spin in the best possible manner. They make full use of the crease and are not afraid to come down the track. That upsets spin bowlers. The Indians are tough customers.

How would you compare the Indian batting line-up with others in the world?

At this juncture India enjoys a good and strong batting line-up in Sachin Tendulkar, Mohammad Azharuddin, Saurav Ganguly, Rahul Dravid, Navjot Singh Sidhu and Ajay Jadeja. Their combined batting ability, all round strokes all over the wicket is the best in the world today. Each of these batsmen are different in their approach and can take on any bowling attack in world cricket. There is too much batting depth in India's armoury.

Do you think you failed in India? And how has it been playing in Sharjah?

I was not the only one who failed in India. We didn't have a good tour at all, but if I did not click in India it does not mean that I am not going to have wickets in Sharjah. The conditions in India are very different from those prevailing here. It was very hot and humid in India, with temperatures often reaching 45 degrees C. Further, all the one-day matches were played in the day in India while the games are day-night here and that makes a lot of difference.

You said you didn't have a good Test series in India. Do you think others spinners from other countries have suffered the same fate?

I don't know about this. But I have not heard of any spinners doing well in India in the contemporary era. Maybe in the past, legendary figures like Richie Benaud and Lance Gibbs did well in India. They were great spinners with a lot of variety in their deliveries.

Who would you rate as the best all-round batsman in the world?

There are lot of contenders. Australia's Waugh brothers, Mark and Steve. India's Sachin Tendulkar. The West Indies's Brian Lara. Pakistan's Saeed Anwar. Sri Lanka's Aravinda de Silva and Sanath Jayasuriya. All are going great guns. But when it comes to judging the best among these fabulous band of batsmen, my vote goes to Tendulkar. He has an uncanny ability to come out on top under different circumstances and under different conditions, whether it is Test cricket or one-day internationals. And more importantly, he has done this so young.

After you captured 300 Test wickets, Richie Benaud said you would cross the 600 Test wicket mark.

I don't know how long I will continue, with my shoulder giving me constant pain on and off. If the problem does not diminish soon, then surgery is the only option left. In that case I will miss a few matches. Then everything will depend upon how the surgery goes. I don't know if I will go on to take 600 Test victims. It is a tall order -- an achievement no cricketer has accomplished in over 125 years of Test history. But as I said earlier, I will continue to play international cricket as long as I am fit and the national selectors choose me. So far I have fully enjoyed my sojourn at the competitive level and it is great fun when one comes across so many players from all over the world.

In your distinguished career, which is the best batting line-up and the best batsmen you have bowled to?

The Indians during the just-concluded series. Sachin Tendulkar and Brian Lara are the best batsmen I have come across