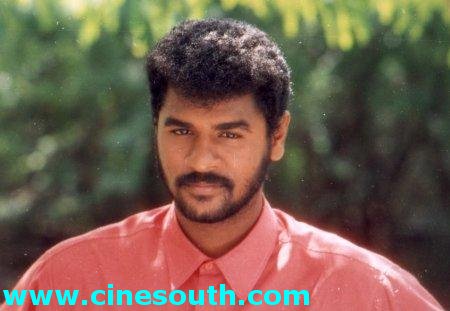 PRABHU DEVA
"In dancing I know what comes next, unlike in acting."

(Source : www.indya.com)

Dancing is his passion. Known more for his moves than his histrionics, Prabhudevas success as a star can be attributed more to his dancing than anything else. Called Indias Michael Jackson, his rubber band body made the audiences whistle and gape at his near- impossible dance steps. Today, hes one of the biggest actors down south, but for this talented actor, the biggest high was when he met his idol Michael Jackson. Catch Prabhu talking about how the once-lanky boy made it as one of the biggest dancing sensations in the country.
Have you always had a fascination for dancing?
Yes, right from my childhood days, I always wanted to dance. Also, I loved dance because I knew I was good at it. I was pathetic in studies, so dance took precedence over everything else. During my schooling years, my love for dance continued growing.

Was your family supportive of your passion for dancing?
My father knew that I wasnt interested in studies. My family knew I wasnt even a good student. Luckily for me, my family never pushed me into anything I didnt want to do. I liked to dance and since they did not see anything wrong with my passion, they let me go on with it.

Did acting fascinate you as a child?
No, I was never keen on acting but it was my father who wanted my brothers and me to become actors. He kept telling me to join films till I finally agreed.

You were initially a choreographer but later, you yourself started dancing in films?
My father knew the director of Hrudayam well. I was choreographing the songs in that film initially, but later the director liked my dancing and decided to give me a break. So my brother and I got featured in two songs in that film.

Youve always been inspired by Michael Jacksons dancing. You dreamt of performing with him on stage?
Yes, he has inspired me all my life. You know, it was the happiest day of my life when I met him when he was in Mumbai for his show five years back. His album Thriller was like a school for me. The videos, the dances, everything about it was superb. I wanted to open that show with him but it didnt materialise. In a way it was good because I would have looked like a fool in front of him. But I think just meeting him and speaking to him was enough for me. My lifes ambition was achieved.

In all your films, youve been always portrayed as a lover boy or as a dancer. Dont you want to do more diverse roles?
I know that most of my films have been like that but then thats what my audiences want. But believe me, I am always trying to do more different roles. You will see that in my forthcoming movies, I have concentrated more on my acting.

But what do you enjoy more, acting or dancing?
I prefer to dance since it comes more easily to me than acting. In dancing I know what comes next, unlike in acting. Also, I get more of a rush from my dance.

Your rating of yourself as an actor and as a dancer?
Im an average actor and an above average dancer.

As a choreographer, which actors do you think make good dancers on screen?
Its very difficult for me to evaluate others on any scale. Most of them are good dancers. Chiranjeevi has his own distinct style, which is unique and very difficult to copy. Both Nagarjuna and Venkatesh too have their own styles, which are good. As a choreographer, I would exploit their distinctive dancing styles to the maximum.

On the personal front, it is said that you are rather aloof and unapproachable?
I have always been a shy guy; earlier when I was a technician, nobody cared if I was quiet. But after I became an actor, they all wanted me to socialise and be friendly. But I cannot change for others, nor do I want to.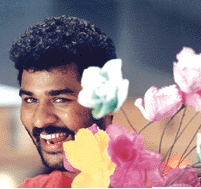 Prabhu Deva: Proving himself as an actor

(Source : www.cinematoday2.itgo.com)


Prabhu Deva was first noticed when he made a brief appearance in a song in Gentleman. The dancing prowess he displayed in the song Chiku buku raile made teenyboppers go crazy. Soon followed Kathalan with him as hero. It was a hit even in its dubbed versions. He became a sensation overnight and came to be known as a boneless wonder. However, no film of his after Kathalan has been able to make a mark at the box office. Though he was around as an actor for quite some time, his acting talents were not brought out until Ezhayin Siripil where he played a poor bus coolie. James Pandu, which had him as a railway coolie, endeared him to the frontbenchers. Now he is banking on Pennin Manathe Thottu to do the trick. Indiainfo has a tte--tte with the dancing sensation.

Excerpts:

Are you deliberately taking up roles of a slum boy and coolie to attract a certain section of the audience?
Aiyo aiyo! You make it appear to be as something very planned out. In fact, when I hear a story and can relate to it, I know that it's going to click. When I heard my role of an orphan boy whose innocence results in a girl losing her sanity and the boy sacrificing everything to make her normal, I felt I had a winner and that is how Ezhayin Siripil was chosen. When I signed James Pandu, I was sure that teaming up with Partipan in this comedy film would bring the whole theatre down. Next is Pennin Manathe Thottu which is a serious film; I want to prove that I am also capable of doing serious roles.

Okay tell me about your next serious subject?
It is about a down-to-earth medical student whose brother becomes a dada due to circumstances. Once, when a classmate derides his brother, he loses control and beats him up. He then realises that muscle power too has its advantages. It's an interesting film that shows a relationship between brothers. Like all films, it also has a love story thrown in.

Of late, why are you seen in two-hero subjects?
Why not? Again don't accuse me of doing it deliberately. The stories demanded it and I accepted the roles. However, personally it has done me a lot of good. After James Pandu, I and Parthipan became good friends and after Pennin Manathe Thottu Sarath has become a good friend of mine.

Who will be the real inheritor of your father's (dance master Sundaram) legacy, you or Raju?
We are both good dancers. But Raju is concentrating only on choreography whereas I am aiming to be a good actor. Both of us are trying to uphold the tradition.

How do you take the gossip that Raju and Simran are in love?
The gossip writers don't realise how it affects the lives of the persons they target. The family of the person gets disturbed and it in turn reflects on the artistes. Why not write about their films/career and leave it at that?

So you are not confirming or denying it.
Now you don't be a gossip writer.

You had once said that you like action more than dancing. That means you like bashing up ten guys alone?
According to an old saying, if a sadhu is provoked, the whole forest goes aflame. Same way, when a man is angry his strength is enormous (laughs). I know it's not true in real life.

What's your goal in life?
Dance with Jackson; be known as a good human being and as a nice actor.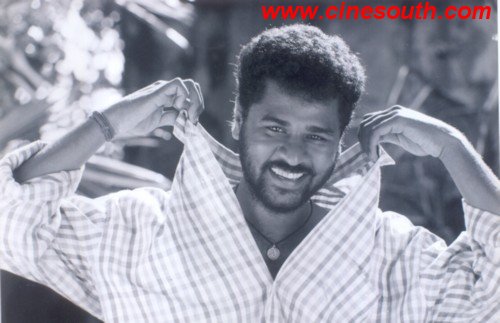 The dancing brush

(Source : www.rediff.com)

Prabhu Deva was in Mumbai recently, shooting for an advertisement for Jet Mosquito Coils. And, during a break, teamed up with some of his Bollywood friends - Shilpa Shetty et al - for lunch at The Club.

At an adjoining table, they found this tall, lanky old man, sporting a flowing white beard and with his feet idiosyncratically unshod. Yeah, right. Maqbool Fida Husain, in the flesh.

Shilpa and the others kept egging Prabhu Deva on to go and talk to the famous painter. And Prabhu had just about decided to oblige, when he found the man in question getting up from his table and moving in their direction.

He was even more surprised when Husain held his hand out to Prabhu Deva, with the words, "I admire your dancing."

The loose-limbed star was floored. Completely. While reasonably used to fans gushing over him, he hadn't reckoned on adding the likes of Husain to that number.

The painter, meanwhile, ripped a page out of his notebook, sketched on it his famous horse, signed it, and handed it over to Prabhu Deva with a flourish.

The dancing star in fact cherishes these unexpected encounters. Another one, which he recounts with pleasure, relates to when he was travelling. And this young lass came up to him. On looking up, Prabhu found himself face-to-face with Shruti Kamal Haasan.

She smilingly proferred a sheet of paper, on which she had quickly - and, he says, very competently - drawn his likeness, and asked for his autograph. They finally traded - Shruti got Prabhu Deva's autograph, and Prabhu got the sketch she had made of him, with her signature on it.

PRABHU DEVA

(Source : www.chennaibest.com)

Footwork king of Tamil tinsel world, Prabhu Deva was born in 1973 into a family that had choreography in its blood. Father Sundaram is a sought-after Choreographer and so is brother Raju Sundaram.

Prabhu Deva, who had Michael Jackson as his role model, made his mark with gravity-defying dance work that has given film choreography a new lease of life.

This recipient of the National award for best choreography (for Minsaara Kanavu) has choreographed over 120 films.

Among his other notable films are Kaadalan, Ezhaiyin Sirippinile and Kaadala Kaadala.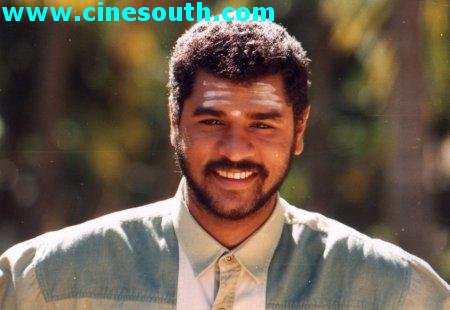 Interview with Prabhu Deva

Interview with Prabhu Deva

`I'll look silly without my beard'

(Source : www.tamilstar.com)

A few years back, a young choreographer wafted into the industry like a breath of fresh air. He got a break in a film starring Kamal Haasan.

India's answer to Michael Jackson, aka Prabhu Deva, has indeed come along way since then. With the fabulous Que Sera Sera number from Pukar, Prabhu Deva has reaffirmed his status as India's number one dancer.

From choreography he went on to establishing himself as an actor. But unlike choreography, he could not turn in hits as a hero.



Despite the fact that his film Kadalan raked in the shekels, the green stuff did not flow in for most of his other films. It took Minsara Kanavu (Sapnay in Hindi) to reaffirm his status as the dancing star. And now with a few more hits, Prabhu Deva seems to be back in business.

Excerpts from an interview:

Your father has been in the choreography business for a very long time. How has that influenced you?

Frankly, my father Sundaram has been a part of films for long. Yet, we never used to frequent film sets. Once in a while we would go there with our mother in tow. Mani Ratnam's Mouna Raagam is the only film that comes to mind that I've seen as a kid. I was like every other kid who is happy enjoying his life playing and running around.

Then how did the dance happen?

In the south, there is a tradition for children to be inculcated in music and performing arts at a very young age. We were not trained in classical singing, but dancing. But not by my father. I learnt Bharatnatyam from another guru.

What made you move to cinema?

I was a disaster in studies. After a year in college, I decided to drop out. The only option in life was dancing. That's all I knew. In fact I had already begun assisting father a couple of years prior to this.

How did the stars react to a schoolboy coaching them?


(Laughs) I have been quite tall since childhood. So they mustn't have realised that I was a kid. Also, my father was quite well known in the business. Moreover, I was good at what I was doing. Why wouldn't you want to learn from someone who is good?

How was day one on the job?

It was pretty normal. Nothing extraordinary. I just went through the paces as if it was a routine job. I wasn't `excited' in that sense.

And how about the big day when you got your break in Vetri Vizha, where you had to choreograph Kamal Haasan?

As father started getting busier, he wanted me to handle films on my own. The first independent work as choreographer came for a single number from Vetri Vizha. Since the film had Kamal Sir, I was very scared. Any youngster in my place would have reacted similarly. Yet, it turned out to be extremely good, as the makers wanted me to do the song on my own. So they made life easy for me.

Didn't your beard come in your way of stardom?

Frankly, I do not know how I will look without my beard. I think I will look very silly. Without my beard, I would feel odd, the way others would feel with a beard on.

As for my acting, no it has never come in my way. During my choreographer days, there have been people who have been telling me that I was good enough to be hero and they would cast me soon. I dismissed them as empty rhetoric. Most of them turned out to be. But Pavithran kept his word and gave me a break.

Minsara Kanavu (Sapnay) established you as a good actor.

You shouldn't be telling me this. The entire credit should go to director Rajiv Menon. He was the one who brought out the actor in me. He is a great director so the movie turned out to be great.

How did you feel when you bagged the National Award for Sapnay?


To tell you the truth, nothing. I had lost belief and trust in awards by that time. Earlier whenever I had choreographed songs, I was always told that I would win awards for it. But someone who had used classical steps in his dance would get the award. So awards really don't matter. It really didn't even, when I got the National Award.

But Kaadalan propelled you to the forefront ...

I realised that only later. I was mobbed and people came rushing after me. Even people in Bollywood were seeking me out. It scared me. It gave me goose pimples.

Was that the reason you followed with a few flops.

Maybe. People expected a lot from me and naturally, I was frightened. About the films that didn't do well, I realised that they would not make an impact on the market when I was doing the film itself. You understand that as the film is in the making.

Why did you choose such films?

My choice of films has not been accurate. However, if you just go y the story and the banner, they sound good. It is only when the screenplay is translated into shots, do you realise how hollow it will be. You can't back out because it's not right. And then you feel bad when the film doesn't do well. It's a cycle. If you are a part of the industry, try and accept your failures.

Finally what do you feel is better -- acting or choreography?

Both. The latter gives me satisfaction and the former, money. Also, as you are working on a song, you understand how the final product will be. But this does not apply when it comes to acting.

How was it meeting Michael Jackson?

Bharat Shah and Anupam Kher made the whole thing possible for me. Anupam Kher is a great pal. We worked together in a film called VIP, but we had met earlier at a Filmfare awards function. At that time, I had told him that I was a great fan of Michael Jackson.

So, when Michael Jackson came to India, Kher called me to Mumbai. And Bharat Shah who took me to meet Michael Jackson.

What happened then?

He never knew who I was. He thought I was another fan. I was one, so it was okay. He just asked me my name after Bharat Shah introduced me as another dancer.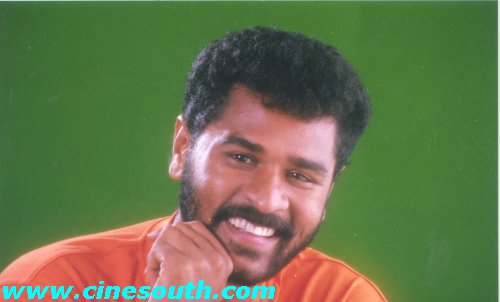 PRABHU DEVA

(Source : www.connection.com)

Prabhu Deva's feet are always restless. However, lately they've been treading air, as the man has not only been hailed India's dancing sensation, but has also won a National Award for Best Choreography for the Tamil hit Minsara Kanavu, released in its Hindi version, Sapnay.

Deva, who started off as a dancer-choreographer in Tamil films like Kaadalan and Rasaiya (Hum Se Hai Muqabla and Chaila in their Hindi versions) has gradually emerged as an actor-dancer with films like Sapnay.

"See, my father always wanted to be an actor, but he couldn't make it. So, he took up choreography, and became very successful at it," Deva reveals. "And though I joined the profession myself, my father was keen for his dreams to be realised in me. So he pushed me to become an actor."

Acting, Deva reveals, is not something that comes naturally to him. "I've done only about six films till date - which by industry standards is quite a number - but still I find it difficult to act. It is not something that comes easily to me, and I need to rehearse a lot before I can get a scene right." Dancing, on the other hand, he says, "comes very easily, and that's mainly because I love dancing."

But he says, "Although I find dancing much easier than acting, I have decided to give it my best shot since I have taken it up as a profession." Money, he says is an important consideration, but then, "anything that one does sincerely will bring a fair amount of money with it."

Mention Michael Jackson, and Deva's eyes light up for the first time during our conversation. "I'm a total Jackson fan, and more than my father, it was Jackson who I was inspired by, when I took up full-time choreography," he reveals, adding, "Last year I flew to Bombay specially to meet him and I was thrilled when I shook hands with my idol. Of course I was disappointed that he hadn't seen my work, but as far as I'm concerned, he's the best,"

Most of the films he did when he started acting were mainly dance-oriented, he concedes, "but now I think I'm managing to strike a balance." In fact, he says, "For Minsara Kanavu I haven't danced as much as I did in the other films, and surprisingly, the critics down South said this was one of my best performances so far."

Though he may be essentially a dancer, Deva insists he doesn't have a short shelf life as many claim. "I will survive," he says. "I have already begun to improve." For starters, he is trying to learn Hindi, a language he can understand very little of.

Though he hasn't interacted with too many people from Bollywood, Deva already has his list of Hindi-film directors who he wishes to work with. "Subhash Ghai, Mahesh Bhatt, David Dhawan, N Chandra, Dharmesh Darshan, Yash Chopra, Vidhu Vinod Chopra..." For someone who was not too keen on acting, and is still nervous about it, that sure is a long list.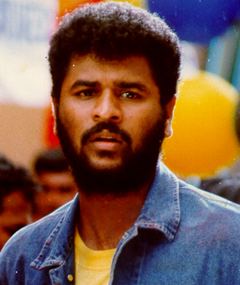 Prabhu Deva was born on 3rd April 1973. He is popularly called as"Indian Michael Jackson" for his fast dance movements. He has choreographed nearly 100 movies. His first movie as a dance director was "Vetri Vizha". Before starting as a full time hero, he did some song sequence in films like Agni Natchatiram, Idayam, Valtar Vetrivel, Suriyan etc. His first movie as a Hero was Hindu. Other movies to his credit are Kadalan, Rasaiya, Mr.Romeo, Minsara Kanavu, VIP, Naam Iruvar Namukku Iruvar, Kaadala Kaadala with Kamalahassan, Time, Ealaiyin Siripiley, Jamesbond etc. Receipent of National Award for Best Chreographer for the film "Minsara Kanavu"

(Source : www.indiafilm.com)


Prabhu Deva
68, T. T. K. Road,
Alwarpet,
Chennai-600 018
Tel: 91-44-4990794/4996162