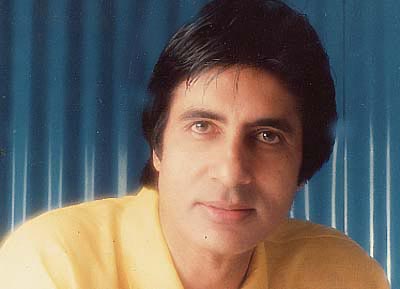 Amitabh Bachchan

(Source : www.indiatimes.com)


Recognised recently as the Superstar of the Millennium, this man is quite simply a phenomenon. For the last two and a half decades, he has reigned supreme on India's silver screen and in the process, redefined standards of excellence in acting and professionalism. Arguably one of the most recognized faces in India, Big B has touched the heart of millions. His dialogue in the film Dostana portrays him just right, Mere chehre par ek ajeeb si kashish hai, khaas taur se meri aankhen...
Embarking on a career in cinema with a little known film Saat Hindustani in '69, Amitabh Bachchan soon shot into limelight with his performances in Deewar, Zanjeer, Muqaddar Ka Sikandar and the blockbuster Sholay. His angry young man persona on screen has ignited many a blockbuster, leading to scores of box office records. A freak accident on the sets of the movie Coolie had millions of his fans worried and praying for his life. Amitabh made forays into new territory, politics to lend support to his friend Rajiv Gandhi only to return to mainstream cinema, few years later. Though his comeback hasn't been so electrifying he has a spate of films lined up for the ensuing year. Son of well-known poet Harivansh Rai Bachan and Teji Bachchan, Amitabh is married to actress Jaya Bhaduri.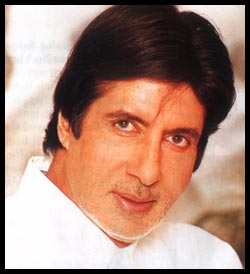 Amitabh Bachchan

(Source : www.indiaatlas.com)

Nickname
Aby Baby
BIG B

Date of birth (location)
11 October 1942, Allahabad, India

Son of well known poet Harivansh Rai Bachan and Teji Bachan. Married to Jaya Bachan, a well known actress, he has two kids, Shweta and Abhishek. His first movie was Saat Hindustani (1969). He came to be known as "The Angry Young Man" after his film Zanjeer (1973), which made him a superstar. He also ran for seat in the Congress from his hometown but had to leave midterm because of controversies.

Address
Pratiksha, 10th Road
J.V.P.D. Scheme
Mumbai-400 049.
Tel.: 610-4137

Awards
Filmfare Awards
Year Award Category/Recipient(s)
1971 Filmfare Award Best Supporting Actor
Anand (1970)


1973 Filmfare Award Best Supporting Actor
Namak Haram (1973)


1977 Filmfare Award Best Actor
Amar Akbar Anthony (1977)


1991 Filmfare Award Best Actor
Hum (1991)


FILMOGRAPHY

1969 SAAT HINDUSTANI (intr.) Amitabh Bachchan
1971 ANAND Rajesh Khanna, Sumita
PARVAANA Navin Nischol, Yogita
PYAR KI KAHANI
1972 BANDHE HAATH
BANSI BIRJU
BOMBAY TO GOA Aruna Irani, Shatrughan
EK NAZAR
RAASTE KA PATHAR
SANJOG
1973 ABHIMAAN Asrani, Jaya Bhaduri
GEHRI CHAAL
NAMAK HARAAM Rajesh Khanna, Rekha
SAUDAGAR
ZANJEER
1974 BENAAM
KASAUTI Hema Malini, Pran
KUNWARA BAAP Mehmood, Bharati, Manorama (South)
MAJBOOR Pravin Babi, Pran
ROTI KAPDA AUR MAKAAN Shashi Kapoor, Manoj
1975 CHUPKE CHUPKE Dharmendra, Jaya Bhaduri
DEEWAR Shashi
HERA PHERI
MILI Ashok Kumar, Usha Kiran
SHOLAY Dharmendra (Veeru), Sanjeev Kumar (Thakur),
ZAMEER Saira Banu, Shammi
1976 DO ANJAANE Mithun
KABHI KABHI Rakhee, Shashi Kapoor
1977 ADAALAT Waheeda Rehman, Neetu
ALAAP Rekha, Chhaya Devi
AMAR AKBAR ANTHONY Vinod Khanna, Rishi
IMAAN DHARAM
KHOON PASINA
PARVARISH
1978 BESHARAM
DON Zeenat
GANGA KI SAUGANDH
KASME VAADE
MUQADDAR KA SIKANDER / MUKADD Rakhee, Vinod Khanna,
TRISHUL Rakhee, Sanjeev Kumar
1979 JURMANA Raakhee Gulzar,
Dr. KAALA PATTHAR Rakhee, Shashi Kapoor
MR. NATWARLAL Rekha
SUHAAG
1980 ADAALAT
ANUSANDHAN (BENGALI)
BARSAAT KI EK RAAT
DO AUR DO PANCH Shashi, Praveen
DOSTANA Shatrughan Sinha, Zeenat
PUKAAR
RAM BALRAM Zeenat SHAAN Sunil Dutt (special app.), Shashi Kapoor,
THE GREAT GAMBLER Zeenat Aman, Neetu
1981 CHASHM-E-BADDUR / CHASHME BUD Farooq Sheik, Rakesh Bedi,
KAALIA Asha Parekh, Parveen
LAWAARIS Rakhee, Zeenat Aman
MANZIL
NASEEB
NASTIK
1982 BEMISAAL Rakhee, Vinod Mehra
DESH PREMEE
KHUD DAAR Sanjeev Kumar, Vinod
NAMAK HALAAL Smita
SATTE PE SATTA Amitabh Bachchan (double role), Hema
SHAKTI Dilip Kumar, Smita Patil
SILSILA Shakti Kapoor, Jaya
YAARANA Neetu Singh, Tanuja
1983 ANDHAA KAANOON Rajnikant, Hema Malini
COOLIE Waheeda Rehman, Rishi
MAHAAN Amitabh Bachchan (triple role), Waheeda
1984 INQUILAB Sridevi,
PET PYAR AUR PAAP
SHARAABI Jaya Prada, Pran
1985 GIRAFTAAR / GERAFTAAR Kamal Hassan, Poonam Dhillon
MARD Amrita Singh, Nirupa Roy
1986 AAKHRI RAASTA Sridevi,
JALWA
1987 KAUN A KAUN HARA
1988 HERO HIRALAL (intr.) Sanjana
SHAHENSHA Amrish Puri, Prem Chopra
SOORMA BHOPALI
1989 GANGAA JAMUNAA SARASWATHI Mithun Chakraborty, Jaya
JAADUGAR Mithun Chakraborty, Jaya
TOOFAN
1990 AAJ KA ARJUN Jaya Prada, Raadhika
AGNEEPATH Mithun Chakraborty, Danny
KRODH
1991 AJOOBA Rishi Kapoor, Dimple
AKELA / AKAYLA Jackie Shroff, Amrita
HUM, Kimi Katkar, Rajnikant
INDRAJIT Amitabh Bachchan, Jaya
1992 KHUDA GAWAH Sridevi, Danny Denzongpa
1994 FARAAR Sanjeev Kumar, Sharmila Tagore,
INSANIYAT Anupam Kher, Prem
1997 MRITYUDAATA Dimple Kapadia, Arbaaz
1998 AYE WATAN TERE LIYE Dimple Kapadia, Arshad
BADE MIYAN CHHOTE MIYAN Govinda, Juhi Chawla
LAL BADSHAH Manisha Koirala, Shilpa
MAIN AZAAD HOON
MAJOR SAAB Nafisa Ali, Ajay Devgan
RISHTAA Aamir Khan, Madhuri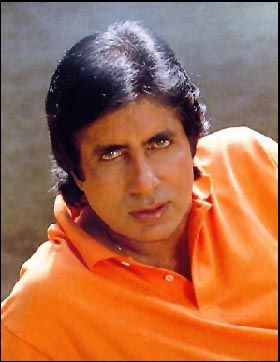 Amitabh Bachchan: A Profile

(Source : www.123india.com)

Amitabh Bachchan is the older of the two sons born to Teji Bachchan and Harivansh Rai Bachchan , the acclaimed Hindi poet. He was born In Allahabad. He was educated at Sherwood College, a boarding school in Nainital, from where he moved to Delhi University for his Arts degree. His first film `Saat Hindustani sank without a trace. He was introduced to Success by `Zanjeer, and he was instantly accepted (and adored) in the role of the `Angry Young Man -- an image that became his calling card. `Deewar followed and further reinforced it. He became the hero who filled peoples hearts with hope. In his films, he fought the corrupt system and the power brokers a situation that appealed to the youth of the early-seventies; frustrated with unemployment status and the poor quality of life. Amitabh emerged as a different kind of an action hero, as a Messiah, a Superhero, who seemed like an answer to all peoples problems. Analysing this actors impact on society would probably need a thesis by itself.

Amitabh Bachchan has appeared in over 130 films, many of them, particularly those from the mid-1970s to the mid-1980s, were huge hits. He married Jaya Bhaduri, herself an accomplished actresses, at the peak of her career.

Due to his enormous popularity, not to mention the close association with the Gandhi, family, he was elected to parliament with a huge majority from his home city of Allahabad. But his stint in politics came to an abrupt end when he was embroiled in some political scandals. He gave up his seat in parliament, swearing off politics forever. His name was later cleared from the controversy.

He took a sabbatical from films for a few years. In this period, the actor grew a beard, flaunted his grey hair and floated his company ABCL. The exercise caused him more pain than gain. After five years, he announced his return to the 36mm but the magic had faded. He was no longer the `Angry Young Man As an actor, he cannot be faulted, yet `Suryavansham, `Bade Miyan Chotte Miyan, `Lal Badshah, `Mrityudand, `Major Saab each one of them crashed at the BO.

Recently, Amitabh took on a new role, as a host of the television show `Kaun Banega Crorepati and created history once again. He is back where he belonged. In peoples hearts. In their homes of people four times of week, charming them in that deep baritone of his. The Big B on the Small screen. Magic, all over again.

Real Name - Amitabh Bachchan

Date of Birth - 11 October 1942

Place of Birth - Allahabad, Uttar Pradesh, India

Star Sign - Libra

Occupation - Model, Actor

Father - Harivansh Rai

Mother - Teji

Married to - Jaya Bachchan, an accomplished actress in her own right.

Children - (2) Shweta and Abhishek

Fan Mail : Pratiksha, 10th Rd, J.V.P.D. Scheme, Mumbai 400049.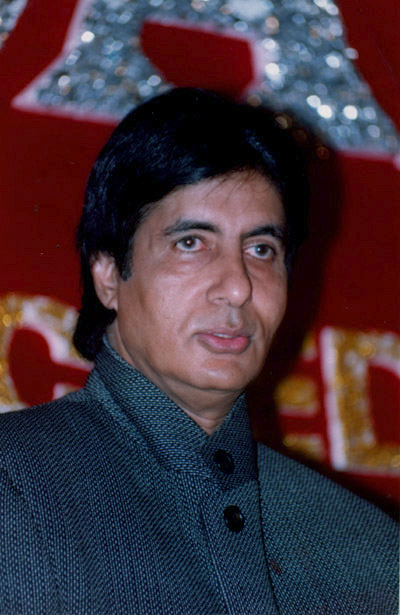 AMITABH BACHCHAN

(Source : http://movies.nazara.com)

Amitabh Bachchan - the name itself conjures up a larger-than-life image, which has become immortalised by the passage of time. Who could have thought that a dark, lanky young man who had come all the way from Allahabad with stars in his eyes, would become the Big B of Bollywood one day? Like any other person who has made it big in any walk of life, even Amitabh Bachchan had to go through many rejections and heartbreaks.

It takes courage to stand all the hardships of Bollywood and it was only because of hard work and dedication that Amitabh Bachchan is what he is today. After a couple of insignificant movies like Saat Hindustani (1969) and Reshma Aur Shera (1971), he grabbed the superhit Zanjeer (1973) which shaped the future for Bachchan. Soon with this movie Amitabh achieved the angry-young-man title and things were to remain the same for more than two decades.

No other actor in Hindi cinema has got the love and affection that Bachchan has from the masses. Though the list of his movies is endless, some of his memorable roles have been from the movie Abhimaan, Amar Akbar Anthony and Agnipath. Amitabh Bachchan in the process became a hit-producing machine who could do anything but give a flop.

In 1992, Khuda Gawah was supposed to be the last movie of his. But the Big B could not keep himself again from the silver screen and was soon back with a string of movies like Major Saab and Lal Badshah and the more recent Bade Miyan Chote Miyan. But this time he could not muster the right kind of adulation and admiration. But as the great survivor he his, he has all the capacity to bounce with some new films like Sooryavansham and such like.

Amitabh Bachchan is an enigma whose feat cannot be paralleled by the Shahrukhs and Devgans of today who try desperately to look and sound like him. He is a class apart and will always remain the uncrowned king of Hindi cinema. Some movies have fared well only because the presence of this enigma was heavily felt.

He might have done many multi-starrer films but his performance always overshadowed everyone else's. This is the reason why many actors who worked in his movies shot to fame and could survive the turmoils of this industry. Amitabh Bachchan is a name to reckon with!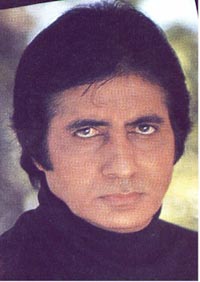 Stardust Magazine's Interview with Amitabh Bachchan
Tell us about your background.

"We were born in Allahabad. Allahabad is a middle level town but extremely rich in all kinds of activities... My father came from a very eastern background and my mother was very western. She'd studied in a convent, she had an English nurse to look after her and she came from a very affluent house. There was a lot of difference in their cultures. My father is a Kayast from U.P. My mother is from Punjab, Karachi. She's a Sikh. My father's a writer, a poet, man of letters. A stalwart. My mother, strong in her values, in her beliefs. And therefore, fortunately, I got a lovely blend of both the worlds, the east and west."

How was Amitabh Bachchan as a child?

"I was very shy as a child. Very shy. Lot of problems with very simple things. Like entering a restaurant all by myself. And even much later when I was looking for work in films, I met Manojji and he said, he was shooting in Filmistan, he said come and see me there. And I used to catch a train from Churchgate, go to Andheri, walk from the station up to the Filmistan gate. But I just never had the courage to walk in. And I tried to, for seven days, but every time, I came back from the gate. I'm very shy even today. But I must admit that coming into films, and putting myself into situations which are unreal has, perhaps, given me a little more confidence. But initially it was destroying. It destroyed me completely when I went to Hotel Sun `n' Sand and I saw Manojji doing a song with Sairaji. There were millions of people standing. I was petrified. I remember having sleepless nights. I still do sometimes, when I have to do a song out in the open in front of people. It's not so much the incapability to do the sequence, as the fact that I have to do it when there are millions of eyes watching. I know it's a contra-diction to my earlier interest which is theater. But an introvert, I've always been. I don't know why. I don't know what it was. This is something I'll really have to search myself for, much more deeply. But at the very outset and looking at it very immediately...actually I think I should have been a lot more confident with the kind of upbringing and parents I had. Maybe my father was like that but my mother's always been very bubbly, full of confidence. My father's more shy. Introvert. But very powerful when it came to his expression, his writing. In many respects you could say that temperamentally I'm like my father. Physically, maybe I have the Sikh blood."

After you passed out of boarding school, was it difficult for you to obtain a job?

"Well, there was a lot of rejection because everywhere I went, I failed to get a job. Because I was either not qualified enough or I was too shy or I was too tongue-tied during my interview and there were more qualified people getting it. Terribly frus-trating time. And then eventually, I just packed my bags and left for Calcutta."

How did you think of venturing into the movie business?

"After a few years, life in Calcutta became stifling. Something was missing. All along there was a lot of interest towards movies. Specially Hindi movies and having real flights of fancy where you, to a very long shot imagine yourself connected with the world of films. And all your dreams. And then suddenly a desire to actually go and join the industry but still very shy. How does one get in? And then coming across this talent contest and applying for it and again rejection. Not being accepted. Chucking up the job. Getting really desperate. Moving to Delhi, back to the house to see my parents. Gearing yourself up for the final plunge and then, landing up at Bombay. Starting your struggle. Some days exciting, some days not so exciting. Some rejection, some achievements. But always moving. And then what followed after that everyone knows."

Do you think actors lead normal lives?

"I've always said that actors should be treated very carefully. We need a lot of understanding. There are millions of things that could destroy us. We are broken up people inside. That's why you find a lot of us landing up with the psychiatrists. That's why you find a lot of us behaving very peculiarly and I say, please grant us this peculiarity. Because, this is all that is there to say our own. No, we don't live normal lives...that is why we need to be treated perhaps a little gently. Handled a little more carefully. Understood a lot. Grant us our idiosyncrasies. Grant us our difficult behaviour, obnoxious behaviour, whatever it is. It's not easy to be stable. And if there is somebody who is stable, then he's got have immense power, strength to wrestle with."

Your by-now legendary accident on the sets of 'Coolie' was a turning point in your life. Would you like to talk about it?

"I hate to talk about the accident. It's like really pushing me into areas that I've put away. It's going to be difficult. See, I never knew that I was going to die. I knew that there was something very wrong with me but I never knew that I was going to die. And the entire period when I was seemingly gone, when I was struggling for life, I was in a state of coma. I was unconscious. That was the difficult period for my family. It was easy for me because I was oblivious. The difficult period for me started after I got okay. When you're told what you've been through. And it's not enough that you've been told. The worst phase is when you discover that what they have told you is, in fact, true. Your entire body is finished from within. You're in full bloom, you're healthy and you're full of life and gusto. And to suddenly find that the body is not there. You can't move your fingers. Your legs can't support you. And your whole system has gone through a battering. But you know that it was there. It was just there the other day. How come it's not working? It was a very frightening time."

Were you overwhelmed with the kind of support you got from your fans during that period?

"The disturbing element of the accident was the millions of people and their expectations. Their wishes, their prayers and their feelings. And the extent to which people had gone. And you have nothing, absolutely nothing to repay them. You just sit in your bed and you just enjoy the benefit of how the others have prayed. And lots of them who really went through physical penance, when you've actually sat back and enjoyed it. I remember when I came out of the hospital, for many months I could think of nothing else. It still disturbs me that I have been unable to do anything in return. And how does one do it? How do you go and actually thank each one of them? How can you possibly reach all the churches, the temples, the Gurudwaras where prayers were made. Most of them, I'm not even aware of. And to this date, I still meet the odd person whose only reference to me is that I prayed for you when you were sick. And meet this lady, she fasted for you, and meet this kid who didn't eat, this is the temple where we prayed for you. Just fleeting glances of people just coming in and saying things like this. That's your only connection. And millions of others whom you know nothing about. And what do you do? Soon after I started working, I went for a very long schedule in Madras. I remember that it was the first time I had got out of the hospital, come home and then I was alone again. I used to spend miserable nights. I used to call Jaya and I used to ask her, `What do I do?'...Some of my friends, they tell me if we were in your position, we would have committed suicide long time ago. And sometimes I did feel like it...I don't think it's advisable to go into it further...I told you there are a lot of disturbing areas. I'm really marveling at myself at the moment that I have had the strength to talk about it but it's like an addiction, you know. When you start thinking about it, you start talking about it - everytime I talk about it or think about it, something new comes into my mind - something new comes out of it - maybe it will all come out one day. When I'm going through perhaps a psychiatric test or something."

What kind of a husband does Mr. Bachchan make?

"Jaya is a very spontaneous person. Not at all like me. And it's just very fortunate for me that she's from the same profession as me and so she understands. She was always familiar with the environment I was in. She knows what the film industry is all about, so in fact, it's a boon to have her. I don't know of course what the situation would have been had I married a lady outside my profession. You say that marriages in this industry don't last. But with all due apologies and all due respect to others, how do you put me in the same category? In any marriage, there are ups and downs and areas where disagreements take place but that's all part of it. Jaya is extremely open and very straight. Sometimes embarrassingly straight but that's how her nature is. I've never tried to disturb that quality of hers and she's not disturbed my quality of being to myself. When I want to be left alone, she leaves me alone. It's very similar to the relationship between my parents...You know, when I married Jaya, I was not economically very sound. And now, when I've reached a stage where I can afford to be extravagant, that stage has passed by. But I'm sure that had I not been married to her and had I still had the kind of success that came my way, I would have still not encouraged a situation where expensive gifts, expensive outings were going to be the criterion for my association with a woman. I appreciate a more normal and simple relationship. That is what attracted me to Jaya. She's very simple and very down-to-earth. Away from all this."

Do you have any regrets whatsoever?

"My greatest regret has been that I could not share the growing up with my children. When they were growing up, I was working from morning to night. When I left, they were asleep, when I came back, they were asleep. In many ways, I envy Jaya who spends more time with them. Of course, these days, thanks to the condition put by the various associations, there is just one shift and I do get back home early. But now the kids are at the boarding. And I miss them. In certain respects, we have probably not been able to give them a very normal upbringing. Specially after I entered politics and the security problem came up. Going to school with six-seven guards holding machine guns is not really the wisest of ideas for a growing child. And I'm sure it must have affected them adversely. Not being able to go to friends' houses without checking out details, without informing the security. Not being able to invite their friends home for various security reasons. Metal detectors, checking out proper-ties and their friends. Even my friends and people who visited me were checked out. They were embarrassed but it couldn't be helped."

Why did you venture into politics in the first place when you knew nothing about it?

"I know I should have never got into politics. And I've learnt my lesson. No more politics. But the additions and subtractions will continue. And what am I supposed to do? How can I rectify the situation?"

Have you ever tried to analyse yourself as a person?

"I know that there are a lot of areas inside me which I need to analyse. But I need time. I can't be rushed into it. Even if it keeps lingering in the back of my mind always. I keep joking, fooling around on the sets, trying to push everything away for a later day scrutiny. I don't even want to acknowledge those dark corners of my insides as yet. And if at all I do it, I'll do it for no one else but myself. Not my wife, not my parents. Maybe my children - maybe just my son. Nobody else. Of course, there is also another way of looking at things. Supposing I did not have this pressure of talking to the media, maybe people like you and others would have always thought of me as somebody else. I don't know what opinion of me you have now. I don't know what you felt before you met me, how you felt while you were interviewing me and how you feel today and how you'll feel tomorrow. But I'm sure there will be a difference. Because forming an opinion without meeting a person and judging your instincts and impressions after meeting him are two different things. Most people I've met of late have gone back thinking exactly the contrary of what they thought earlier. I've tried to be as honest as I can with you. I can tell you that I've never spoken like this to anyone before. I wonder if you're convinced. You don't look it. Maybe I will convince you someday."

Sushmita Sen Interviews Amitabh Bachchan


Sushmita, with questionnaire in hand, awaited the arrival of Amitabh. He walked in, their eyes met, they exchanged greetings and something just clicked. Within seconds she was wrapped around him like a purring kitten, feminine wiles intact... It was indeed a hot encounter at Rakesh Shrestha's studio. And yes, even Miss Universe can get carried away when it comes to Bachchan. But natural, when he turned on the charm and made her feel like a million dollars. At points, we had to remind her with a gentle tap on the shoulder that she still had the interview to begin. And she'd answer distractedly. "Oh, yes... I'll begin right away." But then Amitabh's arm would go round her waist for a shot and the questionnaire floated away in midair. We still don't know how and when she did it - asked the questions that is - but she did get the dictaphone across to us the next day. Well, thank goodness for small mercies. If seeing them together is believing, the reading gets even better!
--------------------------------------------------------------------------------
SUSHMITA SEN:I've always wanted to be a journalist. Thanks to CINE BLITZ for giving me this opportunity. I can't believe I'm interviewing my favourite star!
AMITABH BACHCHAN: You won't be thanking them when this is through!
Sushmita: Okay, let's get serious. Tell me, did you take a few years off, to set up ABCL and put it on the right track? Or was it that you just wanted a break from work?
Amitabh:I just wanted a break from work and I think I deserved one.
Sushmita: Sure! But you have also been busy with your company. What really brought your back to films?
Amitabh:(with a wry smile): Well, part of the work of the company is to work in movies. I had no choice.
Sushmita: Now what does that mean?
Amitabh:I was pretty happy doing nothing. The Corporate Memorandum of its activities was that I should work in movies.
Sushmita: Does a star get addicted to fan adulation?
Amitabh:I think celebrities like to be admired by fans and it would be dishonest of me to say that the day they disappear, I won't miss them.
Sushmita: Was that one of the reasons for your return or is it that there are a lot more pretty girls around?
Amitabh:There aren't any pretty girls around anymore, which is sad.
Sushmita: I'll just ignore that! Tell me, how does it feel to be back in the same old dusty studios?
Amitabh:It's fine. If these are the conditions, I have no problem. I will still be working.
Sushmita:People are bound to react negatively to your return to films. Does it bother you?
Amitabh:What do you mean?
Sushmita:Are you prepared for another round of criticism regarding your work, roles or films?
Amitabh:Of course. That comes with the kind of work we do. It is all a matter of opinion.
Sushmita:Isn't it very courageous of you to make a return when there are so many young macho guys to compete with? Do you think that it's the right thing to do?
Amitabh:I believe that these young macho heroes have a place of their own. What we have to see is, whether I have a place of my own here. I guess it is up to the people who watch films to decide whether I should be here or not.
Sushmita:Don't you think you should have returned to do more mature and sober films like Robert De Niro does; instead of once again playing an angry old man and doing another round of action-oriented films like Mrityudaata?
Amitabh:Mrityudaata is not an action film. Once the product is out you can see what it is all about. I'm ready to accept any role, any look, any kind of film. I'm open to everything, whether it is action, a family social or comedy.
Sushmita:Have you set some limit for yourself like Dilip Kumar or Aamir Khan, that you will only do a certain number of films?
Amitabh:Lady, other stars have a choice, I don't. Because there aren't very many people who want to see me.
Sushmita:Even today, you remain the 'Number One' crowd puller. How have you been able to sustain this popularity?
Amitabh: I disagree with this contention of yours. I am not a crowd puller.
Sushmita:Have you ever tried to analyse this attraction?
Amitabh: But I'm, telling you, I don't believe in this attraction.
Sushmita: Amitji, every evening, there are hundreds of people waiting outside your house just to see you.
Amitabh:lt is just the location of my house. It has nothing to do with me. Mine is a corner bunglow and in the vicinity you have a mandir, Juhu beach, a cinema hall. It is a popular meeting place. So people just pass that way.
Sushmita: Every Sunday evening when I drive past your house and I get caught in a traffic jam because of the people waiting for a glimpse of you. Could you please do something about that?
Amitabh: I wish I could physicallly move my house from there but it is impossible.
Sushmita: Why do people look up to you?
Amitabh: I'm six feet two inches tall. They've got to look up to me!
Sushmita: You have always said that you could not spend time with your kids when they were growing up. Have you made it up to them in the last five years?
Amitabh: That's a regret in my life and what is lost, cannot be regained. I missed out on their growing up and now they are at an age when they want to be with people of their own age group. They are leading their own lives in overseas institutions.
Sushmita: Do they ever complain or bring routine problems to you?
Amitabh: Yes, sometimes, when they want to do things together.
Sushmita: Does Jaya ever bring her household problems to you?
Amitabh: Jaya realises I have a busy life and she herself is busy. In all homes certain things have to be handled jointly. That's how we handle our problems. Sushmita: After achieving the kind of stardom you have, do you regret not being able to live life like an ordinary man?
Amitabh: But I have always lived like an ordinary man.
Sushmita: Have you ever eaten on the roadside?
Amitabh: Of course! I do it even now. I go to Chowpatty to have bhelpuri and to Tardeo to have this egg preparation that you get on the streets. I like it.
Sushmita: What time do you go there? Maybe I can follow you.

Amitabh: Why follow, you can come along.
Sushmita: You must be going at midnight, since you can't even disguise yourself.
Amitabh: Why do I need to disguise myself? You spend your whole life trying to impress the people of your country and when that happens after your films release, you try to disguise yourself. Never! You die to be noticed. Every actor wants recognition.
Sushmita: When did you and Jaya last go to a movie or to dinner?
Amitabh: In India? Unfortunately, not for so many years. We do go to premieres and private viewings. And yes, we do dine in restaurants. Jaya is not the kind of person who wants to go out all the time. Neither am l. So we are quite alike.
Sushmita: How do you spend your holidays abroad?
Amitabh: Primarily, it has been work oriented or children oriented. Holidays have been few and far between.
Sushmita: How sad, to earn so much and not be able to spend it properly.
Amitabh: What makes you think I am earning?
Sushmita: In New York, you have been busy doing a lot of car racing with your Lamborghini. Is it a new hobby?
Amitabh: I have some friends in New York who race cars and they took me along. I quite enjoyed that. Sushmita: Jaya is also acting in a TV serial on historical women.
Amitabh: Yes, I read about it somewhere.
Sushmita: You mean she didn't tell you?
Amitabh: We like to surprise each other sometimes.
Sushmita: So in a way, both of you are making a comeback. Is it a conscious decision?
Amitabh:Not at all!
Sushmita: Knowing this industry as well as you do, would you let your kids, especially your daughter Shweta, join films?
Amitabh: If they have a desire to, whether it is my son or daughter, I shall not stop them.
Sushmita: Women must be making passes at you.
Amitabh:Unfortunately, wornen have never tried to make a pass at me.
Sushmita: If they did, how would you handle them?
Amitabh: Very delicately!
Sushmita: You've been a part of lot of hot controversies. Did they affect your popularity or family life?
Amitabh: It has never affected me, my family, my friends or the people I come in contact with. As for popularity, that is for the people to answer.
Sushmita: If I have a lover, do you think it is easier to admit to or is it more advisable to deny him, especially in this line?
Amitabh: I am a bad advisor, so don't ask me.
Sushmita: Now that you are back, you may once again get linked with some actresses...
Amitabh: NOT A CHANCE IN HELL!
Sushmita: What does it take for an innocent girl like me, to survive in this terribly male chauvinist industry?
Amitabh: Just remain innocent!
Sushmita: We are both tall people and there are very few heroes who match my height. What do you suggest?
Amitabh: Start working with me!
Sushmita: I would love to do a film with you, would you do a romantic role opposite me?
Amitabh:I'll try to, provided the director believes it will be romantic. Normally, he would cast me as your father.
Sushmita: Today, Hollywood actresses like Pamela Anderson, are going in for artificial aids like silicon. Would you recommend these to our actresses?
Amitabh: That's a matter of personal choice.
Sushmita: Being the boss at ABCL, do you select actresses on the basis of talent, looks or something else?
Amitabh: I don't look after that department. We have a panel of eminent judges from the industry and society to select actresses.
Sushmita: Had I applied, would I have stood a chance of winning.
Amitabh: Sure!
Sushmita: On the basis of what?
Amitabh:- Oh, we have the usual screen test to judge one's acting, dancing and singing ability.
Sushmita: I was just thinking, Mumtaz quit when she was at her peak like you. But she made a disastrous come back...
Amitabh: Thanks for the encouragement!
Sushmita:Does'nt that make you nervous?
Amitabh: No, I will take whatever is in store for me.
Sushmita: You came very close to death once. How did it feel to be almost there?
Amitabh:Most of the time I was unconscious, so there was no sense of feeling. But yes, it is very gratifying to still be alive. Thanks to the marvellous work done on my body by eminent doctors and the millions of people who prayed for me, and voluntarily did all kinds of penance. It is even more frightening because, 90 per cent of those people you have never seen and perhaps you will never know. It fills me with a deep sense of gratitude towards God and the people, which remains a permanent debt. I'll never be able to repay.
Sushmita: Don't you think it is too heavy a price to pay for the kind of work you do?
Amitabh: I don't blame the profession. It could have happened to anyone.
Sushmita: I had read somewhere that in your next life you would like to be a journalist. Why?
Amitabh: I will tell you why when I become one.
Sushmita: But when?
Amitabh: In my next life, obviously!!

Interview courtesey CineBlitz, June 96.

(Source : www.seema.net)